10 Randomly Awesome March Wrestling Moments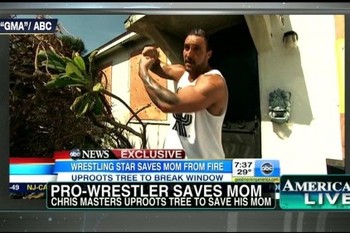 photo via foxnewsinsider.com
There's always something exciting going on in the world of professional wrestling, but with so many hours of first run material every week, it can be hard to remember it all.
"Randomly Awesome Wrestling Moments" takes a look at the wide variety of fun, strange and great wrestling moments that happened in March.
Some of the entries on this list are obvious, some are obscure but all are worth reliving.
So let's take a look back at the month before WrestleMania, the month of TNA leaving the Impact Zone forever, and celebrate the randomness of professional wrestling in all its glory.
Rock and Cena's Verbal Debate.
photo via wwe.com
You have to give WWE credit for how they've handled Rock vs. Cena Round 2.
Most hardcore fans were not interested in a rematch, and after how last year's feud was handled, it was hard to blame them. The final push leading to WrestleMania 28 was great, but, overall, there were far too many childish swipes between the two that made it distracting.
The match wasn't built around a true once-in-a-lifetime encounter; it was about two guys with huge egos taking constant digs at each other.
This year, things have changed.
Their rivalry is built off a mutual respect and the drive to prove who is the best. Rock and Cena aren't trying to divide the crowd or get "Fruity Pebbles" chants started.
The highlight of the feud so far would be their verbal showdown on the Mar. 25 edition of Raw.
WWE threw an interesting twist into the match by having Cena act more heelish than he has in years past. He also failed at his attempt in landing an Attitude Adjustment on The Rock, which was shocking in its own way.
It's almost a sure thing that Cena will win at WrestleMania but WWE has done a great job of giving us a reason to at least believe otherwise.
Scott Hall Is Being Rebuilt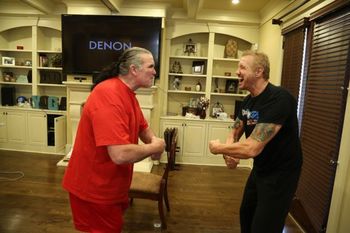 photo via sescoops.com
There are very few wrestlers who have had more impressive post-wrestling careers than Diamond Dallas Page.
Page has successfully transitioned from Diamond Cutters to Downward Dogs with his DDP Yoga business.
Recently, he opened his doors to two of the most troubled stars of our time: Jake Roberts and Scott Hall.
Roberts already looks phenomenal compared to where he was at months ago. Hall too is on the right track, and he has been clean for weeks.
There was a snag, though, as Hall needs hip replacement surgery to continue working out.
Luckily, his fans came through for him and raised over $80,000 on Indiegogo to help the Bad Guy out.
Survey says, Hall may finally be in a good place.
Brad Maddox on Commentary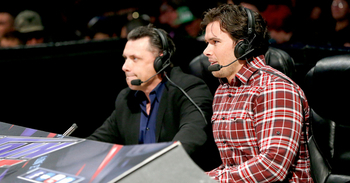 photo via bradmaddoxsource.com
Brad Maddox, you either love him or hate him. There's just no in-between.
For two weeks he did commentary on SmackDown while JBL was gone. The first week he was a blast and helped liven things up on the predictable Friday show.
The second week he was much more toned down—probably due to Vince McMahon giving him an earful after his work in The Highlight Reel segment.
But there's just no one like Maddox in wrestling.
His vocal style is just flat-out goofy. He lives in a fantasy world where he thinks he can single-handedly take on The Shield, and his character believes he has power that he clearly doesn't.
While he did commentary on SmackDown, he constantly reminded Michael Cole that he was his boss and promoted Josh Matthews to assistant announcer.
It made no sense, but it was a good time.
Sure, it probably took away from the matches, but, really, distracting us from Brodus Clay and Tensai vs. Primo and Epico was doing us a favor.
Booker T Is Coming for You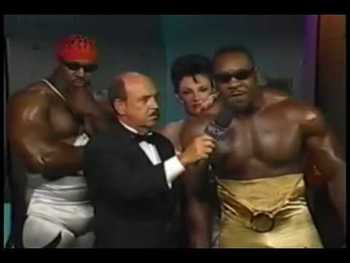 photo via knowyourmeme.com
Booker T will soon be taking his rightful spot in the WWE Hall of Fame, but the company's video editors couldn't help but have a good time with his announcement video.
Years ago, in one of wrestling's most infamous bloopers, Booker called Hulk Hogan the n-word.
Booker immediately held his head in his hands after he realized what he'd said.
During his induction video, WWE ran through Booker's career and accomplishments. They showed highlights throughout his career, and then the clip in question aired.
They left out the beginning words, where he said "Hulk Hogan" and Booker's verbal blunder, but they left in "we're coming for you" before cutting to the next clip.
It was a small Easter egg for fans who remember that bizarrely entertaining and horrifying moment.
Hornswoggle and Khali Haven't Teamed Up in Months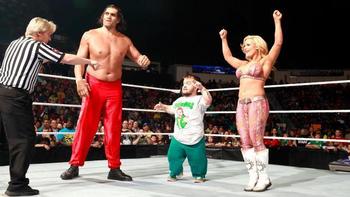 photo via wwe.com
WWE's best tag team (from a win/loss standpoint) has inexplicably not teamed up since Dec. 30.
There hasn't been any explanation offered as to why...and we don't really need one.
Let's just be thankful that WWE has (maybe) gotten rid of one of the worst tag teams in the company's history.
Kaitlyn and Cody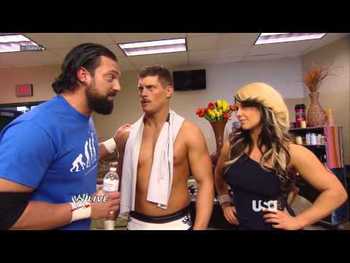 photo via popscreen.com
It's still a shame that WWE decided to dump an entertaining story in favor of the Bella Twins.
For weeks, Kaitlyn and Cody were having a fun, awkward, flirty relationship.
They'd walk into each other backstage, Rhodes would tell a cheesy joke, then Damien Sandow would walk in and kill the mood.
It was all in good fun.
It's not quite clear where they were going with it, but it was interesting. Rhodes is a heel and Kaitlyn is the top face in the divas division.
Was one of them going to turn?
Sadly, this story appears to have been axed before it could go anywhere. Still, it was a fun angle that WWE can maybe revisit again once it gets the Bellas out of its system.
Chris Masters vs. a Tree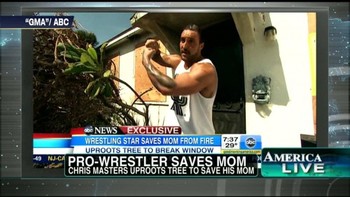 photo via foxnewsinsider.com
Uprooting a tree out of the ground and using it as a battering ram to free your mom from a burning house sounds like something you'd only find in a comic book.
But it happened in real life, and it was none other than "The Masterpiece" Chris Masters who committed this act of awesome.
As much as Masters has accomplished inside of a wrestling ring, you'd have to think this may be the coolest thing he's ever done.
Maybe this publicity will help Masters land another run in WWE.
There are quite a few large, immobile, tree-like wrestlers in the company he could save us from.
Bully Ray's Aces and 8s Explanation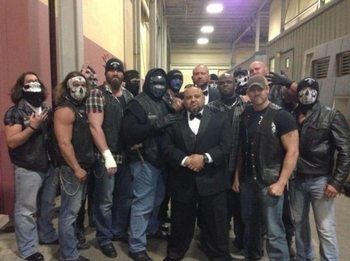 photo via inyourheadonline.com
The art of storytelling inside of professional wrestling may have risen to a new level recently when Bully Ray was revealed as the president of Aces and 8s.
It wasn't the story in and of itself that was so good, but it was the effort that TNA gave to doing its best to make sure all the puzzle pieces fit.
The week after Bully's reveal, TNA devoted five different segments during Impact that covered the past nine months of TNA television. Bully went through the entire story and how he deceived Hogan and the fans from the start.
You have to give the company credit, as it had some gigantic messy stories in the past it didn't clear up in a satisfactory manner (Claire Lynch and the convoluted "They" faction).
So often in wrestling, fans get invested in a product that has a payoff that makes no sense (Hornswoggle as the GM, Hornswoggle as McMahon's son) that it can leave fans less engaged with the product.
Why pay attention when it's clear a company has no idea where it's going?
The Aces and 8s story hasn't been all great, but hopefully this attention to detail is a sign of things to come.
Oh You Are Not Aware of This?
It's too bad that Damien Sandow is treated as a glorified jobber in WWE, as the man has some serious talent.
Perhaps the funniest wrestling moment of the month was The Rhodes Scholars unique rendition of the New Age Outlaws theme song.
What makes this puzzling, though, is why the Scholars facing the Outlaws at WrestleMania instead of Tensai and Clay.
Sure, Vince McMahon loves his dancing, but some verbal battles between Sandow and Road Dogg would be far more entertaining than watching two fat dudes do their dated Gangnam Style dance.
Also, there's just something funny about the constant reminders that Cody Rhodes and Sandow are, indeed, best friends.
Ivelisse vs. Lei'D Tapa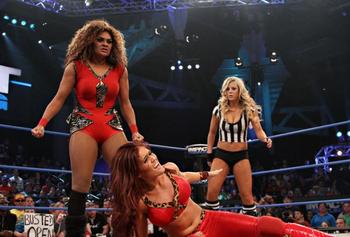 photo via impactwrestling.com
WWE recently brought back The Bella Twins.
TNA signed Lei'D Tapa.
Which one looks like she could actually hold her own in a fight?
TNA's Knockouts Division is still a far cry from its glory days, but the signings of Tapa and the potential signing of Ivelisse could set them in the right direction.
The two had a bit of a clunky but hard-hitting match on Impact that ended with a cool guillotine choke by Ivellisse. It was one of the most realistic women's matches we'd seen on TV in some time.
TNA has made a few mistakes over the past few years by letting Daffney, Hamada, Sarita, Alissa Flash, Awesome Kong, Winter and Angelina Love go.
But maybe they can finally start to get the division back on the right track.
Well, that's all for this month. We'll have to see what April has in store. I hear there's some sort of big WWE show coming up in a few weeks that may be noteworthy. What were your favorite wrestling moments of March? Sound off below!
Keep Reading