5 Chelsea Players Set to Star at the 2014 World Cup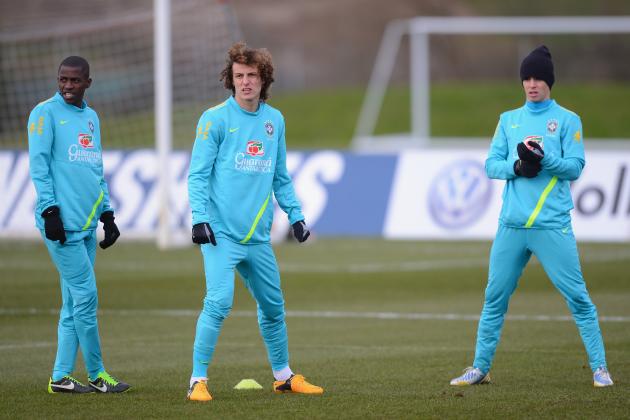 Mike Hewitt/Getty Images

With the World Cup in Brazil just over a year away, the competition for places in the squads of the teams going to South America is heating up.
And although no side has booked their place in the finals as of yet, there are certainly teams that are poised to book their places when the next round of qualifiers comes about.
Certainly, one could predict that a large proportion of the players going to the World Cup will be representing Premier League clubs, and one of the more "international" teams in England, Chelsea, will have several of their seasoned internationals jetting off to the sunny surroundings of Rio de Janeiro.
With some 13 different internationals in their squad for the 2012/13 season—not including those out on loan—Chelsea have been keen to build contingencies in their squad.
England (five players), Spain and Brazil (four) are the most, and with all three nations set to play a major part in the next World Cup, we look at which five players from the West London club could shine next summer.
Join us, won't you?
Begin Slideshow

»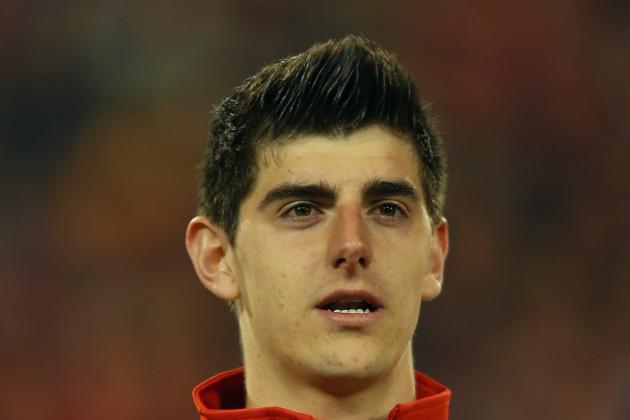 Bryn Lennon/Getty Images

When Chelsea parted with a hefty £7 million for a young Czech Republic goalkeeper shortly after Euro 2004, it was largely viewed as something of a gamble purchasing a 22-year-old who was barely been proven at the top level.
Unsurprisingly, the move by the Blues was well researched and is still paying dividends eight years later, as that keeper was indeed Petr Cech, who has gone on to become one of the best goalkeepers in the world since moving to Chelsea from Ligue 1 outfit Rennes.
A similar investment followed in 2011 for highly rated Belgian youngster Thibaut Courtois, who was on the books at Jupiler League side Genk, where he had just won the domestic title and was named Player of the Year.
As a result, Chelsea seized on the opportunity and swooped in to seal a deal for the shot stopper ahead of their European rivals, and it turned out to be a shrewd piece of business, snapping up the 20-year-old for around £7 million.
The club decided to loan out to Spanish side Atletico Madrid, who were looking for a first-choice goalkeeper after David De Gea left for Manchester United. A loan deal was swifty drawn up, which would see Courtois spend the season at the Vicente Calderon.
Despite his towering frame of 6'6", Courtois is a fairly agile goalkeeper and has bags of energy. He quickly silenced any doubters of his ability as Atletico progressed to the Europa League Final, where he kept a clean sheet in their 3-0 win over Athletic Bilbao.
His continued development at club level was recognized by national team boss Georges Leekens, who handed Courtois his debut against France to make him the youngest ever goalkeeper to appear for his nation, and he impressed between the sticks, keeping a clean sheet.
Since then, he has slowly ousted Sunderland's Simon Mignolet out of the position as the Belgium No. 1, and he has featured in all six of their games in the World Cup 2014 qualifying group.
It seems that despite continued speculation linking him with a £20 million move to Real Madrid and pressure to perform, confidence is not an issue for Courtois.
With that in consideration, one could assume that playing in a major tournament for the first time is unlikely to faze him either.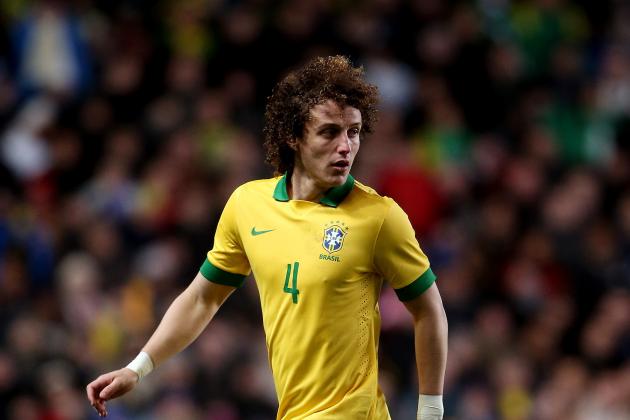 Scott Heavey/Getty Images

If Gary Neville was attempting to produce something of a reaction from David Luiz when he compared the former Benfica man's defensive ability to a "10-year-old controlling a PlayStation player," you can be certain to give the England coach some credit.
That is because David Luiz has been something of a revelation for both club and country so far this season, which is ironically ever since Neville made the controversial comments.
His leadership abilities on the pitch have come to light especially, and this was highlighted when he was handed the Brazil captain's armband by ex-Brazil boss Mano Menezes back in September 2012 for a friendly against South Africa.
Certainly, it wasn't an important match by any means, but it was a symbol of the faith that Menezes had in Luiz to lead the defence.
While at times his interceptions are not his strongest point, his vision and reading of the game have vastly improved, which led to him being involved in a defensive midfield position for Chelsea. In addition to that, his aerial consistency is almost unrivaled in the Premier League.
Of course, it's a fair point to argue Luiz is far from a finished article. His tendency to get involved in scuffles with opposition players and making dangerous challenges can halt his progress at the West London club and needs to be ironed out.
Nevertheless, the improvement is there to see. And with a player who is filled with passion and pride, you can be safe with the knowledge that by the time Brazil 2014 comes around, Luiz will be ready to lead his nation to glory.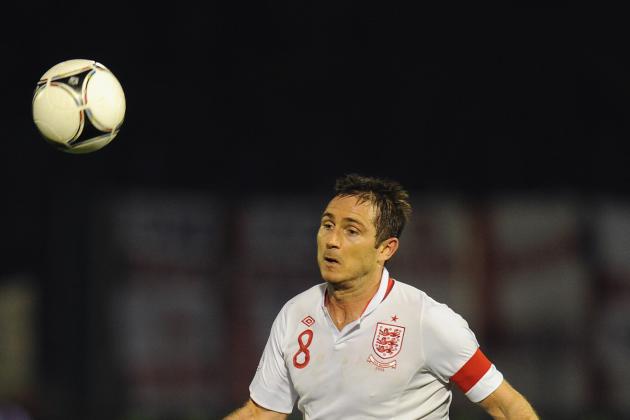 Mike Hewitt/Getty Images

He could well be one of the oldest players at the World Cup in 2014, but England veteran Frank Lampard, who will be 35 in June this year, would not turn down a place in the squad.
The legendary midfielder, who has scored over 200 goals for Chelsea since his £11 million move from West Ham back in 2001, is also approaching 100 caps for his nation.
Despite his influence at international level also—he has scored 28 goals in 95 caps since making his debut against Belgium 14 years ago—critics have attempted to pressurize Lampard to retire from the national fold to allow younger players to develop.
Yet, his fitness is at an impeccably admirable level considering his age, and performances are showing no signs of faltering. Any doubters can look at the statistics; only Wayne Rooney (five) has scored more goals in the World Cup qualifying campaign than Lampard's haul of four goals, and that is from midfield.
The technique he uses in order to strike the ball is phenomenal, and a vast percentage of his goals have come from outside the box. Also a set piece specialist, Lampard has been at the forefront of his club's success in the 21st Century.
So to drop him just because he is ageing would be simply unnecessary. Sure, players like Jack Wilshere and Tom Cleverley need to be given more playing time because sooner or later, they will replace the so called "Golden Generation."
But sometimes, experience is more important than age in international football. Every national team needs an experienced head to lead the way, and Lampard is a model professional who is capable of guiding the younger players and aiding their development.
It is unknown as to whether Roy Hodgson will leave the former Swansea City loanee out of his final squad, even if he leaves Chelsea this summer. If he does, he needs to have a plan in place.
Because in all seriousness, where will the goals come from if not from Frank Lampard Jr.?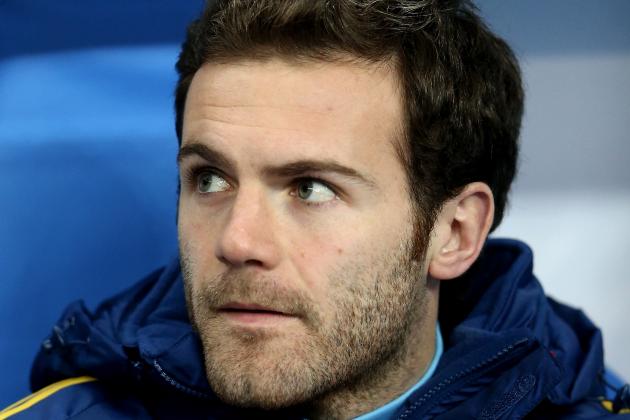 Scott Heavey/Getty Images

It is unusual for a player so important to such a big club in Europe to rarely make a start for his national team, but unfortunately for Chelsea playmaker Juan Mata, that is the reality.
His national team coach Vicente Del Bosque has the constant dilemma of choosing whether to play David Silva or Mata, knowing both will impress but having to let one down in the process.
In the basis of the last two seasons, Mata is more deserving of the place than Silva as Spain's main creator. The reason for that is because not only does he create a shed load of goals, he also scores them.
In fact, he has been involved in 44 goals (18 goals, 26 assists) in his 50 games this season for Chelsea, highlighting his obvious involvement with the team's success.
The Real Madrid academy graduate, who joined Valencia in 2007 before his big-money switch to the Blues in four years later, has enjoyed a fruitful spell in England so far, deservedly winning the club's Player of the Year award in his debut season where he also picked up Champions League and FA Cup winners' medals.
Yet, you must show some sympathy for the wonderful Mata. Remarkably, he is still only 24 years of age, but has only made 23 appearances for Spain, scoring six goals since his debut in 2009. And the majority of those were made from the bench.
However, Mata's role in the team seems to be growing every day while Xavi continues to struggle with injury. The idea of him sitting deeper when he gets older is something that could be considered, although his skinny frame allows other Premier League defenders to target his lack of strength and this could be a problem in the middle of the park.
Oh, how England would love Juan Mata to join their team. Keep dreaming though, he is a taken man.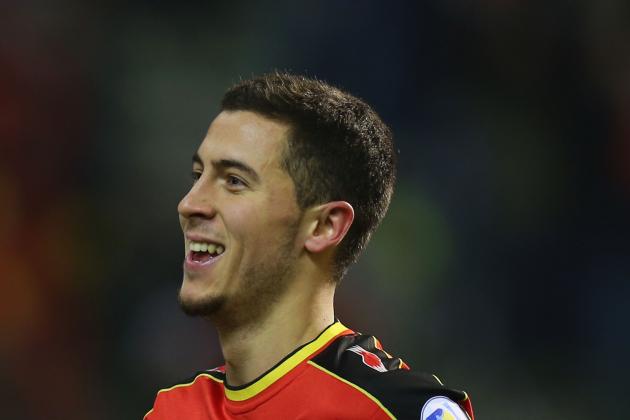 Bryn Lennon/Getty Images

The trickery and sheer agility involved in Eden Hazard's play sheds a shimmer of light as to why Chelsea splashed out the best part of £32 million to secure his signature.
The 22-year-old clearly loves his football and his tendency to dance around footballers with neat footwork and close ball control allows him to make a mockery of his opponents.
His rise to the top has also aided his nation Belgium, who are arguably at their highest level of quality in their squad this side of the Millennium. Linking up with Chelsea teammates Kevin De Bruyne and Romelu Lukaku, Hazard's understanding of his compatriots can be devastating at times.
He is simply a joy to behold, and his winner against Macedonia on Tuesday evening highlighted his worth to the national team.
It has not been all roses and sunshine for the former Lille man, however, as he fell out for a short period of time with former coach Georges Leekens, who left the winger out of the first team for a lack of effort in training.
If anything, making the mistakes has helped him become a better player. When he first came to Stamford Bridge, his defensive work was almost nonexistent. Nowadays, his adaptation to the Premier League is evident enough to show that he does track back and assist Ashley Cole down the lefthand side.
And if there was going to be any justified criticism of the former Tubize trainee, it would be his lack of goals for his country. Since making his debut against Luxembourg in 2008, Hazard has hit just five goals in 36 caps.
Belgium will not care if it means Hazard supplies the likes of Lukaku and Christian Benteke with the chance to score, which he does on a regular basis.
Maybe their opposition will, though...