Top Players to Watch on Day 7 of the NCAA Tournament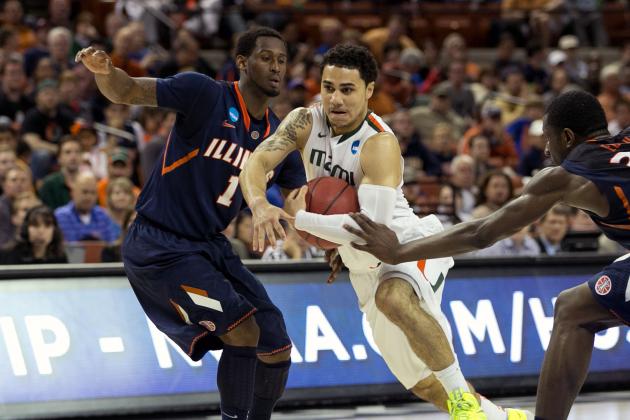 Jim Cowsert-USA TODAY Sports
Will Shane Larkin be able to carry the Hurricanes past Marquette?
Even though upstart Cinderella Florida Gulf Coast doesn't play on Thursday, the four slated games still provide plenty of intriguing matchups with a number of must-see players.
One player has made a name for himself with two season-saving clutch performances in consecutive rounds. Another is playing in his second straight Sweet 16 and will become the first player to do so on two different teams. Finally, one player will take the court after learning that his mother's house caught fire during his Round of 32 matchup.
Those are only some of the captivating storylines regarding the eight must-see players on Day 7 of the NCAA tournament.
Begin Slideshow

»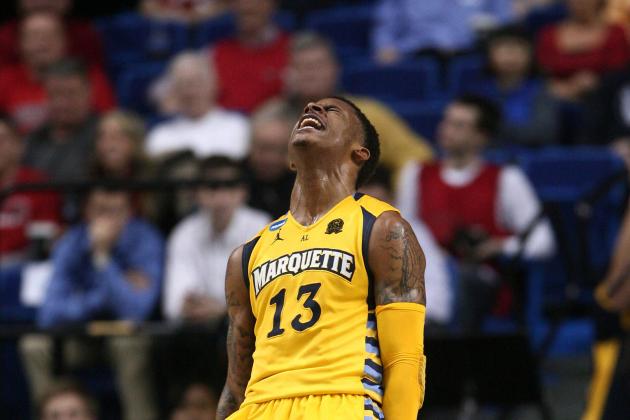 Mark Zerof-USA TODAY Sports

Best Asset: Blue's clutch shooting has willed the Golden Eagles to victories twice already, once escaping Davidson and another time repelling Butler.
Blue had seven points in the final 1:33 against the Wildcats, including the game-winning layup with just one second remaining. If that wasn't enough, he poured in 29 points in the win over Butler.
Top Showing: Without a doubt, Blue's best game of the season came in the Round of 32. Nineteen of his 29 points came in the second half, but no shot was bigger than a three-pointer from the right corner that tied the game at 69 with just 1:29 left. On defense, he gambled a few times to intercept a pass, each time ripping the ball away from an unsuspecting opponent. He finished with four steals.
Pro Potential: He's an extremely athletic junior with good length and quickness. He should return to Marquette for his senior season, but the NBA is a real possibility, especially considering the other success stories out of the Milwaukee school.
When to Watch: Thursday, 7:15 p.m. ET vs. No. 2 Miami (CBS)
One More Thing: That game-winning layup he hit to beat Davidson was a near carbon copy of the one he finished to beat St. John's in the regular-season finale. The win gave Marquette a share of its first-ever Big East regular-season title.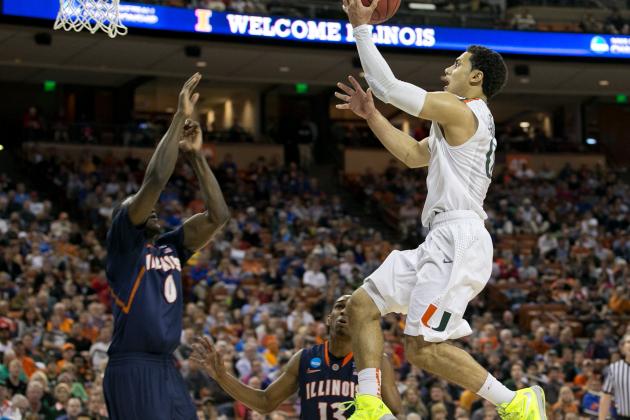 Jim Cowsert-USA TODAY Sports

Best Asset: Larkin's skill set is quite impressive, but it's his ability to penetrate that sets up the rest of his offensive game as well as Miami's.
When Larkin can break down his defender and get inside, it forces the defense to honor his scoring and opens up shots for guys like Durand Scott and Rion Brown. His speed also allows him to excel from the perimeter, since the defense can't crowd him or else he'll drive right past it.
Top Showing: Playing in the ACC tournament championship game against UNC, Larkin dropped a career-high 28 points on 4-of-7 outside shooting and had seven assists and five rebounds. He was the only Hurricanes player to play all 40 minutes and it marked Miami's first ACC tournament championship.
Pro Potential: Larkin, a sophomore, should return to school, but he'll eventually be playing among the professionals. Next season could be a big transition for him since the Hurricanes will lose the vast majority of their scorers in seniors Durand Scott, Trey McKinney Jones and Kenny Kadji.
When to Watch: Thursday, 7:15 p.m. ET vs. No. 3 Marquette (CBS)
One More Thing: Larkin didn't win league ACC Player of the Year honors (Erick Green, Virginia Tech), but he ran away with the conference tournament MVP after averaging 23.7 points and five assists per game over Miami's three wins.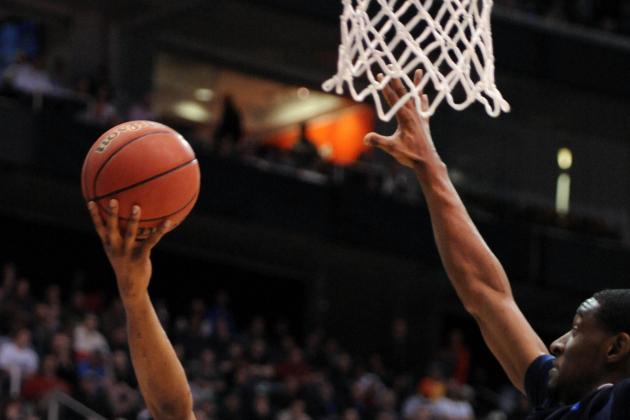 Steve Dykes-USA TODAY Sports

Best Asset: The senior transfer has made all the difference for Sean Miller's squad, which desperately needed a floor leader to mesh all of the Wildcats' talented but young players.
A former shooting guard at Xavier, Lyons has carried the Wildcats into the Sweet 16 by averaging 25 points in two tournament victories, 10 more points than his season average.
Top Showing: Against an overwhelmed Harvard team, Lyons saddled the scoring responsibility once again. He shot 12-of-17 from the field, including 3-of-6 from deep to tie a career high of 27 points.
Pro Potential: At 6'1", Lyons probably doesn't have the size to play in the NBA nor does he excel in one particular area. Teams will also have concerns given that he's only played the point guard role for one season. He'll likely find a shot at professional basketball overseas.
When to Watch: Thursday, 7:45 p.m. ET vs. No. 2 Ohio State (TBS)
One More Thing: Via ESPN Stats and Info, Lyons will become the first player to ever play in the Sweet 16 in consecutive seasons for different teams. The Musketeers couldn't advance further last season, dropping to Baylor 75-70.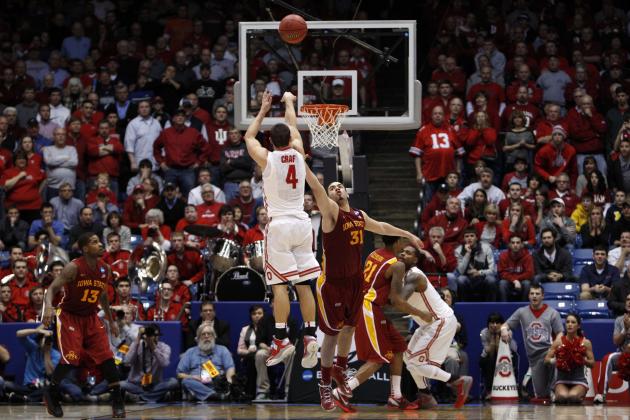 Frank Victores-USA TODAY Sports

Best Asset: While Craft's scoring numbers have seen a recent uptick thanks to an improbable 18 points against Iowa State, it's still his defense that makes him a must-see player, even if he uglies up the game.
Expect him to relentlessly hound Mark Lyons in Thursday's Sweet 16 matchup against the Wildcats, as he does with all opponents. Lyons is a clever finisher in the lane, but Craft is very careful not to foul, although he often gets away with subtle swipes (or fortunate charging calls).
Top Showing: No contest. Craft's performance against Iowa State was remarkable. From his defense (two steals), to his offense (18 points on 5-of-10 shooting and six assists), Craft was all-around excellent. He was a bit shaky down the stretch due to exhaustion, but he shook off a few missed free throws and some careless turnovers to deliver arguably the biggest shot of the tournament.
Pro Potential: I'm not convinced some NBA team doesn't need a heady, ball-hawking backup point guard, but Craft is a junior and it's doubtful he'd test the NBA waters this year. His shot also needs a lot of work, but no one's drafting him to score.
When to Watch: Thursday, 7:45 p.m. ET vs. No. 6 Arizona (TBS)
One More Thing: Craft is lucky that he had a chance to redeem himself. The 77 percent free-throw shooter missed 3-of-5 attempts from the line over the final five minutes vs. Iowa State. Two of the misses were the front ends of one-and-ones.
Best Asset: Carter-Williams' vision is easily his most important attribute to the Orange. No player is as singularly responsible for his team's offensive success as he is.
It's an extreme example, but against Montana, the sophomore guard dominated the Grizzlies' defense with dazzling passes, finishing with nine assists. Against California, Syracuse's offense featured a 12-minute field-goal drought that even the Big East's assist leader couldn't solve. He finished with five turnovers, the fourth time in his last five games that he's had at least four miscues.
Top Showing: Although it was against Seton Hall, Carter-Williams tied a Big East tournament record with 14 assists in the Orange's 75-63 victory on March 13, the second day of the tournament.
Pro Potential: Carter-Williams was a top-tier prospect heading into the season, but the Orange went through an offensive lull in February, which impacted the sophomore's stock. At 6'6'', he's big and is still an immensely intriguing prospect. If he does decide to leave, he'll likely be selected in the lottery.
When to Watch: Thursday, 9:45 p.m. ET vs. No. 1 Indiana (CBS)
One More Thing: If he seems a bit distracted on Thursday night, you can't fault him. According to WCVB in Boston, his mother's Massachusetts house caught fire during the Orange's last game against California.
Best Asset: Since Oladipo has recently displayed a "clutch" gene, lockdown defense and a knack for hauling in rebounds, we'll go with the all-encompassing "athleticism."
It was Oladipo who shut down Temple's Khalif Wyatt in the closing minutes of Indiana's near-monumental loss to the Owls. It was also the 6'5'' junior who pacified Hoosier nation with a late-game three from the top of the arc, which extended Indiana's lead from one to four points with just 15 seconds remaining.
Top Showing: The potential Player of the Year has had a ton of stat-stuffing games, most of which came against Big Ten foes. His best may have come against Michigan State early in the conference season when he finished with 21 points, seven rebounds and six steals in a late January win. The leaper also threw in three blocks for good measure.
Pro Potential: It's not often that a player goes from fringe draft pick to potential top-five pick, all in one season, but that's what Oladipo's done. ESPN's Chad Ford has said that it's not inconceivable for him to go No. 1 overall, after the injury to presumed top pick Nerlens Noel.
When to Watch: Thursday, 9:45 p.m. ET vs. No. 4 Syracuse (CBS)
One More Thing: Part of the reason Oladipo was in late on Temple's Wyatt was because he's managed to stay out of foul trouble. In the five games coming into the tournament, he was averaging almost 3.4 fouls per game, but he's only been called for two fouls the entire tournament.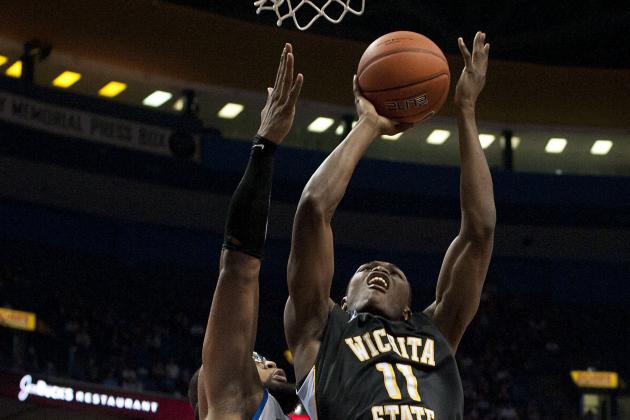 Paul Halfacre-USA TODAY Sports

Best Asset: The Shockers' leading scorer (13.9) is also their second-leading rebounder (5.2) and his size and range make him an extremely tough matchup. The junior's been especially efficient in two tournament wins over Pittsburgh and Gonzaga, knocking down 13-of-26 shots for 37 points. He's also pulled down seven rebounds in each.
Top Showing: Sure it came against Southern Illinois, the worst team in the Missouri Valley Conference, but Early scored 39 points on 13-of-19 shooting on January 9. He was 5-of-9 from three-point range—the most threes he's knocked down in a game all season.
Pro Potential: Early is rated as Draftexpress.com's 61st-best junior. The tournament run has put the 6'8'' stretch-forward on the map, but he could get drafted after another one more strong year in the Creighton-less Missouri Valley Conference.
When to Watch: Thursday, 10:15 p.m. ET vs. No. 13 La Salle (TBS)
One More Thing: Early, a junior college transfer, was the two-time NJCAA Division III Player of the Year at Sullivan County Community College.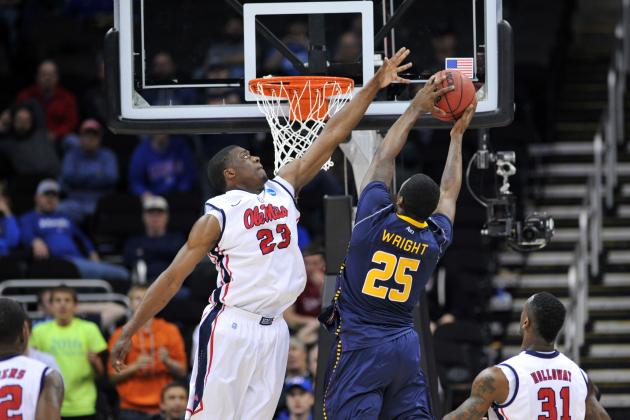 Peter G. Aiken-USA TODAY Sports

Best Asset: Wright's best asset, in relation to his guard-heavy team, is his size. At 6'8'', he's the de facto center, and it's on Wright to try and keep Wichita State's relentless rebounders off the glass.
By comparison, Wichita State is the 20th-best offensive rebounding team in the country, while the Explorers rank 252nd, according to KenPom.com. It serves that Wright, who had a huge game in La Salle's first-round upset of Kansas State, will be crucial to shocking the Shockers.
Top Showing: His best game this season probably came against Kansas State in the Round of 64. Wright was 6-of-6 from the field, including 9-of-10 from the free-throw line. The sophomore finished with 21 points and eight rebounds. He also recorded a double-double in the Atlantic 10 tournament against Butler, but it came in a losing effort.
Pro Potential: Wright's just a sophomore and he's nowhere near ready for any NBA talk. He's the 57th-best sophomore, according to DraftExpress.com.
When to Watch: Thursday, 10:15 p.m. ET vs. No. 9 Wichita State (TBS)
One More Thing: Despite finishing tied for third in the A-10, the Explorers are the last conference team still dancing. Also, No. 13 La Salle against No. 9 Wichita State marks just the second time in NCAA history that two teams whose seeds add up to at least 22 have met in the Sweet 16, via ESPN Stats and info.