Things Each MLB Fanbase Is Most Excited About on Opening Day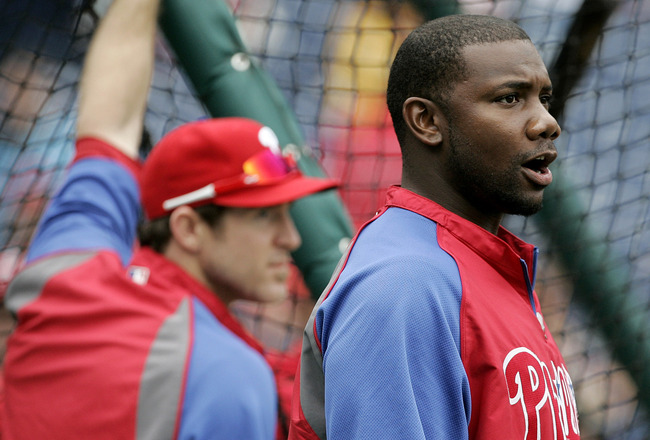 Rich Schultz/Getty Images
For the first time in months, we can finally change our answer to one of the most annoying questions in the history of mankind: "Are we there yet?"
Instead of threatening to turn the car around, we can finally point to that spot that's becoming visible on the horizon and say, "Almost."
Less than a week from Opening Day of the 2013 MLB regular season, baseball fans are starting to get excited.
From defending division titles and World Series championships to renewed hope that maybe this is the year that their favorite team gets over the hump, fans of every team have something to look forward to this season.
Maybe it's the return from injury of an established veteran or the waiting game for a team's top prospect to finally arrive on the scene that's got you fired up.
Whatever the reason, baseball fans are getting more and more excited by the day. Let's take a look at what's got fanbases around the country looking forward to the first pitch of the regular season.
Arizona Diamondbacks: The Post-Justin Upton Era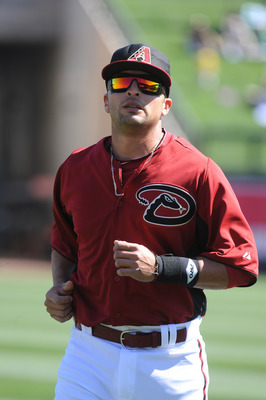 Martin Prado.
Rich Pilling/Getty Images
It's not that Arizona Diamondbacks fans disliked Justin Upton, but between the talented right fielder's inconsistent play and nearly two years of trade rumors hanging over his head, it was time for a change in Arizona.
Upton is now in Atlanta, while Arizona heads into the season with a legitimate third baseman in Martin Prado, the first time that there hasn't been a major question at the hot corner since the days of Matt Williams.
With a deep, talented pitching staff and a lineup that boasts power and speed (especially when center fielder Adam Eaton returns from injury), the Diamondbacks are poised to get back into the playoff picture after falling short of that goal in 2012.
Atlanta Braves: The Upton Brothers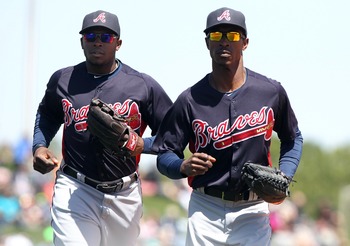 Kim Klement-USA TODAY Sports
For the 10th time in franchise history—and the first since J.D. and Tim Drew in 20044—the Braves will have a pair of brothers on the regular-season roster at the same time.
With their combination of power, speed and athleticism, B.J. and Justin Upton have a legitimate chance to be the most successful sibling duo in team history.
While it's wise to not put too much stock into spring training statistics, you can't really ignore what the pair has done in exhibition play.
You can't blame Braves fans for being pumped up for this.
Baltimore Orioles: Dylan Bundy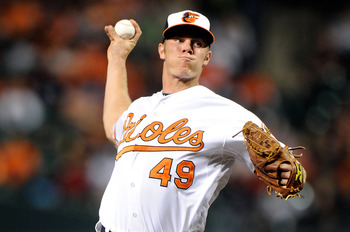 Greg Fiume/Getty Images
It's not a matter of if but when Dylan Bundy will become a full-time member of Baltimore's rotation in 2013.
The team's top prospect, Bundy will start the season at Double-A Bowie. But it won't be long before he moves up to Triple-A, where he'll patiently wait to be called on by the Orioles.
It's not as if Baltimore's major league rotation features the likes of Jim Palmer or Mike Mussina, and Bundy is the most talented pitcher that the team has in the organization, at any level.
If and when one of Baltimore's starters is lost to injury or becomes terribly inconsistent, Bundy will be ready to step in and contribute.
Boston Red Sox: Jackie Bradley Jr.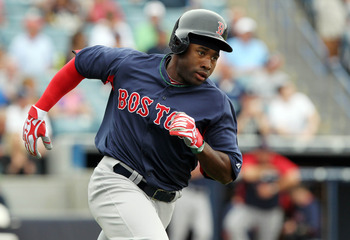 Kim Klement-USA TODAY Sports
It's not only Boston fans who are excited to see Jackie Bradley Jr. make his official major league debut.
I'm a Yankees fan, and I'm looking forward to watching the 22-year-old play as if he were ready to take the field on Opening Day wearing pinstripes and an interlocking "NY" on his cap.
In Boston, Bradley Jr. represents hope. But more importantly, he represents a fresh start.
He's clean, not tainted in any way, shape or form by the "Chicken and Beer" scandal, Bobby Valentine or any of the general chaos that has enveloped the franchise over the past 18 months or so.
With the way he's not only swung the bat but played defense this spring, it's hard for baseball fans, regardless of allegiance, to not get excited about watching what he can do when the games count.
Chicago Cubs: A Full Season of Anthony Rizzo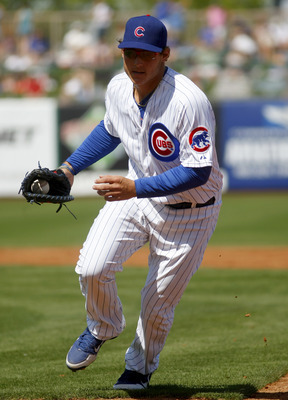 Rick Scuteri-USA TODAY Sports
Anthony Rizzo didn't join the Cubs until the end of June in 2012, but the 23-year-old first baseman was impressive, both at the plate and in the field once he arrived.
In 87 games, Rizzo posted a .285/342/.463 slash line with 15 home runs and 48 RBI.
With that experience and an appearance in the World Baseball Classic with Team Italy under his belt, he is set to explode in his first full major league season.
Batting between Starlin Castro and Alfonso Soriano, Rizzo will have ample opportunity to make a significant impact and give Cubs fans hope for the future as the rebuilding process continues at Wrigley Field.
Chicago White Sox: Chris Sale's Future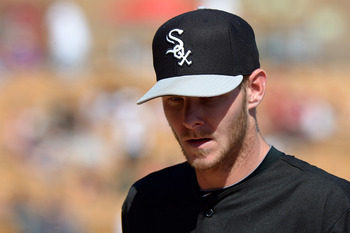 Jake Roth-USA TODAY Sports
In his first season as a major league starter, Chis Sale went 17-8 with a 3.05 ERA and 1.14 WHIP, striking out 192 batters in 192 innings of work and earning a spot on the American League All-Star team.
Chicago moved quickly to sign the 24-year-old left-hander to an extension, agreeing to a five-year, $32.5 million deal that, in reality, is a seven-year extension when you consider the two option years that the White Sox hold for 2018 and 2019.
With no concern about losing Sale to another big-market club via free agency or the team being forced to deal him for prospects because they don't think they can re-sign him, the focus becomes answering a simple question: How good can Sale be?
The early results were incredibly promising, and with a full season of experience and the legendary Don Cooper still on board as his pitching coach, the sky's the limit for the talented southpaw.
Is there a Cy Young award with his name on it? Is it time to include Sale in the same breath as the other top pitchers in the American League, like Felix Hernandez, Justin Verlander, CC Sabathia and Jered Weaver?
It's gong to be exciting to find out, and we'll start to get some answers as the 2013 season unfolds.
Cincinnati Reds: Billy Hamilton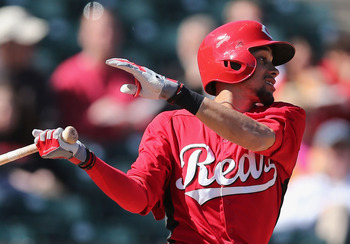 Christian Petersen/Getty Images
Chances are that Reds fans won't see Billy Hamilton at Great American Ballpark until September, but that doesn't change the fact that the fastest player in baseball is on his way. And the thought of him sitting atop the Reds' powerful lineup sends chills down the spines of Reds fans everywhere.
The team went out and acquired Shin-Soo Choo to patrol center field and bat leadoff this season, but his time in Cincinnati will be short-lived, as the Scott Boras client is set to become a free agent at the end of the season.
Hamilton, who stole 155 bases in 192 attempts last season, will start the season at Triple-A, continuing to refine his skills at the plate and getting more comfortable in center field—a position he's only played for about a year after starting his professional career as a shortstop.
Cleveland Indians: Lonnie Chisenhall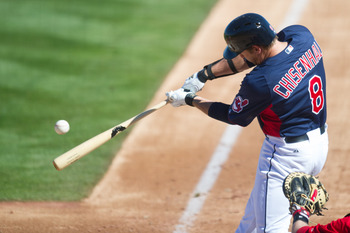 Rob Tringali/Getty Images
Cleveland fans have been waiting three years for Lonnie Chisenhall to get a fair shot at some regular playing time, only to see him continually be passed over by manager Manny Acta in favor or journeyman Jack Hannahan.
Acta and Hannahan are gone, Terry Francona is in and so is Chisenhall, who told Terry Pluto of the Cleveland Plain-Dealer about the phone call he got from Francona shortly after he was hired:
"'Tito' said I was going to be his third baseman, and he expected me to hit the ground running. It's so much different from last spring."
Chisenhall has done just that, with a .412/.475/.725 slash line, four home runs and 12 RBI in 20 games this spring.
You could make a case for Michael Bourn or Nick Swisher—or both, for that matter. But there's something special when a homegrown prospect gets a chance to shine, and that's why Chisenhall gets the nod.
Colorado Rockies: Troy Tulowitzki's Return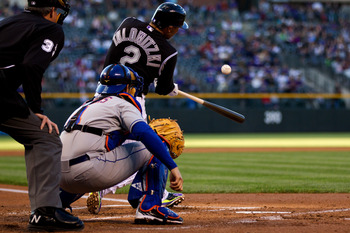 Justin Edmonds/Getty Images
There's never a good time for a player to get injured, especially when that player is a perennial MVP candidate like Troy Tulowitzki.
But when Colorado's All-Star shortstop went down at the end of May with a groin injury that ultimately required surgery to repair and cost him the rest of the 2012 season, he had just started to get into a groove.
Over the 16 games that preceded his injury, Tulowitzki hit .351 with nine extra base hits (five home runs), 14 RBI, 13 runs scored and an OPS of 1.124.
He's been solid this spring, hitting .286 with a pair of home runs and 10 RBI in 16 games, and the Colorado faithful are chomping at the bit to see how the team performs with its best player back on the field.
Detroit Tigers: What Will Miguel Cabrera Do for an Encore?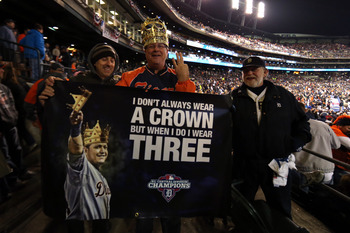 Leon Halip/Getty Images
Okay Miguel Cabrera, you took your team to the World Series, won your second consecutive AL Batting Title, the AL MVP award and became the first player in 45 years to win the Triple Crown.
That's great.
What have you done for us lately?
The question on everyone's mind, not just that of Tigers fans, is what will the soon-to-be 30-year-old All-Star do for an encore?
Win his third consecutive batting title? Back-to-back MVP awards? Another Triple Crown?
With an improved cast surrounding him in Detroit: Torii Hunter will hit in front of him, while Victor Martinez returns to the fold in the fifth spot, behind Prince Fielder, who knows what kind of season Cabrera is capable of putting together.
It's sure going to be fun to watch it unfold—until he's facing your favorite team, of course.
Houston Astros: The Future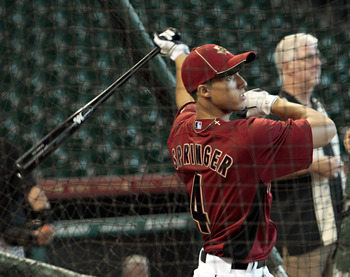 Bob Levey/Getty Images
While the Astros have played surprisingly well this spring, most fans are realistic about the team's outlook for 2013 in its first season as members of the American League West.
It's going to be a long season.
But there is a light at the end of the tunnel, and fans of the team got a glimpse of what's to come early in spring training.
Second baseman Delino DeShields Jr. and center fielder George Springer made an impression in their short time with the team. Both are likely to find their way to Houston at some point this summer.
Shortstop Carlos Correa and first baseman Jonathan Singleton are at least another year away from making an impact in Houston, but neither one looked over-matched in the handful of at-bats they picked up in camp.
After years of feigning excitement over the team's acquisition of another team's retreads and discarded former prospects, it's exciting to know that there is some legitimate talent to build a competitive roster around on the way.
Kansas City Royals: The Starting Rotation
Rick Scuteri-USA TODAY Sports
I really wanted to put "everything" as what Royals fans are most excited about, because really, there's not a whole lot to dislike about Kansas City heading into the season. The team is winning games and hitting the ball all over the field in spring training.
But for the first time in a long time, Kansas City has capable starting pitchers filling every spot in its starting rotation—and that's the most exciting thing about what could be a fantastic season for the Royals.
By my count, it's been nearly 20 years since Kansas City had a rotation with the potential to be as solid as this year's edition. In 1994, the team's rotation was comprised of Tom Gordon, David Cone, Kevin Appier, Mark Gubicza and Bob Milacki.
James Shields, Wade Davis, Jeremy Guthrie, Ervin Santana and Luis Mendoza may not be quite on the same level as those five arms, but they've got a chance to be one of the more solid rotations in the American League.
Los Angeles Angels: The Fab Four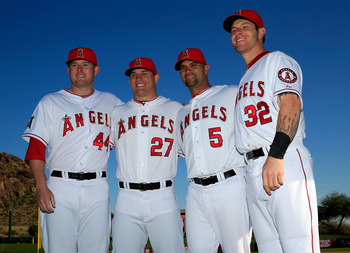 Jamie Squire/Getty Images
As if the pair of Rookie of the Year awards and four MVP awards between them wasn't scary enough, when you add up the individual numbers of Mike Trout, Josh Hamilton, Albert Pujols and Mark Trumbo from last season, the Angels lineup becomes all the more impressive.
Combined, the foursome hit .291 with 135 home runs, 411 RBI and 383 runs scored last year.
To put those numbers in their proper context, consider this:
| | |
| --- | --- |
| | 2012 HR Total |
| Fab Four | 135 |
| Kansas City | 131 |
| Minnesota | 131 |
| San Diego | 121 |
| Los Angeles (NL) | 116 |
| San Francisco | 103 |
That's not quite on a Ruthian scale, but it's still incredibly impressive.
When you consider that the Angels' group of players impacts the game in multiple ways, not just by going deep, it's easy to understand why Angels fans are as excited for the season to get underway as they are.
Los Angeles Dodgers: The Kershaw/Greinke Combination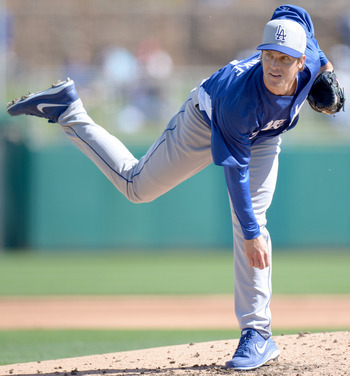 Jake Roth-USA TODAY Sports
The Dodgers wanted to add another front-of-the-rotation arm to pair with Clayton Kershaw this past offseason and they landed the best pitcher available in Zack Greinke.
Greinke, who has battled a sore elbow in spring training, told MLB.com's Ken Gurnick following his first spring training outing in nearly three weeks that his elbow feels fine and he expects to be able to take his regular turn in the team's rotation next week—a notion that manager Don Mattingly didn't dismiss.
Coming off of a 2012 season that saw him post his lowest ERA (3.48) and WHIP (1.19) since winning the AL Cy Young award with the Kansas City Royals in 2009, Greinke puts the top of the Dodgers' rotation on par with the other elite units in the game, including that of the rival San Francisco Giants.
Miami Marlins: Giancarlo Stanton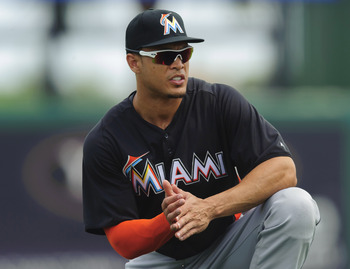 Steve Mitchell-USA TODAY Sports
After watching team owner Jeffrey Loria trade away nearly anyone that qualified as an above-average major league player this past winter in exchange for role players and prospects, there's not much else to get excited about in Miami besides Giancarlo Stanton.
With as much raw power as anyone in the game and coming off of a season that saw him hit 37 home runs in 123 games, Stanton, 23, is now the focal point of the team's lineup.
Assuming the opposition doesn't simply pitch around him whenever he steps to the plate, he's the only player on the roster worth the price of admission to watch play.
Milwaukee Brewers: A Revamped Bullpen
Mike McGinnis/Getty Images
After watching the team's bullpen fall flat on its face in 2012, posting the highest ERA (4.66) and second-highest WHIP (1.48) of any bullpen in baseball, the Brewers went out and blew the thing up.
Only closer John Axford and setup man Jim Henderson remain from last year's group, and this year's bullpen should be called upon less often with the addition of Kyle Lohse to the starting rotation.
With one of the more potent offenses in the game, an improved bullpen in 2013 very well may be what puts the Brewers back into the playoffs.
Minnesota Twins: Aaron Hicks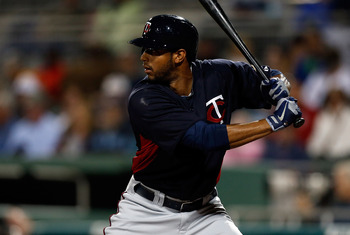 J. Meric/Getty Images
After watching the team trade away both Denard Span and Ben Revere this past winter, Twins fans had to wonder who exactly would be patrolling center field for the team in 2013.
Darin Mastroianni is a nice fourth outfielder, but nobody wanted to see him atop the lineup on a daily basis.
Enter Aaron Hicks, ranked as the team's fifth-best prospect by Baseball America and the sixth-best prospect by MLB.com. Hicks has been outstanding at the plate during spring training, hitting .379 with 11 extra-base hits (four home runs), 18 RBI and three stolen bases.
He's equally adept in the field, using his speed to cover a ton of ground in center field and using his strong, accurate throwing arm to keep opposing baserunners from advancing.
Teams will undoubtedly test the rookie during the regular season, but once he nails a few runners trying to tag up or someone who foolishly tries to stretch a single into a double, that practice will come to an abrupt end.
New York Mets: Matt Harvey and Zack Wheeler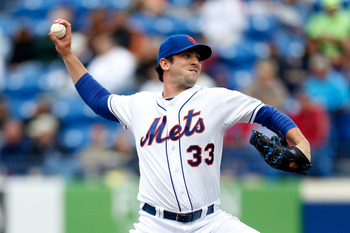 Chris Trotman/Getty Images
Thankfully, the Mets haven't stuck Matt Harvey and Zack Wheeler with a "clever" moniker like "Generation K" this time around.
Instead, the team is letting the two young flamethrowers create their own identity.
Harvey made his major league debut in 2012, going 3-5 with a 2.73 ERA and 1.15 WHIP in 10 starts, walking 26 and striking out 70 over 56.2 innings of work.
Wheeler, who won't break camp with the team but whose major league debut isn't far off, spent time at Double-A and Triple-A last season, going a combined 12-8 with a 3.26 ERA and 1.17 WHIP, walking 59 and fanning 148 in 149 innings of work.
The duo represent the future of the team's starting rotation, and there's reason to be excited. Only a handful of teams can point to having a pair of young arms in their system that have ceilings as high as what Harvey and Wheeler bring to the table.
New York Yankees: Mariano Rivera's Return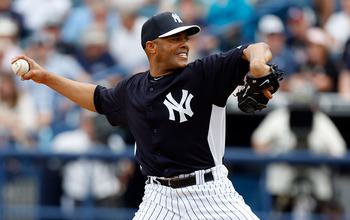 J. Meric/Getty Images
After nearly 20 years, the greatest relief pitcher who ever lived, Mariano Rivera, is hanging up his cleats following the 2013 season.
Rivera's 2012 season was cut short after injuring his knee shagging fly balls in the outfield before a game in Kansas City last May, and Rivera didn't want to limp off into the sunset.
He wanted to go out on his own terms.
For Yankees fans, Rivera is more than just a pitcher.
For as much as Derek Jeter has been the face of the franchise for nearly two decades, Rivera has been right next to him every step of the way, carrying himself with the class and dignity that you simply don't expect legendary figures to exude.
That's what makes Rivera as beloved as he is—a humble superstar on the world's biggest stage?
They simply don't exist.
At least, they aren't supposed to exist.
The baseball gods broke the mold when they created Rivera. There will never be another like him, and Yankees fans are excited to share in the final lap of his iconic career.
Oakland A's: Defending the Division Title
Ezra Shaw/Getty Images
Not even the most optimistic Oakland A's fan expected the team to contend for a playoff spot, much less the AL West title, in 2012.
In a division with Josh Hamilton and Albert Pujols, there was simply no way that a band of nondescript players could possibly make a playoff push. If anything, they'd embrace the role of spoiler, knocking one of their division foes from playoff contention with a late-season victory.
Instead, the A's mounted one of the more surprising comebacks in recent history, erasing a five-game deficit with nine games left in the season by going 8-1 to end the season, including a three-game sweep of the Texas Rangers, and winning the division crown on the last day of the season.
Can the A's do it again?
Philadelphia Phillies: A Healthy Howard and Utley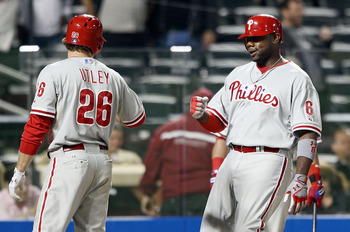 Alex Trautwig/Getty Images
On Opening Day in 2012, the right side of Philadelphia's infield consisted of Ty Wigginton at first base and Freddy Galvis at second.
While Philadelphia has made wholesale changes to the roster since then—Jimmy Rollins will be the only player from last year's Opening Day lineup to start in this year's game—nothing is bigger than the return to health of Ryan Howard and Chase Utley.
Howard, who was working his way back from a torn ACL, and Utley, who was dealing with chronic knee issues, both missed significant time in 2012 and neither one looked quite right upon his return to action.
Now, with their respective injuries well behind them, the duo is healthy heading into the season and poised to put the Phillies back into the thick of the playoff race in the National League.
Pittsburgh Pirates: Gerrit Cole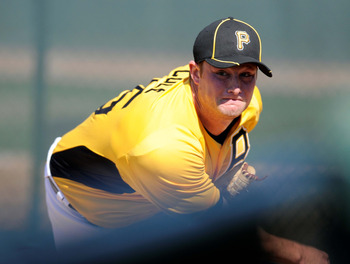 Brad Barr-USA TODAY Sports
Pittsburgh has had plenty of high draft picks over the years that had plenty of talent but, for whatever the reason, quickly fizzled out and faded away, never living up to the hype that preceded their arrival in the major leagues.
Gerrit Cole is different.
Scour the internet, talk to scouts, broadcasters, beat writers, whoever—you'll be hard-pressed to find someone who doesn't believe that Cole is the genuine article or that he's the future ace of the rotation in Pittsburgh.
The future is almost here.
The Pirates could have broken camp with Cole inserted into the rotation. But the team opted to have him start the season at Triple-A, likely to not only get him some more experience, but to keep his service time clock from starting to spin.
That said, Cole will arrive in Pittsburgh at some point this summer, and his arrival could be the boost that Pittsburgh needs to go from borderline contender to playoff team. He's a game-changer, someone Pirates fans cannot wait to see take the mound for their hometown team.
San Diego Padres: Jedd Gyorko
Rich Pilling/Getty Images
It's taken a little while, but the prospects that GM Josh Byrnes has accumulated for the San Diego Padres are beginning to make their mark felt at the major league level.
Last season saw Yonder Alonso and Yasmani Grandal make their major league debuts, and 2013 brings Jedd Gyorko to the stage.
Gyorko, 24, has a quick, compact swing that allows him to hit for average and power, driving the ball to all fields. Versatile, he'll start the season as the team's starting third baseman in Chase Headley's absence, sliding over to second base upon Headley's return, likely in early May.
With the fences having been moved in at Petco Park for the 2013 season, Gyorko's power won't go to waste in what has been the most pitching-friendly park in the majors.
San Francisco Giants: Defending the Crown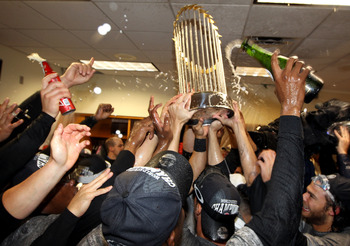 Ezra Shaw/Getty Images
With few exceptions, the San Francisco Giants enter 2013 with essentially the same roster that went on one of the more remarkable postseason runs in baseball history, coming back from the brink of elimination multiple times to not only reach the team's second World Series in three years, but to win.
San Francisco's roster has the right mix of young talent and established veterans and enough depth that even another disappointing season from Tim Lincecum won't be enough to derail the team's hopes of successfully defending its World Series championship.
Seattle Mariners: A Capable Offense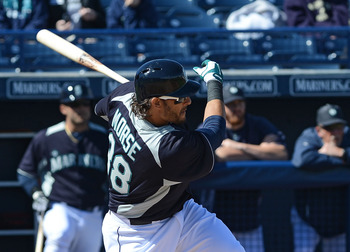 Jennifer Stewart/Getty Images
When it comes to scoring runs, Seattle has ranked at or near the bottom of baseball for years, unable to muster the potent offense that is often needed to win games in the American League.
While Seattle was rebuffed by both Josh Hamilton and Justin Upton this past winter, the team went out and acquired multiple pieces to help the cause, most notably Kendrys Morales, Michael Morse and Raul Ibanez.
The results have been evident in spring training, as Seattle's 204 runs scored are the second-most in baseball, trailing only the equally surprising Kansas City Royals, while the team's 55 home runs lead all teams.
Going deep at Safeco Field is often easier said than done, but the Mariners are far better equipped to hang with some of the powerhouse offenses that they'll be going up against than they have been in years.
St. Louis Cardinals: Oscar Taveras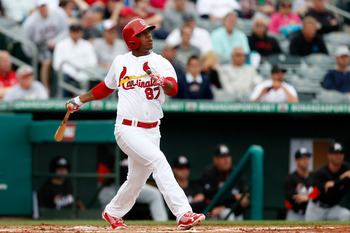 Chris Trotman/Getty Images
If everything goes according to plan, Cardinals fans won't see Oscar Taveras until rosters expand in September.
But should one of the team's corner outfielders, Carlos Beltran or Matt Holliday, be lost for an extended period of time, the team's top prospect will get the call to make his major league debut.
With Double-A Springfield in 2012, Taveras posted a .321/.380/.572 slash line with 23 home runs, 94 RBI and 10 stolen bases in 11 attempts. He drew 42 walks while striking out only 56 times.
Taveras has drawn comparisons to Vladimir Guerrero with his combination of power and speed, with plate discipline that you simply don't see in young players and as strong a throwing arm as you'll find at any level in baseball.
Tampa Bay Rays: Wil Myers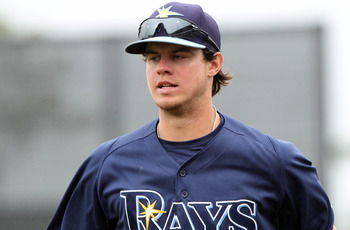 Kim Klement-USA TODAY Sports
The centerpiece of the trade that sent Wade Davis and James Shields to Kansas City, Wil Myers projects to be the powerful, middle-of-the-order bat that Tampa Bay has desperately needed to pair with Evan Longoria.
He'll start the season at Triple-A, but it won't be long before Myers arrives in Tampa Bay.
Splitting time between Double-A and Triple-A last season, Myers had a .314/.387/.600 slash line with 37 home runs and 109 RBI.
He has one of the sweetest swings of any minor league prospect, with the ability to drive the ball to all fields and the power to get the ball into the stands on a regular basis. A former catcher, Myers has a strong, accurate arm that will keep opposing baserunners honest.
Texas Rangers: Jurickson Profar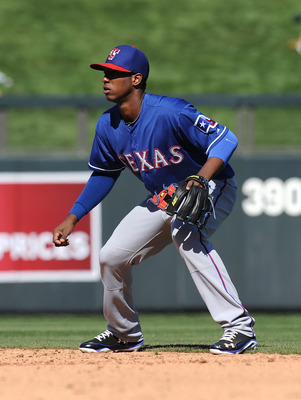 Norm Hall/Getty Images
It will take a significant injury to Elvis Andrus or Ian Kinsler—or a trade of one of the two—for Jurickson Profar to make his impact felt in Texas before September. But Rangers fans are foaming at the mouth about the thought of Profar's bat in the middle of the team's lineup.
Unquestionably the best prospect in baseball, Profar will start the season at Triple-A, despite really having nothing left to prove in the minor leagues. The Rangers, correctly, decided that he needs to play on a daily basis, and riding the bench in the big leagues would only hurt his development.
That said, Profar does everything well and is ready to contribute to the team's success at the major league level. He's simply too talented to keep on the farm for long.
Toronto Blue Jays: Making a World Series Run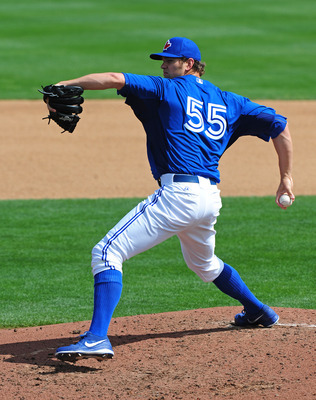 Scott Cunningham/Getty Images
No team in baseball made as many substantial changes to its roster as the Toronto Blue Jays did this winter, signing Melky Cabrera as a free agent and trading for nearly every quality major league player on the Miami Marlins roster from 2012.
Oh, and they went out and acquired the 2012 NL Cy Young award winner for good measure.
With speed at either end of the lineup in Jose Reyes and Emilio Bonifacio, the return of Jose Bautista to the middle of the lineup and a revamped pitching staff that now includes Mark Buerhle, Josh Johnson and R.A. Dickey, Toronto is poised to make a run at a wide open American League East.
It's not really a question of whether Toronto will make the playoffs in 2013—it would take a collapse of monumental proportions to keep the team out of the postseason—it's a question of just how far this team can go.
Washington Nationals: A Full Season of Stephen Strasburg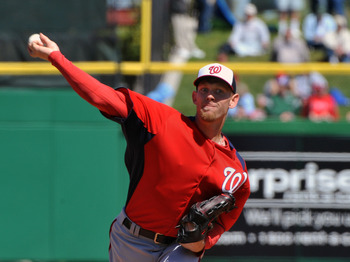 Al Messerschmidt/Getty Images
There wasn't a bigger story heading into the final month of the regular season in 2012 than Washington's decision to shut down its ace, Stephen Strasburg, after his start on September 7.
While Washington went on to win the NL East and make the playoffs for the first time in franchise history, its disappointing playoff results—the team lost to St. Louis in the NLDS—were widely attributed to not being able to throw its best pitcher twice in the series.
The innings limits on Strasburg's powerful right arm is gone, and Nationals fans can't wait to see how far the team can go with a full season of the team's best pitcher on the mound.
Keep Reading