Boston Celtics vs. Cleveland Cavaliers: Live Score, Results and Game Highlights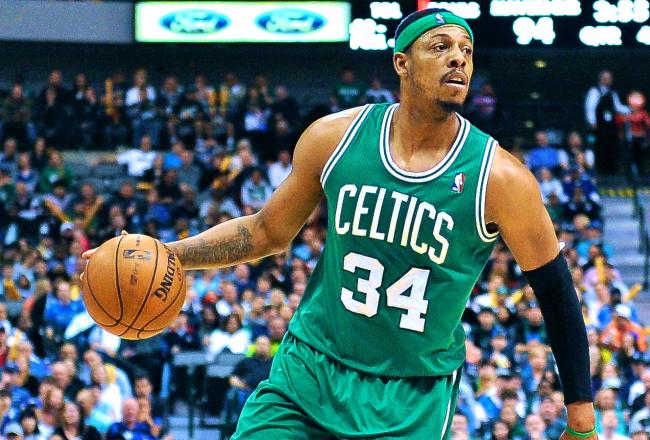 Let's hope you didn't come to see big names and star power, both of which will be conspicuously light in tonight's game between the injury-ravaged Boston Celtics and Cleveland Cavaliers.
The ones we knew would be out include Rajon Rondo, Jared Sullinger and Anderson Varejao. Tonight they'll be joined by Kyrie Irving, Dion Waiters, Kevin Garnett and Courtney Lee. These recent injuries appear to be less serious, but will definitely be keeping those bigger-name players on the sidelines in Cleveland.
Stay tuned to see whoever remains on each team battle it out at 7 p.m. EST at Quicken Loans Arena in Cleveland, OH. I'll have all your pregame updates and analysis here on Bleacher Report.
Boston 93, Cleveland 92 - Final
How the Boston Celtics escaped Cleveland with a win?
The Captain knows how to overcome
There was no one more frustrated with both his and the team's struggles early in the game, than Paul Pierce.
Pierce was fighting through some tough calls and bad turnovers. He racked up seven turnovers early on. However, he finished with those seven turnovers and no more. Pierce did literally everything the Celtics needed, posting 19 points, 10 rebounds and eight assists. He even picked up a pair of blocks.
In the final 2:40, Pierce had six points on 2-of-2 shooting and grabbed a rebound and assist to boot. Jeff Green got the game-winner, but Paul Pierce was clutch.
Doc Rivers' play calling
Give Jeff Green all the credit in the world for hitting that game-winner. Just don't forget that Doc Rivers called that play in the impromptu timeout beforehand.
Rivers used Pierce to pull defenders out of position, which in turn opened up a seam for Jeff Green to get his drive started.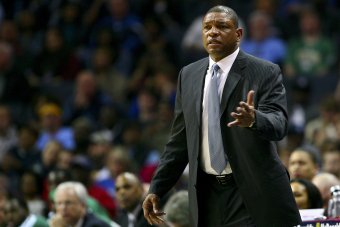 Spruce Derden-USA TODAY Sports
Rivers also made a decision to go with Jordan Crawford over Jason Terry in the fourth quarter. Crawford helped the Celtics get back in the game and finished with 12 points and four assists.
Says more about Cleveland's woes
This was a lucky win for the Boston Celtics. They didn't play particularly well, and barely got by beating a very weak team that is injured on top of that.
The Cavaliers had plenty of opportunities to close the game out, up 10 with under five minutes to go. However, they scored just one basket in the final 5:50, allowing the Celtics to chip away at the lead again and again.
10 of their last 12 shot attempts were outside five feet. They built their initial lead in the paint, where the Celtics were weak. Then they chose to try and battle on the perimeter, or Avery Bradley's zone.
The Celtics got a valuable win, with Milwaukee losing, but it wasn't pretty.
Boston 93, Cleveland 92 - Final
Boston Celtics Boxscore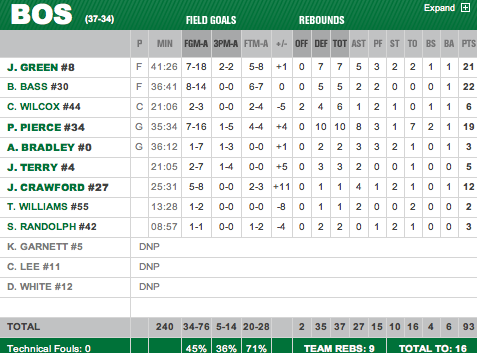 Boxscore courtesy of NBA.com
Boston 93, Cleveland 92 - Final
Cleveland Cavaliers Boxscore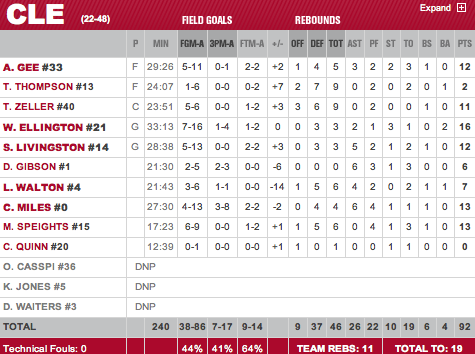 Boxscore Courtesy of NBA.com
Boston 93, Cleveland 92 - Final
Boston Celtics Plus/Minus
Avery Bradley: +1
Jeff Green: +1
Paul Pierce: +4
Brandon Bass: 0
Chris Wilcox: -5
Shavlik Randolph: -4
Jordan Crawford: +11
Terrence Williams: -8
Jason Terry: +5
Boston 93, Cleveland 92 - Final
Cleveland Cavaliers Plus/Minus
Shaun Livingston: +3
Wayne Ellington: 0
Alonzo Gee: +2
Tristan Thompson: +7
Tyler Zeller: +3
Marreese Speights: +1
Luke Walton: -14
Chris Quinn: +1
C.J. Miles: -2
Daniel Gibson: -6
Boston 93, Cleveland 92 - Final
One year ago here in Cleveland, Jeff Green got a new heart. In the final two minutes tonight, he showed it to us.

— Sean Grande (@SeanGrandePBP) March 28, 2013
How about this for the story of the night?
Stay tuned to Bleacher Report for the rest of your postgame stats and analysis.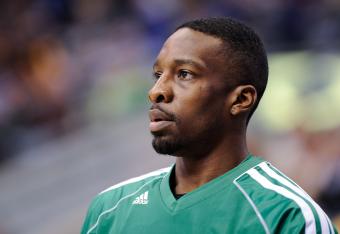 Boston 93, Cleveland 92 - Final
WOW!
What a move by Jeff Green to get to the rim, sliced through two defenders to lay it high off the glass for the game-winner.
The Celtics closed this one on a 21-6 run.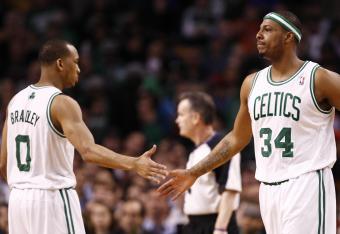 Boston 91, Cleveland 92 - :9 Remaining in Fourth Quarter
Paul Pierce's turnaround bucket gives him six points in the final 2:40 of the game. All clutch points in this close game.
Shaun Livingston's miss winds up in Jason Terry's hands. The Celtics have nine seconds to win it.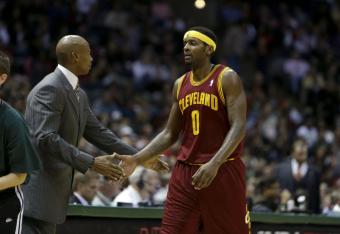 Boston 89, Cleveland 92 - 0:39 Remaining in Fourth Quarter
Some great physical defense being played by both teams in the closing minutes.
Paul Pierce is forced to foul C.J. Miles to prevent a layup, but he makes both freebies anyway.
Miles puts an end to a 7-0 Celtics run, and gives Cleveland a three-point lead.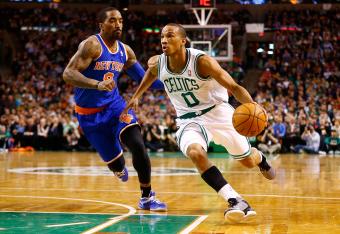 Boston 89, Cleveland 90 - 1:45 Remaining in Fourth Quarter
A big Avery Bradley steal leads to an three-point play for Jeff Green at the other end.
Bradley deceptively sunk back on his defender and kept an eye on the ball. He snuck into the lane for the steal.
Boston 84, Cleveland 90 - 2:15 Remaining in Fourth Quarter
The Celtics still have a chance to steal the game, down six and Paul Pierce going to the line for a pair.
This is just Pierce's second trip to the line tonight, he's 2-of-2. He has 15 points, nine rebounds and seven assists. Things haven't been easy for him, shooting 6-of-15 and submitting seven turnovers, but the captain is playing hard and will be the difference if the Celtics win this one.
Boston 82, Cleveland 90 - 2:45 Remaining in Fourth Quarter
Brandon Bass with four-straight to get the Celtics within single-digits.
Bass with a season-high 22 points on 8-of-14 shooting.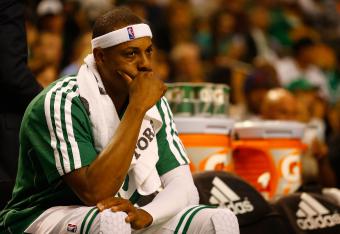 Boston 80, Cleveland 88 - 4:25 Remaining in Fourth Quarter
News is only getting worse for the Boston Celtics.
The Atlanta Hawks have taken an eight-point lead with three minutes to go. The Bulls are heading into halftime with a nine-point lead over Miami.
Thankfully, the Milwaukee Bucks lost tonight, so even a Celtics loss will not drop them any closer to the No. 8 seed.
Boston 78, Cleveland 88 - 5:25 Remaining in Fourth Quarter
The Celtics have largely stemmed the turnovers, and haven't given up an offensive board in a while. Still there is a 12 shot discrepancy between the two teams.
One other issue, the Celtics are shooting 65 percent from the free throw line, 15-of-23. That is eight free points, and I wonder if the decision still stands to let Jeff Green take that technical free throw.
Boston 73, Cleveland 86 - 7:45 Remaining in Fourth Quarter
Things are getting out of hand in Cleveland, with the Cavaliers extending their lead to 13.
They now have five players in double-figures, with Marreese Speights threatening at nine.
Boston 72, Cleveland 82 - 8:35 Remaining in Fourth Quarter
Remember those nine points Jeff Green had in the first quarter? He's got 12 now. Same thing has happened that has been happening for plenty games now.
Green comes out hot and then completely disappears from games. The Celtics need him to do something.
Boston 70, Cleveland 76 - 10:15 Remaining in Fourth Quarter
The Celtics can't afford to let anyone else on the Cavaliers get going, but Daniel Gibson buckets another three. They've done a good job keeping he and Tristan Thompson quiet all night, and must continue to do so to stage a comeback.
Jordan Crawford has the green light and then some in the fourth quarter. He made a game out of the Memphis Grizzlies loss, we'll see what he can do here.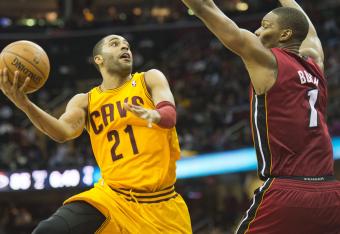 Boston 67, Cleveland 73 - End of Third Quarter
A Jordan Crawford bucket at the buzzer keeps the Celtics within six at the final quarter-change.
Wayne Ellington leads four Cavaliers in double-figures with 16 points. Tyler Zeller has backed up his 11 points with nine rebounds.
For the Celtics, Brandon Bass has been fantastic and aggressive. He's got a game-high 18 points to go with five rebounds. Paul Pierce has 13 points, seven rebounds and six assists. The Celtics' captain has turned the ball over seven times.
Boston 65, Cleveland 70 - :32 Remaining in Third Quarter
The Celtics could have really swung some momentum had Avery Bradley hit a corner three.
As great as his defense is, he is really a vacuum to the offense. Another poor performance tonight, 1-of-7 from the floor and 1-of-3 from beyond the arc.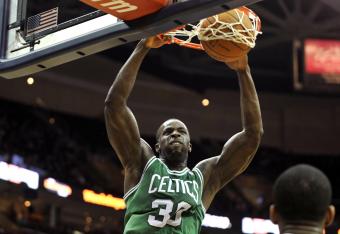 Boston 63, Cleveland 68 - 1:42 Remaining in Third Quarter
Brandon Bass letting out some frustrations into the chest of Tyler Zeller.
Bass was whistled for an iffy goaltending call on the other end, but gets to go to the line here for a pair.
Great night for Bass, with 18 points and four rebounds.
Boston 60, Cleveland 66 - 3:22 Remaining in Third Quarter
True statement from Jason Lloyd of the Akron Beacon-Journal.
Most impressive part about this #Cavs 66-56 lead? They're doing it despite a lousy night from Tristan, who is best healthy player on team

— Jason Lloyd (@JasonLloydABJ) March 28, 2013
Tristan Thompson is just 1-of-6 for two points tonight.
Boston 56, Cleveland 66 - 4:12 Remaining in Third Quarter
Wayne Ellington cannot miss in the third. He is 7-of-13 in the game, good for 16 points.
He got another bucket off of Paul Pierce's seventh turnover.
Boston 54, Cleveland 62 - 5:32 Remaining in Third Quarter
Midway through the third quarter and Jason Terry gets his first points.
Talk about unacceptable. In a game where the Celtics are so incredibly short-handed, Terry has to take responsibility and handle some of the scoring load.
Boston 50, Cleveland 60 - 7:02 Remaining in Third Quarter
Two numbers to keep an eye on as the Cavaliers are pulling away from the Celtics now, are Boston's turnovers and Cleveland's offensive rebounds.
The Celtics have given the ball away 10 times, by virtue of six steaks. Cleveland has grabbed nine offensive rebounds.
That discrepancy has already allowed the Cavaliers 14 more field goal attempts.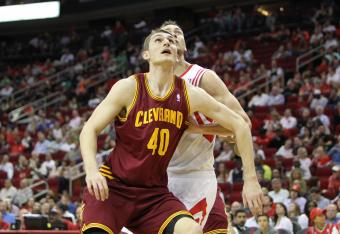 Boston 50, Cleveland 56 - 9:02 Remaining in Third Quarter
The Cavaliers are on another mini 7-0 run, featuring four points by Shaun Livingston.
He now has 10 points on the game, while Tyler Zeller is a rebound away from a double-double, with 11 points and nine boards.
The team-high belongs to Wayne Ellington though, who's three gave him 12 points on the night.
The Cavaliers have three players in double-figures and two more with eight points.
This article is
What is the duplicate article?
Why is this article offensive?
Where is this article plagiarized from?
Why is this article poorly edited?

Boston Celtics: Like this team?