Comparing Each Top 10 2014 College Football Recruit to a 2013 Recruit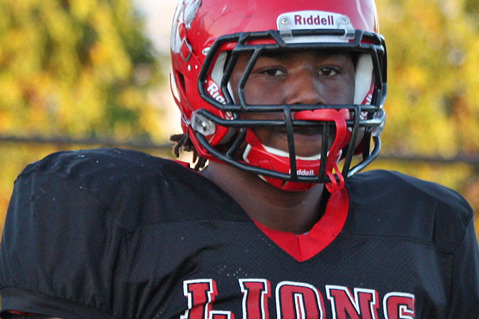 247Sports
Making comparisons is something that all evaluators do and take pride in. The more players you see the better picture you can paint with your evaluations, and those comparisons really help in your assessments.
For today, let's have some fun and make some more comparisons.
However, this time we won't be doing any NFL comparisons, but rather taking the top-10 recruits from the 2014 class and comparing them to a recruit from the 2013 class.
Again, these comparisons were not just shots in the dark or guessing games.
Each comparison is the result of a diligent look and study into both the 2014 prospect's and 2013 prospect's skills and similarities. So come on inside and check out just who exactly does each top-10 recruit this year compare to from last year.
Begin Slideshow

»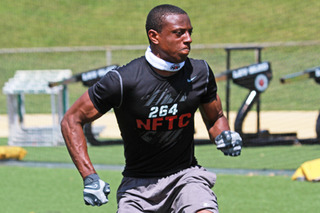 247Sports
Humphrey is tall and long CB at 6'1" and 175 pounds. He's from Alabama and has the ability roll up and press a WR at the times or sit off and use his anticipation and transition quickness to make plays.
Last year we had a similar player to Humphrey who also was a taller CB but had a well-rounded game. This CB prospect had similar anticipation skills to Humphrey and could also play different coverage techniques.
His name was Eli Apple, Ohio State's standout recruit.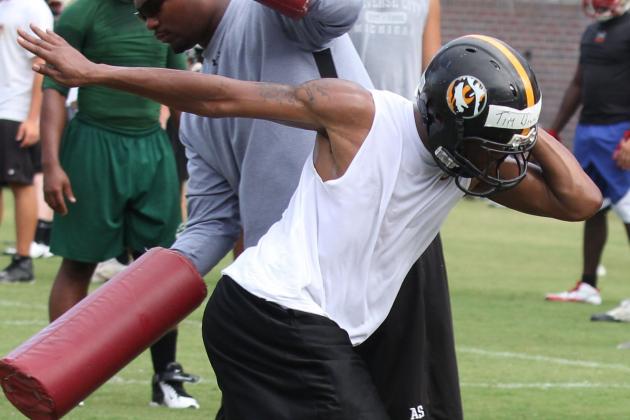 247Sports
Carter's length is very impressive and helps him a lot based on the tape I've seen. He's listed at 6'6" and 232 pounds but shows great snap quickness and range.
I believe Carter could also be able to stand up and play as a big 3-4 OLB, but he's going to be 255 pounds one day, and he may get too heavy to consistently stand up.
An impressive prospect nonetheless, Carter is an even more active version of Alabama's 4-star recruit Tim Williams.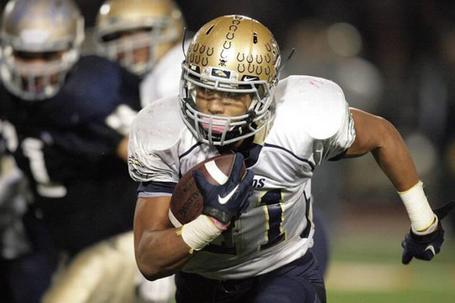 247Sports
Out of New Jersey, Peppers is a 6'1", 205-pound baller who's been a stud since his sophomore season at Paramus Catholic. He's a great athlete, shows good speed and has outstanding instincts.
I can see him becoming successful at several different positions in college. With his similar size, play smarts and instincts, along with being a versatile player, Peppers is this year's Su'a Cravens, the USC recruit.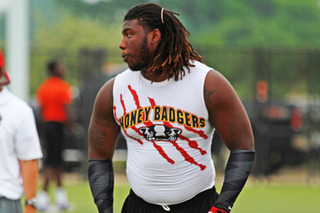 247Sports
At 6'4", Brown has a frame that could weigh 300 pounds before he arrives on a college campus as a freshman. He's very strong on his feet, can be a power player and mess-maker in the middle but he also has quickness too.
I really liken him to USC's Kenny Bigelow, as the two are both physical at the point of attack and violent at times but are athletic in the trenches.
Both players should be amongst the better DLs in the country one day.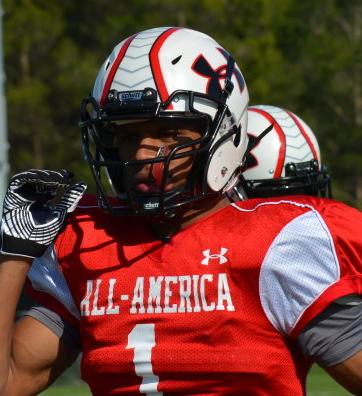 247Sports
Another Virginia prospect, Blanding is the top pure safety in the country for 2014. He's got great size at 6'2", 200 pounds and plays with fantastic range on the back end.
His ball awareness is extremely impressive, and Blanding has soft hands. He can roam in center field, recognize route combinations and has good transition quickness to jump passing lanes.
I've said it before, and I'll say it again: he's basically a little more physical version of ND's 5-star recruit Max Redfield.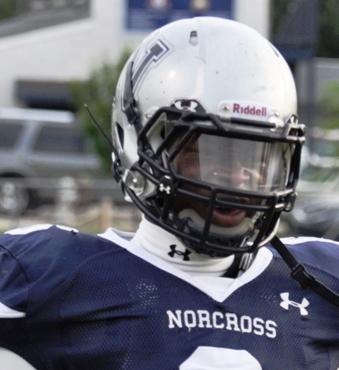 247Sports
Michel is the top player in Florida this year and probably was among the best-10 overall as a junior in the Sunshine State. He's a 5'11", 205-pound back who can do just about everything.
Michel can run with some power while also showing a great burst, good long speed, quickness, instincts and hands. His change of direction skills are also top notch, and he's probably a RB who's ready to contribute from Day 1.
His well-rounded and exciting style of toting the rock reminds me of Alabama's Alvin Kamara, though Michel is a little bigger at this point.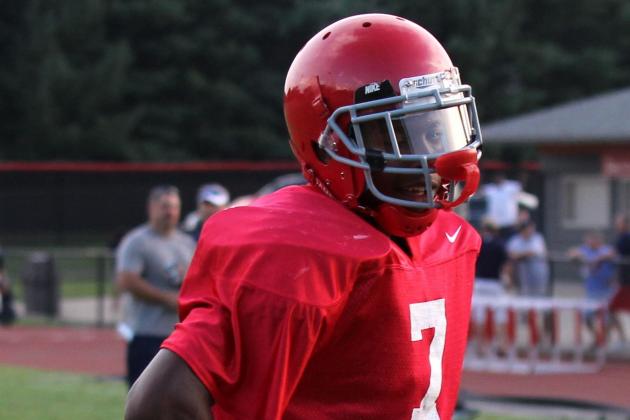 247Sports
Some CBs act like they like to press and jam at the line, but they really don't. Those types like to give some cushion and play with finesse.
Brown isn't like that at all.
He's a 6'0', 185-pound press-corner that has good upper-body strength, mirror ability, agility and short area quickness. With his size, play awareness, toughness and overall style of play, Brown could become a safety in college.
That's a lot of the same things we were saying about Jalen Ramsey last year.
247Sports
La'el Collins hasn't made the impact at LSU that we thought he'd make just yet, but Robinson may be better than Collins was at this point in his development. The latter is a 6'6", 330-pound mammoth LT prospect that shows natural knee bending ability, athleticism and shadow quickness.
Robinson is basically a bigger and stronger Laremy Tunsil (Ole Miss). He's got 35 pounds of mass over Tunsil and plays with more power.
However Tunsil can match up with Robinson as an athlete, and that's where the comparison really gets eerie.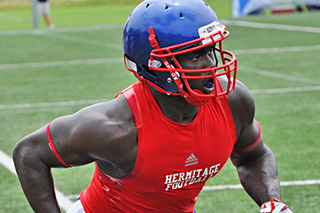 247Sports
Fournette's an impressive RB prospect from Louisiana that stands just about 6'1" and weighs 225 pounds. He's got the total package and is a very special player, so I struggled a bit with his comparison.
He's got some Kelvin Taylor in him, but the Gator Taylor may be a bit quicker. He's not as big as Alabama's Derrick Henry, but Fournette runs a little stronger.
I'm going to say he's a cross between Taylor, Henry and a little bit of Michigan's Derrick Green too...all in one.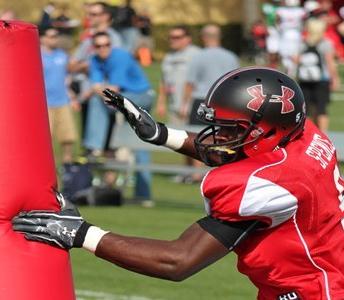 247Sports
The player in the country reminds me really of a stronger Noah Spence. If I had to choose a recruit from the 2013 class strictly to compare Hand to, then I'd start with Auburn's Carl Lawson.
Hand is a 6'5", 247-pound DE prospect from Virginia with rare explosiveness at the snap, strength, power, hand usage and finishing ability. He's going to be able to make an early impact in college and think of a stronger and stouter Buckeye Noah Spence when you think of this guy.
Edwin Weathersby is the College Football Recruiting Analyst for Bleacher Report. He has worked in scouting/player personnel departments for three professional football teams, including the New York Giants, Cleveland Browns and the Las Vegas Gladiators of the Arena League. He spent a year evaluating prep prospects and writing specific recruiting and scouting content articles for Student Sports Football (formerly ESPN Rise-HS). A syndicated scout and writer, he's also contributed to WeAreSC.com, GatorBait.net and Diamonds in the Rough Inc., a College Football and NFL Draft magazine.