Steelers 2013 Mock Draft: Building the Perfect 7 Round Draft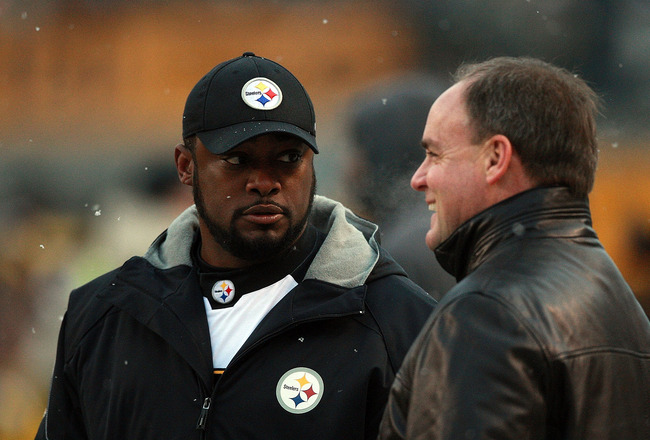 Karl Walter/Getty Images
Almost without even realizing it, we are now under one month away from the 2013 NFL Draft where the Pittsburgh Steelers hold the 17th overall selection. But unlike a lot of seasons in the past, Pittsburgh is truly in desperate need of a successful draft.
Not that every draft shouldn't be successful, but 2013 could be very significant for the Steelers.
Right now, the team is in a delicate transition period of getting rid of the old, while infusing in some young talent. So far, it's hasn't worked out so well for Pittsburgh, leading to an 8-8 record last season and failing to reach the Playoffs.
Add in the key losses this offseason in guys like Mike Wallace, James Harrison and Keenan Lewis, and that makes this draft even more significant. So, let's check out an ideal version of the Steelers draft that could help bring them back to prominence.
Round 1 (17th Overall): Jarvis Jones / OLB / Georgia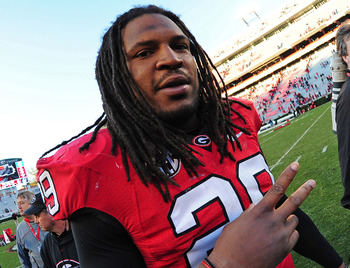 Scott Cunningham/Getty Images
At one point, Georgia pass rusher Jarvis Jones was considered the No. 1 prospect in the 2013 NFL Draft, but he's fallen off lately for, admittedly, good reason.
Jones lost a lot of ground at the NFL Scouting Combine due to his spinal stenosis condition that many fear could cut his career short, as it did, most recently, to Chris Samuels and Marcus McNeil.
Jones followed up by running a dismal 4.9 40-yard dash time at his Georgia Pro Day, causing some to question whether he truly possesses enough athleticism to make it at the next level.
But the one thing Jones has going for him is tape, and the tape speaks for itself. He was undoubtedly college football's most dominant pass rusher over the last two seasons, and he did it against some of the NCAA's toughest competition in the SEC.
The offseason departure of James Harrison makes the Steelers outside linebacker position one of great need, and there's no question they should be taking one early in a draft that's deep with pass rushers. If Jones is healthy, there's no reason to believe he wouldn't continue his play at the next level.
But the Steelers have to believe that he's healthy.
Round 2 (48th Overall): Eric Reid / S / LSU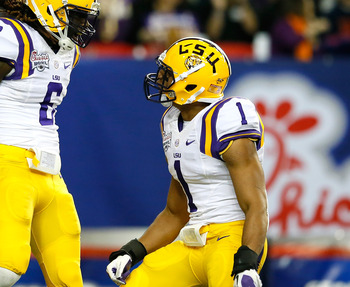 Kevin C. Cox/Getty Images
This pick could end up being a huge steal for Pittsburgh, or Reid could be well off the board by now. Trying to predict where LSU safety Eric Reid will land by the end of April is like trying to predict how many more visits Victor Butler is going to take...it ain't gonna happen.
Reid has had his highs and lows this offseason, but currently seems to be settling in the late-first to second round range. The rise of FIU safety Jonathan Cyprien has pushed Reid back a little bit, and the Steelers should be just fine with that.
Safety isn't an immediate area of need for Pittsburgh. Both Ryan Clark and Troy Polamalu can still play at a high level, but the odds of both players staying healthy is slim to none.
Last season, the Steelers lost Polamalu for nine games and they paid for it, with less-than-quality backups trying to fill some big shoes.
Reid has great size and is at his best when playing down in the box. He's not going to wow you with his speed or playmaking ability, but he's a good tackler who can get the job done in coverage, and is capable enough to create some turnovers.
If a guy like Reid is available for the Steelers at No. 48, they shouldn't hesitate to pounce.
Round 3 (79th Overall): Stedman Bailey / WR / West Virginia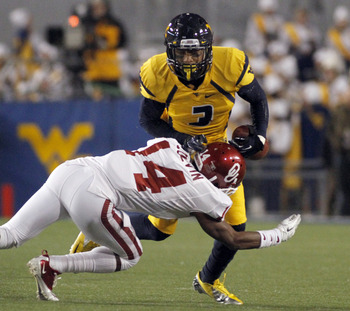 Justin K. Aller/Getty Images
Although I don't believe receiver Mike Wallace is worth anywhere near the $13 million per year he'll be getting from the Dolphins, his absence does leave a big hole in the Steelers receiving corps.
Tavon Austin will be receiving most of the attention when it comes to West Virginia wide receivers, but teammate Stedman Bailey might not be as far behind as you may think. And he can be had at a much cheaper price.
Bailey lacks ideal size and bulk, but he makes up for that by being one of the toughest receivers in the country. It also doesn't hurt him to have some of the surest hands in this years draft.
Bailey is certainly a slot receiver at the next level and he fits very well into the quick-strike offense Todd Haley would like to employ in the Steel City. Combine Bailey with players like Antonio Brown and Emmanuel Sanders on the outside and you've got a pretty dynamic crew of pass catchers.
Like Jones, Bailey's college production speaks for itself, especially the 25 touchdowns in 2012. He has also caught 185 passes over the last two seasons with the Mountaineers. Hopefully he's still around in the third.
Round 4 (115th Overall): Brandon Williams / NT / Missouri Southern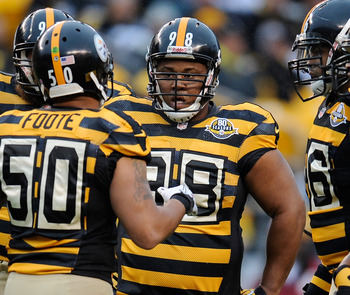 Joe Sargent/Getty Images
That man in the middle of your picture leaves some big shoes to fill...both figuratively and literally.
Longtime nose tackle Casey Hampton has hit the free agent market, and the Steelers seem to have no plans on bringing back the former first round pick. That means there's a pretty big hole in the middle of that 3-4 defense.
Pittsburgh drafted Alameda Ta'amu in the fourth round in 2012 to quell this impending storm, but some off-field issues later, his status with the team is still up in the air.
If the Steelers are in the market for nose tackle in the draft, they can find some serious quality in Brandon Williams from Missouri Southern State.
Williams may not have been a D-1 prospect, but he's got the size and strength to do just what Hampton did for years in this defense. His shear domination of his opponents makes him a good candidate to give a shot at winning a job here.
Steve McLendon will most likely garner the week-one start, but if Williams comes in, he could certainly push for the job.
Round 5 (150th Overall): Kenjon Barner / HB / Oregon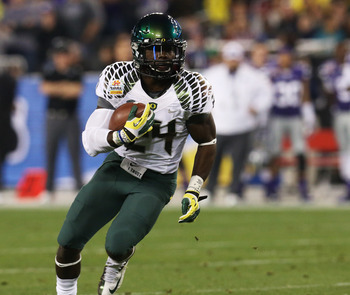 Stephen Dunn/Getty Images
I already know a lot of people aren't going to like this pick, but a guy like Kenjon Barner is exactly what the Steelers are lacking in the backfield.
At Oregon, Barner was one of the most exciting, explosive backs in the country, and he could bring a little of that flair to the Steel City. Adding the dismissal of Chris Rainey, and it's plain to see the Steelers have an opening for a guy like Barner.
Right now, the Steelers employ Jonathan Dwyer and Isaac Redman at the running back position. Explosion isn't the word I'd use to describe either back.
Barner gives quarterback Ben Roethlisberger another weapon out of the backfield, and he can even contribute in the return game on special teams. In my opinion, Barner could be the steal of the draft for the Steelers in the fifth. Though, they'll have to beat out Chip Kelly and the Eagles for him first.
Round 6 (186th Overall): Kevin Reddick / ILB / North Carolina
Andy Lyons/Getty Images
It's unfortunate, but the Steelers may be drafting a lot of the positions in 2013 that they drafted in 2012. Whether that be from off-field issues, injuries or simple scheme fits, they'll have to swallow their pride and make some sensible picks.
Middle linebacker is one of those positions. After selecting Sean Spence in the third round of last years draft and seeing him miss the entire season with an injury, the Steelers may be in the market for another inside backer in the later rounds.
Kevin Reddick is a big linebacker and at 6-1, 248-pounds, he fits what the Steelers want to do inside. With Lawrence Timmons playing a sideline-to-sideline, rover roll, Reddick has an opportunity to learn the BUCK roll behind Larry Foote.
And that's something he'd be very good at.
Reddick is a very good run defender and uses his size to his advantage. Reddick is still raw, but getting him this late gives him an opportunity to learn.
Round 6 (206th Overall): Kapron Lewis-Moore / DE / Notre Dame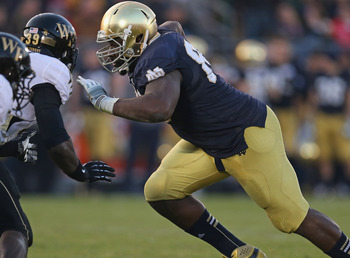 Jonathan Daniel/Getty Images
I'll be honest, Kapron Lewis-Moore really intrigues me as a player. His history of knee injuries will push him this far down the board, but he's a much better player than the sixth round.
Lewis-Moore has the ability to play in both a 4-3 and 3-4 defense, and could provide the Steelers with, at the least, good depth at defensive end. He's also probably a better pass rusher than anyone the Steelers employ from a 3-4 end standpoint.
Lewis-Moore's biggest issue right now is the fact that Pittsburgh would have to stash him away for an entire season, as he's still recovering from a torn ACL suffered in the BCS National Championship game.
Other than the injuries, he could be a solid pick for a team that needs to revamp their defensive front.
Round 7 (223rd Overall): Sam Brenner / OG / Utah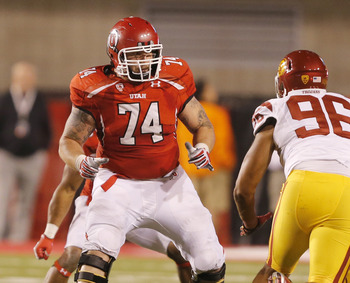 George Frey/Getty Images
The release of Willie Colon means the Steelers have some depth issues at offensive guard. They did a great job of gathering quality players late in last years draft, and adding Brenner could do the same for them this season.
Brenner is a Steeler-type of player. He's hard-nosed and tough at the point of attack. He's got good versatility and, although he gets caught upright on occasion, his major flaws are all correctable ones.
This is the only offensive lineman I have the Steelers taking in the draft because I think they'll take care of some issues in free agency. Doug Legursky and Max Starks could both be returning to Pittsburgh for 2013
Keep Reading

Pittsburgh Steelers: Like this team?