NBA Teams That Can't Afford to Stand Pat This Offseason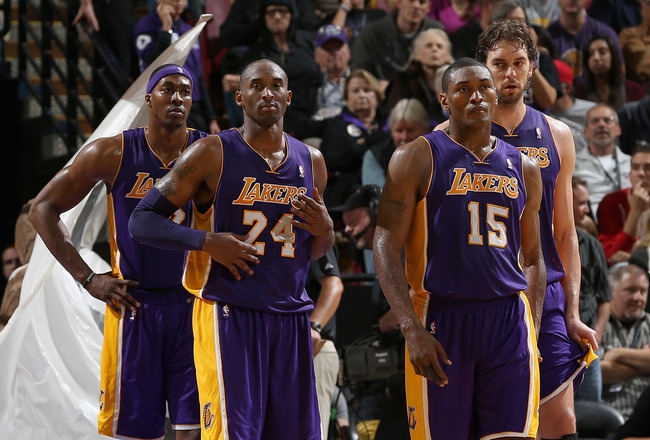 Ezra Shaw/Getty Images
With the 2012-13 regular season winding down, a number of NBA teams should already be looking ahead to July 1, 2013 —the day that free agency officially kicks off.
Considering that nearly half the league's teams are already jostling for ping-pong balls, this year's free-agent class should have no shortage of bidders.
Even certain playoff-bound teams face highly uncertain fates after this season wraps up. While Chris Paul and Dwight Howard appear likely to stay on their respective Los Angeles teams, nothing's ever 100 percent until the ink dries on their new contracts.
To see which squads need to make noise during free agency this summer, I looked at the rosters and salary-cap situations of every team in the league. Some teams featured here are so deplorably awful that they need to make moves in free agency if only to cheer up their otherwise depressed fans.
Others either face major looming free-agent decisions of their own (see: Paul and Howard) or need to add a few final pieces to become true championship contenders.
Which teams can't afford to rest on their laurels this summer? Nine in particular rose to the top. They're presented here in alphabetical order.
Note: Each team's "projected cap space" figure assumes that the team renounces rights to all unrestricted free agents (except where otherwise noted), thereby eliminating cap holds for those players.
For teams with fewer than 12 players under contract in 2013-14, the "incomplete roster charge" is applied to their projected cap-space figure. Rookie salary figures for 2013-14 come from Larry Coon's Salary Cap FAQ. Information about draft picks owed comes from RealGM.
You can see a "projected cap-space calculation" at the bottom of each team's slide. The projected salary cap is set at $60 million. Any player with a team option gets automatically picked up in these cap figures; players with player options are evaluated on a case-by-case basis.
All team records/draft-pick projections are current through games played on March 27.
Atlanta Hawks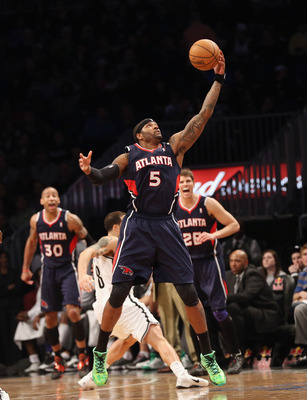 Bruce Bennett/Getty Images
Projected Cap Space: $11,889,028
No matter what the Atlanta Hawks decide to do regarding Josh Smith, they appear poised to be a major player in 2013 free agency.
The Smith decision looms large over the franchise, seeing as he told the Atlanta Journal-Constitution in January that he "feel[s] like [he's] a max player." That's debatable, to say the least.
I'm already on record as saying he's not worth that type of money, but that's a decision the Hawks have to make on their own. Atlanta can offer Smith one more year on his contract than any other team, but another team could still swipe Smith this summer if it offers more per-year money than the Hawks.
If the Hawks sign Smith to a big-money, long-term deal, they'll still likely have about $12 million of cap space remaining. If they instead decide to renounce their rights to Smith and turn their attention elsewhere in free agency, the team is projected to be an eye-popping $30 million under the salary cap.
On the off chance that Dwight Howard decides to leave the Los Angeles Lakers, the fact he originally hails from Atlanta could give the Hawks a leg up in signing him to a long-term deal. (Can you imagine a Howard-Al Horford frontcourt?!)
Otherwise, the Hawks could use some major upgrades in the backcourt, as Devin Harris' contract expires after the 2012-13 season. Jeff Teague/John Jenkins isn't an awful place to start, but Atlanta needs far more talent at its guard positions if the team hopes to eventually dethrone Miami in the East.
The Hawks lack the firepower to truly contend in the Eastern Conference this season, but $30 million in cap space this summer could quickly change things. Even if Atlanta re-signs Smith to a max contract, the roughly $12 million in remaining cap space should allow the Hawks to make another major move or two.
Projected Cap Space Calculation:
$26,185,432 already committed (A. Horford, L. Williams, J. Teague, D. Stevenson, J. Jenkins, I. Johnson, M. Scott) + $18,000,000 (cap hold for J. Smith) + $1,280,800 (No. 18 pick) + $1,174,200 (No. 20 pick from Houston) + $980,360 (their own second-round draft pick and Houston's second-round draft pick) + $490,180 (incomplete roster charge) = $48,110,972
$60,000,000 - $48,110,972 = $11,889,028
Charlotte Bobcats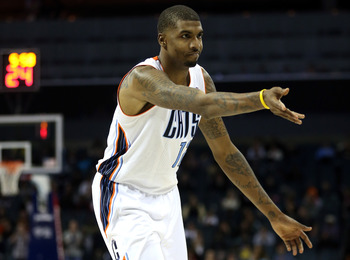 Streeter Lecka/Getty Images
Projected Cap Space: $7,091,194
The Charlotte Bobcats appear well on their way to finishing with the league's worst record for the second straight year.
If the team hopes to retain any fans, it can't have a third straight 20-or-less-win season in 2013-14.
Despite how terrible the Bobcats have been this season, the team's salary-cap situation isn't much better. Shooting guard Ben Gordon holds a $13.2 million player option for 2013-14 that he'd be insane not to opt into, which would absorb a majority of Charlotte's available cap space.
Assuming Gordon picks up his player option and the Bobcats pick up their team options on Gerald Henderson and Byron Mullens, that'd leave them roughly $7 million under the cap. That's not enough money to lure a major free agent, but the 'Cats could always get creative on the trade market.
Realistically, the Bobcats likely will need to find a taker for either Gordon, Tyrus Thomas or Ramon Sessions to have any chance of landing a high-impact free agent. The worst team of the past two seasons isn't exactly an easy sell to prospective free agents, suffice it to say.
Eventually, though, the young lottery talent that Charlotte acquired the past two seasons will likely start panning out. To a certain extent, Kemba Walker, Bismack Biyombo and Michael Kidd-Gilchrist have all shown flashes of respective greatness at times, with Walker in particular shining this season.
The Bobcats are virtually guaranteed one more top-five pick this year to add to the Walker/Biyombo/Kidd-Gilchrist core, which should help accelerate the rebuilding process. Charlotte needs to be active on the free-agent market, however, to ensure at least 30 to 35 wins next season.
Projected Cap Space Calculation:
$47,981,726 already committed (B. Gordon, T. Thomas, R. Sessions, M. Kidd-Gilchrist, G. Henderson, B. Biyombo, K. Walker, B. Mullens, B. Haywood, J. Taylor) + $4,436,900 (No. 1 overall pick) + $490,180 (second-round draft pick) = $52,908,806
$60,000,000 - $52,908,806 = $7,091,194
Dallas Mavericks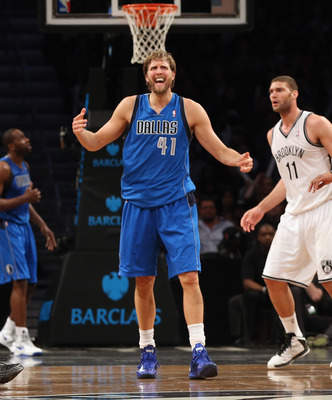 Bruce Bennett/Getty Images
Projected Cap Space: $8,356,486
The summer of 2013 is the first real chance for Dallas Mavericks owner Mark Cuban to prove his point about the league's new collective bargaining agreement.
After the Mavericks won the 2010-11 championship, Cuban punted on a repeat bid by allowing Tyson Chandler to sign with the New York Knicks that summer. He repeatedly said that the new CBA's more restrictive luxury-tax penalties would soon make him look like a genius for keeping the team's payroll trim.
With the incremental luxury-tax rate set to start in 2013-14 and the repeater rate kicking in a year later, 2013 free agency is Cuban's opportunity to outfox some of the league's more short-sighted owners.
The first order of business for Cuban and the Mavericks? Figuring out what to do about O.J. Mayo, who holds a $4.2 million player option for 2013-14.
Considering how well Mayo has played for Dallas this season, he's almost certainly in line for a pay raise this summer if he decides to decline the player option. His value only skyrockets further based on how shallow the 2-guard position has become in the NBA.
If another team drives the price up too high on Mayo, the Mavericks would have roughly $13 million in available cap space after renouncing his rights. That's not quite max-contract-level money, but it could be enough to land a high-risk, high-reward free agent such as Andrew Bynum.
The 34-year-old Dirk Nowitzki is only getting older, putting the pressure on Cuban to give the Big German enough surrounding talent before his championship window closes for good.
The Mavericks won't have as much cap space available as some of the other teams on this list, but they should still be one of the major players in free agency this summer.
Projected Cap Space Calculation:
$43,829,574 already committed (D. Nowitzki, S. Marion, V. Carter, D. Collison, R. Beaubois, J. Cunningham, J. Crowder) + $4,824,000 (cap hold for O.J. Mayo) + $1,519,400 (No. 14 overall pick) + $490,180 (second-round draft pick) + $980,360 (incomplete roster charge) = $51,643,514
$60,000,000 - $51,643,514 = $8,356,486
Detroit Pistons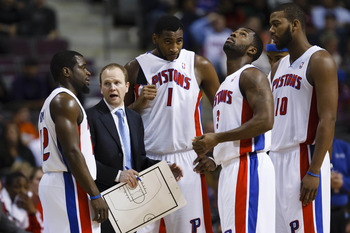 Rick Osentoski-USA TODAY Sports
Projected Cap Space: $21,034,720
After years of mediocrity, the Detroit Pistons are finally poised to escape from the basement of the Eastern Conference.
The big-man duo of Greg Monroe and Andre Drummond gives the Pistons their first true building blocks since the championship-winning team of the early 2000s. If the two stay together and remain healthy, they could easily emerge as the league's most dominant frontcourt in the next few years.
Monroe could hit restricted free agency in 2014-15, however, which gives the Pistons an impetus to significantly improve the team this summer. Fortunately for Detroit fans, the team appears poised to be one of the most powerful forces in 2013 free agency.
Assuming the Pistons renounce the rights to Will Bynum, Jason Maxiell, Corey Maggette and Jose Calderon, they could have over $20 million in cap space this summer after the NBA draft. Detroit may not be a free-agent destination like Los Angeles, New York or Miami, but money talks, too.
Depending on what Detroit decides to do with Calderon, the team could end up being a major bidder for one of the top point guard targets on the market, such as Brandon Jennings, Tyreke Evans or Kyle Lowry. A likely top-five pick also gives the Pistons the opportunity to add a cheap, talented young piece to their backcourt.
The Pistons don't necessarily have to contend for the NBA championship in 2013-14, but Monroe, Drummond, a likely top-five pick plus $20 million in cap space is too rich a combination to waste. Expect Detroit to be actively attempting to address point guard, shooting guard and/or small forward in the draft and free agency in 2013.
Projected Cap Space Calculation:
$35,172,720 already committed (R. Stuckey, C. Villanueva, J. Jerebko, G. Monroe, B. Knight, A. Drummond, V. Kravtstov, K. Singler, K. Middleton, K. English) + $2,812,200 (No. 5 overall pick) + $980,360 (their own second-round pick and the Los Angeles Clippers' second-round pick) = $38,965,280
$60,000,000 - $38,965,280 = $21,034,720
Houston Rockets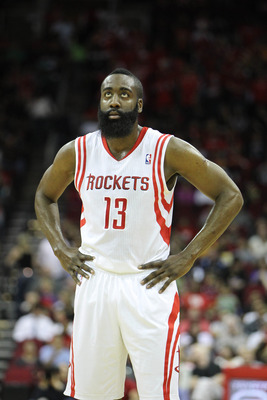 USA TODAY Sports
Projected Cap Space: $19,070,925
The Houston Rockets will enter 2013 free agency as one of the most dangerous teams in the league.
No one expected much out of Houston in 2012-13, even once the team traded for James Harden a few days before the start of the season. The Rockets are the fourth-youngest team in the league this year, according to Basketball-Reference, behind only the New Orleans Hornets, Cleveland Cavaliers and Charlotte Bobcats.
While New Orleans, Cleveland and Charlotte all struggle to crack the 25-win mark, the Rockets are only one win away from posting a 40-win season. Barring a massive late-season slump, Houston appears playoff-bound at least one year earlier than expected.
Houston is also positioned to be a major player in free agency this year, as it's projected to have nearly $20 million in cap space available to spend. General manager Daryl Morey won't have to go dumpster-diving this summer; he's got enough space to offer a maximum contract if he can find a player who's worthy of one.
The Rockets' cap situation looks far worse in 2014-15, when the "poison-pill" years kick in for Jeremy Lin ($14,898,938) and Omer Asik ($14,898,938). In other words, if Houston wants to make a major splash in free agency, it needs to happen this summer, not in the summer of 2014.
Assuming that Chris Paul and Dwight Howard re-sign with their respective Los Angeles teams, there might not be another player on the free-agent market who's worth a maximum contract. Houston can instead nickel-and-dime their way into landing a few quality free agents, a far better alternative than spending $15 million or more per year on Andrew Bynum's balky knees.
With the right moves in free agency, the Rockets could vault up to being a true contender in the Western Conference in 2013-14. That makes this a make-or-break summer for Morey and the rest of Houston's front office, who pulled off three heists in Lin, Harden and Asik last year.
Projected Cap Space Calculation:
$40,438,895 already committed (J. Harden, F. Garcia, J. Lin, O. Asik, T. Robinson, C. Delfino, A. Brooks, R. White, T. Jones, D. Motiejunas, C. Parsons, G. Smith, T. Ohlbrecht) + $490,180 (second-round draft pick from the Phoenix Suns) = $40,929,075
$60,000,000 - $40,929,075 = $19,070,925
Los Angeles Clippers
USA TODAY Sports
Projected Cap Space: -$5,016,016
The Los Angeles Clippers have one primary concern heading into free agency: re-signing Chris Paul to a long-term contract as soon as humanly possible.
All indications from Paul's camp suggest that he's virtually guaranteed to re-up with Los Angeles. A source "close to the situation" told ESPN.com's Marc Stein in February that the odds of Paul signing a long-term contract with the Clippers was "99.5 percent."
Assuming Paul stays in L.A. and doesn't take a major discount, the Clippers will almost certainly exceed the salary cap with just eight players on the books. Throw in their late first-round pick, and they're already projected to be about $5 million over the cap before filling the rest of their roster.
Fortunately for the Clippers, they have a recruiting maestro in Paul on their side. According to a profile by Sports Illustrated's Lee Jenkins, Paul can be thanked for bringing Willie Green, Grant Hill and Matt Barnes to the Clips this past season, causing agents to joke that he had become the team's stand-in general manager.
The Clippers will still have the mid-level exception and veteran's minimum contracts to throw around, which could help them retain elder veterans like Barnes, Chauncey Billups and Lamar Odom (assuming he's willing to take a major discount from the $8.2 million he's making this season).
They won't have the cap space if/when Paul re-signs, however, to make a major splash in free agency. They'd have to trade either Caron Butler ($8,000,000) or DeAndre Jordan ($10,986,550) to have some legitimate cap space to play around with.
If the Clippers get knocked out of the playoffs early this season, they'll likely look to be active on the trade market this summer. Eric Bledsoe, in particular, could be dangled as an attractive, cheap young piece to a point guard-needy team like the Utah Jazz or Dallas Mavericks.
Projected Cap Space Calculation:
$43,951,345 already committed (B. Griffin, D. Jordan, C. Butler, J. Crawford, G. Hill, E. Bledsoe, W. Green) + $18,668,431 (cap hold for Chris Paul) + $925,700 (No. 26 overall pick) + $1,470,540 (incomplete roster charge) = $65,016,016
$60,000,000 - $65,016,016 = -$5,016,016
Los Angeles Lakers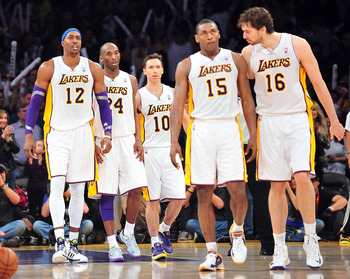 Gary A. Vasquez-USA TODAY Sports
Projected Cap Space: -$41,941,250
The Los Angeles Lakers only earn a spot on this list due to their upcoming decisions with Dwight Howard and Pau Gasol.
Howard hits unrestricted free agency this summer as the biggest prize on the free-agent market, since it's largely assumed that Chris Paul will re-sign with the Los Angeles Clippers.
When healthy, Howard can be a franchise-changing player who can anchor a team's defense and make life miserable for opponents. Howard's been far from healthy during the 2012-13 season, however, only truly appearing to round into form since the All-Star break.
The Lakers have the ability to offer Howard a longer contract than any other team, giving them the leg up in the chase to sign him this summer. Assuming they can come to terms with Howard, it could very well mean the end of the Pau Gasol era for the Lakers.
Gasol's $19.3 million contract in 2013-14 will loom large over a team that's projected to be nearly $42 million over the salary cap if they re-sign Howard. It wouldn't be a total surprise to see Los Angeles trade him for 60 cents on the dollar, especially if the Lakers fail to make the playoffs this season.
Since the Lakers will be capped out no matter what happens with the Howard situation, they'll only be able to add free agents through their mid-level exception and minimum contracts. Their first-round pick will be headed to either Cleveland or Phoenix depending on whether they make the playoffs.
Assuming the Lakers re-sign Howard, he and Bryant will have one more go at an NBA championship before Kobe's contract expires after the 2013-14 season. Could that be the last time we see Kobe Bryant in a Lakers uniform?
Projected Cap Space Calculation:
$79,736,630 already committed (K. Bryant, P. Gasol, S. Nash, M. World Peace, S. Blake, C. Duhon, J. Hill, J. Meeks) + $20,224,260 (cap hold for Dwight Howard) + $490,180 (second-round draft pick) + $980,360 (incomplete roster charge) = $100,941,250
$60,000,000 - $100,941,250 = -$41,941,250
Philadelphia 76ers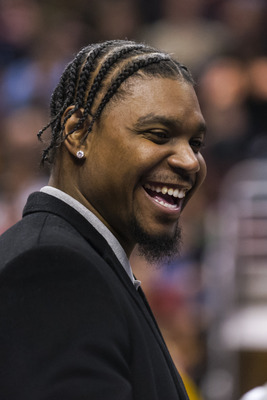 USA TODAY Sports
Projected Cap Space: $10,405,504
The Philadelphia 76ers face quite possibly the largest dilemma in 2013 free agency: What in God's name do you make of Andrew Bynum and his knees?
The Sixers traded a third of their rotation away in the summer of 2012 for Bynum, dreaming of a Bynum-Jrue Holiday-Evan Turner Big Three carrying them deep into the playoffs. Instead, Bynum didn't play a single minute all season due to ongoing knee troubles, leaving the Sixers to fall flat on their faces without him.
Bynum will enter unrestricted free agency this summer, which explains why it's a make-or-break year for Philadelphia. Can the team afford to sign this presumed franchise center to a long-term, huge-money deal knowing he just missed an entire season due to his balky knees?
Conversely, can the Sixers afford to have forfeited so many valuable assets for a one-year rental of a player who never actually played?
Unless (until?) the Sixers renounce their rights to Bynum, he'll suck up the entirety of their available cap space. The team needs to make a decision on Bynum, one way or another, before proceeding further into free agency.
If the Sixers sign Bynum to a big-money, long-term guaranteed deal and his knees give out, the team won't recover for years.
If they opt to spend their money elsewhere this summer, the front office will need to make at least one major splash with the remaining $10 million in cap space to appease frustrated fans.
Seeing as $10 million in the summer of 2012 went toward Spencer Hawes and Kwame Brown, Sixers fans should brace for the worst this year no matter which route the team decides to take.
Projected Cap Space Calculation:
$46.2 million committed (T. Young, E. Turner, S. Hawes, J. Richardson, K. Brown, L. Allen, J. Holiday, A. Moultrie) + $1,930,600 (No. 11 pick) + $980,360 (two second-round draft picks) + $490,180 (incomplete roster charge) = $49,594,496.
$60,000,000 (projected salary cap) - $49,594,496 = $10,405,504
Utah Jazz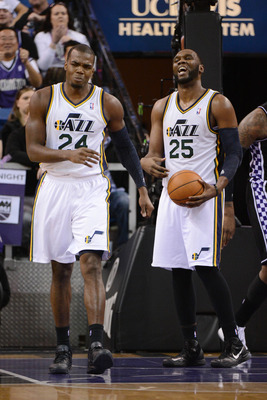 Kyle Terada-USA TODAY Sports
Projected Cap Space: $1,603,139
While their projected cap-space figure might not suggest it, the Utah Jazz are positioned to be one of the largest forces in 2013 free agency.
The team only has about $26.5 million already committed for 2013-14, assuming Marvin Williams picks up his player option (and at $7.5 million, he'd be crazy not to do so). The rest of their cap space is locked up by cheap, young lottery talent such as Derrick Favors, Enes Kanter, Alec Burks and Gordon Hayward.
Why do they only have a little over $1.6 million in projected cap space, then? Blame the cap holds of Al Jefferson ($18,000,000) and Paul Millsap ($10,800,000), both of whom become unrestricted free agents this summer.
If Utah renounces its rights to both players—not such a crazy proposition, with a young frontcourt of Favors and Kanter waiting in the wings—the team would have over $30 million in available cap space.
Realistically, the Jazz aren't likely to bring back both Jefferson and Millsap. The team badly needs to shore up the point guard spot, which could mean going after Brandon Jennings (restricted), Tyreke Evans (restricted) or Kyle Lowry (unrestricted).
From there, the sky is the limit for the Jazz in free agency. If the team renounces the rights to both Millsap and Jefferson, Utah will have enough cap space to dole out a maximum contract if so desired.
Utah likely won't use all $30 million in cap space this summer, however. The Jazz need to keep one eye on the future and leave some money available for Favors and Hayward, who both could become restricted free agents next summer.
Projected Cap Space Calculation:
$26,485,681 (M. Williams, D. Favors, E. Kanter, G. Hayward, A. Burks, J. Evans, K. Murphy) + $28,800,000 (cap holds for Al Jefferson and Paul Millsap) + $1,493,800 (No. 15 pick) + $1,127,200 (No. 21 pick from Golden State) + $490,180 (second-round draft pick) = $58,396,861
$60,000,000 - $58,396,861 = $1,603,139
Keep Reading