Rating the England Players Against Montenegro
Mike Hewitt/Getty Images
Almost replicating the result of their last trip to Podgorica, England once again walked away from a Montenegro away fixture with a 1-1 draw in hand.
Roy Hodgson's visitors opened the scoring inside six minutes through a Wayne Rooney header but a change in tempo during the second half saw Dejan Damjanovic capitalise on a heap of pressure from the home side to draw Montenegro level.
As a result, the Branko Brnovic's men remain clear at the top of Group H and Tuesday's visitors limped out of the Podgorica City Stadium with more of a whimper than the roar one might expect from the Three Lions.
The England stars have been graded with a mark out of 10 for their performance on the night, with some performers putting on a fiercer display than others.
Read on for more.
Goalkeeper: Joe Hart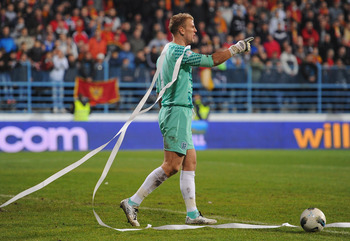 Mike Hewitt/Getty Images
Although things started brightly for the Manchester City stopper, Joe Hart found his goal slightly more troubled as the game progressed.

Stevan Jovetic and Mirko Vucinic posed the threat to England's hopes that many supposed they would, but not quite with the same veracity the home support might have hoped.
A particular highlight for Hart on the evening were his distribution and confidence with the ball coming back at him as the England No. 1 lent his hand in pushing the ball back into Montenegro's half—with great speed at that.
Sprung into action 15 minutes from time to deny a goalbound Stevan Jovetic shot and doing well to parry a set-piece header, the 25-year-old stopper was helpless to concede Montenegro's ricocheting equaliser.
Rating: 7/10
Right-Back: Glen Johnson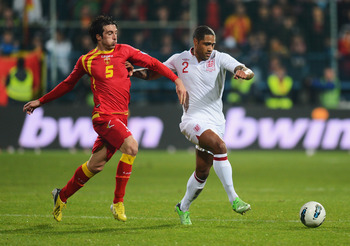 Mike Hewitt/Getty Images
Coming in for Kyle Walker, who impressed in the 8-0 win over San Marino, Glen Johnson didn't disappoint in his return to England's starting XI.
The Liverpool man injected his usual supply of pace down England's right flank but got caught out of place on several second-half occasions, opening up his defence to a bit of unwanted trouble.
He hit the crossbar from 30 yards to earn the corner that would ultimately result in Wayne Rooney's opener, but didn't have the same sights on goal for the rest of the match.
Rating: 6.5/10
Centre-Back: Chris Smalling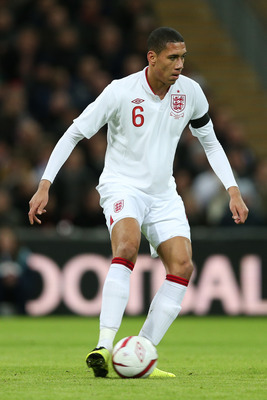 Clive Brunskill/Getty Images
Making his third consecutive start for the national side, Smalling eased the woes of those who might be mourning the losses of Rio Ferdinand and John Terry with an encouraging display in Podgorica.
The 23-year-old dominated largely through the air but also did well in sewing up some of the central channel where Vucinic and Jovetic might look to open up some holes.
Rating: 6.5/10
Centre-Back: Joleon Lescott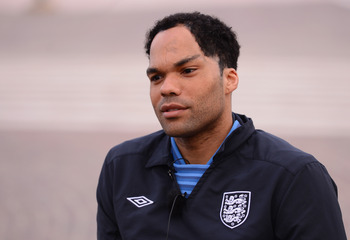 Mike Hewitt/Getty Images
He helped clear up scrappy situations when needed and almost looked like a left-back at times, filling in as cover for the rampaging Ashley Cole.
However, Vucinic's raft of second-half chances came largely as a result of Lescott's lack of pace, being made to look as if he was treading through treacle at times.
Rating: 6/10
Left-Back: Ashley Cole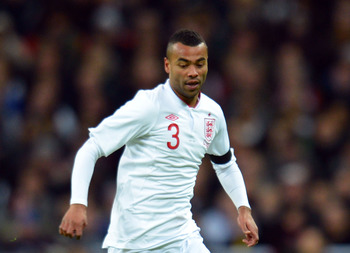 Shaun Botterill/Getty Images
Although the majority of Montenegro's joy came from down his side of the pitch in the first period, Ashley Cole went a long way in redeeming himself in the second half, providing a frequent source of ammunition going forward.
Vucinic sometimes found it too easy to jostle against Cole in the first 45 minutes but things gradually became more secure, going in Cole's favour.
As is becoming tradition however, the Chelsea star could have done with shoring up the defensive side of things and left Lescott with slightly too much on his plate in the first half.
Rating: 6.5/10
Centre Midfield: Steven Gerrard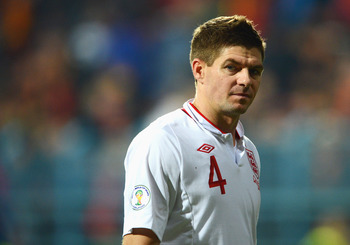 Michael Regan/Getty Images
An influential figure at the best of times, Steven Gerrard's greatest impact against Montenegro came very early on as the Three Lions' most experienced playmaker delivered the corner to set up Wayne Rooney's opening effort.
That said, some second-half changes in midfield for the hosts seem to upset England's engine room slightly, and Gerrard could have offered more in a defensive sense.
The Liverpool talisman gradually crumbled into ineffectiveness and saw way too many of his passes stray towards the enemy as the game progressed.
Rating: 6.5/10
Centre Midfield: Michael Carrick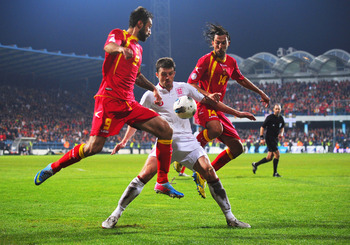 Michael Regan/Getty Images
Playing in a slightly more subdued role than his partner, Gerrard, it was Michael Carrick's job to break up opposition attacks before pushing toward the Montenegro half himself.
Carrick was a huge help in the counterattack strategy that benefited England so much in the first half and provided a calming influence when it was needed in the second half, albeit sacrificing flair for reliability.
Rating: 6/10
Attacking Midfield: James Milner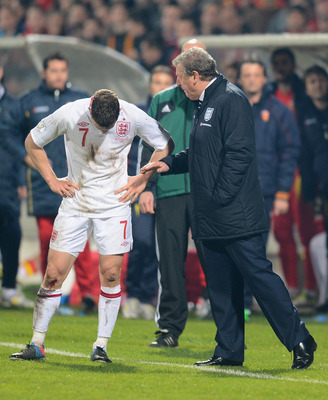 Mike Hewitt/Getty Images
Putting in as much hard work and graft as ever, James Milner gave a characteristically assured performance against the Brave Falcons and was one of England's more consistent threats on his return to the starting lineup.
The Manchester City midfielder lined up on the right flank and gave his teammates a near endless supply of ammunition, offering cross after cross into the area, even when things were going against Hodgson's side.
With Glen Johnson offering marauding runs around him, Milner was also an effective asset in defence, offering good cover to the right-back when it was needed.
Rating: 7/10
Attacking Midfield: Tom Cleverley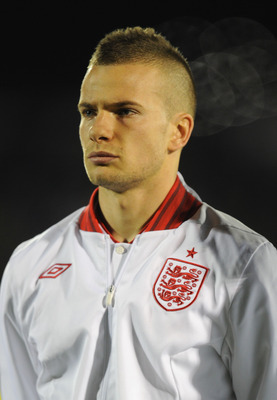 Mike Hewitt/Getty Images
Positioned in a more advanced role behind the strikers, Tom Cleverley proved to be a valuable catalyst in Podgorica, at points bringing up memories of a young Steven Gerrard or Frank Lampard.
With the positioning and playing acumen of one far older, it's of little wonder why Roy Hodgson has placed so much faith in Cleverley over the last few months.
Forming a neat attacking trio with Manchester United allies Danny Welbeck and Wayne Rooney at times, Cleverley's danger in front of the opposition goal continues to grow and his defence-splitting passing range is only of greater advantage.
Rating: 7/10
Supporting Striker: Danny Welbeck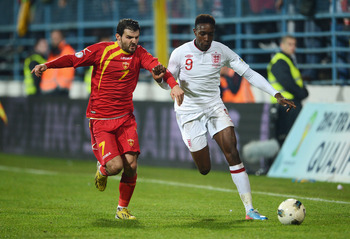 Michael Regan/Getty Images
Unfortunate not to have won a penalty, Danny Welbeck linked up well with Wayne Rooney in attack but continues to be haunted by the same old ghouls.
Regardless of his position, Welbeck's biggest impact often came in defence and the Red Devil tracked back excellently against Montenegro before launching into forward runs of his own.
The 22-year-old still lacks a certain confidence when it comes to the final third of the pitch and a tally of one shot at goal (an off target one at that) isn't particularly encouraging for a striker being looked upon as a future lynchpin of the English attack.
Rating: 6/10
Striker: Wayne Rooney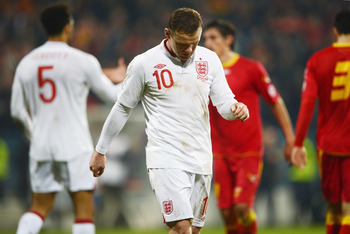 Michael Regan/Getty Images
Although the English marvel certainly took up his usual role of freedom in the 1-1 draw, Wayne Rooney's primary role in Podgorica was as the main focal point of Roy Hodgson's attack.
Within a few minutes of play, it was clear for all to see that the 27-year-old was intent on reversing the luck of the red card seen on his last trip to the Montenegro ground as he clipped the post from a delightfully struck chip early on.
Just four minutes later, the Manchester United forward went one better, directing a Steven Gerrard corner past Mladen Bozovic and steering the visitors into an early lead.
Like most of England's stars, Rooney faded slightly in the second period as a result of his lack of supply but was one of the team's brighter sparks on the evening.
Rating: 8/10
Substitute: Ashley Young
Mike Hewitt/Getty Images
Ashley Young
Roy Hodgson's only change of the evening, the introduction of Ashley Young was made far too late as any England fan will be concerned as the Three Lions lost their voice against a rising Montenegro challenge.
Coming on for Tom Cleverley after 77 minutes, Young made a decent impact on matters and his fresh legs provided the foundation for a late chain of chances for the English, although the Manchester United man was limited in terms of time.
Rating: 6/10
Keep Reading

England (National Football): Like this team?