2013 NFL Mock Draft Round 1: Complete Predictions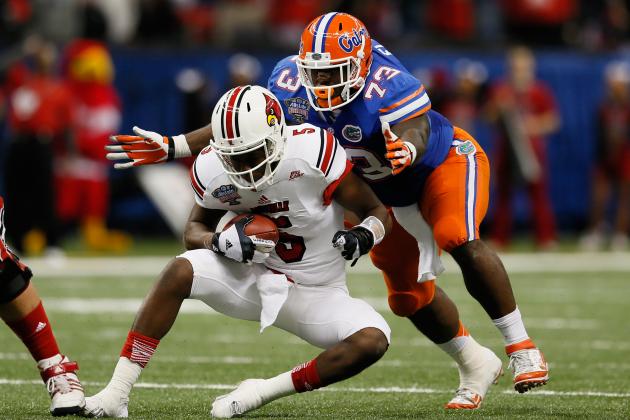 Kevin C. Cox/Getty Images

Now that the majority of Pro Days have passed, Scouts and GMs around the league are preparing to enter their war rooms.
Manti Te'o has run a (slightly) faster 40-yard dash that might push him into the first day of the draft. The Raiders are apparently interested in Geno Smith. Dion Jordan continues to shoot up Mock Drafts.
Let's take a look at how the First Round could shake out in the 2013 NFL Draft.
Begin Slideshow

»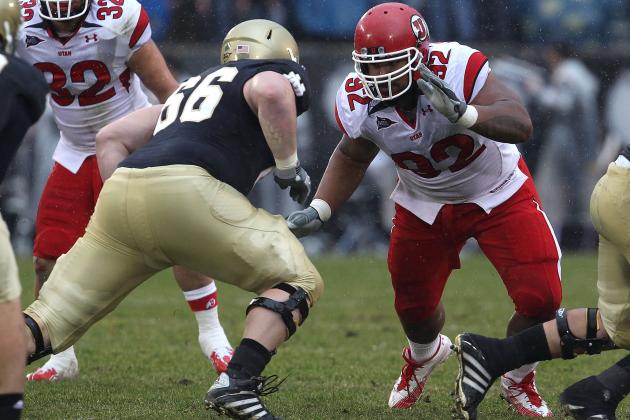 Jonathan Daniel/Getty Images

I don't want to hear about this whole heart thing. Star Lotulelei should be the first pick in this draft if the Chiefs' doctors are comfortable with this issue. Lotulelei is dominant, versatile and should have silenced a lot of this health talk at his Pro Day.
If you didn't see the numbers, take a look: 38 reps at the bench, 6'3" and 314 lbs. With a little more weight we are talking about Geno Atkins or Haloti Ngata—and that is not in the slightest bit hyperbole. Glen Dorsey has moved on from Kansas City after a few disappointing seasons, and the Chiefs need someone to anchor their line.
On April 15, Lotulelei will go to Indianapolis to visit the same heart specialist recommended by the 49ers who cleared him to participate at his Pro Day. If the diagnosis is good, the Chiefs should not balk at taking the Utah product first overall.
Now that we have moved on from the heart-talk, let's take a look at Lotulelei's season.
There were rumblings early on that Utah had a genuine monster on its defensive line. The USC game proved it. You be the judge. If you don't want to watch 8 and a half minutes of clips, I'll save you a bit of time. Star Lotulelei > USC offensive line. He is so fast on the snap in one play early on that he pushes Khaled Holmes, a potential NFL draft pick this season, into Matt Barkley and causes a fumble. He also has the presence of mind and awareness to fall on the ball when it hits the ground.
Then at the 1-minute mark, he swims through a double team and slings the USC running back to the ground for a five yard loss.
Obviously, it is insane to evaluate a potential first pick from one game. So check out the Washington tape. He is so overpowering, that he has two people trying to block him on running plays to the opposite side of the line.
The thing to really keep in mind with Lotulelei is that this isn't a typical defensive tackle prospect. He moves so well and his "football IQ" is phenomenal. What really struck me in both of those games is that when he is blocked, held, and double-teamed, he always has his eyes forward watching the play develop. You can see it when he jumps up to try to deflect passes and when he shuffles his feet to slow down his rush and pursue a running back. Lotulelei is an absolute game changer and the Chiefs should recognize that.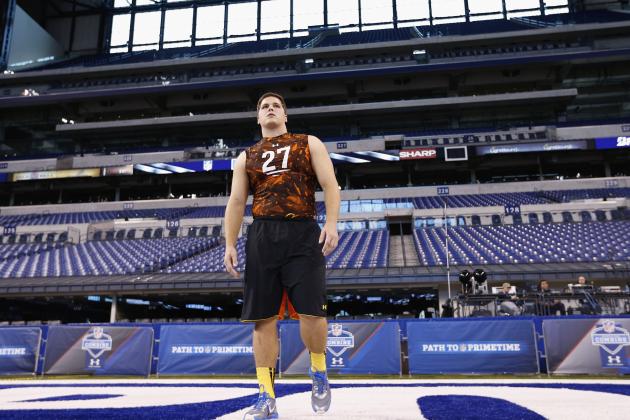 Joe Robbins/Getty Images

The Jags are in a tough spot here. In this scenario, Star Lotulelei is gone and they have a choice to make. I think the Jaguars might look to trade down, but if they stay No. 2, they should take either Joekel or Fisher.
Unless something crazy happens, they are stuck with Blaine Gabbert for at least another year. They already have Eugene Monroe at Left Tackle and a quality center in Brad Meester who has another year or two left in him. To me, the best way to get the most out of Gabbert (no matter what that looks like) is to protect him. Joekel might be the highest rated tackle on a lot of boards but there are a few questions about him that make me think a little work at RT would allow him to adjust to the NFL and help Gabbert get more time to go through his progressions.
This isn't a sexy pick at all and it certainly doesn't solve the Gabbert problem, but it is the kind of pick that smart organizations make. If the Jaguars ever want to get out of the dredges of the NFL, they need to draft like this. They have a work horse back in Maurice Jones-Drew and a young group of receivers. While it is apparent Gabbert is not the guy the team hoped they drafted a few years ago, Joekel would solidify an offensive line and help lay the foundation for whenever the Jaguars chose to move on from Gabbert.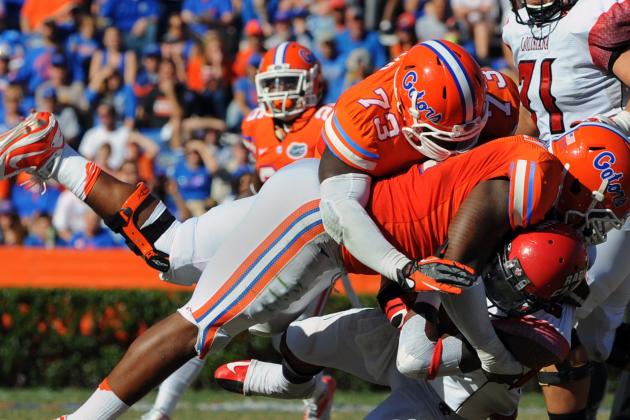 Al Messerschmidt/Getty Images

Please, please, please, please, Oakland. Please don't take Geno Smith here. I hope these Matt Flynn rumors are true for all your fans' sakes. Not only is Geno Smith not very good (see my rant a bit later), but Sharrif Floyd is an absolute force in the middle. He is even Raider-like in his mentality. Floyd would be an amazing pick for a team looking to find a new identity after parting ways with many key veterans on defense (Michael Huff, Phillip Wheeler, Rolando McClain, etc.) this offseason.
If you saw Jeff Darlington's interview and article about Floyd on NFL.com, you would be as sold on him as I am. Floyd is motivated. His mental toughness would be a significant attribute even if he wasn't gigantic.
Fortunately for the Raiders, Floyd is huge. He is 6'3" and 300 lbs, runs a sub-5 40 time and wears an awesome neck roll. Floyd is a terror in the backfield. More importantly, the Raiders need to take Floyd.
Thankfully, the Raiders didn't overpay for Desmond Bryant and let the Browns do their dirty work. They released Tommy Kelly, leaving a massive hole in the middle of their 4-3 defense.
In fact, the Raiders have so many holes on defense, it feels like the only way they could use the third pick is on Floyd. He would solidify the middle of their defensive line and allow the new management to build around him.
So please, Reggie McKenzie. From the bottom of my heart, do not let down Raiders fans. Pick Sharrif Floyd.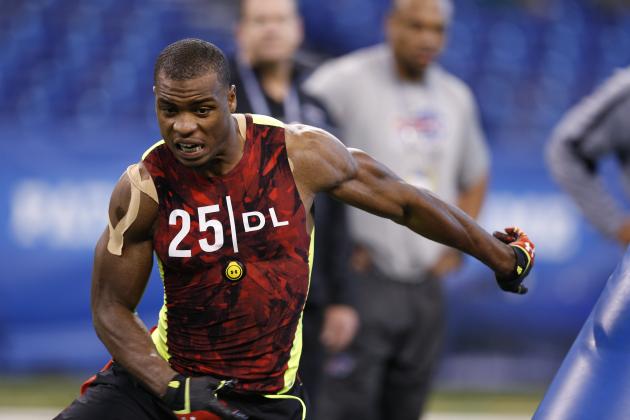 Joe Robbins/Getty Images

Chip Kelly is reunited with his former Oregon star, Dion Jordan, in Philadelphia.
Jordan was scary good at the combine. 6'6" and running a 4.63 second 40-yard dash? He's just a specimen athletically. His workouts have made him a legitimate top 10 selection and I think Eagles fans will love to see him lining up on the edge.
The Eagles got only 8.5 sacks out of both their defensive ends last year with Trent Cole only managing 3.0. Among a lot of other things that need to improve, a lack of production from the defensive line will be one of the primary factors the Eagles and Kelly address in the draft.
Jordan could come in right away and give the Eagles some burst at either OLB or DE. The nice thing about Jordan is that he could add some bulk and not lose his quickness. The fast 40-yard time is nice, but the Eagles will be paying him to get to the quarterback. At this point he is a bit slim at only 248 pounds, I'd like to see him around 260-265.
Dion Jordan has really opened eyes this offseason but his former coach Chip Kelly has had a lot of time to look at the former Duck. If he lasts this long, I don't think the Eagles will go in another direction.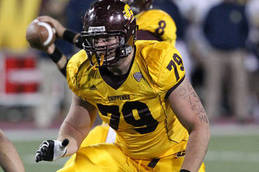 With Jeff Backus gone, the Lions get their Left Tackle of the next ten-fifteen years in Eric Fisher.
I like Fisher more than Joekel, but group-think seems to be that Joekel is the consensus top tackle. Fisher looked amazing at the Senior Bowl and East-West game. He is strong, with quick feet and great size.
Matthew Stafford has battled injuries for a few years and needs Fisher on the left side. The lions have a few needs but they have the talent to get out of the top five picks if Stafford has time to throw the ball.
Eric Fisher is a small-school guy that I feel would be rated higher than Joekel if he had been in the public eye more. He has ideal size and unlike the baby-faced Joekel, Fisher is hard-nosed and physical. He initiates contact and can only get stronger. Fisher has very long arms and moves his feet well enough to cope with speed rushers and power moves.
I think the Lions need to address the Left Tackle position and they take the in-state product Fisher at No. 5.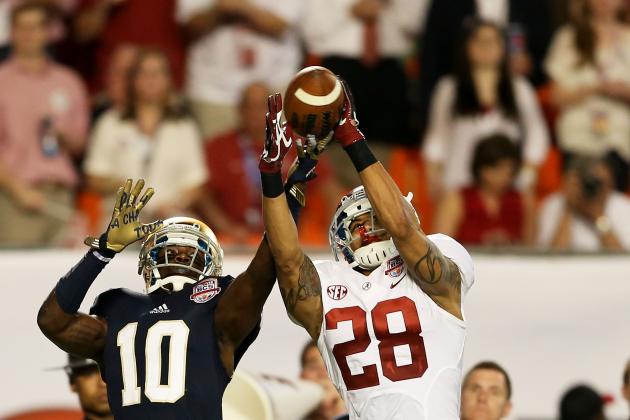 Streeter Lecka/Getty Images

The Browns have done a lot to help themselves on defense this offseason. They could go a number of directions with this pick, and might even be well positioned as prime candidate for trading back. If they stay at No. 6, Dee Milliner would be the right move for the Browns.
The prospect of teaming Joe Hadden with Milliner is just too enticing to pass on. Browns fans might be looking at Ansah or Dion Jordan with this pick, but I think that Milliner is the smart choice here.
Milliner is the top cornerback in this draft and would give the Browns a pretty impressive lineup on the defensive side of the ball. They're going to need it if they expect to make headway in the AFC North.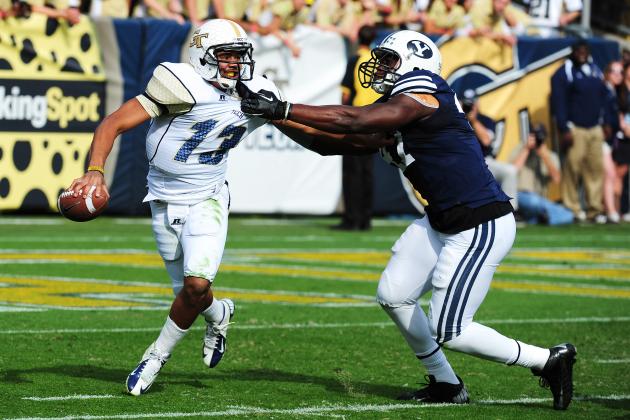 Scott Cunningham/Getty Images

I would be willing to bet Bruce Arians takes a quarterback in the second round or third round. But with the Cardinals' first pick, he will gladly select Ziggy Ansah at No. 7.
Ansah has done a lot of help himself at the Senior Bowl and combine, but so did Jason Pierre-Paul. The Giants took a chance on the athletic Pierre-Paul in the 2010 draft at No. 15 and I think anyone who has been paying attention can see what a success that has been for New York.
Pierre-Paul and Ansah are both long and supremely strong. They also both can rotate into a number of positions and roles giving them added value. But more than anything, they both lacked playing experience coming out of college. Ansah's story by this point is well known so I won't bother repeating it but a cynical person might think that without the Pierre-Paul blueprint Ansah might be a top 20 rather than top 10 pick.
Still, I like what Ansah could bring to this Cardinals defense. I would slot him in at OLB, replacing Quentin Groves who has signed with Cleveland. Ziggy Ansah would give the Cardinals a dangerous pass rushing duo with Sam Acho on the other side.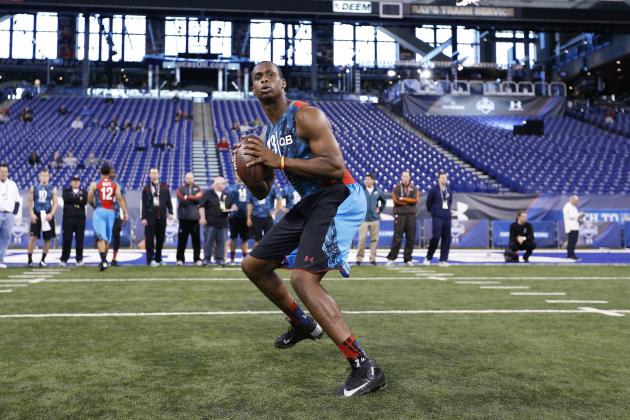 Joe Robbins/Getty Images

Look, I know the quarterback is the most important position in football. I know teams without a franchise signal caller rarely do well. I am aware that the Bills will be under a lot of pressure to take Smith.
But I believe that the premium placed on quarterbacks in the draft is insane and dooms franchises to 4-5 years of top ten picks as often (if not more frequently) as it takes them to the promised land. Look at the Jaguars. Blaine Gabbert was a reach. Look at the Titans. Jake Locker was a reach. Look at the Vikings. Christian Ponder was a reach. Look at the Browns. Brandon Weeden was a reach (although at the end of the first, not as big of one). All of those teams are now back in the top 10.
As an aside, Bruce Arians proved to me why he deserves to be an NFL head coach when he came out and said flat out that there was not a star quarterback in this draft and he was happy with Drew Stanton. It proves to me that the Cardinals will get out of the top ten while teams like the Bills, Jaguars, and Raiders keep hoping to finally get lucky.
Is Stanton going to take the Cardinals to the Super Bowl? Probably not, but Arians' point is this: Stanton most likely will not lose games. He has a pair of good receivers, a decent offensive line, and a couple of young running backs with some upside. So Arians is looking at this year's draft class and thinks, "Let's get another piece to help us win." Quarterback is only at a premium position if there are premium players to choose from: Andrew Luck, Robert Griffin III, Matt Stafford, Aaron Rodgers, etc..
But think about it. Tom Brady: 6th Round pick, Drew Brees: 2nd Round pick, Colin Kaepernick: 2nd Round pick, Russell Wilson: 3rd Round pick. The list goes on.
Sure there are plenty of quarterbacks taken in the first round that turn into great players. But when you look at the amount of busts and just average QB's taken the first round in recent years, it seems so obvious that reaching for QB can do much more harm than good.
Now to Smith and the Bills. If the Raiders can resist taking Smith, the Bills will be the team the sends itself to the bottom of the league for the next five years or so. Smith is inaccurate, inconsistent and throws the ball poorly on the run. He is the best of a bad bunch but the Bills would be much better if they took a chance on a guy like Ryan Nassib or Mike Glennon in the second and addressed another need at No. 8.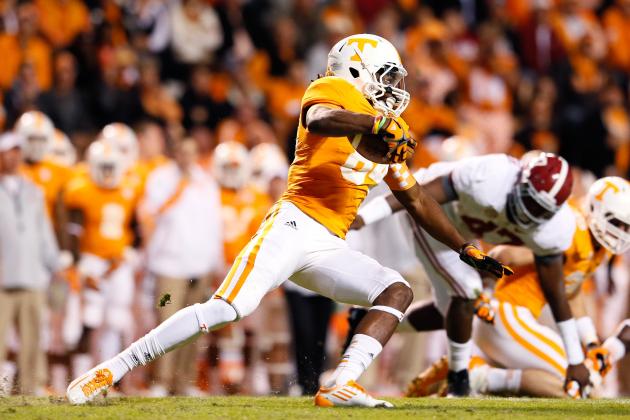 Kevin C. Cox/Getty Images

The Jets are already in the Teddy Bridgewater/Jonny Manziel race for 2014 in my opinion. Mark Sanchez is appalling and Tim Tebow isn't even worth a 7th round pick in terms of trade value. The perpetually "OK" running back Shonn Greene is now in Tennessee and Dustin Keller has gone to the Dolphins. Although the Jets need a pass rusher, they need some pieces on offense so when they draft Bridgewater/Manziel next year, either gun slinger will have someone to throw the ball to.
Cordarrelle Patterson is the most NFL-ready wideout in the draft. He might not be the most talented as Tavon Austin is surging up boards across the league, but the Jets cannot take a slot receiver in the top 10.
Patterson has great hands, size and would form a great pairing with last year's second-round pick Steven Hill. Once they take Patterson, the Jets can look for either a tight end or a running back with their second round pick and all of a sudden they might have some talent on offense, even if there is no one to throw the ball.
Patterson is 6'2" and runs a 4.44 second 40-yard dash. He is prone to body catching and needs some work running routes, but he reminds some of Dwayne Bowe. Patterson might even be able to salvage something this season with Mark Sanchez. Heck, Bowe even made Matt Cassell look decent at times.
I hate to say it Jets fans, but this is a pick you need. Get some talent, cut some money from next year's cap number and wait for your top-three pick next year when you might land a guy who can win some games. The only thing I will say about the Jets is they are not misguided enough as an organization to think Geno Smith is the answer. Well, let's hope not anyway.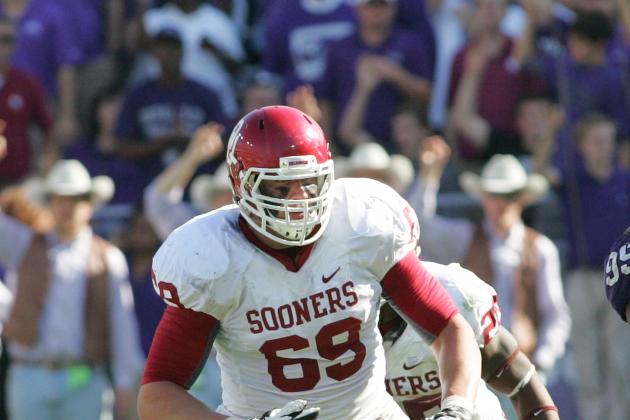 R. Yeatts/Getty Images

Alabama lineman Chance Warmack would have been the pick here before the Titans made the great move of bringing in Andy Levitre in free agency. Now I think they go with Oklahoma's Lane Johnson to round out the top 10.
Johnson is a former quarterback who is tall and athletic. He might end up being the best tackle in this draft when the dust settles. I think you have to look at Tennessee's strengths when projecting this pick. They have a young quarterback in Jake Locker and a solid receiver in Kenny Britt.
But everyone knows this is Chris Johnson's team. They will not win games if he cannot be CJ2K again. That's why I love the Levitre signing and why I ultimately think Johnson is the pick here. If the Titans build a good offensive line, they can free up Chris Johnson and open things up for the Locker-Britt connection. Also, Locker can run himself and he needs athletic offensive linemen who can react to a broken play. Lane Johnson would look great in Tennessee's offense.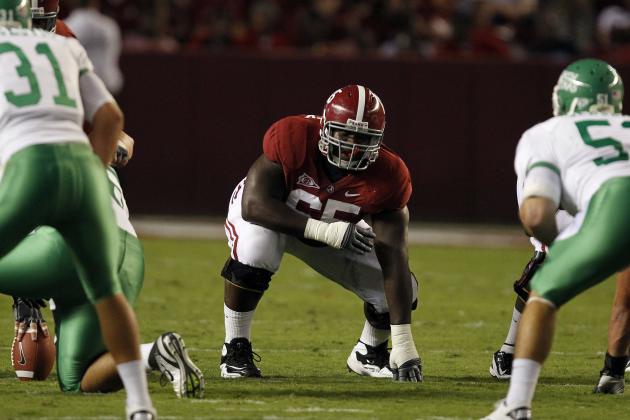 Butch Dill/Getty Images

Warmack is so good it's almost criminal he could be on the board this long. But if there is one thing that happens every year, it's falling Guard prospects. Just look at David DeCastro last year.
San Diego has more than holes on their Offensive Line. They have craters. After losing Louis Vasquez to the division rival Denver Broncos, the Chargers need a Guard. But they also need a Left Tackle after parting ways with the overpaid and under performing Jared Gaither.
I think this totally depends on what the Titans do at No. 10. In this mock I have the Titans finding their Left Tackle of the future in Lane Johnson and the Chargers getting a Pro Bowl caliber Guard but the picks could easily be switched.
Warmack is simply one of the most complete prospects in this draft. He will be a day one starter and will help open up some major gaps for Ryan Matthews to run through. I think the Chargers would be thrilled to find him still on the board at No. 11.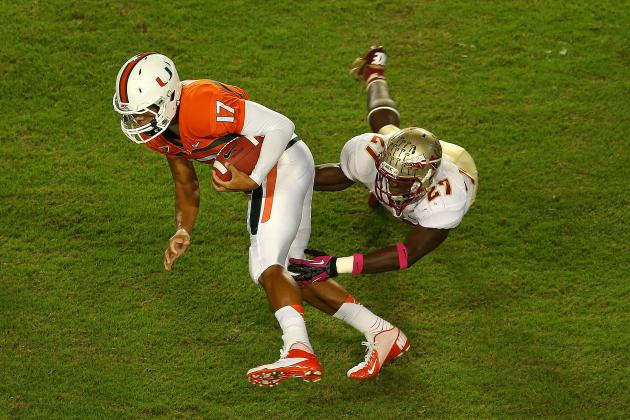 Mike Ehrmann/Getty Images

Ryan Tannehill must've sold his soul to the devil after last season. He signed Mike Wallace, Danelle Ellerbe, Phillip Wheeler and Dustin Keller in the span of a week. Randy Starks franchised and Brian Hartline resigned, keeping both key contributors in town.
Now the Dolphins enter the draft with a ton of picks and look poised to make a playoff push since the AFC East is pathetic beyond those guys in Foxborough.
I have seen a lot of people suggest the Dolphins might use some of those extra picks to trade up and get Dee Milliner or a Left Tackle to replace Jake Long, but I think Miami holds its nerve and waits for a player to fall to them at No. 12, gambling that they'll find a gem.
In this mock, that's exactly what happens.
Miami is desperate for a corner and I think this pick comes down to who they feel is better between Desmond Trufant and Xavier Rhodes. Rhodes gets the call for me here because he is taller, heavier yet runs nearly as well as the former Washington corner.
Rhodes has the potential to be a shut down corner at the next level after a very productive career in Tallahassee. He plays great in press coverage and gets after wide receivers. Because of his size, Rhodes is a real force against the run and I love the way Rhodes gets his head around to find the ball in coverage. He shut down Clemson's Sammy Watkins, a likely lottery pick next season, when the two teams faced off last season.
His offseason has been overshadowed a bit by Trufant's assent, but I think Tampa will go with Rhodes here.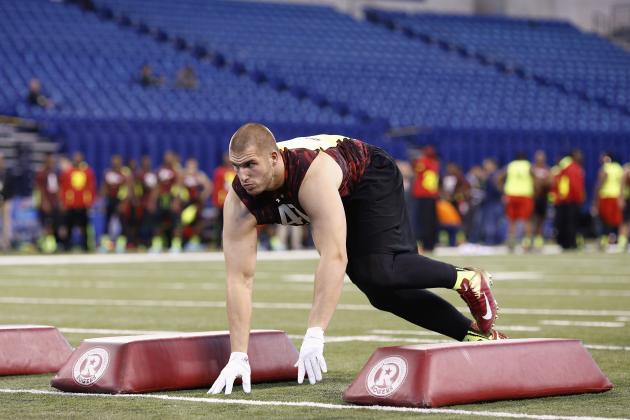 Joe Robbins/Getty Images

Tampa needs a corner and might trade this pick to jump ahead of the Dolphins to get Rhodes. But it is impossible to project trades and I am sticking with Werner here. The Bucs lost Michael Bennett in the offseason and Daniel Te'o-Nesheim only had 4.0 sacks last season. They need someone to get after the quarterback.
I'm not sure why Bjoern Werner has gone from a potential top 10 selection to a bottom of the first round guy in a month. He had a good combine and remains one of the most dangerous pass rushers in the draft.
Werner shows up in big games after 3.5 sacks against Florida and 1.5 against Maryland last season. He is strong, fast and unlike some other foreign-born players in this draft (England's Menelik Watson and Estonia's Margus Hunt) he has a lot of football experience. He grew up playing in Germany and came to the U.S. to play in high school. He and Tank Carradine formed a great pair in college and I think he will do well in Tampa.
The Buccaneers will jump at the chance to take him here.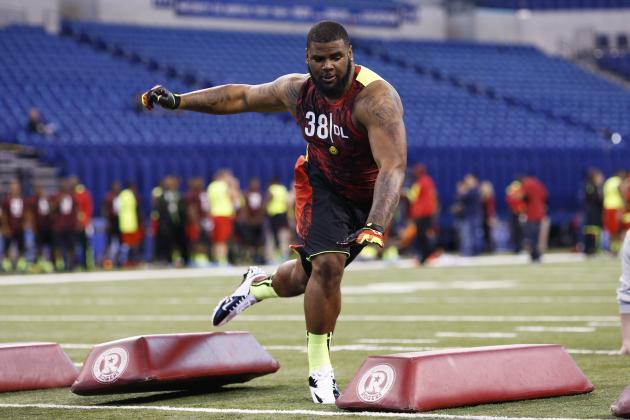 Joe Robbins/Getty Images

I like Sheldon Richardson a lot and I don't think he falls past No. 15, no matter who decides to pull the trigger. I also don't know if Carolina is the right place for him but I'm going with it anyway.
Here's why: The Panthers have two reliable Defensive Tackles anchoring a very solid front four. But Dwan Edwards and Sione Fua don't exactly pop off the board for you. Fua barely had more tackles (13) than games he played in (11) last year. Dwan Edwards was just resigned, but he will turn 32 in a month and is not a long term solution.
Enter Sheldon Richardson. A 6'2" and 300 lbs. worker, Richardson has long arms and is extremely light on his feet. He has good power moves and can also bull rush. He faced double blocking constantly as he was the only real playmaker on the Missouri defensive line and still ended up with 75 tackles (including 10.5 tackles for loss) and 4.5 sacks. Those are big numbers for a lineman facing SEC competition.
I love what the Panthers did last year by adding Kuechly and I think they continue to build that defense here by taking a guy who upgrade their already impressive defensive line.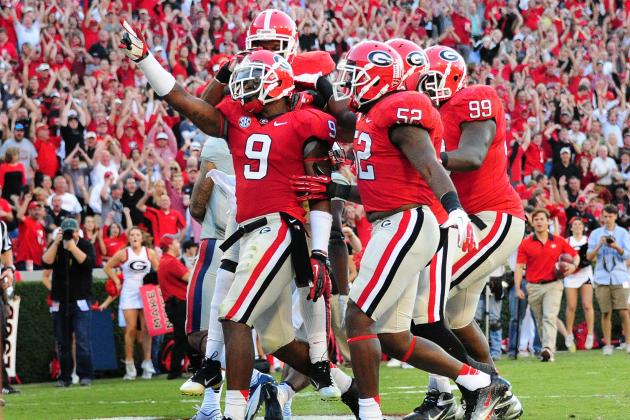 Scott Cunningham/Getty Images

Ogletree is a risky pick but I think his upside will ultimately offset his character concerns.
Alec Ogletree fits into the "new breed" of linebacker category and although Saints' fans might be scratching their heads at this one, just hear me out.
Playing ILB at Georgia, Ogletree was a tackling machine. He is quick enough to cover Tight Ends and Running Backs in space. He can get to the quarterback and is better supporting the run than people acknowledge.
The Saints are thin at Inside Linebacker. Their incumbent and leader, Jonathan Vilma, is getting up there a bit in years and his backup Jonathan Casillas isn't going to generate a lot of enthusiasm. To make things worse, the Saints Outside Linebacker are uninspiring, to say the least. Scott Shannie and David Hawthorne had a combined 59 tackles last year. To put that in perspective, the Saints' NFC South Rival Carolina Panthers started two OLBs, Luke Kuechly and James Anderson, who had 163 and 79 tackles respectively last season.
Ogletree is a flexible and athletic player who can rotate inside to give Vilma a breather or play primarily on the outside and give the Saints some speed on the edge.
Still, I can hear the cries now: "C'mon man! Ogletree is too small to play outside!" I kind of thought so too. Then I looked at how he measured out at the combine: 6'2" and 242 lbs. Ogletree would be a significant upgrade for the Saints and provided he can put his bad decisions off the field behind him could be a really nice pick at No. 15.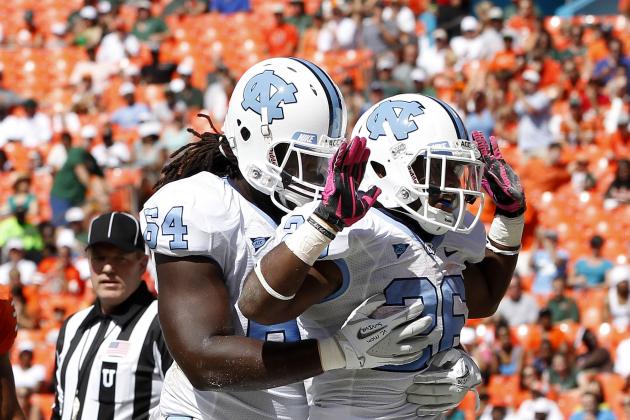 Joel Auerbach/Getty Images

Cooper has really pushed Warmack to be the top guard prospect in this class and has opened eyes on his draft circuit. At this point he is a virtual lock as a first round pick and the Rams would be thrilled to find him waiting for them at No. 16.
Cooper is light on his feet and has really showcased his strength and toughness in his pre-draft workouts. He may only weigh around 315 lbs. but Cooper has a motor. He impressed in his interviews at the combine and many scouts think he could go ahead of Warmack. He seems to be slightly less reliable than the Alabama product in pass protection so I still have Warmack going earlier. But I think Jeff Fisher and his staff will feel good about using this selection on Cooper.
Now that the Rams have Jake Long under contract, they can move on from the abysmal Wayne Hunter at Left Tackle. They have a dependable Right Tackle in Barry Richardson and solid depth at Center. The missing piece for the Rams up front is a big, athletic Guard who excels in space and pulls well. Along with their new LT, Cooper will help St. Louis finally protect their franchise quarterback, Sam Bradford.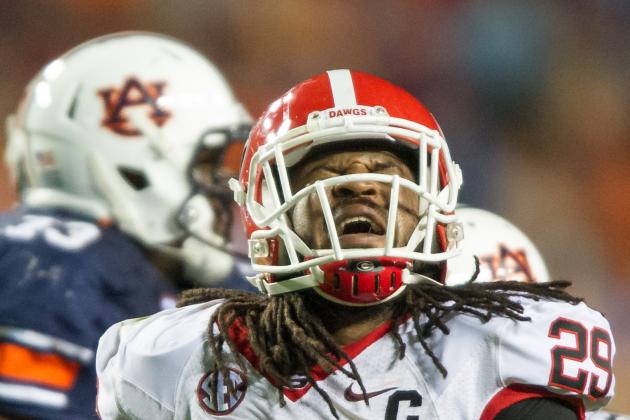 Michael Chang/Getty Images

Jones did not look good at his Pro Day. He was stiff when running his horrific 5.92 second 40-yard dash and just didn't look fluid at all. Fortunately, he is an amazing football player.
When Terrell Suggs bombed his Pro Day and combine events in 2003, Ravens Head Coach Brian Billick famously said that it was a good thing Baltimore wasn't looking for Suggs to run straight lines. Like their division rivals, the Steelers are too good of an organization to to let this guy slip past them.
This is going to be a pick that the teams who passed on Jones will quietly regret in the coming years. Jones was the most prolific pass rusher in the country last season in the toughest conference. He gets to the quarterback and fills a major need for a Steelers team that got old incredibly fast on defense.
Like Suggs in 2003, Jones will make some other teams wish they watched the film from the season and not paid too much attention to non-football drills.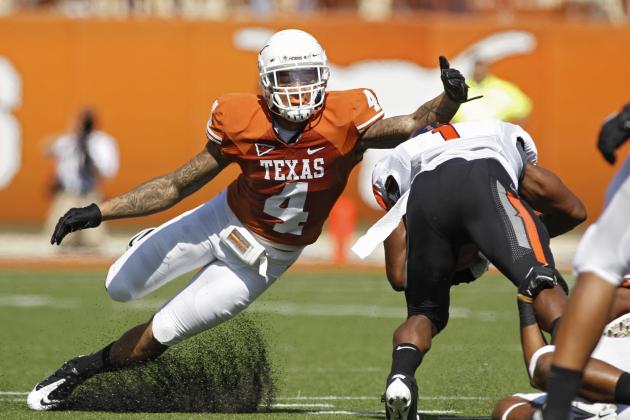 Erich Schlegel/Getty Images

The Cowboys wanted Michael Huff but couldn't come up with cash. Kenny Vaccaro is the most complete safety in this class and will form a terrific young secondary tandem with Morris Claiborne.
He was used in a variety of packages at Texas and brings the kind of versatility to the Cowboys' defense that is going through a bit of a rebuilding effort.
Vaccaro has ball skills for Free Safety but the physical presence to play Strong Safety. Jerry Jones lost out on Huff, but he won't miss his chance to draft his long term answer that fits his limited budget. Bet that's not a phrase Jerry is used to hearing.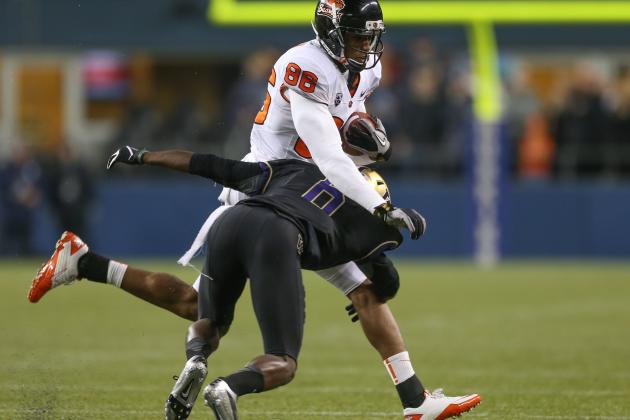 Otto Greule Jr/Getty Images

Desmond Trufant might be the highest riser of any prospect in this draft. A few months ago, most people thought Mississippi State's Jonathan Banks was the second best corner in the draft behind Alabama's Dee Milliner.
What a difference a bad combine for Banks and a spectacular pre-draft tour by Trufant can make. Banks is almost unilaterally out of the first round chatter while the former Washington standout is shooting up boards and scout rankings.
Trufant fits with the Giants for a number of reasons. Prince Amukamara has played respectably in his third season and pairing him with Trufant would help the Giants improve a pass defense that ranked 28th in the NFL last season in yards allowed.
At 6'0" and 190 lbs., he has good size and plays physically. He also has the confidence to succeed in the New York spotlight.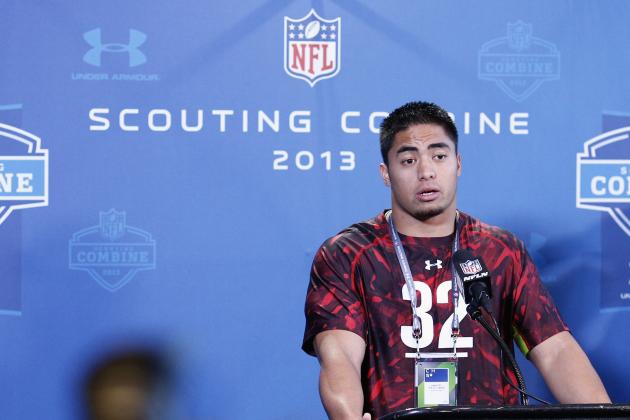 Joe Robbins/Getty Images

Do me a favor. Pretend the whole girlfriend hoax thing never happened. As far as I am concerned it is irrelevant in the same way that a prospect getting cited for underage drinking in college shouldn't affect draft stock. This isn't a "character issue." Too often people forget that these guys are 21 or 22 years old for the most part. Everyone does dumb things, everyone makes mistakes, and many of us could've been tricked by some bizarre guy pretending to be a girl and sending you weird messages. It does not matter at all to me.
The real thing to think about with this guy is whether you're getting regular season Te'o or National Championship Te'o. As he said he would, Te'o shaved a few milliseconds off his 40-yard time at his pro day. Again, I don't care about that so much. The actual on-the-field difference between a 4.8 and a 4.7 is negligible. What I want to know is: What are his instincts like? Can he turn his hips and run? What does he do in space against a shifty runner?
These are the questions scouts and coaches will ask themselves and I think the Bears need an ILB too badly to overlook what might be the second-best prospect at his position. It's a shame that in a matter of months Te'o went from a top ten pick to a border line first rounder. If he had had even a decent game against Alabama he would still be top 15. But he didn't. He played miserably and was out-matched over and over again.
But if you look at his overall resume and college film, Te'o can play. I'm choosing to be optimistic here and give this guy the benefit of the doubt. He seems like a good person and don't you think what he would like more than anything is to shut people up? Sometimes the proverbial 'chip on the shoulder' is a powerful thing.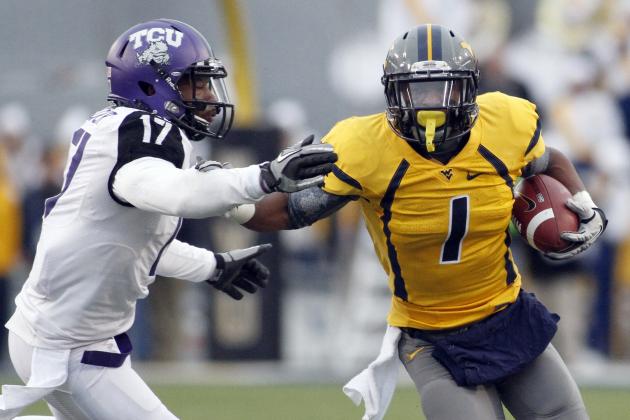 Justin K. Aller/Getty Images

For a young team with suddenly a lot of talent, the Bengals have some serious holes to fill. Wide receiver probably isn't one of them. But as a Ravens fan, the concept of having to defend A.J. Green AND Tavon Austin is too unsettling to think about.
I'm not convinced Austin will even be here at this point but in this mock, he falls to the Bengals and he's too tempting to pass on.
Austin has been tearing up the pre-draft workouts and interviews. His college coach loves him and I think he is a much better prospect than his former quarterback Geno Smith. The Baltimore native is familiar with the Bengals, having grown up watching the Ravens, and would complement Green very well.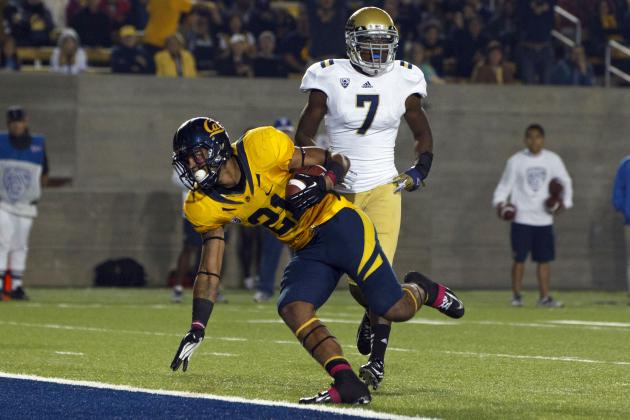 Jason O. Watson/Getty Images

How is it that the Rams still have not found a reliable wide receiver for Sam Bradford to throw to? It seems crazy but St. Louis has done so little to surround their franchise quarterback with talent it almost feels like sabotage.
They have to get a wide receiver here. They let Steven Jackson walk, and now need to give Bradford a weapon.
Allen is a bigger wide out who lacks a lot of home run ability. BUT he runs very good routes and has great hands. I think this is what the Rams need. They have Brian Quick, Chris Givens and Austin Pettis which form a decent young corps, but I think Allen is the next step for them.
Having added Jonathan Cooper in this mock, they suddenly have a solid Offensive Line and a couple of exciting change of pace running backs. Allen could be exactly what Bradford needs.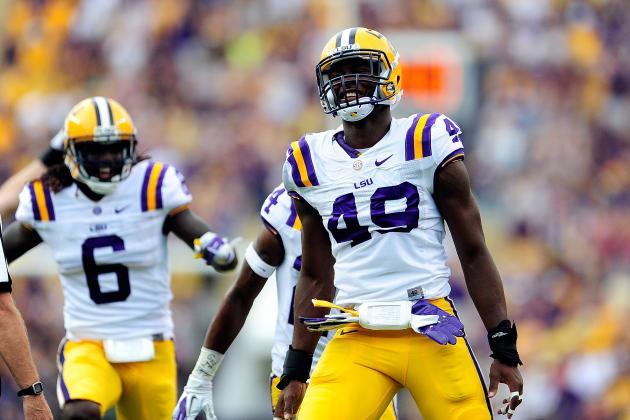 Stacy Revere/Getty Images

Vikings fans will most likely be very happy if the draft plays out like this. And so will their coaching staff. I know many people might think they need to replace Percy Harvin here. But the fact is that in the NFC North, you have to be able to put pressure on the quarterback. Aaron Rodgers, Matt Stafford and even Jay "Eeyore" Cutler can burn defenses if they have the time.
Mingo was once thought of as a sure top-10 pick but questions about his motor and positional value have caused a bit of a drop. He answered a few critics with a solid Pro Day, but his decision not to bench (after not benching at the combine) raised a few eyebrows. Some mocks I have seen have Mingo going a lot higher than this but I think he underachieved so much this season that No. 20-25 is a more realistic range for him.
Still, if the Vikings can motivate him, they are getting a dominant pass rusher.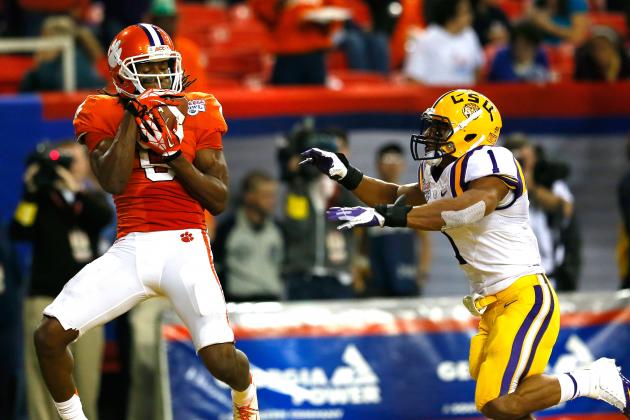 Kevin C. Cox/Getty Images

Wow, if I were a coach in the AFC South I would really be starting to worry. Let me paint a picture for you. You've got Andrew Luck under center, behind a young offensive line that has been significantly upgraded in the offseason (see Gosder Cherilus). Luck looks to his right and sees the stalwart veteran Reggie Wayne lined up wide with the speedy T.Y. Hilton in the slot.
Luck starts the snap count and looks to his left and he sees either his college teammate Coby Fleener or the massive Dwayne Allen at Tight End.
After this draft, he will also see former Clemson wide out DeAndre Hopkins. Hopkins is the perfect Wayne understudy and could form a central pairing that has Colts fans remembering all those Manning-Harrison moments.
All you need to do with Hopkins is put on last year's bowl game versus LSU. 13 catches, 191 yards and two touchdowns. That's a game. To be honest, I'm not sure why Hopkins isn't rated higher than he is.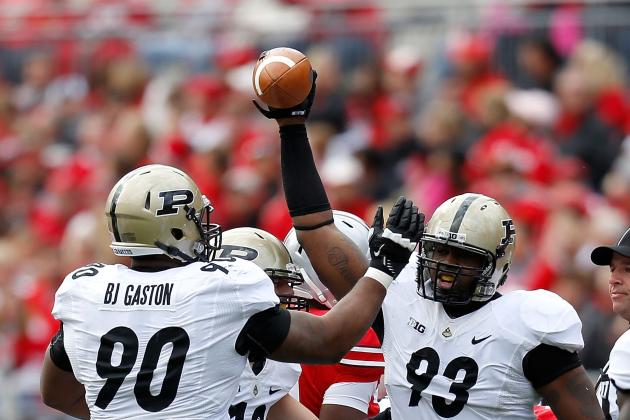 Kirk Irwin/Getty Images

Just look at Number 93 in that picture. Kawann Short is big man. He was a two-time Captain at Purdue, as voted by his teammates.
NFL.com compares Short to Randy Starks and anyone who has seen the Miami Dolphins play will know this is a very big compliment. The Dolphins just used their franchise tag on Starks so you can see the kind of value this type of Defensive Tackle has in the NFL.
The Vikings have been rebuilding their defense for some time now and the once famed "Williams Wall"- made up of Pat and Kevin Williams- has run its course. Short would be able to come in and play right away and has the flexibility and athleticism to play a variety of positions along the defensive line. I like this pick for the Vikings a lot.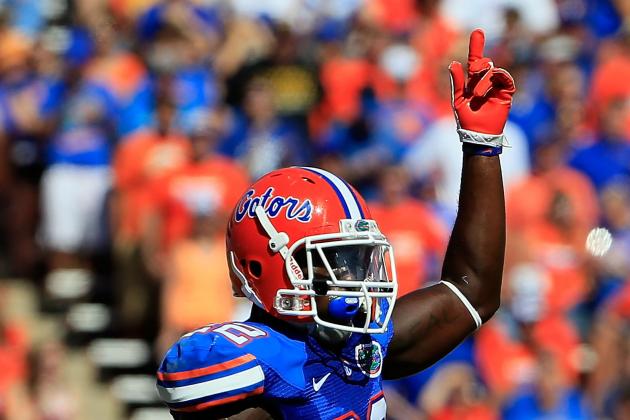 Sam Greenwood/Getty Images

I would be willing to wager a significant amount of money this will be the Packers selection (assuming of course Vaccaro doesn't slide for some inexplicable reason).
The Packers were looking to lure Michael Huff to Lambeau but the Ravens didn't let the former Raider leave Baltimore without a deal.
Mike McCarthy and his staff need a safety badly and Elam is the archetypal Packers defensive player: physical, athletic, and not wholly fundamental.
Elam is a hitter. The guy lays the lumber and would be a major upgrade in their secondary. His coverage skills are above average and he can play the run as well as any Safety in this draft class, including Kenny Vaccaro.
I just hope the Pack equipment manager can find Elam a jersey that fits. Wisconsin in December is mighty cold, Matt.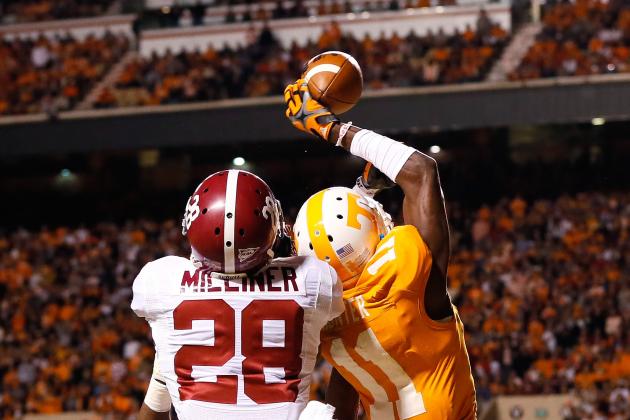 Kevin C. Cox/Getty Images

For some reason, Houston has thought it was alright to have Kevin Walter as Matt Schaub's second option for years. But mercifully, Houston has finally put Texans fans out of their misery and dropped Walter.
This move opens up a competition to be the Texans' second leading receiver, behind Andre Johnson of course.
Justin Hunter would be a great pick up for a team trying extremely hard to get over the hump and make a serious run in the post-season after years of ignominy. Hunter is 6'4" and ran a 4.44 second 40-yard dash at the combine and has a 40" vertical leap. He is an athlete.
He is not physical and could use a crash course on his route running, but the Texans have become a pretty solid organization and I think Hunter is the right fit.
While there are not many truisms in professional football, one that seems applicable here is "the rich get richer." Unlike many highly-drafted wide receivers, Hunter would not be walking into a situation where we would be expected to be the primary pass catching threat. This would let him learn and grow without the spotlight that frequently blinds big time WR prospects in their rookie years. Learning from a guy like Andre Johnson is invaluable and it is why teams like the Ravens, Steelers, Patriots, and Giants have been so successful. Their first-round picks don't need to be Pro Bowlers right away.
Like I said, the rich get richer.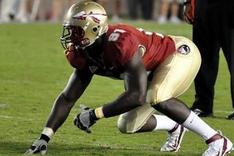 I have felt so badly for this guy all off season. After a breakout year alongside fellow Quarterback Terrorizer, Bjoern Werner, Tank Carradine tore his ACL in November.
But in truly remarkable fashion, Carradine is scheduled to work out for teams next month right before the draft. Elvis has left the building in Denver (sorry I had to) and John Elway has already moved to replace him with Dwight Freeney.
But the Broncos were so active in Free Agency (Welker, Rodgers-Cromartie, Vasquez, etc.) that they really don't have many glaring needs at this point. Since Freeney is 33, he is a temporary solution.
After seeing what Tank Carradine can do at his Pro Day, I think John Elway will look for a long term answer to losing Dumervil.
Carradine is a worker, pure and simple. His motor is undeniable and he is relentless going after the Quarterback. He is certainly a risk coming off that kind of injury, but with Freeney potentially ahead of him on the depth chart, Carradine can slowly work his way into a role next season on passing downs.
I will tell you what really sells me on Carradine. He went to the combine even though he couldn't do any of the drills. Obviously he needed to attend the interviews, but that's not what I mean. If you watched the Defensive Linemen work out, Carradine was on the sideline in sweats watching, listening, and cheering. It's a small thing but Carradine is a guy I would want on my team.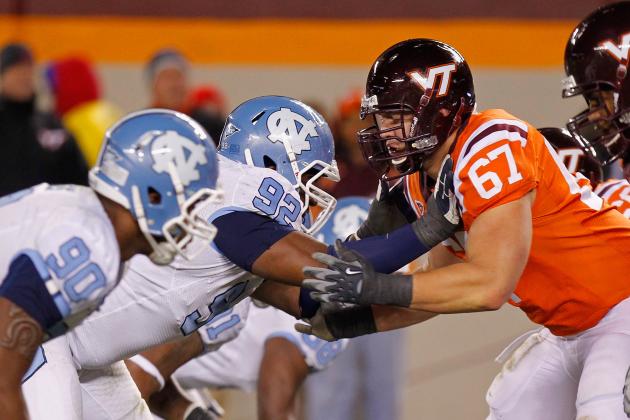 Geoff Burke/Getty Images

I like Sylvester Williams to the Patriots here. Signing Danny Amendola rules out any play for the Patriots to look at Tavon Austin or some of the other Welker-esque WR's here. Signing Aquib Talib prevents Belichick and co. from stretching for another corner they can scoop up later.
Sylvester Williams just makes sense to me here. In a draft with a lot of Offensive and Defensive Line depth, Williams is the best player available that matches the Pats' needs.
The Patriots don't have much interior presence beyond the steadily enormous Vince Wilfork. Assuming they don't unload this pick to a team desperate for a quarterback, I think Williams is headed for Foxborough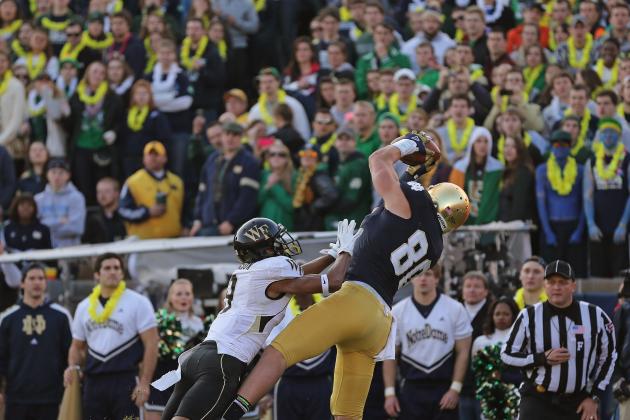 Jonathan Daniel/Getty Images

For some reason, Eifert to the Falcons just makes sense to me. Tony Gonzalez toyed with retirement and even though he did just sign a 2 year deal, who better to groom a young TE than one of the greatest.
After Thomas Dimitroff upgraded Atlanta's running game by signing Steven Jackson, Eifert would add the Falcons offense another dimension to this already potent squad.
Eifert won nearly every category among tight ends at the combine. People thought that Stanford's Zach Ertz could push Eifert as the most talented tight end in this draft class but after the combine, I think that was a bit of fantasy.
Eifert is a colossal 6'6" and ran a 4.68 second 40-yard dash. He also put up 22 reps on the bench and looked good in pass catching drills.
The Falcons will happily land the next great NFL tight end at the bottom of the first round.
Ronald Martinez/Getty Images

This should terrify the rest of the league. I think there are two reasons why Margus Hunt isn't in the top 15 picks: a lack of football experience and questions about how would fit as a 3-4 Defensive End. I don't really think Jim Harbaugh cares about either of those things since Aldon Smith had raised questions about his true position during his draft build up and no one seems to mind that Ziggy Ansah has only played football for a few years.
I think the 49ers would love to line Hunt at Defensive End or OLB in certain packages. He is an athletic freak that would bring another weapon to San Francisco.
I would have been leaning towards a WR at this point in the first round, but the trade for Anquan Boldin ruled that out for me.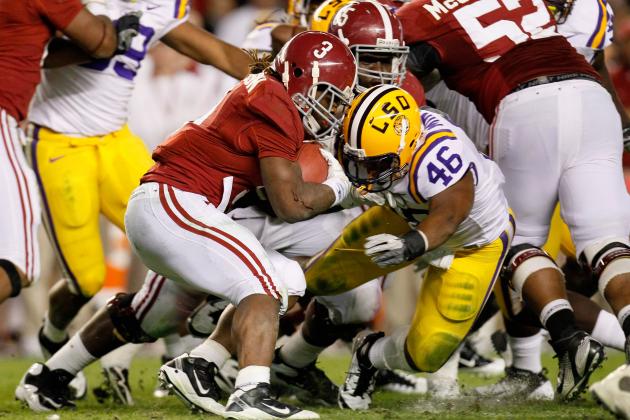 Kevin C. Cox/Getty Images

As I wrote in my Complete Baltimore Ravens Mock a few days ago:
"Newsome has lined this pick up from a mile away.
He could've overpaid to keep Ellerbe, but held back. He could've courted a veteran like Karlos Dansby, but he has so far looked to shore up the defensive line instead.
In my mind, Minter is an absolute slam dunk at No. 32. This is a guy who played on a loaded LSU defense and was a standout all of last season.
Put on the Florida tape: Twenty tackles (including 17 solo) and two sacks
Or the Chick-fil-a Bowl against Clemson: Nineteen tackles and 1 sack.
Minter is a stud and fills an immediate need for the Ravens. He's strong, instinctive and has excelled against great competition. He would start alongside Jameel McClain at inside linebacker from day one.
At 6'0" and 246 pounds, he's a little thick, and his 4.8 second 40-yard dash at the combine showed that. But his consistency and work ethic trumps questions about his lateral speed.
Ozzie will gladly select Minter at the bottom of Round 1."
Except after Minter's Pro Day this is even more obvious to me. A 4.63 second 40-yard dash? Minter could be a solid Raven for the next decade. I hear some guy who wore 52 left, right?