Mexico vs. United States: 6 Things We Learned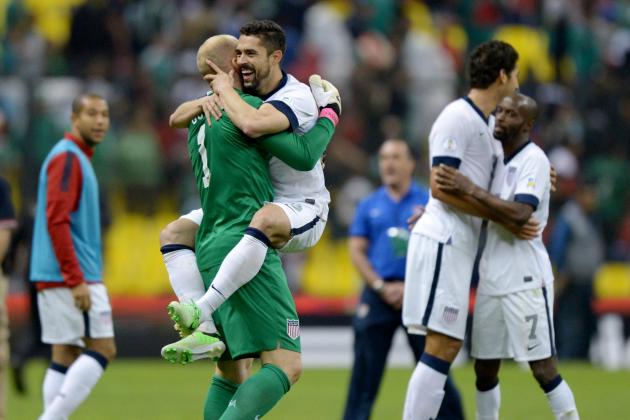 Kirby Lee-USA TODAY Sports

The United States men's national team earned a crucial away draw at the famed Estadio Azteca Tuesday night, drawing 0-0 with Mexico in a hard-fought match.
Following its 1-0 home win against Costa Rica on Friday night, the U.S. now finds itself in third place in the final round of CONCACAF World Cup qualifying.
Here are six things we learned from Tuesday night's match.
Begin Slideshow

»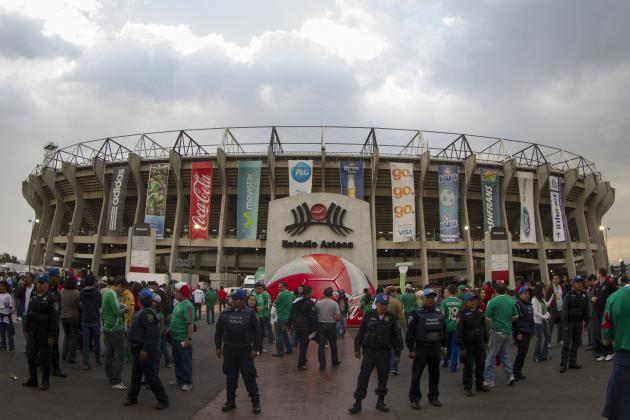 Miguel Tovar/Getty Images

In August, the Federation of Mexican Football made the fateful decision of holding a friendly against the United States at the feared Estadio Azteca. Heading into the match, the U.S. was 0-23-1 lifetime in the stadium. However, on a night when both teams fielded understrength squads, the U.S. came away with an historic 1-0 victory, smashing Mexico's perfect home record in the stadium against the United States.
Much like the 2009 Gold Cup final when the USMNT fielded its "B" squad against Mexico (the U.S. "A" team was competing that summer in the Confederations Cup) and infamously lost 5-0, Mexico's loss to the U.S. this August shifted the psychological foundation of the rivalry.
When the U.S. was finally able to earn a win in Estadio Azteca—famous for its difficult conditions including altitude, air pollution and a raucous crowd—much of the mystique of the stadium disappeared.
That was apparent on Tuesday night when the U.S., despite conceding large chunks of possession to Mexico, still put together its best overall performance in the once-feared stadium. On Tuesday, the U.S. was not afraid to attack and controlled more possession in a game away to Mexico than any game in recent memory (maybe more possession than they have ever had in a game in Mexico).
While Mexico still had more of the dangerous chances, it was obvious that the U.S.' fear of the stadium and environment was now gone. The Americans were ready to step on the field against Mexico as soccer equals.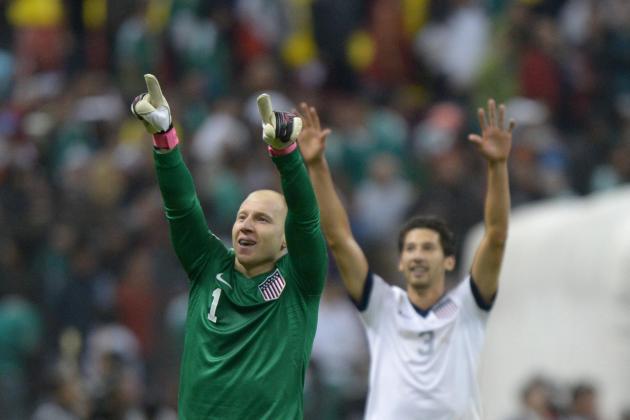 Kirby Lee-USA TODAY Sports
Gonzalez (right) celebrates the draw with Brad Guzan.
With the U.S. back line in disarray heading into these last two World Cup qualifiers, someone needed to step into the void and provide leadership among this group of inexperienced defenders.
Carlos Bocanegra, Michael Parkhurst, Timmy Chandler, Steve Cherundolo, Tim Howard, Fabian Johnson, Edgar Castillo and Jonathan Spector were all left off the roster for various issues.
With a patchwork back line in place, a new goalkeeper behind them and a new center-back pairing Tuesday night (with Sporting KC's Matt Besler replacing Clarence Goodson), Omar Gonzalez stepped into the void.
Gonzalez was outstanding, winning last-ditch tackles, dominating in the air and covering for his outside-backs when they were beaten. Besler was mostly along for the ride as Gonzalez took charge in leading the U.S. to the all-important shutout.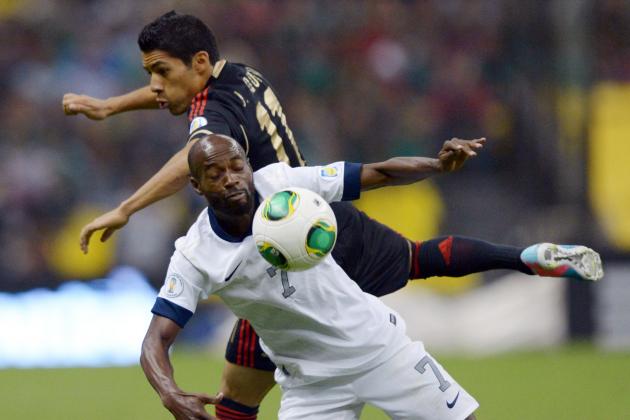 Kirby Lee-USA TODAY Sports

With the U.S. options at full-back so depleted through injury, Jurgen Klinsmann made the somewhat desperate gamble to start DaMarcus Beasley at left-back against Costa Rica and Mexico.
Bob Bradley had tried the Beasley left-back experiment previously, and the results were not flattering. Not only is Beasley not a great one-on-one defender, but his slight frame makes it easy to push him off the ball, muscle past and beat him in the air.
Against Costa Rica, in a blizzard that made the game much more about athleticism than ability, Beasley prospered. He was able to take advantage of the poor conditions, keeping the Costa Rican defenders in front of him and using his speed to catch the Costa Rican attackers when he was beaten.
Against Mexico, Beasley played as many had expected him to, getting beaten on the dribble repeatedly, losing possession on multiple occasions and providing less than memorable service when he did push into the attack. While no one can doubt Beasley's work rate, passion, competitiveness or dedication to the USMNT, he is clearly still not an ideal option for the U.S.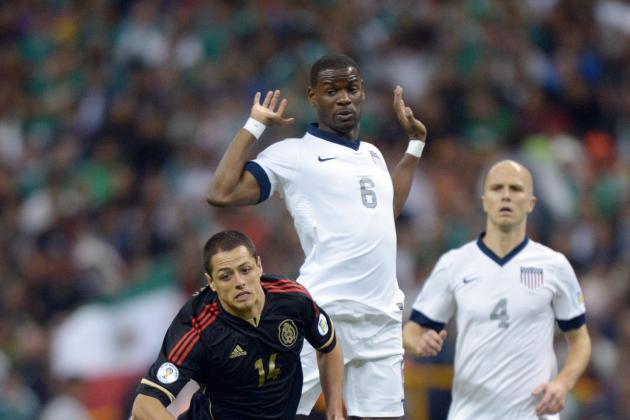 Kirby Lee-USA TODAY Sports

With Jermaine Jones out injured, Jurgen Klinsmann elected to make a like-for-like switch and use Maurice Edu alongside Michael Bradley in the holding midfield role.
For much of the match, Edu was invisible (although he was involved in one nice combination late in the first half), and he was caught in possession repeatedly early in the second half, nearly costing the U.S. on multiple occasions.
It also appeared that Edu was responsible for marking Chicharito on the 88th-minute corner kick that he nearly scored after Edu completely lost him on the play.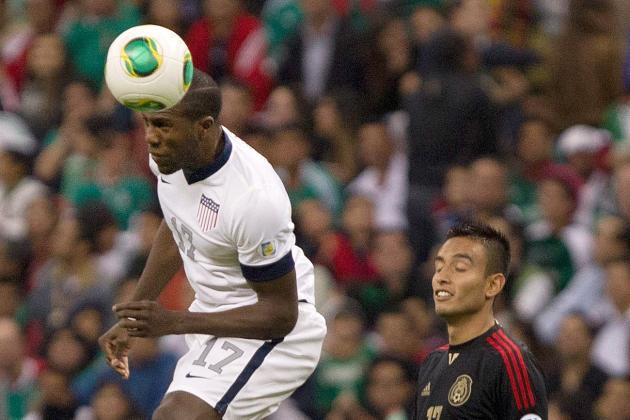 Miguel Tovar/Getty Images

Several Americans saw their stock rise from their performances Tuesday night.
First, Brad Guzan proved that the U.S. net is still in good hands even without Tim Howard. Guzan was particularly strong in stoppage time when the U.S. was desperately defending to earn its point.
Second, Graham Zusi—after several average performances against Canada, Honduras and Costa Rica—put in a much better performance. Zusi struggled in the first few minutes to get involved, but once he began checking back for the ball and drifting slightly more narrow, he became an important piece of the U.S.' ability to move the ball up the field.
Third, Jozy Altidore, despite being withdrawn early in the second half, played fairly well. Like Zusi, he struggled to get involved in the opening minutes, but once he began checking back for the ball, Altidore helped the U.S. find its two best sequences of play late in the first half.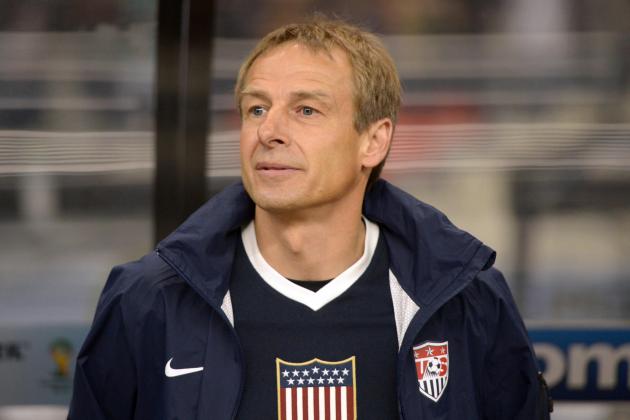 Kirby Lee-USA TODAY Sports

All things considered, Jurgen Klinsmann had a good week. After struggling in the semifinal round of CONCACAF World Cup qualifying, losing to Honduras in the opening match of the hexagonal and being anonymously criticized by several U.S. players in the media this week, Klinsmann led the U.S. to four points from the win against Costa Rica and draw against Mexico.
However, on Tuesday, Klinsmann's substitutions were once again questionable. First, he withdrew Jozy Altidore early in the second half just after Altidore had started to help the U.S. link play late in the first half. Prior to Altidore's substitution, it looked like Klinsmann also had Altidore playing left wing as Herculez Gomez was pushed up top.
Altidore was subbed for Eddie Johnson, who played fairly poorly with his back to pressure and added little to the match. Johnson could have been used on the wing with Gomez being pushed up top, but that is not what happened.
Second, Klinsmann did not sub off either DaMarcus Beasley or Maurice Edu, both of whom were having poor games. While the final result may vindicate that decision—and subbing off Beasley would have been difficult considering the U.S. bench—they were certainly playing more poorly than the three players who were withdrawn (Zusi, Gomez and Altidore).
Lastly, Klinsmann's decision to use Brad Davis made little sense, as everyone suspected that Brek Shea would be used as a late sub in the match. With Davis on first, Klinsmann was forced to move Davis to the right side of the midfield to make way for Shea—not to mention that neither Davis nor Shea are ideal options for defending the draw.
That being said, many USMNT fans will be sleeping well with four points in their back pocket heading into the June qualifiers.
Follow me on Twitter @AmerTouchline
Follow me on Facebook www.facebook.com/AmericanTouchline