Where Can Jack Swagger and Zeb Colter Go Next?
Use your ← → (arrow) keys to browse more stories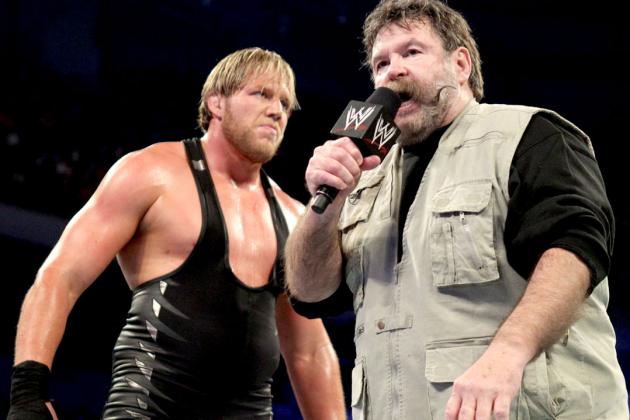 photo courtesy of WWE.com
Upon Jack Swagger's reemergence in WWE, he established himself as a new kind of heel. With his manager and mouthpiece, Zeb Colter in tow, Swagger became a "Real American" who was booed because of his right-wing political tendencies.
Following weeks of YouTube videos, controversial interviews and multiple encounters with new archenemy Alberto Del Rio, WWE commentators hinted at the possibility that Jack Swagger had been brainwashed by Zeb Colter.
This explanation seems to be a quick "backdoor" way out of his controversial persona if Swagger and Colter become too controversial for WWE. The backstory of the Colter and Swagger relationship hinges on the past between them; this past goes beyond Jack Swagger to the friendship of Colter and Swagger's father.
On the Feb. 11, 2013 episode of Monday Night Raw, Colter addressed his past with Swagger's father by stating, "Years ago, me and this man's daddy laid in a jungle in Vietnam with bullets whizzin' by our heads. You know why? Because we were real patriots, we were real Americans" ("Have You Heard the WWE's Wildly Racist Tea Part Wrestling Character Named Jack Swagger?").
If Colter knew Swagger's father during the Vietnam War, Jack Swagger definitely has at least known or heard of Colter for the duration of his life. Such a story could be referred to again to help split Swagger from Colter.
In analyzing the relationship between Zeb Colter and Jack Swagger from a brainwashing perspective, it would make the most sense to figure that Colter emerged as a true presence during Swagger's sabbatical from WWE programming.
Zack Ryder vs. Jack Swagger (Raw, Feb. 11, 2013)
By picking apart their history, the brainwashing scenario makes some sense. Perhaps Colter lent Swagger some political literature, sent some emails with political website links or had long car rides with Swagger with talk radio on. Whatever the story becomes, the brainwashing scenario is one way that WWE can back out of this angle with some sort of grace.
For the brainwashing angle to work, Zeb Colter would need to acquire other disciples. Colter could easily pick up some Superstars from NXT or others who are not doing too much in WWE, like Michael McGillicutty. Jack Swagger could work as a team with these other disciples of Colter for a few weeks before slowly making a face turn.
If Swagger loses at Wrestlemania, he could remain in a strained relationship with Colter as more superstars are added to the group. Swagger, sensing that he is being pushed aside in favor of others, could slowly be phased out of Colter's central gaze and the brainwashing would subside.
Instantly, Jack Swagger would have at least one ready-made feud with whoever Zeb Colter's latest protégé is.
Of course, the WWE Universe would not instantly trust Swagger. This could be managed by teaming Jack Swagger with former nemesis Alberto Del Rio on a series of Raw and Smackdown shows. Swagger would have to earn Del Rio's trust and verbally apologize for what he did to Ricardo Rodriguez's ankle.
This turn could be blamed on Colter's brainwashing with Swagger playing the role of naïve victim looking for revenge against.
Will Jack Swagger Turn Face by SummerSlam 2013?
In the months between Wrestlemania and SummerSlam, Colter's right wing extremism could be toned down to focus more on general heel tactics. This could keep the controversy off WWE and the Colter character while keeping his managerial talent around.
There is no denying Colter is a dynamic force on the microphone, and his talents could definitely serve other superstars outside of the right-wing angle. Once Swagger ends his feud with Colter and his latest mentee, there will be other superstars Swagger can go after.
Zeb Colter and whomever he is managing can move on to feuding with other faces at the midcard level. If there is nothing left in WWE for Colter to do, he could be a vital asset to NXT working with the younger talent there.
Many WWE fans speculated this past February that a returning Jack Swagger would start a feud with United States Champion Antonio Cesaro. Of course, this feud did not happen, but it still could. It would really be something for Cesaro to keep the championship until SummerSlam (the event where he won it from Santino Marella last year) and have Swagger defeat him for it.
The journey of the "Real American" would come full circle at SummerSlam 2013 with a Jack Swagger United States Championship win over the man who despises Americans but not America, Antonio Cesaro. Such a win could be the true springboard that Swagger needs to propel himself to main-event status. He would be taking the championship from someone who held it for a year. It would definitely take some work; yet, I believe this story could be a success for both Swagger and Colter.
I am not a fan of the brainwashing angle, but I believe that it is the easiest way to eventually move Jack Swagger away from Zeb Colter. In moving away from the right-wing angle, effective storytelling needs to occur for the brainwashing scenario to actually pan out.
What would you do with Jack Swagger and Zeb Colter beyond Wrestlemania XXIX? Where do you see Jack Swagger and Zeb Colter at SummerSlam 2013? Respond in the comments below.