Grading Every New York Mets Player's Spring Training Performance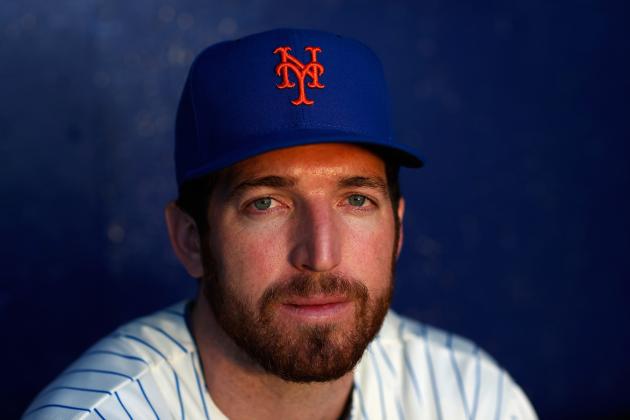 Chris Trotman/Getty Images

With news that the New York Mets have made more cuts to their spring training roster, the team is now down to 27 of the 25 spots available for Opening Day.
One of the players cut includes Travis d'Arnaud, the phenom catcher who was the centerpiece of the R.A. Dickey trade this offseason.
The Mets roster now has 14 pitchers and 13 positional players. Depending on how the next week goes, there could be demotions from either position.
In alphabetical order, here are my spring training grades for all 27 players currently on the roster, starting with pitchers and then positional players:
Note: All stats are updated as of the morning of March 27
Begin Slideshow

»
Chris Trotman/Getty Images
Burke reinvented himself with much success as a sidearmer last season, and he has done a serviceable job this spring.
Aside from two horrible outings against the St. Louis Cardinals, Greg Burke has shown exceptional command all spring.
His 5.84 ERA is not pretty. But take away the bad outings against the Cardinals and that ERA drops all the way to 2.61.
Even more, Burke did not issue any walks all spring until his outing against the Cardinals last Sunday. In total, he has a dominant 16 strikeouts and three walks in 12.1 innings.
Burke's new sidearm approach has worked wonders and he stands a good chance to make the final roster.
As long as he doesn't have to face the Cardinals.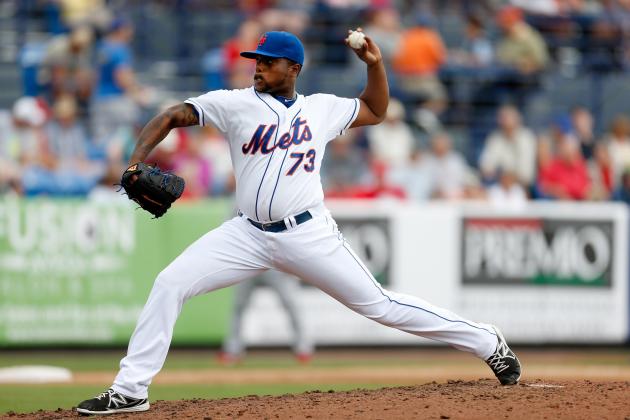 Chris Trotman/Getty Images
Carson has been beaten up in a couple outings, but has still impressed enough to win a spot as lefty specialist this season.
Robert Carson and the next pitcher on the list have won out the job as the lefty specialists for the Mets on Opening Day.
Carson's stats are very average, but he has shown a knack for pitching well in tough situations. In 11.2 innings, Carson has a 5.40 ERA, four strikeouts and only one walk.
He must significantly improve on the 13 hits and five home runs he has already allowed.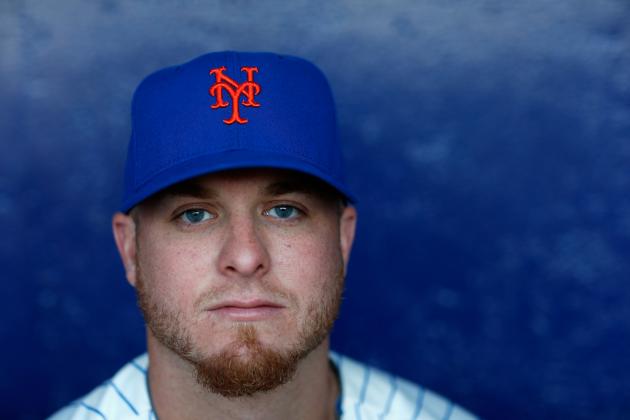 Chris Trotman/Getty Images
Edgin has impressed enough this spring to earn the second lefty specialist job this season.
Josh Edgin is the other lefty specialist, and it is a fairly even race between him and Carson for the favored lefty reliever.
Edgin has more strikeouts than Carson in fewer innings, and has allowed no home runs. But in 10.2 innings, Edgin also has given up 16 hits, three walks and an intentional walk.
Edgin has shown better command than Carson with his 3.38 ERA, but a .340 BAA will not get him far this season.
Marc Serota/Getty Images
After a poor first outing, Familia has had an exceptional spring.
After a disappointing 2012 season, Jeurys Familia has been a pleasant surprise this spring.
In 11.1 innings, Familia boasts a 2.38 ERA and 11 strikeouts. If you take away his first outing, where Familia blew a save and gave up two walks, his ERA drops to 0.87.
But Familia's command issues are well-documented. Thus far, he has given up 10 hits and seven walks.
Nevertheless, Familia has done a good job forcing grounders and limiting damage, and he should play a significant role in the bullpen this year.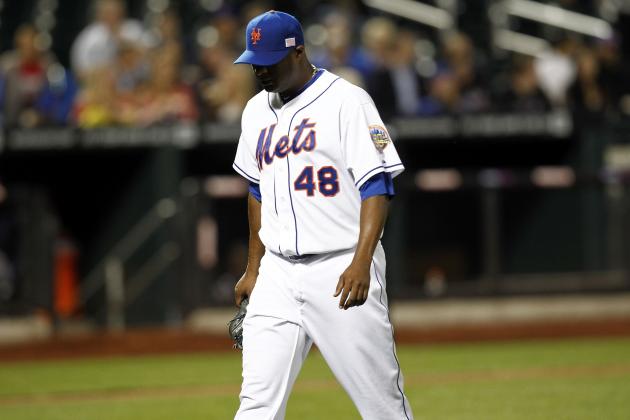 Jeff Zelevansky/Getty Images
Francisco is still recovering from chronic elbow injuries, and he may not return for a long time.
Frank Francisco has yet to throw a pitch this spring, as he is still recovering from a number of elbow injuries.
The most recent news is that Francisco threw 25 pitches of live batting practice and felt an expected amount of soreness.
He will also begin the season on the disabled list, and at this point Francisco's future does not seem bright.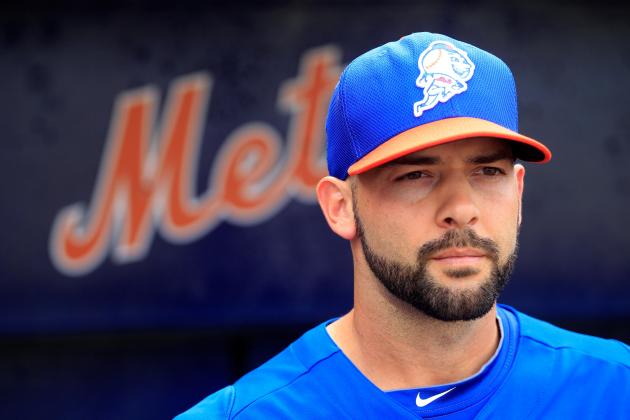 Chris Trotman/Getty Images
After a slow start to spring, Gee most recently put in six strong shutout innings against a tough Atlanta Braves lineup.
Dillon Gee has had an erratic spring until his most recent performance.
Before pitching on Monday, Gee had given up a combined 11 earned runs in his previous two outings. He also allowed four walks and ten hits over those six innings.
Gee had high expectations for himself coming into the spring. Gee has fully recovered from season-ending surgery last year to remove a potentially dangerous blood clot in his throwing shoulder.
But after the two lackluster performances, Gee was superb against a stiff Atlanta Braves lineup. He threw six shutout innings, recording only two hits, seven strikeouts and no walks.
After a pedestrian start to the spring, Gee only earns a "C-" but seems back on track now.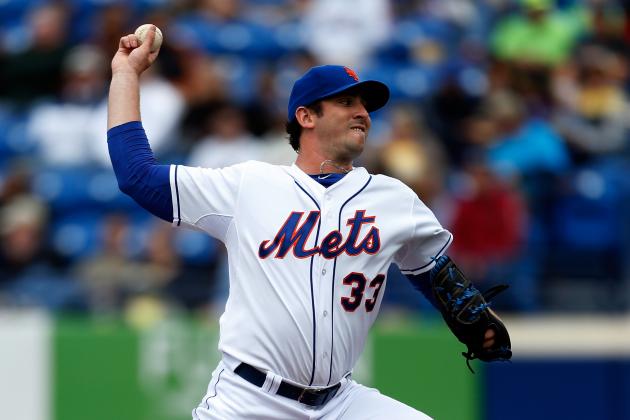 Chris Trotman/Getty Images
Harvey has struggled a bit with his command, but he has nonetheless been dominant this spring.
Matt Harvey has thrown like an ace at times this spring, but he is susceptible to the long ball.
Harvey has some incredible numbers, including a .213 BAA and 29 strikeouts in 23.1 innings. But he has also given up 19 hits, three home runs and seven walks. Three of those walks came in his most recent outing.
Furthermore, Harvey's 3.47 ERA is good, but he is capable of so much more. Harvey has not had a perfect spring, but he is close to becoming a dominant starter.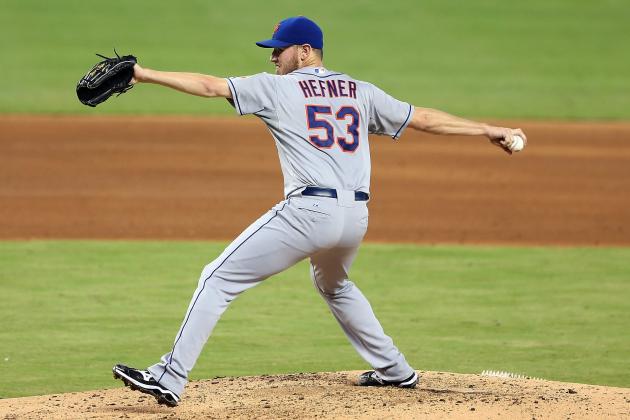 Marc Serota/Getty Images
Hefner is currently recovering from an elbow contusion, but before the injury he rightfully earned the final spot in the starting rotation.
Jeremy Hefner has been another surprise from the Mets' pitching staff this spring.
Like Harvey, he boasts a 3.47 ERA in 23.1 innings. Hefner must work a lot on his command, though, as he has also given up 22 hits, five home runs, six walks and 19 strikeouts.
Unfortunately, the Met injury bug (patent pending) bit him on Tuesday, as he was struck in the elbow by a line drive from former Met Carlos Beltran.
Thankfully, the x-rays came back negative and it is only a contusion.
But the timing could not have been worse for him; Hefner, who struggled as a fill-in starter on minimal rest last season, was finally ready to fill in for the injured Johan Santana as a starter every five days.
Knowing the Mets medical staff, it is anyone's guess when Hefner will be back on the mound.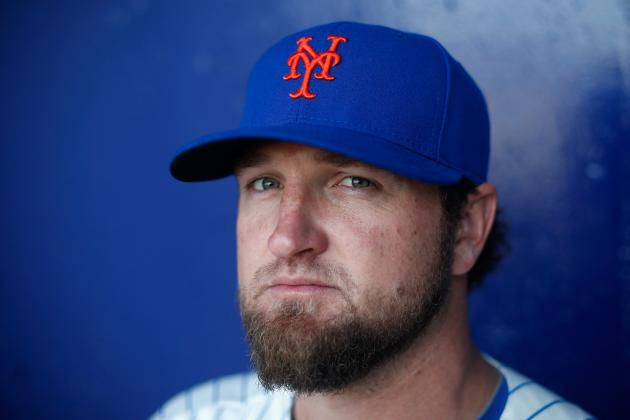 Chris Trotman/Getty Images
Lyon had one horrible outing that ballooned his overall stats, but he has been a superb reliever this spring.
It is incredible what one bad game can do to a reliever's stats.
Coming into Sunday's game against the Detroit Tigers, Brandon Lyon had done everything you could ask of him. He had a 2.35 ERA and had given up only two walks and six hits in 7.2 innings. That equated to an amazing .207 BAA and 1.04 WHIP.
But on Sunday, Lyon was shelled for six hits and five earned runs against the Tigers in only 0.1 innings of work.
That outing ballooned his stats to a 7.88 ERA, .333 BAA and 1.75 WHIP.
Despite the embarrassing totals, Lyon has had a phenomenal spring. One terrible outing lowers his grade a bit, but Lyon proved his worth in the eight other outings.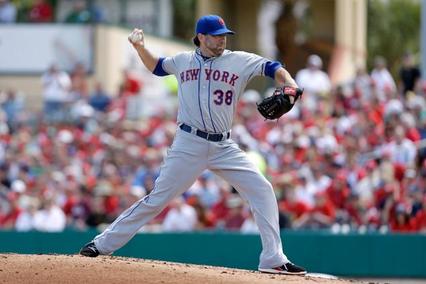 Marcum has been average in his three outings this spring, and is currently recovering from a neck injury. Photo via: http://assets.nydailynews.com/polopoly_fs/1.1295772.1363924101!/img/httpImage/image.jpg_gen/derivatives/landscape_635/mets-cardinals-spring-baseball.jpg
Shaun Marcum has had a mediocre spring training with only three starts to his name.
In 9.1 innings, Marcum gave up 10 hits, a walk and a home run while recording only two strikeouts. He gave a brief glimpse of his natural ability to get outs in his second start, as he gave up only one hit in 3.2 innings.
But the recent news is that Marcum is recovering from a minor neck injury from a bullpen session on Monday. Marcum may even miss a start or two this season as a result of the injury.
Marcum has had a decent but uninspiring spring so far, and the neck injury does not help his cause.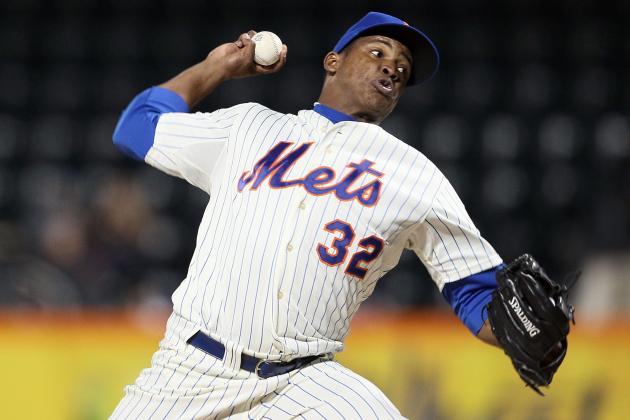 Alex Trautwig/Getty Images
After arriving late to camp due to visa issues, Mejia has struggled all spring with his health and on-field form.
Jenrry Mejia has had a terrible spring.
After arriving late to camp due to visa issues, Mejia has been diagnosed with a number of frustrating injuries.
Mejia last pitched on March 11 due to forearm tendinitis. But after lingering pains, doctors later discovered he had elbow inflammation. Mejia has recently been shut down for the next 2-6 weeks.
Considering his 18.00 ERA in his only two outings, Mejia could certainly use some time off.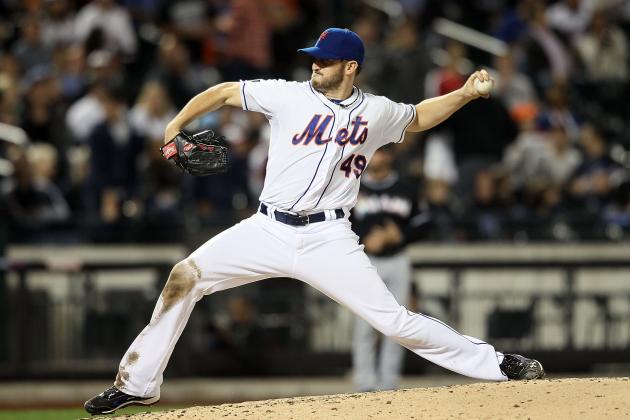 Alex Trautwig/Getty Images
Niese has allowed four walks in two of his four starts, but the Opening Day starter still maintains a superb 1.53 ERA this spring.
Jon Niese has done more than enough so far to prove last season's breakout campaign was no fluke.
But there is one statistic that sticks out in Niese's spring training numbers like a sore thumb: Niese has given up nine walks in 17.2 innings.
The primary reason for the high walk rate is two different starts in which he had four walks each. But you would like your Opening Day starter to be someone who has not had almost as many walks as strikeouts (12 so far).
Nevertheless, Niese has a superb 1.53 ERA and has let up only 10 hits this spring. That equates to a .175 BAA.
Niese has never had serious control issues, and once he gets it together he should have another fantastic season.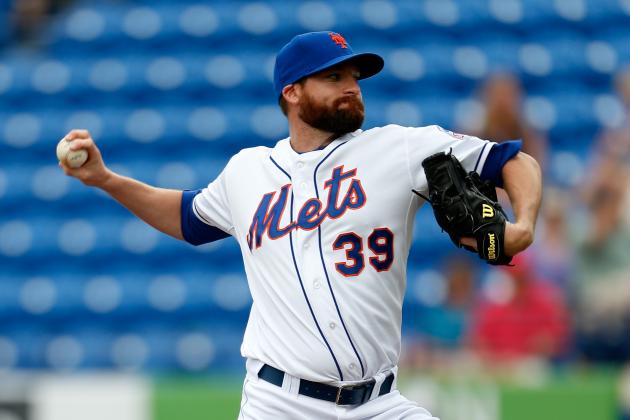 Chris Trotman/Getty Images
Parnell has established this spring that he can be the team's full-time closer if needed.
Make no mistake: Bobby Parnell can be a closer.
Pitching mostly in the ninth inning of spring training games, Parnell has a 2.53 ERA in 11 appearances. Aside from one ugly outing against the Washington Nationals (notably a blown save), Parnell has not allowed a single earned run.
Parnell's four strikeouts in 10.2 innings are unusually low for him. But as long as he can consistently close out games, Mets fans likely won't care how the outs are made.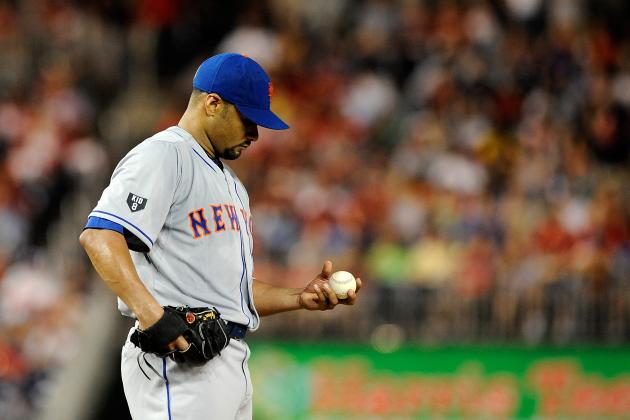 Patrick McDermott/Getty Images
Santana has yet to throw a pitch this spring as he is still working up the arm strength to throw from a mound.
Johan Santana has been a colossal disappointment to begin 2013, and he has yet to throw a single pitch so far.
Even Santana does not know when he will return to the mound.
Santana does not even have the arm strength to throw a bullpen session, let alone pitch in an exhibition game. It is almost comical to think that over a month ago Santana wanted to pitch in the World Baseball Classic.
Santana will continue rehabbing and working hard, but when he returns he will likely be a shell of the pitcher he once was.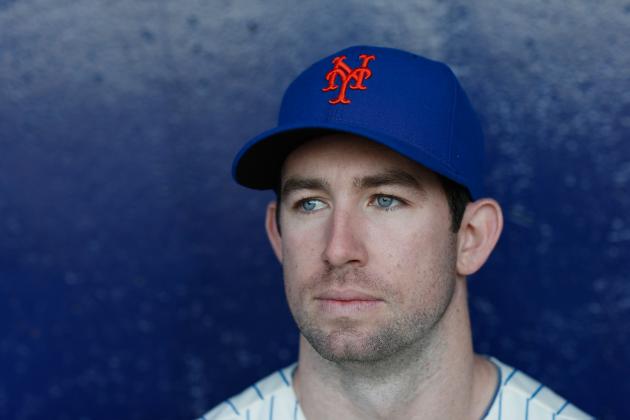 Chris Trotman/Getty Images
Baxter has disappointed this spring, hitting just .186 in 43 at-bats.
Mike Baxter is one of the many names competing for a spot in a weak outfield this season.
So far, Baxter has done little to win over the fans and front office.
In 43 at-bats, Baxter is hitting .186 with a double and a home run. To his credit, Baxter has drawn an impressive 10 walks so far this spring.
But combine his offensive output with middling speed and defense, and Baxter has had a disappointing spring training.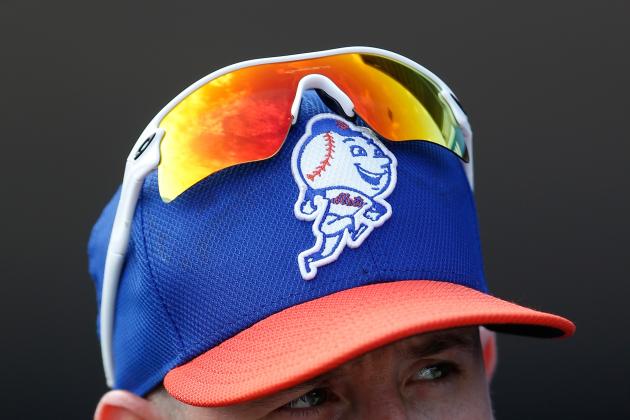 Chris Trotman/Getty Images
Buck is a great defensive catcher who rarely provides offense, but he is hitting a surprising .290 so far.
The Opening Day catcher's job was John Buck's to lose, and he is well-deserving of the job.
As a result, Travis d'Arnaud, the phenom who was acquired with Buck for Cy Young winner R.A. Dickey, will bide his time a little longer in the minors.
This spring, Buck has hit .290 with three doubles, two home runs and seven RBI in only 31 at-bats. Considering Buck's power comes at the price of his batting average, a .290 mark is even more impressive. A 32.3% strikeout rate this spring does not work in his favor.
But it is worth noting that Buck's last All-Star appearance, in 2010, was after one of the worst springs of his career.
Regardless, Buck has a .421 on-base percentage and .581 slugging percentage so far and does not seem to be fading anytime soon.
For a defensive-minded catcher, any type of offensive output is a bonus.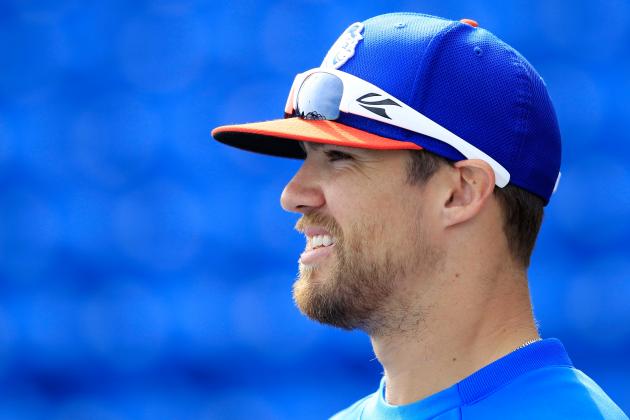 Chris Trotman/Getty Images
Cowgill has been the best story for the Mets this spring, and his presence could bolster a weak outfield position this season.
Collin Cowgill has been sensational this spring, and he could be a full-time starter all season.
He is currently top 2 on the team in a number of offensive categories, including hits, runs, doubles, home runs, stolen bases, slugging percentage and OPS.
Cowgill has thrived with his feet firmly planted on one team, and he is proving that this spring. In 57 at-bats, Cowgill is hitting .333 with four doubles, four home runs, eight RBI, 10 runs and four stolen bases. His .614 slugging percentage is unheard of for a speedster.
Cowgill's aggressive play style has led to a number of stellar defensive plays as well.
At this point, there is not much more you could ask for Cowgill to prove this spring.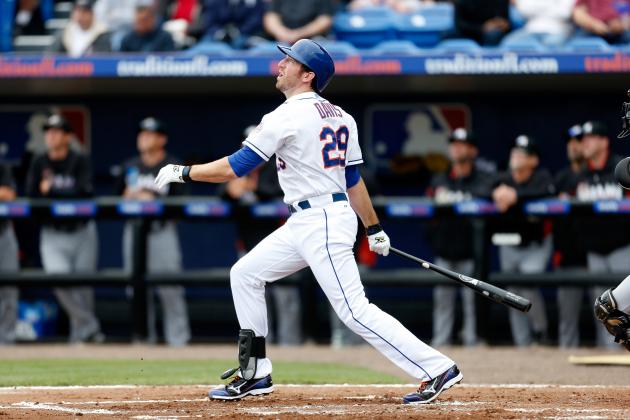 Chris Trotman/Getty Images
Davis has put up good numbers this spring, but only earns a 'B-' due to the lack of extra-base hits.
After a slow start to the spring, Ike Davis has started to put up consistent offensive numbers.
In total, Davis is hitting .319 with three doubles, a home run, five RBI, seven walks and only seven strikeouts in 47 at-bats.
Those numbers are quite acceptable, but as a middle-of-the-order hitter Davis has not put up big power numbers so far. He has not homered since the second game of spring training, while in the midst of a 2-for-12 slump.
Thus, Davis only earns a "B-" due to the mediocre .447 slugging percentage. But after the terrible batting average in 2012, it is good to see Davis getting on base at all.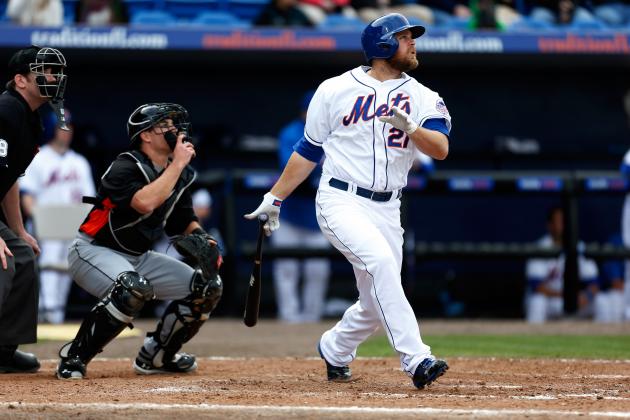 Chris Trotman/Getty Images
Duda has been radically inconsistent as he works on his swing, but he is still leading the Mets in home runs and RBI this spring.
Lucas Duda's spring has been like night and day.
Duda has been working hard on changing his swing all spring, and his numbers have shown it.
Duda is hitting an impressive .302 with four doubles, five home runs and 12 RBI in only 53 at-bats. His slugging percentage is an astounding .660. But he also has 14 strikeouts, and did not record a hit in 10 of the 19 games he has played.
Nevertheless, Duda has gotten all nine of his extra-base hits in March, despite the limited playing time during spring training. That is an incredible feat.
Duda's play will likely continue to be erratic during the season, but to his credit he has come back strong from a .100 batting average in the first month of spring.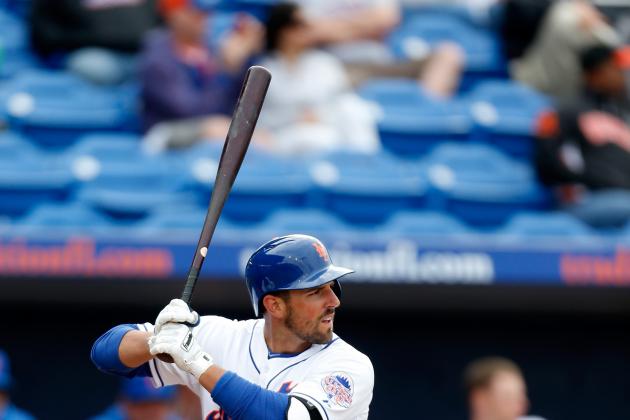 Chris Trotman/Getty Images
Lutz has quietly put up offensive numbers this spring consistent with his prolific minor-league career.
Zach Lutz has consistently produced on offense in his minor-league career, and he has done the same this spring.
In 58 at-bats, Lutz is hitting .310 with three doubles, a home run and nine RBI. Considering he hit .295 in the minors last season, those spring training numbers are about what you'd expect from him.
If Wright is unable to start for the Mets on Opening Day, Lutz stands a good chance of taking his place until Wright recovers.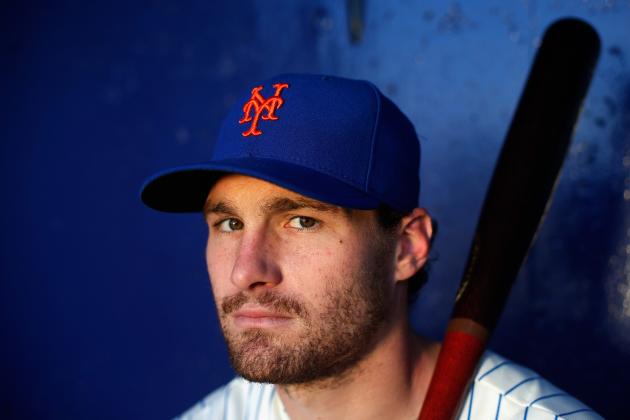 Chris Trotman/Getty Images
Murphy is still recovering from a rib injury that has kept him out all spring, but he is expected back very soon.
Unlike Santana, who also has not played in a single game this spring, Daniel Murphy earns an "Incomplete" because he should recover very soon.
In fact, Murphy already appeared in a minor league game recently. He played five solid innings at second base, and in his first three at-bats since October he managed a single and a walk.
Murphy insists he will be ready by Opening Day, but he will be just fine whenever he returns.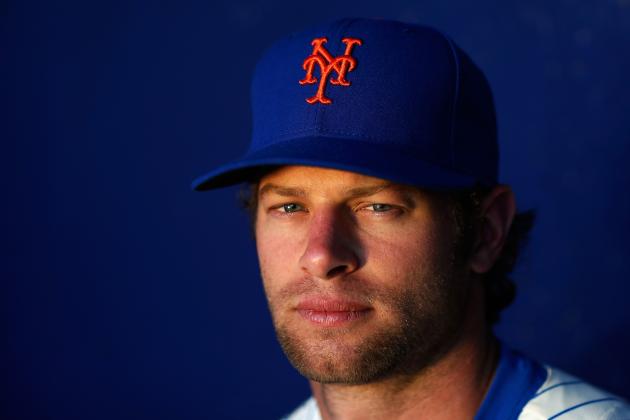 Chris Trotman/Getty Images
Nieuwenhuis was out for three weeks with a knee injury, but he still only has two hits all spring.
Nieuwenhuis has been abysmal this spring, and only earns a "D-" because he has at least played in 11 games.
Nieuwenhuis was hitting an embarrassing .056 before suffering a knee injury on March 3. Nieuwenhuis recently returned, and has managed to bring that batting average up to .077.
What's more, 10 strikeouts in 26 at-bats this spring are nowhere near the kinds of numbers a potential leadoff hitter should produce.
With the outfield the way it is, Nieuwenhuis will nonetheless have plenty of chances all season to prove himself.
But so far, he has been an embarrassment.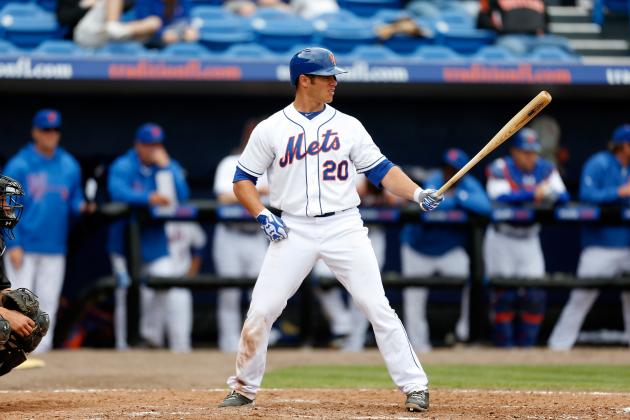 Chris Trotman/Getty Images
Recker has looked confident at the plate, and he earned the backup catcher job with a .346 average this spring.
Anthony Recker has overachieved at the plate this spring, and he is slated to back up John Buck on Opening Day.
Recker has hit .346 with three doubles, a home run and four RBI in only 26 at-bats.
He may unfortunately be called down once Travis d'Arnaud is ready to come up and help the Mets, but for now Recker is well-worthy of a final roster spot.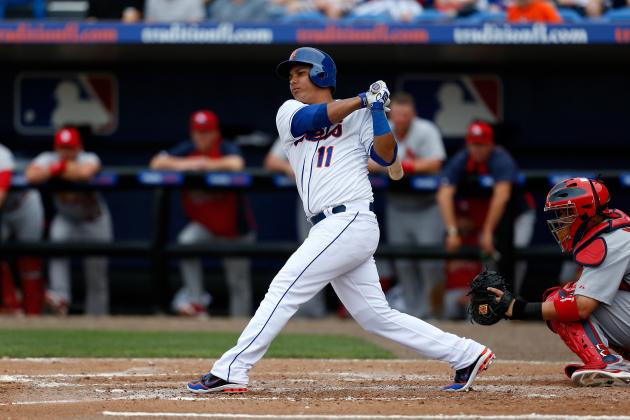 Chris Trotman/Getty Images
Tejada has been terrible at the plate this spring, but it is worth noting he had a poor spring in 2012 before his breakout season.
After surprising success on offense in 2012, Ruben Tejada has had a nightmarish spring.
The 23-year-old is hitting .085 in 47 at-bats. A total of only eight strikeouts means Tejada is putting the ball in play, but he must drastically improve his production as an everyday player.
Tejada's struggles have continued on defense as well, and he already accumulated three errors at shortstop.
But Tejada struggled last spring training too, so there is reason to believe that this production will not continue during the regular season.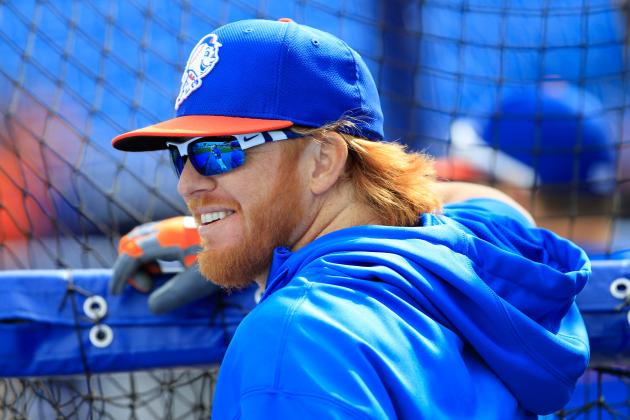 Chris Trotman/Getty Images
Turner has been productive at the plate so far, but his most impressive stat is recording only two strikeouts in 43 at-bats.
Justin Turner has had a brilliant spring, and he will continue to be the clutch, resourceful backup he was in 2012.
He is currently hitting .302 with two doubles, no home runs and five RBI in 43 at-bats. Turner must improve his discipline as he's only drawn two walks, but his two strikeouts are an incredibly low output.
Turner is invaluable to the Mets as a pinch hitter and utility man, and that will not change this season.
Chris Trotman/Getty Images
Valdespin has shown off a lethal combination of speed and home run power, and with a .322 batting average he has been one of the better Mets this spring.
After a successful season in winter ball, Jordany Valdespin has continued to produce coming into spring training.
He ranks with Cowgill among the top 2 in offensive categories such as runs, hits, home runs and RBI. Valdespin also has only five strikeouts in his 59 at-bats.
Valdespin has certainly played his way into the final roster, and if he continues at this rate he may just hit himself into the starting lineup.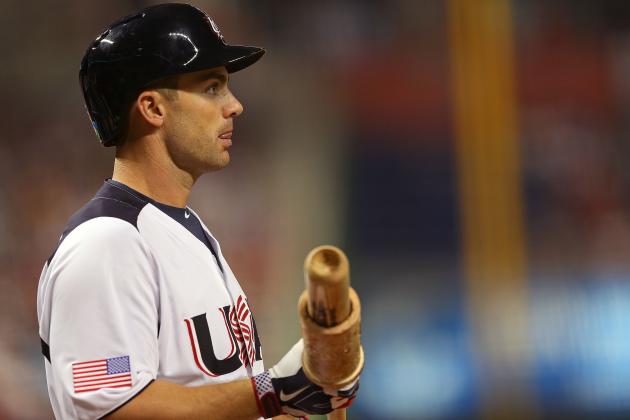 Mike Ehrmann/Getty Images
Captain America had an amazing World Baseball Classic, and the only thing keeping him from a perfect grade this spring is a minor rib injury.
David Wright has had a phenomenal spring for Team USA in the World Baseball Classic, and he is well-worthy of the name "Captain America."
Wright was recently named captain of the Mets, too.
In the WBC, Wright was 7-for-16 with an amazing 10 RBI. He led the entire WBC in that category, despite playing in fewer than half as many games as the next-best player.
Wright gets a minor reduction to his grade due to a rib injury that may leave him out for Opening Day. Wright is optimistic he will be ready by then.
But Wright has still had a fantastic WBC, and the Mets are lucky to have Captain America leading them for the next decade.
Stats via mlb.com, milb.com and ESPN.com