Breaking Down the Minnesota Twins Opening Day Roster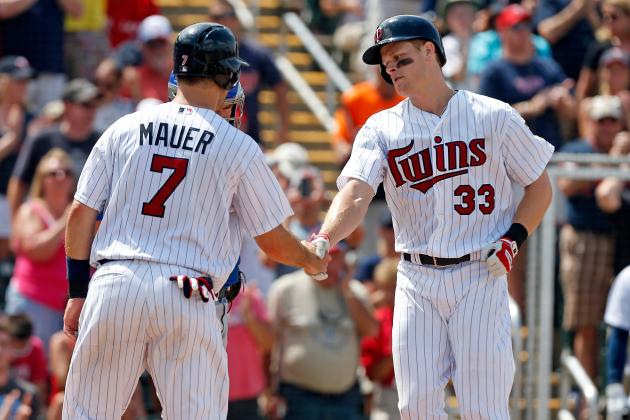 J. Meric/Getty Images

Only a couple days left of praying to the baseball gods that Target Field isn't in the middle of a blizzard on Monday afternoon, Twins fans!
Monday the Twins open up the season at Target Field in the earliest outdoor opener this state has ever seen. As Monday comes closer and closer we realize who the Twins are indeed sending north to Minneapolis, the roster isn't quite cut down to 25 yet but we can break that down.
Let's take a look at the 25 men who'll be in uniform on April 1 to face Justin Verlander and the hated division rival Detroit Tigers.
Begin Slideshow

»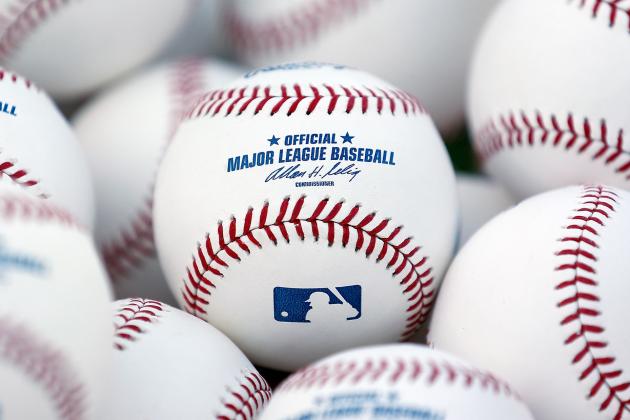 J. Meric/Getty Images

Before we break it down a little more by position, let's first look at who'll be in Ron Gardenhire's Opening Day lineup and on the roster throughout the first portion of the 2013 season.
Catcher—Joe Mauer
First Base—Justin Morneau
Second Base—Brian Dozier
Third Base—Trevor Plouffe
Shortstop—Pedro Florimon
Left Field—Josh Willingham
Center Field—Aaron Hicks
Right Field—Chris Parmelee
Designated Hitter—Ryan Doumit
Bench—Jamey Carroll
Bench—Eduardo Escobar
Bench—Darin Mastroianni
Bench—Wilkin Ramirez
Starting Rotation:
1. Vance Worley
2. Kevin Correia
3. Mike Pelfrey
4. Cole De Vries
5. Liam Hendriks
Bullpen:
Closer—Glen Perkins
Setup Man—Jared Burton
Brian Duensing
Casey Fien
Ryan Pressly
Josh Roenicke
Tyler Robertson
Disabled List: Anthony Swarzack, Scott Diamond, Tim Wood
J. Meric/Getty Images

Apparently Ron Gardenhire has gotten over his unconquerable fear of playing his only catchers in the lineup at the same time, since the Twins sent down back up, probably more accurately third string, catcher Drew Butera to Triple-A.
That move will leave the catching duties into the hands of Joe Mauer and Ryan Doumit. Mauer was only behind the plate 74 games last year, but he looks to be catching a lot more since he is fully healthy and Justin Morneau over at first base is also fully healthy.
Doumit will be the backup and catch one or two days a week to give Mauer a rest; Doumit is not the best defensive catcher in the world, but definitely fully capable of strapping on the gear and not hampering a team. Doumit was behind the plate for 31 games last year for the Twins.
If the Twins do run into an emergency where a third catcher is needed, the man looks to be Eduardo Escobar. Escobar was the White Sox's third catcher last year before being sent to Minnesota in the Francisco Liriano deal and has been catching bullpen sessions this spring.
On Monday's edition of 1500ESPN's Reusse & Mackey, they interviewed Twins General Manager Terry Ryan who said Escobar would be catching some minor league games this week to ready him for the third catcher role.
CATCHING DEPTH CHART: Joe Mauer, Ryan Doumit, Eduardo Escobar (Emergency)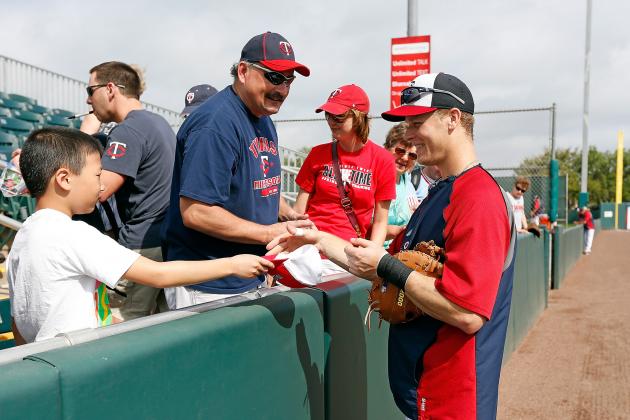 J. Meric/Getty Images

He's back! Or it looks that way at least. Justin Morneau has been fighting injuries ever since that concussion in Toronto right before the All-Star break in 2010, but it appears that the former AL MVP is back in form.
Morneau was absolutely tearing the cover off the ball in spring ball before departing for the World Baseball Classic and Team Canada, he has since cooled off a tad but still has good spring numbers of .262 batting average, .872 on base plus slugging, three home runs and 11 RBI.
Morneau hasn't played more than 135 games since 2008 when he played all 163, so it'll be interesting to see if the slugging Canadian can stay withstand the whole season. If Morneau falters it looks to be that Chris Parmelee will be his heir apparent.
If Justin Morneau is traded Chris Parmelee will come in from right field and take over the first base position, but until that happens, if it does happen, Parmelee will be in a rather large group of people capable of backing up Justin Morneau.
FIRST BASE DEPTH CHART: Justin Morneau, Chris Parmelee, Joe Mauer, Ryan Doumit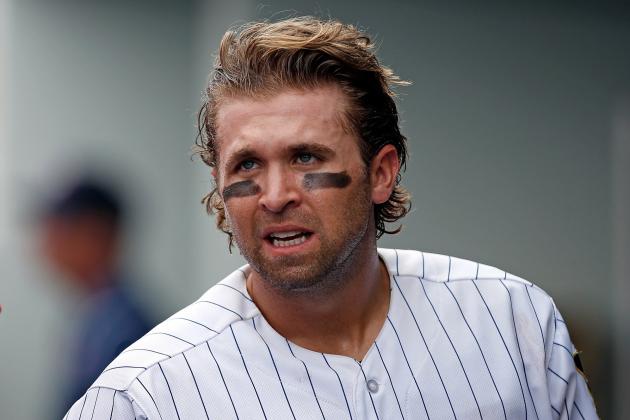 J. Meric/Getty Images

I always joke how much of a revolving door third base has been for the Twins ever since Corey Koskie left, but once you sit back and think it's been pretty much the same thing for the middle infield for the same amount of time.
It's just not as evident because in the typical baseball mindset you do not expect much offensive production from the middle infield, but you expect some good to big numbers from the hot corner.
It appears that the Twins may have just found their second baseman of the future…after I declared him the shortstop of the future during the lost season of 2012. Brian Dozier has looked more comfortable at second base this spring compared to what he looked like at shortstop last season. Dozier is hitting .278 with two bombs and seven RBI this spring and is locked in as the Twins second baseman to start off with.
Before Dozier was crowned and uncrowned as the shortstop of the future, there was Tsuyoshi Nishioka. Let's just remember where we had the high jump bar set for Nishioka and how he basically climbed under the bar and just laid there on the mat...
Pedro Florimon looks to be the everyday shortstop for Ron Gardenhire. The Twins acquired Florimon off of waivers last offseason from the Baltimore Orioles and started 42 games last year at short for the Twins when he hit .219 with 10 RBI. He's not an offensive juggernaut, but he's better than Nishi.
The Twins will sport two utility infielders off the bench to back up every position that is not first base: Eduardo Escobar and Jamey Carroll.
Escobar, who we touched on earlier as the emergency catcher, appears to be a 24-year-old vacuum, only committing two errors in 55 career games at four different positions at the major league level. Not only that, but his bat has been good this spring hitting .346 in 20 spring games.
Granted his career average is .217, but I wouldn't be surprised if Escobar becomes the everyday shortstop somewhere during the season, he's got a better glove and better bat than Florimon.
Jamey Carroll is the resident old guy on the Twins roster, unless Jim Thome appears but that's another story. The 39-year-old Carroll split his time three ways with the Twins last year: 66 games at second, 44 games at third and 37 games at short. Carroll will find himself in the lineup most days filing in between the three infield positions. Last season, he hit .268 with a career high 40 RBI.
SECOND BASE DEPTH CHART: Brian Dozier, Eduardo Escobar, Jamey Carroll
SHORTSTOP DEPTH CHART: Pedro Florimon, Eduardo Escobar, Jamey Carroll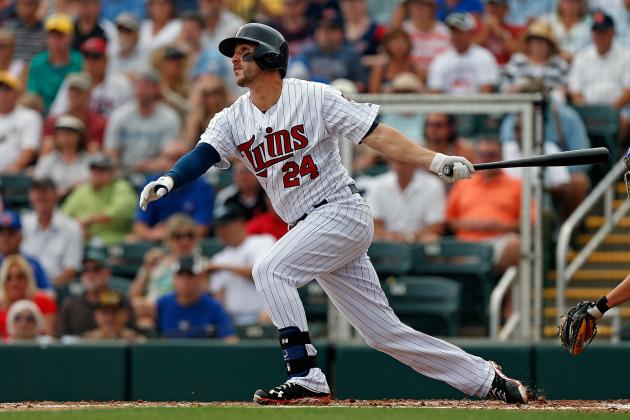 J. Meric/Getty Images

To say the Trevor Plouffe situation is fluid is to say that Kate Upton is cute, it's a total understatement. Trevor Plouffe is becoming the position player version of Francisco Liriano, we all really want him to succeed but it's getting a little irritating.
Plouffe was horrible at short, so-so in the outfield and was a god send to third base until a wrist injury threw his second half of last season into oblivion. He's got a powerful bat, but the DH position is occupied by Ryan Doumit and the half-day-of-rest guys that rotate through there.
Plouffe is going to have to play for his Twins job. If he can impress he can hold on to third for probably two years, if he falters then job goes to Jamey Carroll until Miguel Sano is fast tracked to Target Field.
It really appears that unless you are a third base savior, it's a dead zone. Just ask Danny Valencia about it. Third base will be an interesting storyline all season as Twins fans watch the amoeba of Trevor Plouffe and the anticipation of Miguel Sano.
THIRD BASE DEPTH CHART: Trevor Plouffe, Jamey Carroll, Eduardo Escobar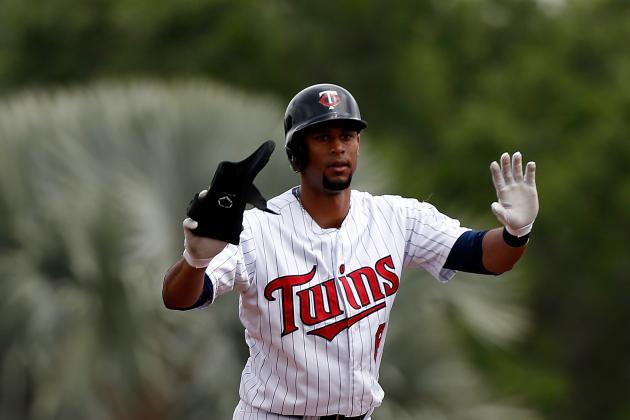 J. Meric/Getty Images

The outfield is all set! From left to right the starting outfield is a good looking one of: Josh Willingham, Aaron Hicks and Chris Parmelee.
The ending result is what most Twins fans were asking and hoping for and Aaron Hicks played himself into the Opening Day center field job, not seeing a minute of Rochester, New York. This sets a standard to fast track Miguel Sano.
Aaron Hicks has played great this spring hitting .361 with four home runs, three stolen bags and 16 RBI. He made it clear he is the center fielder of the future and shall patrol center in Target Field for years to come.
Hicks' main competition was Darin Mastroianni whom will also make the squad as the primary fourth outfielder. Mastroianni brings a lot of speed to the bench with 21 steals last year and seven stolen bags this spring.
The Twins look to be breaking camp with two primary backup outfielders by also bringing with them Wilkin Ramirez. Ramirez has been in the minors for nine years with an overall average of .262, but has been playing well enough to grab the last position player spot on the roster. He has hit .415 in spring thus far.
Twins fans don't need to be swayed about how good Josh Willingham is. Last season he was a light at the end of the tunnel and the Twins expect close to the same production. His fielding leaves a little more to desire, but he is much less of a statue than Delmon Young ever was.
Chris Parmelee will start over in right field and will hold that spot for as long as Justin Morneau is on the team. If Morneau is out of the lineup for various reasons, Parmelee will shift into first where he'll more than likely be for years to come.
The Twins also have Ryan Doumit on the roster whom will probably see a handful of games out in the outfield. That all depends on the injuries that occur since Doumit is very flexible.
LEFT FIELD: Josh Willingham
CENTER FIELD: Aaron Hicks
RIGHT FIELD: Chris Parmelee
BACKUP OUTFIELDER: Darin Mastroianni, Wilkin Ramirez, Ryan Doumit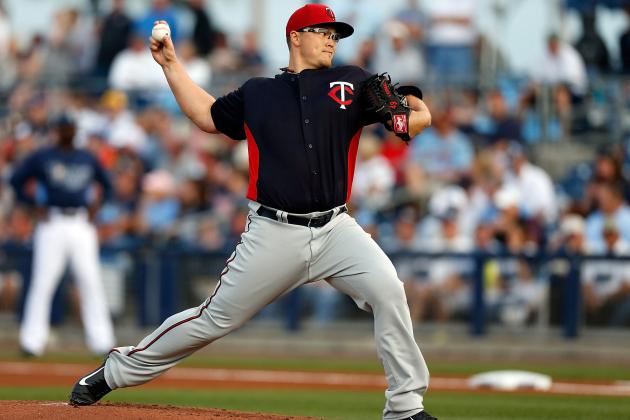 J. Meric/Getty Images

I was going to bring up who was in the Twins starting rotation to start the 2012 campaign, but I don't want to completely just reopen those wounds. One interesting thing I noticed though: Jason Marquis pitched 34 innings for the Twins and gave up 32 runs last season, Glen Perkins pitched 70.1 innings and gave up 20 runs. Let that sink in.
At the time of posting, Ron Gardenhire, Terry Ryan nor the team janitor had announced the Opening Day starter. It would be Scott Diamond but he'll start the season on the disabled list and it looked like Vance Worley was the clear cut choice, but he hasn't impressed too much in spring.
UPDATE: Vance Worley was named the Twins Opening Day starter on Wednesday, confirming the hunches of many.
Worley still does look like the potential ace of this specific staff. With pitching prospects in the wings, it only appears that Worley and Diamond have spots kind of solidified for a while.
Kevin Correia is a lifetime National League pitcher whom Terry Ryan signed to a two year deal, that nobody seems to like. A lot, if not all, Twins fans have already written Correia off so I like to think that we all can't be wrong.
Mike Pelfrey is coming off a mostly missed season after undergoing Tommy John surgery with the New York Mets last year. Pelfrey and agent Scott Boras signed with the Twins this offseason for one year and $4 million. Pelfrey hasn't been totally shelled in spring, sporting a 1.705 WHIP.
Cole De Vries will not say die. The University of Minnesota Golden Gopher and Eden Prairie Eagle is now pitching for the hometown team and will crack the Opening Day rotation while having a great spring. De Vries has pitched in six games this spring and has a 0.64 ERA and a 0.571 WHIP.
Liam Hendriks looks to have captured the fifth spot to start after World Baseball Classic star Samuel Deduno was sent to Triple-A after a groin injury and P.J. Walters was also sent packing. Hendriks hasn't been real impressive in spring or at the major league level, but the Australian is a project. The Twins plan on figuring out what they have in Hendriks during a season they are projected not to result in too much success.
STARTING ROTATION: Vance Worley, Kevin Correia, Mike Pelfrey, Cole De Vries, Liam Hendriks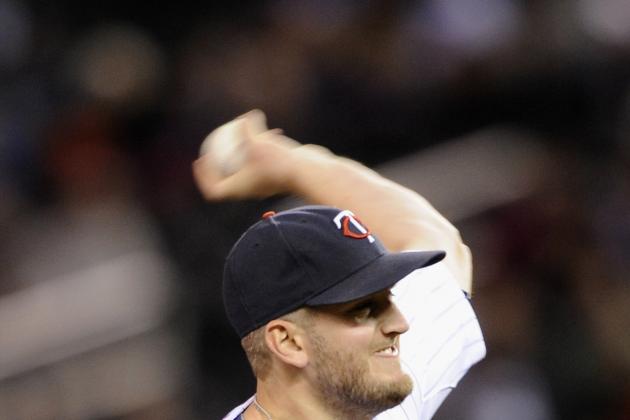 Hannah Foslien/Getty Images

The Twins had three or four bullpen locks coming into spring: closer Glen Perkins, Jared Burton, Brian Duensing and Casey Fien being that fourth guy. Those four have done nothing to take away their spots so let's put their name on the roster in permanent marker.
That leaves us these candidates: Ryan Pressly, Josh Roenicke, Tyler Robertson and Alex Burnett. Tim Wood would be in the conversation, but it is more than likely that he will start the season on the DL.
Pressly has pitched the best out of the four this spring, only giving up 8 hits in 12.2 innings with an ERA of 0.71. He appears to be making the trip north from Fort Myers to Minneapolis.
Josh Roenicke is out of options so for that fact alone pretty much puts him on the Opening Day roster.
That leaves us Tyler Robertson and Alex Burnett shooting for one spot. Robertson is a lefty and Burnett is a righty. Part of me says Robertson and the other part of me says Burnett. For the sake of making a choice, I'll go with Burnett since he has had time on the Twins squad.
THE FEATURED COLUMNIST IS WRONG UPDATE: Tyler Robertson grabbed the final spot and the Twins sent Alex Burnett to Triple-A on Wednesday.
BULLPEN: Glen Perkins, Jared Burton, Brian Duensing, Casey Fien, Ryan Pressly, Josh Roenicke, Tyler Robertson
Call me, beep me, if you wanna reach me... Tweeting is probably more practical, though. @CollinKottke