New York Knicks vs. Boston Celtics: Postgame Grades and Analysis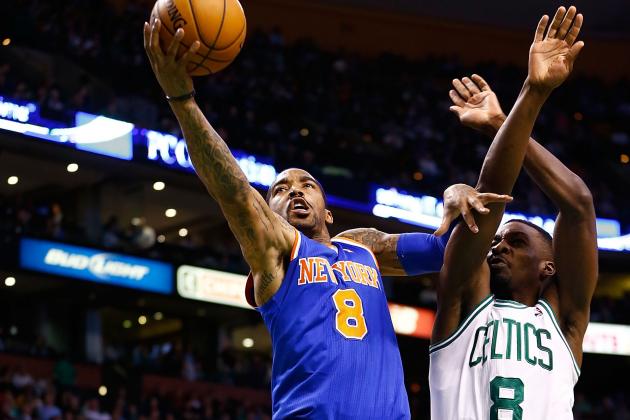 Jared Wickerham/Getty Images

The New York Knicks throttled the Boston Celtics, 100-85, behind J.R. Smith and Carmelo Anthony, who combined for 61 of the Knicks' 100 points.
What's most impressive about the Knicks' performance was that Smith actually out-performed 'Melo in terms of efficiency and balanced production.
Smith shot above 50 percent from the floor, while 'Melo went 10-of-30. With eight minutes left in the third quarter, both players had combined for 33 of the Knicks' 55 field-goal attempts.
The Celtics just couldn't hang with the ball movement and energy of the Knicks—especially Avery Bradley, who accounted for just six points on 3-of-11 shooting.
Jeff Green led the way with his first double double since April 11, 2011, with 19 points and 10 rebounds.
The real difference maker in this potential first-round playoff preview was 25-point advantage the Knicks had with second-chance points.
It was just a special night for the Knicks, and while their offensive performance was rather amazing, the intensity they showed on defense even more impressive to watch.
Ahead are full grades and player breakdowns for the Knicks and the Celtics.
Begin Slideshow

»
Raymond Felton, PG Knicks
Raymond Felton really wasn't a factor against the Boston Celtics, and that's not bad because honestly, the Knicks didn't need that much from him.
He ended the night with six points, three assists and three rebounds, but most impressively, he accounted for just one turnover.
Felton's main job was to dribble down the floor and find J.R. Smith or Carmelo Anthony, and he did exactly that. Having a point guard who doesn't force his game when his team doesn't need it is a great asset to have.
Overall Grade: B
Avery Bradley, PG Celtics
Tuesday just wasn't Avery Bradley's night.
He ended the evening with six points on 3-of-11 shooting and three rebounds. Not only was he the lone Celtics starter that didn't hit double digits, he also was the only Celtic to shoot under 40 percent.
Bradley's inability to score and contribute was definitely a reason why the Celtics couldn't hang with the Knicks, and that's a reason for concern.
Without Rajon Rondo in the lineup, Boston needs Bradley to put up at least 10 points and five assists per game to take the pressure of guys like Jeff Green and Paul Pierce.
He wasn't even close to that mark against the Knicks.
Overall Grade: D+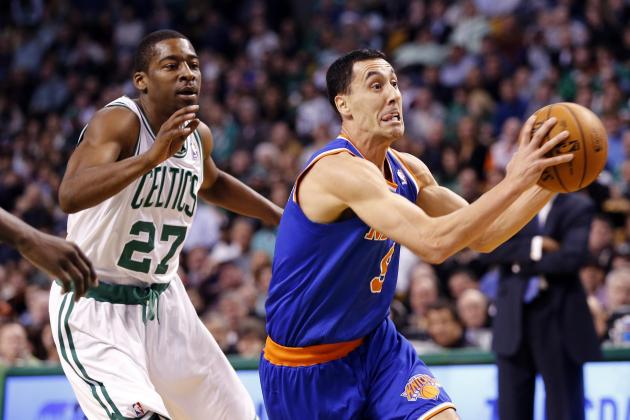 USA TODAY Sports

Jordan Crawford, SG Celtics
The first half may as well have been a tale of two halves for Jordan Crawford.
In the first quarter alone, he accounted for nine points. Unfortunately, that production slowed down, as he ended the night with just 14 points on 45.5 percent shooting.
Crawford had an untimely charge, which was just one of his terrible six turnovers. And while the game was out of hand during a majority of them, they still didn't help the Celtics' cause.
Efficiency has to find its way into Crawford's game, because there's no doubt that he can be a special scorer and talent.
Overall Grade: C
Pablo Prigioni, SG Knicks
Seven points, five assists, three rebounds and two steals is a pretty impressive stat line for a 36-year old rookie.
Defensively speaking, Prigioni wasn't that bad either. He was hanging with the Celtics' perimeter players and contesting shots.
His performance against the Celtics was a perfect example of what the Knicks need out of him. Shooting 50 percent from the floor certainly didn't hurt either.
Overall Grade: B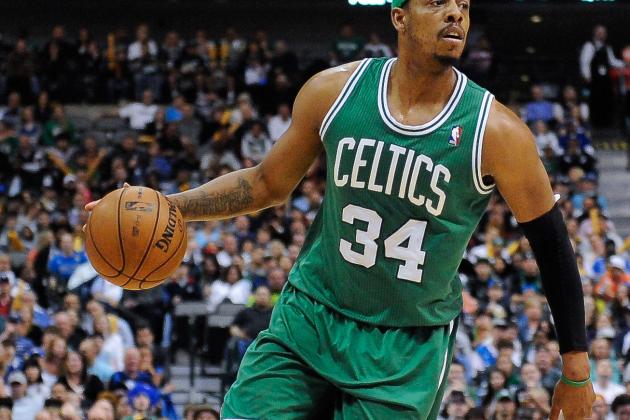 USA TODAY Sports

Iman Shumpert, SF Knicks
Defense was the name of the game for Iman Shumpert. He didn't do much offensively, with just two points and one assist in 26 minutes. But defensively, it was a different story.
On paper, his single steal isn't that impressive, but watching him run the floor cutting off passing lanes and being physical on the perimeter was impressive to see.
The best part of Shumpert's weak offensive play was that he didn't continue to force up shots. He let Carmelo Anthony and J.R. Smith get the job done, and that's a great sign for a player that's growing and getting better every day.
Overall Grade: C+
Paul Pierce, SF Celtics
Paul Pierce quietly put together a decent game with 16 points, six assists and six rebounds on 50 percent shooting from the floor.
It's very clear that Pierce needs Kevin Garnett on the floor to consistently get the job done.
The main issue with Pierce's performance was his six turnovers. To counter the Knicks' consistent play, the Celtics needed efficiency with the ball, and Pierce didn't bring that to the floor.
It wasn't a great night for the Truth. He'll certainly be ready for Garnett to come back to the court.
Overall Grade: C+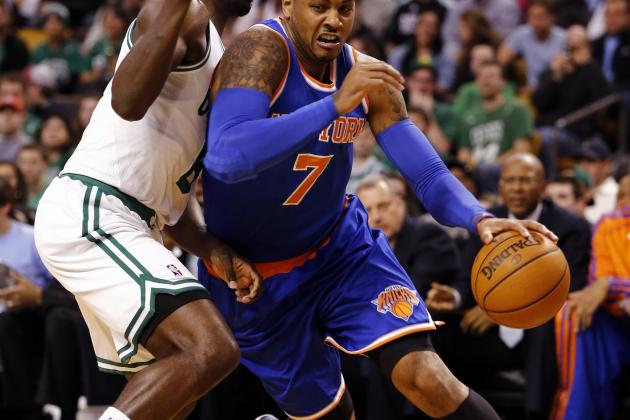 USA TODAY Sports

Carmelo Anthony, PF Knicks
Holy field-goal attempts 'Melo!
Carmelo Anthony ended the game with 29 points on 10-of-30 shooting from the field.
Sure, his scoring helped the Knicks come out on top, but his efficiency was as close to awful as you can get.
'Melo made up for his atrocious shooting, though, by grabbing an impressive six offensive boards, which led to a number of easy second-chance buckets.
The Knicks needed interior production, and as usual, 'Melo brought that to the floor and he got to the line more than anyone else in the game. It wasn't a terrible night for 'Melo, but his efficiency could've hurt the Knicks if his defense and tenacity on the glass hadn't countered it.
Overall Grade: B
Jeff Green, PF Celtics
It was a double double kind of night for Jeff Green, which was actually his first double-double since April 11, 2011.
He was just a few assists away from a triple-double, and it wasn't because he wasn't finding teammates. It was because his teammates simply weren't knocking down the shots he got them.
Green has certainly come back to reality after his 43-point performance against the Miami Heat a week ago, but that's not awful, because reality for him is starting to equal consistent double-digit production.
The one thing Green could've and should've done more was get to the line, because he was automatic (6-of-6) from the charity stripe. With that said, 19 points and 10 rebounds is still an impressive line.
Overall Grade: B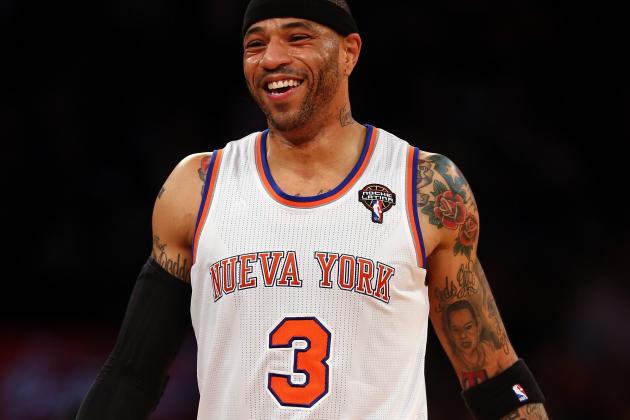 Elsa/Getty Images

Kenyon Martin, C Knicks
The Celtics did a good job of keeping Kenyon Martin off the defensive glass, but they did an absolutely awful job keeping him off the offensive boards.
With nine points on 4-of-7 shooting and five rebounds (four offensive), Martin is doing his best job of making every team that was interested in him wish it had pulled the trigger before the Knicks did.
Aside from his production, Martin added constant energy in the paint, a solid pick-and-roll option at the top of the key and consistent defensive pressure on the Celtics in the paint.
Overall Grade: B+
Brandon Bass, C Celtics
Without Kevin Garnett, the Celtics needed some size in the paint, and Brandon Bass didn't disappoint, ending the night with 11 points, seven rebounds and three blocks on 5-of-6 shooting.
The only problem was that guys like Avery Bradley, Paul Pierce and Jason Terry didn't get Bass the ball often enough to have his production make a significant impact on the floor.
On defense, Bass had a hard time locating Kenyon Martin and keeping him off the offensive glass, which was a real difference-maker.
Bass's stat line was overshadowed by Boston's loss, but on an individual level, this is the kind of game Boston needs out of him.
Overall Grade: B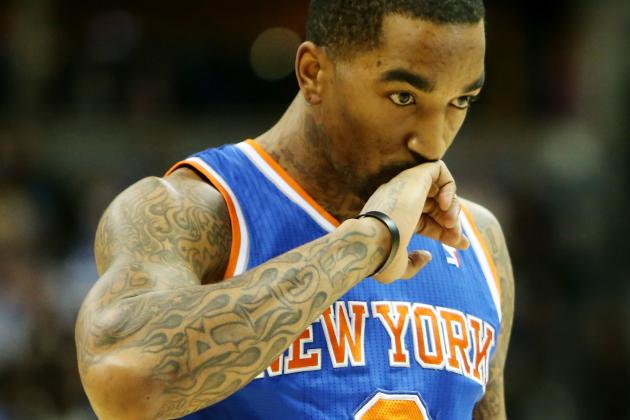 Chris Humphreys-USA TODAY Sports

J.R. Smith, SG Knicks
Sensational is the only world that can describe J.R. Smith's 32-point performance. It was capped off by a dagger of a three ball coming from 30 feet as the buzzer rang to end the third quarter.
Actually, it was capped off by the fact that he shot 54.2 percent from the field and attempted just three shots beyond the arc. It's rather amazing to see what Smith can do when he plays intelligently and with discipline on both sides of the ball.
He also grabbed seven boards and forced three steals. His tenacious defense was a major reason why the Celtics couldn't stay competitive in this one.
Overall Grade: A+
Jason Terry, SG Celtics
The Boston Celtics needed Jason Terry to do more than he did coming off the bench. He scored 10 points on 50 percent shooting, which wasn't bad. But without Kevin Garnett and Courtney Lee in the lineup, Terry needed to do more around the court on both sides of the ball.
Through the third quarter, he didn't account for a single stat aside from points, fouls and turnovers, and that was a major reason why the Celtics struggled throughout.
There's no question that Smith outplayed Terry on both sides of the ball.
Overall Grade: B-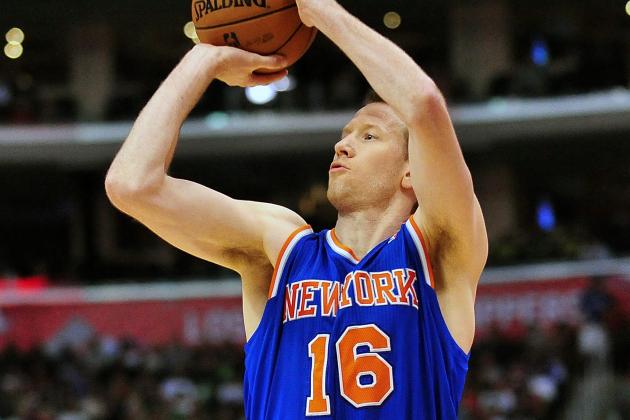 Gary A. Vasquez-USA TODAY Sports

New York Knicks
Jason Kidd, just days after turning 40 years old, proved that he's still got it. The entire game he was running around the court taking charges and grabbing boards like he's a seven-foot big man.
But the real story of the second unit's production was J.R. "shoot first, pass later" Smith. Whatever Smith is doing in the weight room and in practice is working, and it showed on the floor in Boston.
Smith not only lit up the scoreboard, he also grabbed rebounds (four offensive), shot efficiently and shockingly, played opportunistically on the defensive side of the ball.
The bench as a unit accounted for 47 of the Knicks' 100 points, and they shot 47.4 percent from the field.
Overall Grade: A-
Boston Celtics
Without Kevin Garnett and Courtney Lee, the Celtics didn't have much depth heading into Tuesday night's matchup with the Knicks.
Jason Terry and Terrence Williams weren't awful, with 17 of the Celtics' 19 bench points, but they didn't do enough to keep the Celtics close in the second and third quarters.
The Celtics get a bit of a bump for getting Shavlick Randolph into the game. He added two points and four rebounds in just five minutes of action—maybe Boston needs to give Randolph a few more minutes in time that actually means something.
Overall Grade: B-