March Madness 2013: Ranking Each Sweet 16 Matchup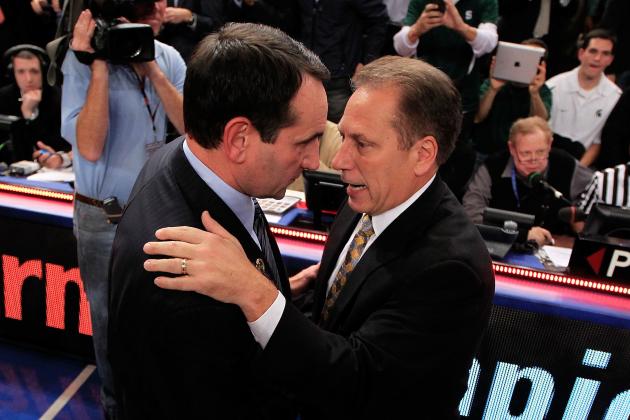 Chris Trotman/Getty Images

The NCAA tournament moves at a frenzied pace. Just over a week ago, there were 68 squads involved in the championship chase.
When play resumes Thursday evening, 52 of those teams will watch with the rest of us. The Sweet 16 annually features some of the season's greatest games and provides early tourney spoilers an opportunity to become legendary underdogs.
Each Sweet 16 matchup is must-see entertainment for college basketball fans. Historic coaching showdowns, superstar collisions and Cinderella stories provide captivating elements in all eight contests.
With those dynamics in mind, here's how we rank the upcoming slate of games.
Begin Slideshow

»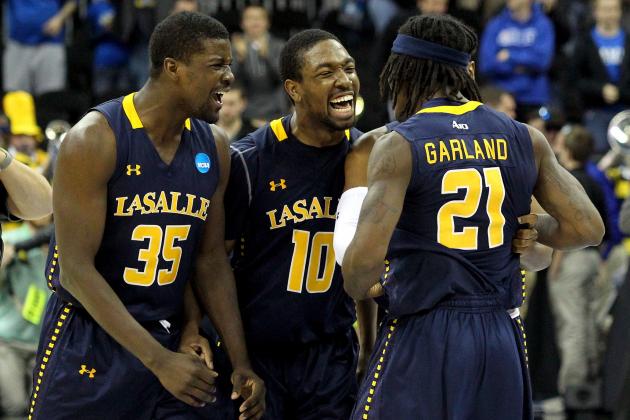 Ed Zurga/Getty Images

Road to the Sweet 16
Wichita State: Beat No. 8 Pittsburgh, 73-55; No. 1 Gonzaga, 76-70
La Salle: Beat No. 13 Boise State, 70-61; No. 4 Kansas State, 63-61; No. 12 Ole Miss, 76-74
Players to Watch
Wichita State: Cleanthony Early is averaging 18.5 points per game in the tournament. The junior forward hit four of the Shockers' 14 three-pointers against top-seeded Gonzaga.
La Salle: Tyreek Duren struggled in the Explorers' first two tourney matchups, totaling seven points vs. Boise State and Kansas State. Against Ole Miss, he attacked more often and scored 19 points on 11 shot attempts. La Salle must receive a similar effort from Duren against the Shockers.
What Makes Matchup Special
When Wichita State is considered a strong favorite in a Sweet 16 game, it's clearly not your average tournament matchup. La Salle is this season's biggest Cinderella squad this side of Florida Gulf Coast.
The Explorers emerged from the First Four to reach this point. Whoever wins this contest immediately becomes a major Elite Eight underdog.
Road to the Sweet 16
Miami: Beat No. 15 Pacific, 78-49; No. 7 Illinois, 63-59
Marquette: Beat No. 14 Davidson, 59-58; No. 6 Butler, 74-72
Players to Watch
Miami: Rion Brown has provided a big lift off the bench. The junior guard is averaging 15 points per game in the NCAA tourney, eight points better than his season average. Brown is 8-of-13 from beyond the arc.
Marquette: Vander Blue is playing the best basketball of his college career. The junior dropped 29 points against Butler in the round of 32 after scoring the game-winning layup with one second remaining vs. Davidson.
What Makes Matchup Special
Miami is enjoying a banner year for the program. The Hurricanes seized an ACC tournament title for the first time and now find themselves in the Sweet 16 after pounding Pacific and outlasting Illinois.
Marquette's postseason fortunes took a dramatic turn when Blue banked in his game winner against Davidson. Another narrow victory over Butler gives the Golden Eagles a slight "team of destiny" feel.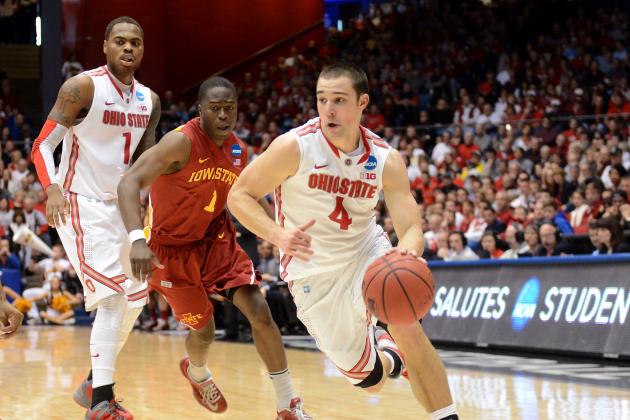 Jason Miller/Getty Images

Road to the Sweet 16
Ohio State: Beat No. 15 Iona, 95-70; No. 10 Iowa State, 78-75
Arizona: Beat No. 11 Belmont, 81-64; No. 14 Harvard, 74-51
Players to Watch
Ohio State: Aaron Craft calmly drained a game-winning three-pointer with 0.5 seconds remaining against Iowa State in the round of 32. The junior guard has played a pivotal role in the Buckeyes' rotation since beginning his career in Columbus. Craft, a quality ball distributor and ultimate hustle player, is at his best when he becomes actively involved in the offense as a shooter.
Arizona: Senior Mark Lyons is feeling it right now. The 6'1" guard is averaging 25 points per game in the tournament, making 20-of-32 shot attempts. He must be able to take on the Buckeyes' backcourt with ferocity in order for the Wildcats to challenge for an upset.
What Makes Matchup Special
This is the fourth consecutive season Ohio State carries its campaign into the Sweet 16. The Buckeyes advanced to the 2012 Final Four and bring a tremendous amount of veteran experience into the matchup.
Arizona opened the season 14-0 but stumbled during sections of its Pac-12 schedule. This is the Wildcats' seventh Sweet 16 appearance since 2000.
Road to the Sweet 16
Louisville: Beat No. 16 North Carolina A&T, 79-48; No. 8 Colorado State, 82-56
Oregon: Beat No. 5 Oklahoma State, 68-55; No. 4 St. Louis, 74-57
Players to Watch
Louisville: Guard Russ Smith has scored at least 20 points in four of the past five games. He is averaging 25 points per contest in the tournament and torched Colorado State with four three-pointers in the round of 32.
Oregon: Damyean Dotson hit 5-of-6 three-point attempts against St. Louis, giving him 16 long-distance connections in the past five games. The freshman can enhance his resume with a strong performance against top-seeded Louisville.
What Makes Matchup Special
The Cardinals earned the NCAA tournament's top overall seed and have won 12 straight games since a Feb. 9 loss at Notre Dame. Louisville has done little to dispel national title expectations so far in the tournament, topping its first two opponents by 57 total points.
Oregon continues to make a mockery of the NCAA selection committee's decision to stick the Ducks with a No. 12 seed. The Pac-12 tournament champions have been unchallenged in the second half of both tourney games.
This battle between conference champs should be competitive throughout.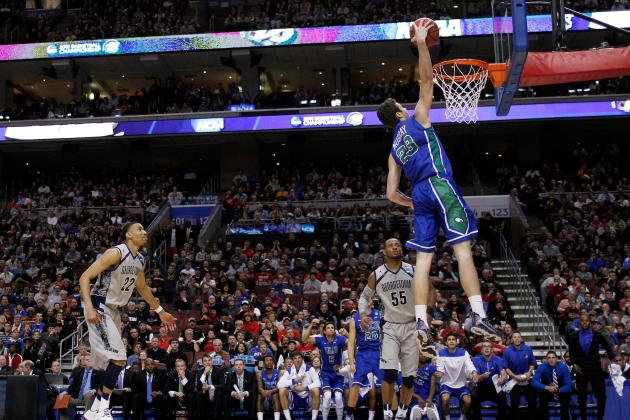 Rob Carr/Getty Images

Road to the Sweet 16
Florida: Beat No. 14 Northwestern State, 79-47; No. 11 Minnesota, 78-64
Florida Gulf Coast: Beat No. 2 Georgetown, 78-68; No. 7 San Diego State, 81-71
Players to Watch
Florida: Senior Mike Rosario is among the most dangerous scorers remaining in the tournament. The 6'3" guard scored 25 points against Minnesota in the round of 32, hitting six three-pointers in the process. Think Rosario is happy about his decision to transfer from Rutgers?
Florida Gulf Coast: Sherwood Brown has quickly become one of the tourney's most recognizable players. The dreadlocked senior has displayed pure passion on the court during the Eagles' stunning victories. Brown is averaging 20.5 points and 8.5 rebounds in the tournament.
What Makes Matchup Special
Florida has been a perennial power under head coach Billy Donovan, a two-time national champion. Florida Gulf Coast entered the tournament as an unknown; it was seen as a stepping stone on Georgetown's journey to the Final Four.
Instead, the Eagles are the first No. 15 seed in history to advance to the Sweet 16. Florida is used to attracting the focus of national media, but this week presents an unknown challenge for the Eagles.
Road to the Sweet 16
Indiana: Beat No. 16 James Madison, 83-62; No. 9 Temple, 58-52
Syracuse: Beat No. 13 Montana, 81-34; No. 12 California, 66-60
Players to Watch
Indiana: Christian Watford takes the Hoosiers to another level on offense when he complements Cody Zeller inside. The 6'9" senior is a savvy defender, and he changed momentum with a timely block late in the win over Temple. If Watford is able to score in the teens against Syracuse, Indiana's Elite Eight aspirations increase exponentially.
Syracuse: James Southerland is scorching opponents from outside. The senior forward has hit 22 three-pointers in the past six games. Southerland caught fire in the Big East tournament and continues to stay hot.
What Makes Matchup Special
Indiana, considered a national title contender since the start of the season, faces enormous expectations that exceed the Sweet 16. The Hoosiers feature two true superstars in Victor Oladipo and Cody Zeller.
Syracuse is essentially playing with house money at this point. Although the Orange climbed as high as No. 3 in national rankings with an 18-1 start, Syracuse struggled late in the season and fell out of favor in the eyes of many prognosticators. The Orange lost seven of the last 12 regular-season games, but they made a run to the Big East tournament championship game and opened the tournament with a pair of impressive wins.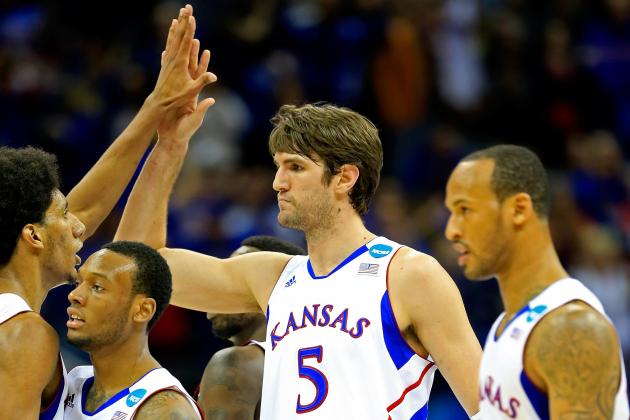 Jamie Squire/Getty Images

Road to the Sweet 16
Kansas: Beat No. 16 Western Kentucky, 64-57; No. 8 North Carolina, 70-58
Michigan: Beat No. 13 South Dakota State, 71-56; No. 5 Virginia Commonwealth, 78-53
Players to Watch
Kansas: Jeff Withey was a force throughout Kansas' round of 32 win over UNC. The senior center scored 16 points, secured 16 rebounds and swatted five shot attempts. He has blocked 12 total shots in two tournament games.
Michigan: Tim Hardaway Jr. outshined backcourt mate and Big Ten Player of the Year Trey Burke early in the tourney. The 6'6" sharpshooter is averaging 17.5 points per game, converting 8-of-12 attempts from three-point territory.
What Makes Matchup Special
A pair of proud traditions collide with a trip to the Elite Eight on the line.
Withey gives the Jayhawks a powerful post presence Michigan may struggle to match, while the Wolverines feature arguably the nation's best guard duo.
Road to the Sweet 16
Duke: Beat No. 15 Albany, 73-61; No. 7 Creighton, 66-50
Michigan State: Beat No. 14 Valparaiso, 65-54; No. 6 Memphis, 70-48
Players to Watch
Duke: Guard Rasheed Sulaimon, who's endured an up-and-down freshman season, rose to the occasion against Creighton in the round of 32. He scored 21 points, including a trio of three-pointers. Sulaimon has been far from consistent during his first collegiate season, but he appears to be heating up at the right time.
Michigan State: Power forward Adreian Payne must have a strong performance on both ends of the court against Duke. The 6'10" junior will contend with Blue Devils big men Mason Plumlee and Ryan Kelly. Payne tallied 14 points, 10 rebounds and five blocks against Memphis.
What Makes Matchup Special
College coaching legends Tom Izzo and Mike Krzyzewski match up in the NCAA tournament for a third time. Coach K got the better of Michigan State in the 1999 Final Four, while Izzo led the Spartans to a victory over top-ranked Duke in the 2005 Sweet 16.
This duo combines for 17 Final Four appearances (Coach K leads the way with 11).
Krzyzewski is a 2001 Basketball Hall of Fame inductee and two-time Olympic gold medalist, while the Hall of Fame awaits Izzo. Basketball fans are rarely treated to a high-stakes battle between coaching titans, so enjoy this one.