The Ultimate Fighter 17, Ep. 10 Live Play-by-Play: Rousey and the Quarterfinals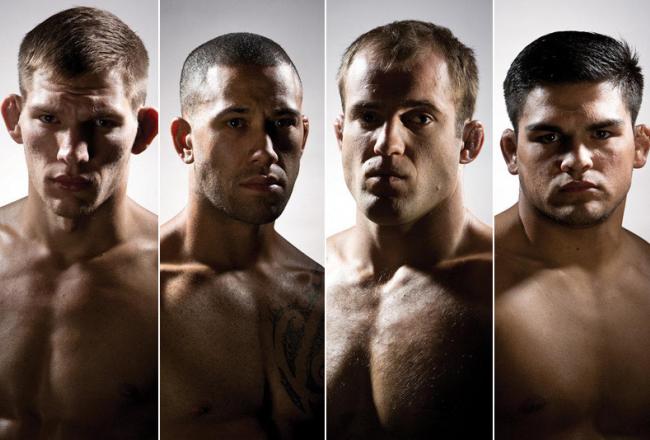 Season 17 of The Ultimate Fighter winds down with the first batch of quarterfinals matches tonight.

Season 17 of The Ultimate Fighter continues Tuesday (9 p.m. PT/ET on FX) with the middleweight tournament between Team Jones and Team Sonnen, and we're officially in the quarterfinals.
Now that Bubba McDaniel has earned his way back into the show with an inspired victory over Kevin Casey in Episode 9, we now know the final eight competitors.
Getting into double-header mode with two fights, the first batch of bouts to determine the final four will pit Luke Barnatt vs. Dylan Andrews and Collin Hart vs. Kelvin Gastelum.
Additionally, UFC women's champion Ronda Rousey will also be stealing the spotlight for a training session with Team Sonnen.
(Check out the team rosters and the list of quarterfinalists.)
UPDATE: Check out the full episode recap and results right over here, with full impressions and thoughts on the Andrews vs. Barnatt and Gastelum vs. Hart quarterfinals matches.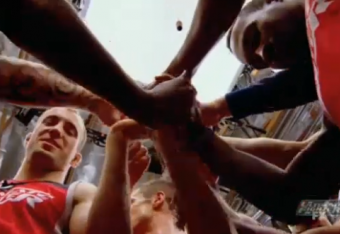 That's a wrap for this week!
We've got Josh Samman vs. Jimmy Quinlan and Uriah Hall vs. Bubba McDaniel next week.
And yes, we'll do a poll this time.
Episode preview shows that Bubba is having a breakdown, and that's not a good look.
Yeesh, Uriah is scary.
We'll have an episode recap coming up soon.
Result:
Dylan Andrews def. Luke Barnatt via TKO, Round 3
Team Jones ties Team Sonnen, 5-5
Everyone is talking about what an amazing fight that was, and Dana White gives the judges praise for issuing a third round.
Sonnen calls it a "Fight of the Season" award candidate.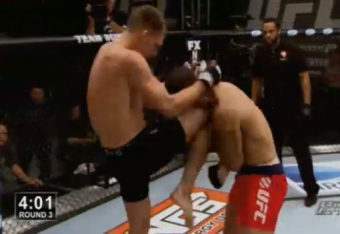 Luke Barnatt vs. Dylan Andrews
Round 3 - Luke misses a high elbow and Dylan ducks under to clinch, pressing him against the fence. Luke reverses, locks a Thai clinch and lands some knees.
OH! They're making it a brawl. Luke and Dylan are trading major blows. Dylan hammers home hooks to the head, Luke responds with a clinch and knees to the body. Those look painful.
Luke grabs Dylan and tries to take him back, but Dylan works out of it. Luke tries a jumping knee, but Dylan isn't in range.
OH OH DYLAN IS ROCKING LUKE. Luke is trying to fight back, but Dylan is practically doing a Dempsey Roll as he rips hook after hook after hook into Luke's face. WOW. LUKE IS OUT.
Nope, we're going to a sudden death round.
Er, I mean "sudden victory"—the judges scored it a draw so far.
Dana White is happy that the judges gave Luke credit for striking from the bottom.
Good call.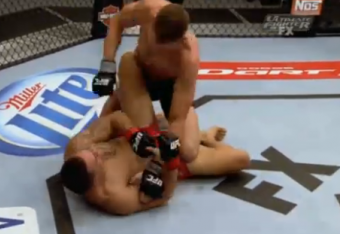 Luke Barnatt vs. Dylan Andrews
Round 2 - Jones tells Dylan to start scoring more punches when he gets takedowns, while Sonnen simply tells Luke to stuff more takedowns.
Luke starts out with jabs and hits Dylan with a nicehook. Dylan goes to the body as Luke headhunts, and OUCH. Dylan hammers Luke with a huge hook. Luke looks like it barely fazed him, but Dylan clinches and pushes Luke to the fence. Luke reverse, punches away and gets off the fence.
Reach advantage comes into play as Luke tries to jab and Thai clinch, but Dylan is hitting him with uppercuts.
Both men are back against the fence, and Luke gets Dylan down on a trip. Luke lands a few big punches from the top and sits in Dylan's half guard.
Luke lands a few more big punches, and it looks like he's going to take Dylan's back, but Luke gives up his footing and gets planted on his back. Dylan shores up and starts to land from the top. Dylan stands up and looks for an opening.
Dylan tries to jump over Luke's kicks into top position, but Luke smacks him in the face on the way down. Dylan fights off a kimura, but Luke uses the leverage to get Dylan on the fence and on the feet. It doesn't last, and Dylan puts Luke on his back again. Luke throws up a butterfly guard and punches from his back.
Herb Dean keeps telling Dylan to work, and Dylan tries to get to his feet and land something big. Luke controls Dylan's hands after a scramble, and the round ends with Luke fighting off a rear-naked choke attempt. Luke tries to roll out, but no dice. That should be a 20-18 fight for Dylan Andrews.
Luke Barnatt vs. Dylan Andrews
Round 1 - Both fighters come out swinging and clip each other before Dylan grabs Luke behind the knee and gets a takedown. Dylan is trying to outgrapple Luke, and it's working.
Sonnen yells at Luke to get to his feet, and Dylan is scrambling like mad.
Luke throws up some submission attempts and gets an armbar attempt before Dylan gets out. Luke tries to get to his feet, but Dylan single-legs him down again.
Dylan stands up as Luke throws up triangles, but Luke doesn't have enough space to get to his feet. Luke briefly gets into a grappling exchange before Dylan pins him against the fence and tries to take his back in the confusion.
It doesn't last, and after fighting off a back mount attempts, Luke gets to his feet and pops Dylan with a few jabs. That's all the offense he gets, as Dylan fails a clinch takedown but completes another attempt shortly after that.
Luke is on his back with nowhere to go against the fence, and Dylan is trying to find room to advance. Luke has a deep guard, though, and Dylan can't do much but land a few short punches.
Dylan eats a few elbows from the bottom, but nothing major. Dylan is in top position as the round ends, and it looks like he's going to negate the reach with takedowns—that's a 10-9 for Dylan in Round 1.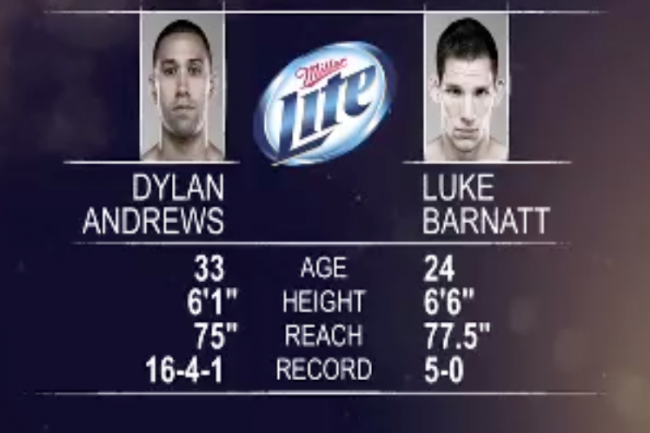 Here's your tale of the tape.
'Just in case you blinked and missed him.
Mike Tyson's in the crowd tonight.
We see Mike Tyson for all of five seconds, and we go to the pre-fight interviews.
Barnatt talks about his poor living conditions, and says that "England is a horrible place."
That's interesting, especially if you know about the rigid class system there.
Dylan says he's counting on Barnatt to make a mistake, and that his kids are driving him to succeed no matter where the fight goes.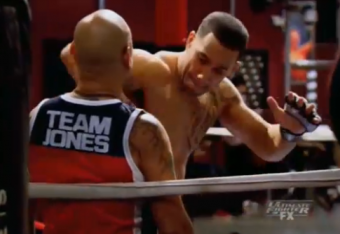 Dylan Andrews gets some rough training from Jon Jones' Muay Thai coach, and it's hinted that not everyone on the team can handle it.
Jones says that Dylan's a better striker, but he can also get it done against Barnatt by staying low in the clinch and trying to make the least of the height difference.
It's a double-header this week, so we're going right from one match into the other.
Sonnen talks about the odd circumstance of Luke Barnatt being the No. 1 pick and Dylan Andrews being dead last.
In short, Sonnen says that was wrong, and a everyone underestimated Andrews.
Barnatt gets some camera time and basically sums up his gameplan as trying to be more aggressive than Andrews can.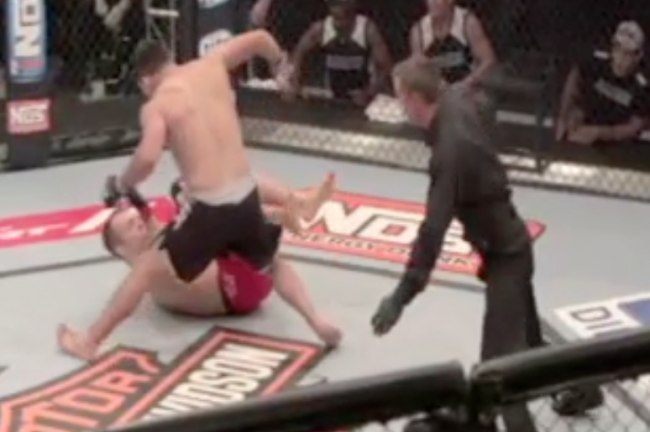 Here's that money shot.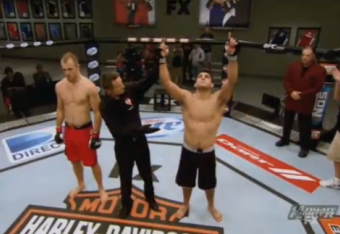 Result:
Kelvin Gastelum def. Collin Hart via TKO, Round 1
Team Sonnen Leads Team Jones, 5-4
Hart is sitting up and questioning the stoppage, but Mazagatti says he was out lone enough.
Dana White points out that Hart hit his head on the way down, but still wasn't even completely knocked out.
Hart: "I don't know, I got cut. We just banging, and next thing I knew, they were stopping it and I got TKO-ed."
Gastelum: "Being the youngest guy is a blessing. I'm honored, man."
Collin Hart vs. Kelvin Gastelum
Round 1 - Both fighters touch gloves and immediately start pawing jabs. Gastelum's the first to connect with a HARD right hook as he backs up to the to fence, but Hart clinches up and tries a hip toss.
Gastelum doesn't go down, and Hart throws in a little knee as he pushes Gastelum to the fence. Gastelum backs up and gets some distance.
Gastelum moves forward and lands a few straights, hitting Hart with a big winging right punch. Hart backs up to the fence and lands a right hand. OH. Both men flurry in the pocket, and Hart is the first to move away and off to the side.
Hart missed a lunging straight and Gastelum answers right back with a clean right hook. Hart lands a solid straight in return, but Gastelum answers right back with a left hook counter.
OH THAT DID IT! KELVIN GASTELUM DROPS COLLIN HART!
Hart plants right on his FACE and starts to get up but Gastelum rolls him on his back with a BIG left punch. Gastelum with the ground-and-pound! HAMMERFISTS! Sonnen is yelling for Steve Mazagatti to end it!
It's OVER! Gastelum hands Hart his first TKO loss, and Team Sonnen's up 5-4 on Team Jones.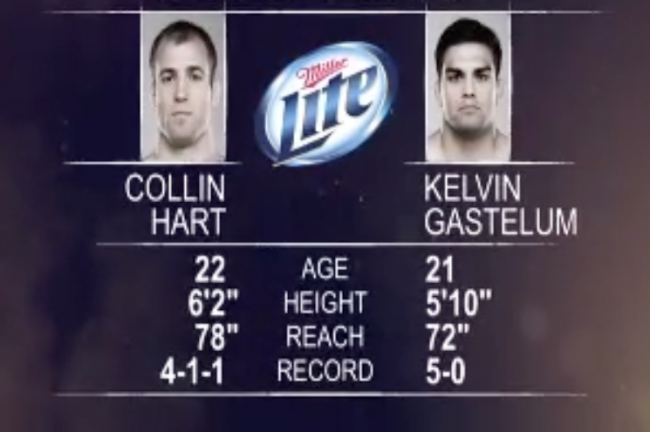 Here's your tale of the tape.
Dana White is here to start things off.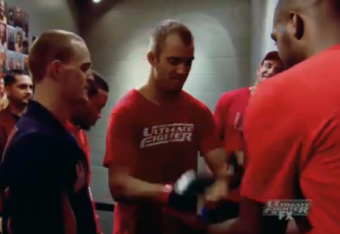 Both Hart and Gastelum get through the weigh-ins without any problem.
We have a slight mishap as Gastelum drops his towel stepping off the scale, but everyone laughs it down.
Team Sonnen and Team Jones are prepping, and we're already due for the first quarterfinal.
Hart is brimming confidence.
So is Gastelum, who says that Hart doesn't deserve to beat him.
Sonnen to Kelvin: "We don't believe anyone can keep up with you. No one has yet."
Kelvin Gastelum on Rousey: "It was awesome, getting handled by her."
Dude. Phrasing.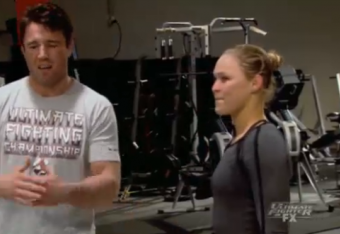 Rousey coaches Team Sonnen on some judo and grappling techniques, and predictably, he doesn't have a problem putting anyone on their butts.
Everyone is glad to see her, but Kelvin is just dumbstruck in love.
Rousey and Sonnen talk about Kelvin's quick rise up the ranks, and Sonnen is nothing but impressed that Gastelum—"the least threatening guy on the show"—is still in there with guys like Uriah Hall.
We're pretty surprised, too.
A wild Ronda Rousey appears!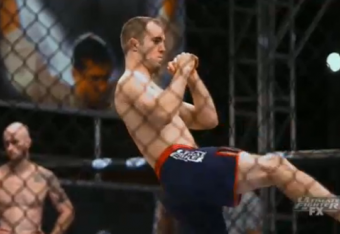 Jones says that Kelvin Gastelum is good at everything, but Hart has "amazing" grappling.
Hart simply says that he doesn't a boring fight like the one he had against Casey.
Meanwhile, Sonnen talks about Kelvin.
Sonnen: "Kelvin can fight everywhere. Everyone fancies him a wrestler, and I don't know why. He's a brawler.
We're in the locker room after the quarterfinals picks, and Bubba McDaniel isn't happy about fighting Uriah Hall.
Jon Jones: "We can see the pressure in his face."
Bubba is visibly pissed about the match. Meanwhile, Uriah is sitting with his team, just flabbergasted that he didn't get Josh Samman.
Everyone's out of sorts, it seems.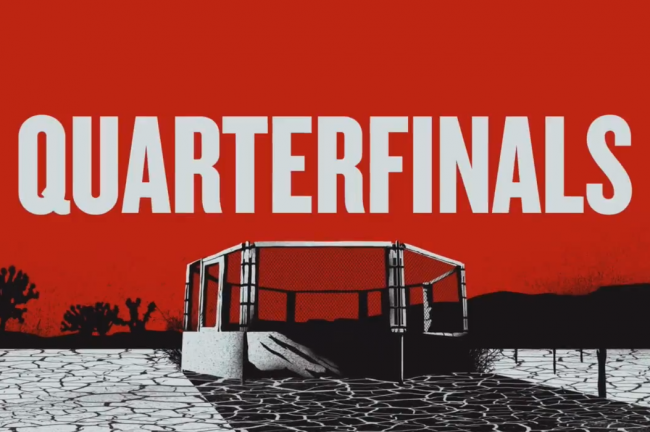 We're LIVE.
This article is
What is the duplicate article?
Why is this article offensive?
Where is this article plagiarized from?
Why is this article poorly edited?