After seeing No. 1 Gonzaga go down before the Sweet 16, the rest of the top seeds should be on high alert heading into the next round.
The Bulldogs came into the NCAA tournament with a lot more question marks than their peers after facing a relatively easy schedule. Still, it would be naive to think that the rest of the No. 1 seeds will just coast to the Final Four.
Indiana and Kansas both struggled in the third round against Temple and North Carolina respectively, and the opponents only get tougher in the next set of games.
Thanks to these flaws, any of the top seeds can go down at any point.
Follow the NCAA tournament with Bleacher Report's live bracket, or you can find a printable bracket here.
Louisville: Poor Outside Shooting
Elsa/Getty Images
Louisville has gotten to this point of the season due to its outstanding defense. The Cardinals press extremely well, and the on-ball coverage in the half court is just as impressive.
Offensively, they utilize their quickness in the backcourt to get into the lane and score around the rim.
However, this team can get into trouble if it is forced to shoot from the outside. For the season, Louisville only shoots 33.2 percent from three-point range. The club did not shoot better than 35 percent from behind the arc in any of its five losses.
While the Cardinals do not depend on the outside shooting, an opponent with a good interior defense that prevents points in the paint could cause problems.
Against a team with quick guards like Michigan State or Duke, Louisville could be forced to take bad shots, and that could lead to a bad offensive game for the Cardinals.
Kansas: Inconsistent Backcourt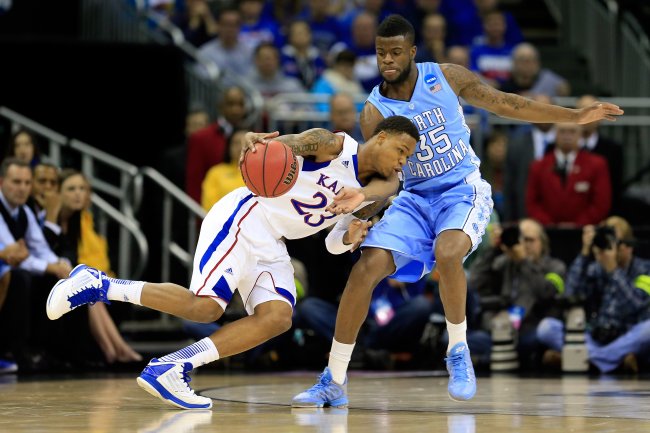 Jamie Squire/Getty Images
Kansas has plenty of balance, so scoring is not usually a problem for this loaded team. However, it is getting difficult for Bill Self to trust his backcourt at this point of the season.
Elijah Johnson has shown he can be a solid distributor with an average of 4.7 assists per game this season. He even has seven games with nine or more assists. However, he has nine assists and 11 turnovers in his last three games.
In addition, stud freshman Ben McLemore has struggled to put points on the board over the past week. He is a projected Top Five pick in the NBA draft due to his ability to score, but he only has 18 points combined in the last three games on 4-of-21 from the floor.
Against Michigan's backcourt, Kansas will be very overmatched based on the way the players are performing recently.
Johnson and McLemore are both immensely talented, but the Jayhawks will be in trouble if they do not play to their abilities.
Indiana: Lack of Depth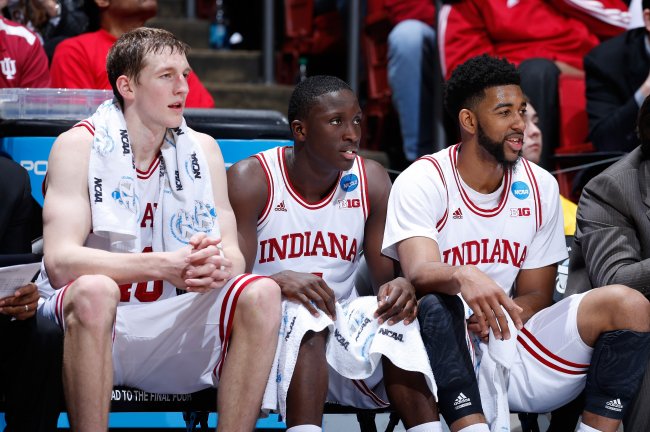 Joe Robbins/Getty Images
While Indiana can get production from a bunch of different places, it is very reliant on each of its starters to be on the court.
All five starters average at least 27.8 points per game, and only Will Sheehey gets consistent minutes off the bench. Jeremy Hollowell and Remy Abell also see the court, but they rarely make an impact.
This leads to some serious problems if a player has to come off the court for an injury (like Jordan Hulls did on Sunday) or if someone like Cody Zeller gets into foul trouble. The squad is only 3-2 when Zeller has four or more fouls, with one of those wins coming in overtime.
In addition, the NCAA tournament schedule can be rough on a team that relies so much on its starters.
The Hoosiers lost to Wisconsin in the Big Ten tournament after playing the day before, and they struggled against Temple in the last round in the second game in three days.
If Indiana survives a tough test against Syracuse, the Elite Eight game two days later will not be easy for this squad.
Follow all the exciting NCAA tournament action with March Madness Live