NBA Comparisons for the Top Star in Each Sweet 16 Matchup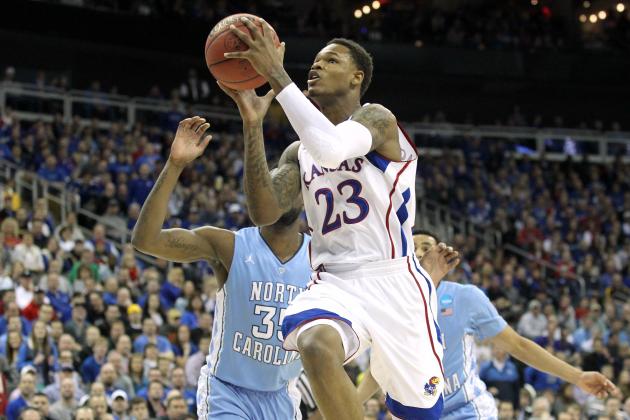 Ed Zurga/Getty Images

I am but a lowly college basketball writer, and as such, I don't pretend to have any specific knowledge about how amateur stars will fare in the professional ranks.
I do, however, watch a great deal of basketball—college and NBA.
And with that knowledge I've selected one top player from every Sweet 16 matchup and paired him the active NBA player whom I believe his game most resembles.
This is not a projection. Think of it instead as a way of communicating or qualifying how a college player operates as part of his current team.
If a guy is a dominant college post player, I'll match him with a dominant professional post player.
This is not meant to suggest that the dominant college post player will become a dominant professional, but rather to give you a better understanding of how his college team deploys him.
Man, that took a lot more words to explain than I expected.
Alright, on to the slides.
Begin Slideshow

»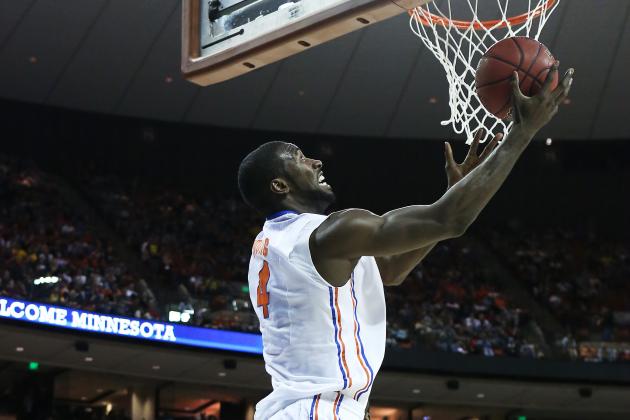 Stephen Dunn/Getty Images

Young's Dimensions: 6'9", 245 lbs
Ibaka's Dimensions: 6'10", 220 lbs
Similarities: Fantastic shot-blockers, good offensive rebounders
Differences: Ibaka has a more diverse offensive game; Young is a bit stouter
I'm not sure how well this comparison works on the offensive end, especially not since Ibaka became a more capable pick-and-pop player. And the skeptic would be fair to note that Ibaka strikes a significantly leaner figure.
But both players are defensive catalysts with excellent shot-blocking capabilities, and both stand out on the offensive glass.
The difference is that most of Young's offense stems from his work down low, while Ibaka can step away from the basket on occasion.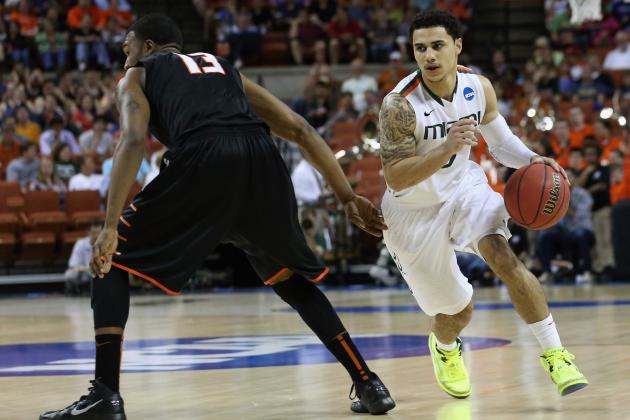 Stephen Dunn/Getty Images

Larkin's Dimension: 5'11", 176 lbs
Calderon's Dimensions: 6'3", 210 lbs
Similarities: Pass-first point guards who can stroke it from outside; neither known as great finishers
Differences: Larkin is a bit quicker relative to his peers and more active on defense
Calderon strikes a nice middle ground between the shoot-first guards (Stephen Curry, Jrue Holiday, Brandon Jennings) and the pass-first set (Rajon Rondo, Mike Conley).
Like Calderon, Larkin can light teams up from beyond, but his preference—particularly early in games—is to distribute.
The most striking difference between the two is on defense. Larkin won't be confused for a lockdown defender, but he's active in the passing lanes and at least lively on the ball. Calderon, on the other hand, is widely considered a step slower than neutral on the defensive end.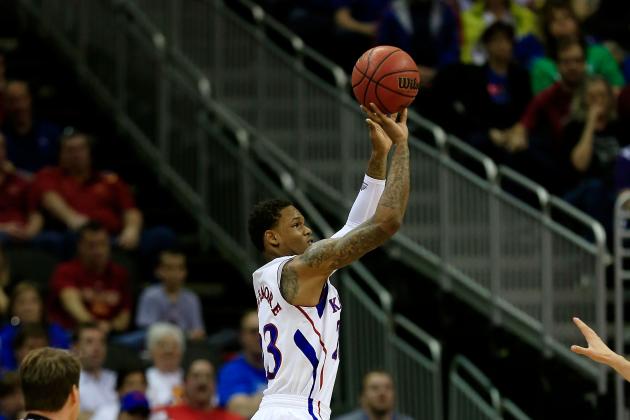 Jamie Squire/Getty Images

McLemore's Dimensions: 6'5", 195 lbs
Allen's Dimensions: 6'5", 205 lbs
Similarities: Both superlative shooters with surprising bounce
Differences: Allen is a more fluid offensive player; McLemore is the better leaper
I know the Allen-McLemore comparison has a lot of tread at this point, but I'm not going to diverge for the sake of diverging.
McLemore's quick release, deep range and staggering athleticism all recall a younger Allen. In fact, McLemore is a bit springier than even Allen was during his Connecticut days.
McLemore's greatest weakness at this point is a so-so handle that hampers his ability to create one-on-one offense. Allen has always been a bit more capable on that front, although both players are better suited playing off the ball.
Although McLemore's first tournament has been a slog, when the Kansas freshman is going right, there isn't a more dangerous shooting guard in America. Expect greater things in the rounds ahead.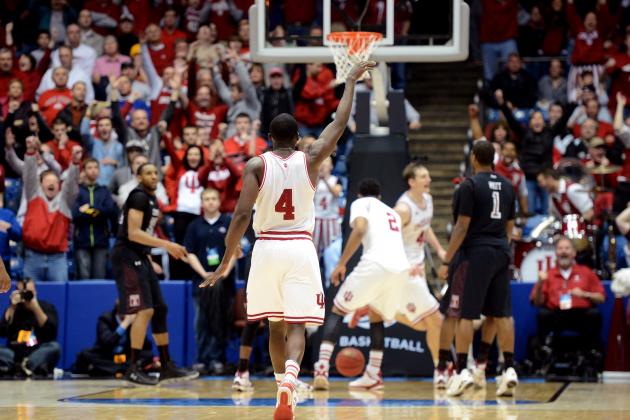 Jason Miller/Getty Images

Oladipo's Dimensions: 6'5", 214 lbs
Iguodala's Dimensions: 6'6", 207 lbs
Similarities: Both fantastic athletes with top-tier defensive reputations
Differences: Iguodala is a bit longer; Oladipo is more suited to cover the guard position
Dick Vitale has likened Oladipo to a "mini version" of Michael Jordan, but that kind of comparison never ends well.
So we'll go with Iguodala, a slightly longer version of Oladipo who plays the same kind of uptempo, transition-maestro role in Denver that Oladipo plays for Tom Crean's Hoosiers.
Both players seem to exist in that tactical gray area between "potential lead scoring option" and "unrefined super-finisher." And both are unquestionably elite on the defensive end, although Iguodala is more likely to body-up a wing player than Oladipo, who is more frequently thrust on true scoring guards.
Based on Oladipo's numbers this season, you might conclude that he's the better shooter. But Iguodala has had some pretty solid shooting campaigns himself, and until Oladipo does it more than once, I can't consider either a truly distinguished marksman.
Jonathan Daniel/Getty Images

Thomas' Dimensions: 6'7", 215 lbs
Anthony's Dimensions: 6'8", 230 lbs
Similarities: Dominant pure scorers with questionable defensive work ethic and a nasty habit of settling for jump shots
Differences: Anthony is the superior athlete and also has a bit more offensive talent
In case you missed the opening slide, here's a strategically replaced reminder: I am not insinuating that Deshaun Thomas will have an NBA career on par with Carmelo Anthony's.
Rather, I'm saying that Deshaun Thomas' college game recalls how Anthony plays at the pro level.
Thomas is a fantastic volume scorer. He led the Big Ten in points per game (per ESPN) and percentage of available shots taken (per KenPom.com). That he managed both while maintaining an excellent offensive efficiency rating explains why Ohio State leaned so heavily on him for offensive production.
Like Anthony, Thomas can play inside on smaller defenders and stick it from deep. Also like Anthony, he can be a bit trigger happy for a guy shooting so-so from deep (in Thomas' case, an even 35 percent).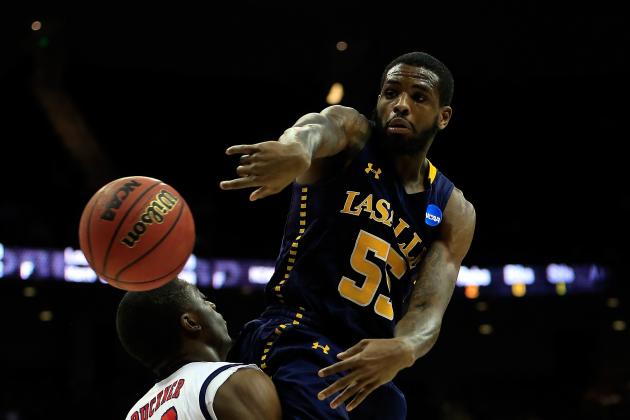 Jamie Squire/Getty Images

Galloway's Dimensions: 6'3", 180 lbs
Mayo's Dimensions: 6'4", 210 lbs
Similarities: Volume scorers who can slash and drill it from deep
Differences: Galloway is his team's first offensive option; Mayo is significantly bulkier
Think of this more as "O.J. Mayo before Dirk Nowitzki healed" as opposed to "O.J. Mayo, perennial second option."
Because Galloway is 100 percent the focal point of La Salle's attack.
He leads the Explorers in points per game, assists per game and total shot attempts. Since transferring from South Carolina two seasons ago, the Philadelphia native has 17 games with 20 points or more, including 24 in La Salle's round of 32 win over Ole Miss.
Galloway's percentages from deep and at the free-throw line (41.4 percent and 83.2 percent, respectively) are eerily similar to Mayo's (41.6 percent and 81.8 percent), and both men can attack the cup.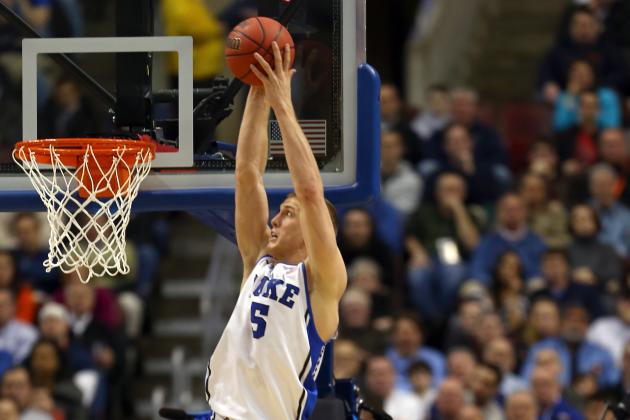 Elsa/Getty Images

Plumlee's Dimensions: 6'10", 235 lbs
Griffin's Dimensions: 6'10", 251 lbs
Similarities: Great finishers at the rim; spotty defenders; underdeveloped offensive skill set
Differences: Griffin is better
Plumlee isn't a refined offensive player, but he is a pretty damn good one. You won't find many other 6'10" players in the college game with his kind of bounce, and Duke's penetrating guards put that quality to excellent use in the half court.
Griffin has long been cast in a similar light, although there's no denying that he's a better leaper and at least a marginally better defender than Plumlee, who can be downright atrocious on the blocks.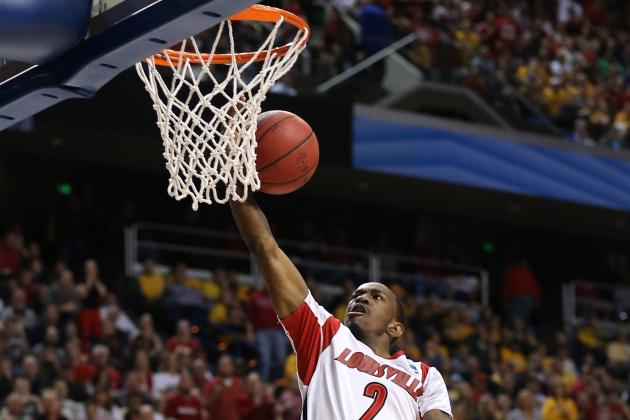 Andy Lyons/Getty Images

Smith's Dimensions: 6'0", 165 lbs
Jennings' Dimensions: 6'1", 169 lbs
Similarities: Quick, undersized guards who love to shoot
Differences: Smith is the superior defender
If anything, this comparison sells Smith a bit short.
Both players are known for an attacking style of play that can border on reckless. Jennings is a bit more refined in the half court and Smith is a bit more transition-oriented, but the rote outcomes are about even.
Smith, however, ranks as one of the college game's elite perimeter defenders, and he is particularly adept at creating turnovers. Jennings grades out as a decently disruptive defensive player, but not nearly on Smith's level.