Michigan State Basketball: 5 Keys to Beating Duke in Sweet 16 Showdown
Tom Izzo is in his 11th Sweet 16 as head coach of Michigan State.
Gregory Shamus/Getty Images
College basketball followers will get a taste of what March is truly about Friday, when the Michigan State Spartans take on the Duke Blue Devils in the Sweet 16 in Indianapolis.
For one, the matchup screams "madness" because of the coaches involved—Michigan State's Tom Izzo and Duke's Mike Krzyzewski—and that's enough reason to sit on the edge of your seat and froth at the mouth as the two tournament heavyweights collide in an attempt to advance to the Elite Eight.
Secondly, the player battles will be immensely entertaining.
Duke has star forward Mason Plumlee, a 6'10", 235-pound anchor, going up against the Spartans' pair of bigs in Adreian Payne and Derrick Nix. Combined, Nix and Payne should give Plumlee all he can handle Friday at Lucas Oil Stadium.
It's that time of year again, and the Spartans versus Blue Devils will certainly be a fan favorite duel, one which promises to deliver a high quality of play and theater-like dramatics.
Payne and Nix Have to Handle Plumlee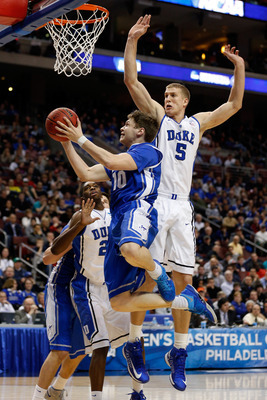 Mason Plumlee is an all-around threat in the paint and on the boards.
Rob Carr/Getty Images
Mason Plumlee is easily one of college basketball's most talented big men.
As a 17-point-a-night scorer, Plumlee possesses the ability to spark runs, sustain them, and close the door on his opposition.
The senior has had his way with just about every forward and center that he's faced thus far, especially in ACC play. However, he hasn't faced a duo like Michigan State's Derrick Nix and Adreian Payne.
Nix, a 6'9", 270-pound bulldozer, may be a bit more physical than what Plumlee is used to. Payne, a 6'10", 240-pound freakishly athletic center, has the agility, hands and strength to combat Plumlee's finesse around the basket.
Look at the duel this way: Michigan State will have 13'7" and about 510 pounds of "big" glued to Plumlee on Friday.
That's a difficult haul for anyone, even Plumlee, who scored just 10 points against Creighton during the round of 32.
Gary Harris Has to Catch Fire Once Again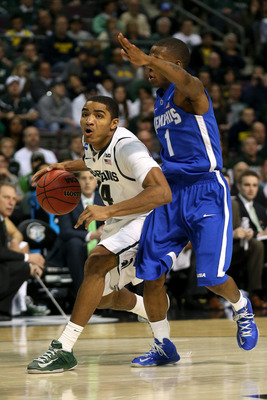 Gary Harris is becoming more important to MSU each round.
Jonathan Daniel/Getty Images
Against Memphis, Gary Harris simply couldn't miss.
Had he not gotten into foul trouble, it's quite possible that the super frosh would have racked up 30 points. Instead, he battled his three- and four-foul status for much of the second half, finishing with a game-high 23 points in leading Michigan State to a 70-48 win over the sixth-seeded Tigers.
Michigan State's hot-handed sensation has to be in Memphis Mode come Friday if the Spartans wish to trade darts with the Blue Devils, who shoot a staggering 40 percent from long range.
Harris was one of the Big Ten's top gun from three-point land, so he'll certainly have to live up to his billing Friday when Seth Curry, Ryan Kelly and Quinn Cook invade Lucas Oil Stadium with their laser-like shots.
Control the Tempo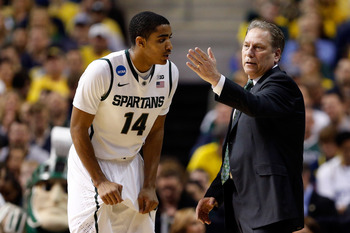 Tom Izzo is a Master of March. Can he handle Duke's high-flying offense?
Gregory Shamus/Getty Images
Controlling the tempo sounds easy enough, but for Michigan State to emerge on the good side of Friday's clash with Duke, it has to make sure Duke doesn't play Duke basketball.
Yes, that's a mouthful. But the Blue Devils were sixth in scoring this season, averaging 78.3 points per game en route to finishing second in the ACC standings behind Miami.
Michigan State has played high-tempo teams like the Blue Devils in the Big Ten—Michigan and Indiana. The Wolverines and Hoosiers had no problem eclipsing the 75-point mark when prompted, and Michigan State posted a 1-3 record against the two programs in the regular season.
The Spartans probably don't want a shootout Friday with Coach K's boys. Keeping the game in the 65-point range would be best.
Spartans coach Tom Izzo seems to manage games better when his team grinds the opposition, rather than chasing it.
Branden Dawson Has to Give...Something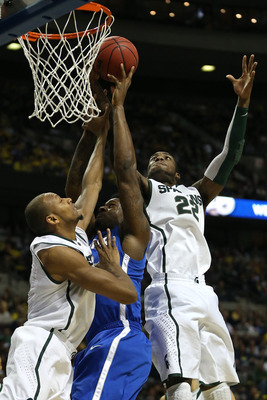 Branden Dawson (right) still hasn't emerged in March. He can. But will he?
Jonathan Daniel/Getty Images
Branden Dawson hasn't been Branden Dawson this season; he's shown glimpses of greatness, only to fall back into the shadows while teammates rise to the occasion.
The sophomore isn't a bust, but he's been busted in the offensive department for much of the second half of the season. He makes up for his lack of scoring with defense and rebounding, but the former 5-star rated prep star has to give the Spartans something against Duke.
If Dawson can put up 10 points while adding a couple of steals and a handful of rebounds Friday, he'll alleviate some of the pressure put on Gary Harris, Keith Appling and Travis Trice.
Don't give up on Dawson just yet. He still has a lot to prove, and if he can channel his offensive game against Duke, Michigan State should advance to the next round.
Play Spartans Basketball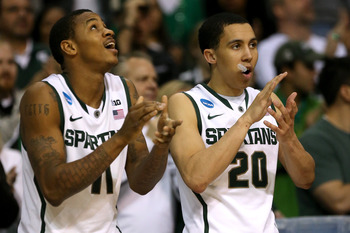 Michigan State's Keith Appling (left) and Travis Trice are great defenders.
Jonathan Daniel/Getty Images
Michigan State has a trademark style of play, and that's to own the glass, play from the outside to the inside, and frustrate opponents with stifling defense.
That being said, if the Spartans can string together a Spartans-like performance Friday versus the Blue Devils, they should have a distinct advantage.
Duke is no slouch. But beating the Blue Devils in the paint with blows from Derrick Nix and Adreian Payne, along with gritty guard play from Keith Appling are keys for Michigan State's Elite Eight wishes.
Travis Trice and Keith Appling will both be critical parts of the game plan. The guards are great defenders, and they'll have to keep Seth Curry from lighting up the stage in Indianapolis. Forcing Duke inside and off the perimeter will work in Michigan State's favor.
Appling's shoulder and ankle have been bothersome, and Trice hasn't been quite the same since returning from his concussion. It's March, both of them have been in this position.
The time is now.
Follow Bleacher Report's Michigan State Spartans basketball writer Adam Biggers on Twitter @AdamBiggers81
Keep Reading

Michigan State Basketball: Like this team?