Comic Book Movie Super Villains and Their MMA Dopplegangers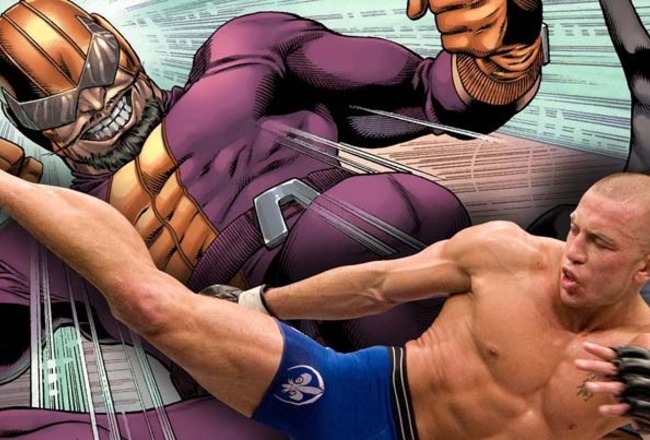 Image via joblo.com

Earlier this week, it was announced that UFC welterweight champion Georges St-Pierre has been cast as a villain in the upcoming Marvel movie sequel Captain America: The Winter Soldier.
Apropos to his French Canadian roots, St-Pierre will play the French and English-speaking Batroc the Leaper, an expert smuggler who has no superhuman abilities but is an Olympic-level weightlifter with extraordinary agility and reflexes. Batroc is also a skilled savate (French kickboxing) fighter and a mercenary.
Sounds like the perfect role for the reigning champ.
In light of the recent announcement, let's take a look at a few other MMA personalities and the comic book movie villains they could play.
Court McGee: The Mandarin

Set to take on Tony Stark in the upcoming Iron Man 3, fictional mastermind terrorist The Mandarin is Iron Man's toughest test to date and also sports a pretty sweet beard.
Court McGee has a similarly sweet beard as well, although I doubt he shares The Mandarin's plans for world domination.
I also can't decide if Iron Man's next silver screen opponent looks more like Bryan Cranston's Breaking Bad character in a kimono or Zach Galifianakis in the next Hangover sequel.
Brittney Palmer: Catwoman

First off, I wasn't a big fan of Anne Hathaway in the latest Batman movie. Michelle Pfeiffer's Catwoman from Batman Returns will always be my personal favorite.
However, Brittney Palmer's sultry take on the iconic character in a College Humor video (which also features UFC stars Joseph Benavidez and Ian McCall) was pretty hilarious.
John McCarthy: General Zod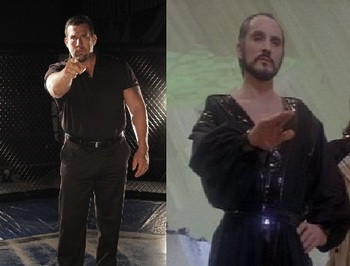 Lorenzo Fertitta: Obadiah Stane/Iron Monger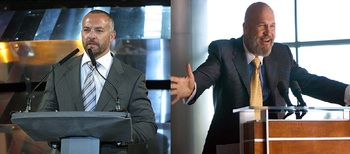 Lorenzo Fertitta and Jeff Bridges' Obadiah Stane have a lot in common, and its not just the way they rock the power suit.
Both guys are sort of behind the scenes, taking their companies to the next level while minimizing their time in the limelight. They let Dana White and Tony Stark do the talking.
Let's just be glad that Fertitta is focusing his business skills on the UFC and not on making any weaponized suits.
Jade Bryce: Emma Frost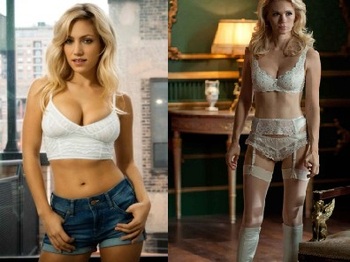 If Mad Men's January Jones doesn't want to reprise her role as Emma Frost in a follow-up to X-Men: First Class, I vote for Jade Bryce to replace her.
Alexander Shlemenko: Ivan Vanko/Whiplash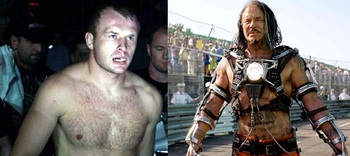 Mickey Rourke's Ivan Vanko, the Russian mastermind who later becomes Whiplash, received a criminally small amount of screen time in Iron Man 2. Despite this, the character did deliver some memorably poignant scenes, like his verbal tête-à-tête with Robert Downey Jr.'s Tony Stark in the French prison.
However, I'd like to see Bellator middleweight champ Alexander Shlemenko take a turn at the character. It would be hilarious to hear him tell Iron Man, "I am beat you!"
Alistair Overeem: Thanos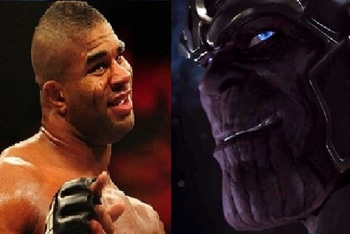 If Alistair Overeem were Thanos, then that would make Antonio "Bigfoot" Silva the Avengers.
Mayhem Miller: Red Mist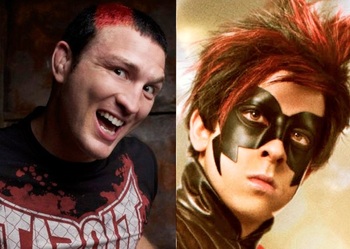 Pre-bleached blonde Mayhem Miller would have made for a perfect Red Mist in Mark Millar's Kick-Ass.
Between his crazy antics and his run-ins with the law, I'm surprised the Bully Beatdown star hasn't already tried the mask and cape lifestyle.
Dennis Hallman: Xerxes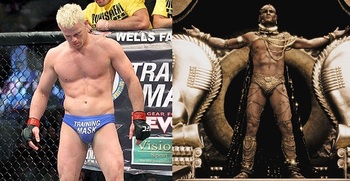 Former UFC lightweight Dennis Hallman may not have all the extra bling that Xerxes has, but I'm pretty sure he stole the speedo that he rocked at UFC 133 from the Persian king's wardrobe.
Rory MacDonald: Ozymandias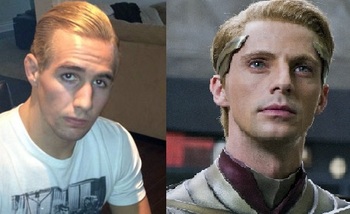 Great doppelganger idea by Bleacher Report user Riley Blair!
Brock Lesnar: Abomination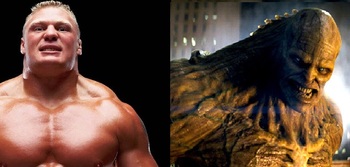 Hulk smash!
If this were a list of heroes, former UFC champ Brock Lesnar would easily fit the bill as Bruce Banner's alter-ego, but since we are talking about villains, then I guess we have to go with Abomination.
Fictional British Royal Marine Emil Blonsky, played by Tim Roth in 2008's The Incredible Hulk, turns into the hulking villain after being injected with a supersoldier serum and getting hit with gamma radiation.
I wonder if that combo makes you test positive in a post-fight drug test?
Roy Nelson: The Blob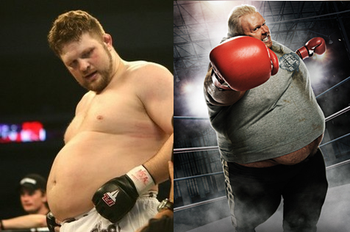 UFC heavyweight Roy Nelson has become one of the elite heavyweights in the sport despite not being the most physically fit fighter.
"Big Country" has a chin of steel and has some pretty solid knockout power as well, so there are more than just the obvious visual reasons as to why he'd make for a good Blob.
Greg Jackson: Ra's al Ghul

The leader of the fictional League of Shadows, Ra's al Ghul has trained a number of deadly warriors in his quest to purge the globe, including none other than billionaire Bruce Wayne, aka Batman.
Like the dubious mastermind, Greg Jackson has coached numerous world-class fighters and turned them into champions, such as current light heavyweight champ Jon Jones.
With all the names that have been through Jackson's camp, he pretty much runs the League of Shadows of MMA.
Ian McCall: Sinestro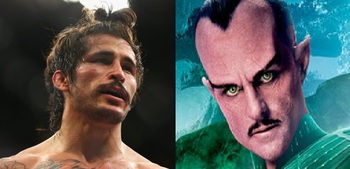 While Sinestro wasn't technically a villain in the Green Lantern feature film, his comic book counterpart eventually becomes the emerald knight's most fearsome foe.
The alien baddie was once one of the greatest Green Lanterns in the corps, lauded for his military expertise and drive for victory in battle. Like Sinestro, Ian McCall is also a pretty good fighter and always looks for the win.
"Uncle Creepy" may not have a power ring, but he's already rocking the super villain mustache.
Clay Guida: Sabertooth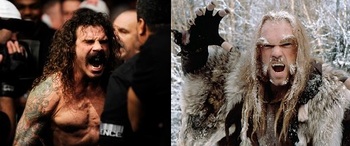 Clay Guida is an intense fighter to look at inside the Octagon.
Constantly bouncing around while possessing powerful takedowns and strikes, "The Carpenter's" fighting style paired with his wild man haircut makes him a perfect fit to play Sabertooth.
The hairy X-Men villain isn't afraid to get hit and can take a ton of punishment due to his accelerated healing factor, which is similar to how Guida fights inside the cage.
Chael Sonnen: Harvey Dent/Two Face

A once aspiring politician who has a certain way with words, TUF coach and current light heavyweight top contender Chael Sonnen is sort of already MMA's version of Harvey Dent.
Like Dent, who wasn't afraid to call out the criminals of Gotham City, Sonnen has talked his way into some big fights against some of the most dangerous fighters in the sport.
Unlike the fictional district attorney who eventually gave into his darker side, Sonnen has transformed himself from one of the most hated figures in the UFC to one of it's most beloved and valuable assets. Now that's a PR turnaround any politician would envy.
Ronda Rousey: Mystique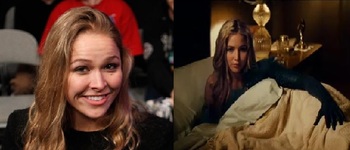 UFC women's bantamweight champ Ronda Rousey looks an awful like X-Men: First Class star Jennifer Lawrence, don't you think?
The two may even be castmates soon since Rousey is rumored to be linked to the upcoming sequel to The Hunger Games.
The champ's already bared it all for the pages of ESPN the Magazine, so it wouldn't be a stretch to see her don the shape-shifting Mystique's signature blue body paint.
Fedor Emelianenko: Juggernaut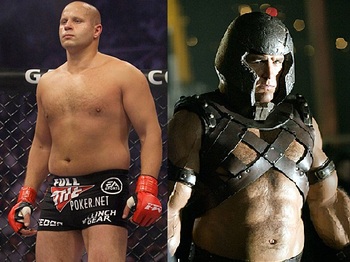 The Juggernaut, a mutant who possesses super strength and has virtually unstoppable momentum once he starts moving, is one of the X-Men's most fearsome foes.
The stepbrother of Professor Charles Xavier in the comic book version of the character, the Juggernaut wears a special helmet to protect him from telepathic attacks.
Like the behemoth mutant, the legendary Fedor Emelianenko was also an unstoppable force during his prime. Going unbeaten for almost 10 years and even becoming a Pride champion during his streak, "The Last Emperor" eventually fell in his later years, losing to the likes of Fabricio Werdum and Dan Henderson while in Strikeforce.
While both men definitely have their weaknesses, their brute strength and sheer physical presence induce fear in their opponents.
Erik Perez: Bane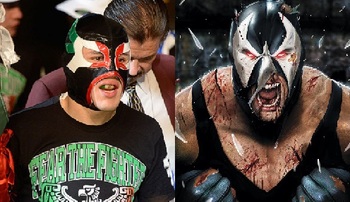 UFC bantamweight Erik Perez may be a bit smaller than the bulky Bane, but surprisingly, he has a lot in common with this famed Batman villain.
"Goyito" has won over a myriad of fans since his debut inside the Octagon, mostly for his luchador mask, which he loves to wear during his entrances. 2012's The Dark Knight Rises saw a similar rise in popularity for Bane, whose infamous mask has become a recent pop culture icon, even getting parodied on the hit animated television series South Park.
Coincidentally, both Perez and Bane are also skilled martial artists with Spanish-speaking roots. Perez hails from Monterrey, Mexico while Bane was born on the fictional Caribbean island of Santa Prisca.
Colin Fletcher: The Joker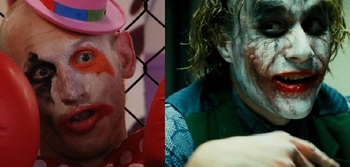 TUF: The Smashes finalist Colin Fletcher earned his "Freakshow" moniker for his odd cage entrances and affinity for clown costumes.
Fletcher even openly admits that he considers himself a clown, so envisioning him being cast as The Clown Prince of Crime is not that far-fetched.
Both men are notorious for their bizarre antics and elaborate wardrobes, although Fletcher is clearly more lighthearted and affable than the psychotic and hell-raising Joker.
Dana White: Lex Luthor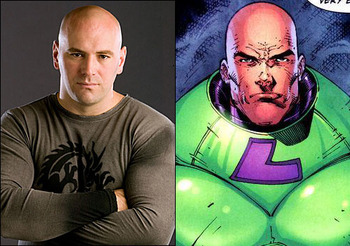 Image via mmanuts.com
UFC president Dana White may not be an evil genius hell-bent on taking over Metropolis, but you can't deny his eerie resemblance to Superman's most maniacal villain.
The notorious Lex Luthor earned his reputation as the Man of Steel's biggest rival for his control of the corporate world and use of his vast resources for his plethora of evil plans. While White doesn't share Luthor's lust for world domination, his leadership of the UFC has helped it to take over the MMA game. He has used the promotion's financial clout to outdo and even buy out its competitors.
In addition to their domination in their respective fields, both White and Luthor also share a hot temper. Trust me when I say that you don't want to get on either guy's bad side.
Photo Credit: MMANuts.com
Be sure to like me on Facebook or follow @MattchidaMMA
Keep Reading