History is strongly against the United States national soccer team as coach Jurgen Klinsmann's club travels to Estadio Azteca to take on Mexico in Tuesday's World Cup qualifier.
It's only the third of 10 matches in the Hexagonal, but its importance for the U.S. is massive. As Kevin Baxter of the Los Angeles Times indicates, the Mexicans have lost just once and drawn just six times in 75 matches on their home pitch. Despite shaky form from the host in a 2-2 tie with Honduras, the odds of the U.S. pulling this one out seem rather slim.
Check out this daunting statistic provided by ESPN's Numbers Never Lie:
Could be a long ride home. #USA is WINLESS in 14 road WC qualifiers vs. #Mexico (Mexico unbeaten in 25 straight home qualifiers overall).

— Numbers Never Lie (@ESPN_Numbers) March 26, 2013
Although walking away with one point would be a respectable result, here are the keys for the United States to lock up an improbable victory in Mexico City.
Goaltending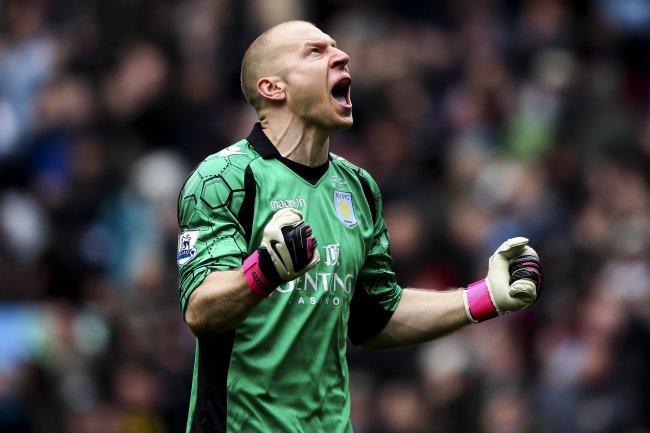 Ben Hoskins/Getty Images
Unfortunately for the U.S., Tim Howard fractured two bones in his back while playing for Everton in the English Premier League. Howard is a huge X-factor for the Americans thanks to his outstanding netminding skills and veteran experience at 34 years old.
The onus of the United States' World Cup aspirations will rest largely on Howard's fill-in, Brad Guzan, who also plays in the EPL, but for lowly Aston Villa.
Guzan must have a strong showing for the Americans to have any hope of pulling this out. Javier Hernandez spearheads the dangerous Mexican attack that is sure to come out firing after a disappointing performance in the last qualifier.
Hernandez scored both goals in the match against Honduras, and the Manchester United standout should figure prominently into the action once again.
Winning possession battle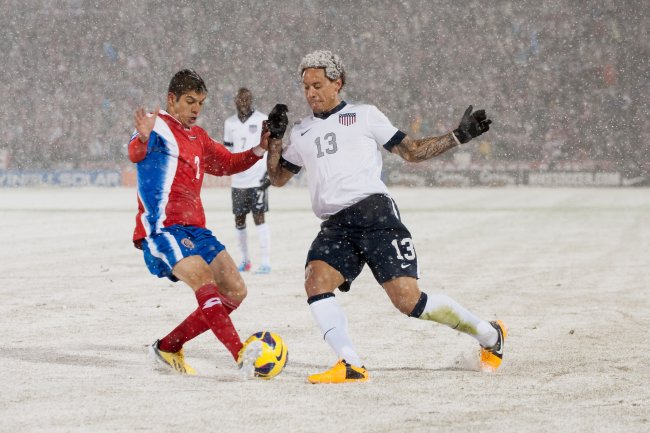 Dustin Bradford/Getty Images
This objective will be much more difficult to attain due to the injury to Jermaine Jones, a stellar defensive midfielder who can not only thwart the opposition's speedy wingers but also spark the American attack going the other way.
Jones is a massive loss, especially in light how well he played in the snowy conditions against Costa Rica, as articulated by Klinsmann in Sports Illustrated analyst Grant Wahl's article:
Jermaine Jones is one of our leaders here, and the way he played that game against Costa Rica was unbelievable. The foul he got 20 minutes into the game cut a hole into his ankle, and he got stitched up at halftime and kept going until he couldn't run anymore. He gave everything he had. It was an amazing performance by Jermaine against Costa Rica.
That simply means the other Americans will have to step up in Jones' stead in order to ensure they remain on the attack more than their formidable foes.
Expected to start in place of Jones is Kyle Beckerman, according to Wahl, with Maurice Edu sliding into the center back position. That tandem will also go a long way in helping out Guzan, who needs the ball away from his end of the field for the majority of the match.
There needs to be a lot of hustle from the U.S. to combat the superior talent of the Mexicans—especially with how bitter this rivalry is and how tough it is for opponents to win in this environment.
Jozy Altidore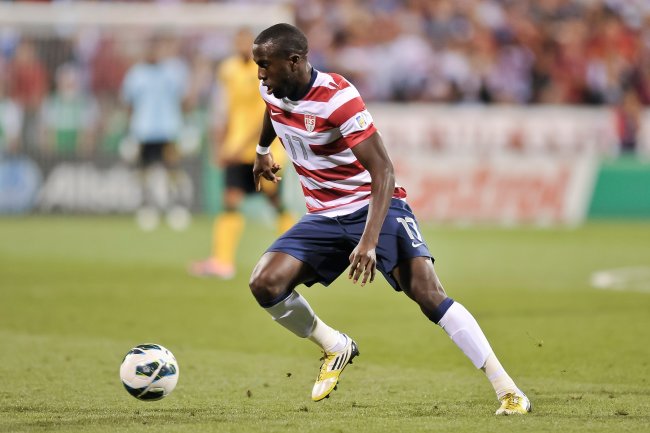 Jamie Sabau/Getty Images
The talented striker has yet to quite find the form with the national team that makes him such a goal-scoring force for AZ Alkmaar.
In the 2010 World Cup, Altidore had ample opportunities in the four matches he played but simply could not find the net (h/t FIFA.com). The United States could always use more firepower on the attack, and Altidore must continue to refine and polish his game to provide that.
How will the U.S. fare against Mexico on Tuesday?
The good news, too, is that Altidore is just 23 years old. Barring any health or injury setbacks, he should have at least another shot at World Cup glory. However, if the U.S. wants to do well in
Estadio
Azteca
and at the impending 2014 event, it will be up to Altidore to be the catalyst.
By establishing himself in an extremely difficult road fixture, Altidore would get the necessary confidence to be a leader for the team moving forward. Thankfully, the presence of star Clint Dempsey will help the cause immensely.
A win here would be a huge stepping stone for the U.S. moving forward, though, and Altidore will likely play a huge role if it does happen.