Germany vs Kazakhstan: 2013 World Cup Qualifying, Live Blog Updates and Analysis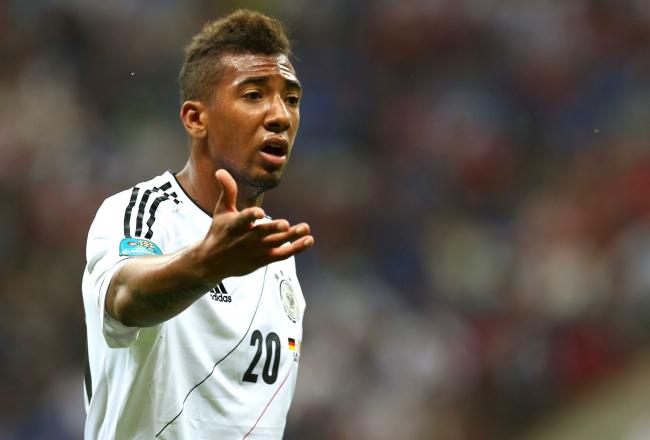 Wilkommen!
Today's FIFA World Cup Qualifier from UEFA Group C features group leaders Germany hosting fifth place Kazakhstan at 20:45 CET (3:45 p.m. EDT).
The game comes from the beautiful Grundig-Stadion in Nürnberg, Germany. We saw the U.S. play Ghana here in the 2006 World Cup. It's a wonderful soccer-viewing stadium even with the track surrounding the field.
Germany dominates the first half, cruising to an easy 3-0 lead.
Full time and its Germany 4-1 over an inferior Kazakhstan.
The Kazakhs didn't make it easy in the second half and will take some heart in the fact that they didn't completely fold after the first-half thrashing they took.
The Germans will like the scoreline, but much like the game last Friday in Astana their second half performance was not good enough to eliminate the Kazakh threat until very late in the game.
Joachim Löw will not be happy with his team's second half performance even though the Germans continue their cruise to the World Cup Finals.
You knew the odds favored Germany getting more goals, but that goal was oddly enough against the run of play at that time.
89' The Kazakhs nearly score on a breakaway.
The Germans answer on the other end with Reus giving the Kazakh keeper no chance.
Marcell Jansen comes on for Reus in a cameo appearance.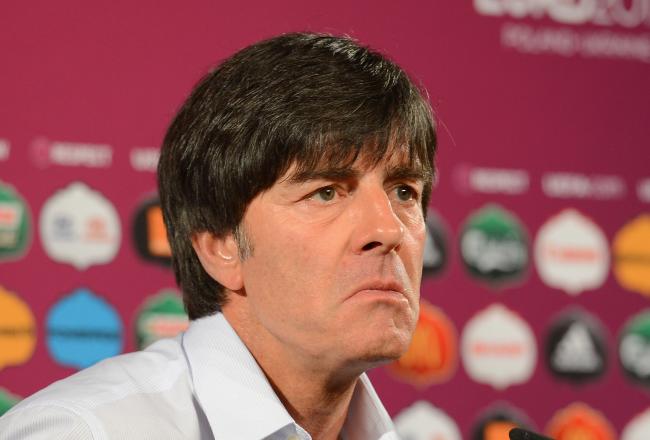 Germany is still playing with their starting XI. Is Löw trying to send a message to his team about their second half concentration and energy levels?
More youth for the Kazakhs. 23-year old Dmitriy Shomko enters for Ulan Konysbaev in the 77th minute.
Good move by the manager to inject some young legs into the match while getting his young 'uns some qualifying experience.
76' Another brilliant save by Sidelnikov as Thomas Müller tries to chip him.
73' and the Kazakh keeper makes two desperate saves which are followed by the Germans hitting both uprights.
How did they not score?
The supporter's banners always fascinate me. I can't read German but recognize some place names and of course whatever "Red Cobra" is.
At the 2006 World Cup I was astounded by how many and how large the banners were, particularly since we were all searched on the way in and such things were supposedly confiscated.
Didn't stop anyone at the Netherlands v Argentina first round match as the stadium in Frankfurt was draped with the things.
Kazakhs pull their target man Ostapenko and bring on Zhambyl Kukeyev.
Ostrapenko was not moving well, don't know if he was hurt or just not up to putting in a max effort in a losing cause.
But the Kazakhs are looking more lively in the second half. Very similar to what happened on Friday night in Astana.
Ireland 2-1 over Austria in the other Group C match.
The Nürnberg crowd just jeered Neuer when he received a back pass.
Clearly they are not happy with how the Kazakh goal went down.
54' The Kazakhs come close again!!
German fans cannot be happy.
You would think the Germans were safely home at halftime, but don't forget they blew a four-goal lead against Sweden back in October.
Kazakhstan is no Sweden, but the Germans have got to be wondering if they are doomed to another tight game.
46' Embarassment for Germany!!
Per Mertesacker makes a lazy back pass to Manuel Neuer and the Kazakhs pinball it around before it finds the feet of the Bundasliga's own Heinrich Schmidtgal.
What a night for Schmidtgal.
Kazakhstan brings on the 22-year old midfielder Bauyrzhan Dzholchiyev. He has some attacking skills.
Will Germany look at some more youth in the second half?
Sven Bender or Andre Schürrle?
Maybe Patrick Hermann will earn his first cap.
Heinrich Schmidtgal ran hard for Kazakhstan in the first half. He desperately wants to put on a good show in his home country.
Born in Kazakhstan to German parents, Schmidtgal moved back to Germany when he was two.
3-0 Germany at halftime. Die Mannschaft had 82% possession and took 12 shots in the first half, five by Gündogan.
Ever wonder how much they pay those security guards to face the crowd the entire game and not peek at the match?
How do they do it? You're on the field but can't watch the game!
In the other Group C match, Ireland levels 1-1 with Austria.
Dortmund hatrick for Germany.

— Cristian Nyari (@Cnyari) March 26, 2013
The Dortmund boys Gündogan and Reus have a big part in Germany's future. They have been dominant up front.
32' Gündogan get's Germany's third off a nice feed from Özil.
The German fans start the wave in an effort to stay warm.
The Germans are pressing for more and its hard to see how the Kazakhs can possibly avoid an embarrassing thrashing.
Great run by Lahm who cuts it back to Götze for Germany's second in the 28th minute.
This article is
What is the duplicate article?
Why is this article offensive?
Where is this article plagiarized from?
Why is this article poorly edited?

Germany (National Football): Like this team?