Updated Playoff Odds for Every NBA Team at the End of March
Gary A. Vasquez-USA TODAY Sports

Most NBA squads have a dozen games left in the regular season. What are the odds that each of them will make the 2013 playoffs?
In the Eastern Conference, we will examine exactly how likely it would be for the Philadelphia 76ers or Toronto Raptors to sneak into the No. 8 seed.
Out West, six teams are separated by seven games in the standings, so there will be a fierce competition for the final spots that the Houston Rockets and Los Angeles Lakers currently occupy.
Who faces a favorable outlook moving forward, and who should be considered a long shot? Read on to find out as we put a finger on the chance that each team has of joining the playoff party in 2013.
Begin Slideshow

»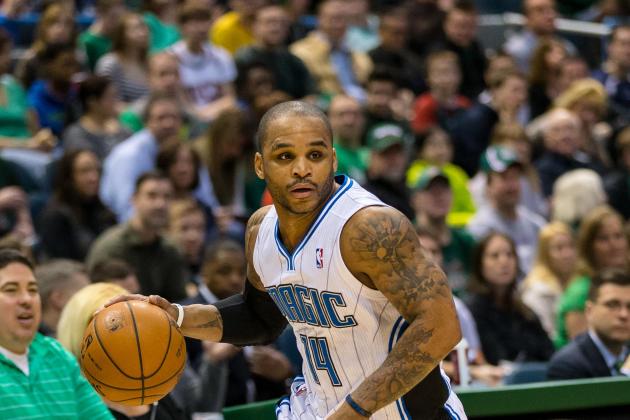 Jeff Hanisch-USA TODAY Sports

Charlotte Bobcats (17-54, 17.5 games back of playoff spot): At one point, Charlotte's odds were higher than zero percent. But that was back in November, before the 'Cats went on an unsightly 18-game losing streak.
Orlando Magic (18-54, 17 games back of playoff spot): A transitional season turned out to be even more painful than anticipated. Jacque Vaughn's crew is currently on an eight-game tumble, threatening to finish worse than the lowly Bobcats.
Cleveland Cavaliers (22-48, 12 games back of playoff spot): If the Cavs weren't pummeled so hard by injuries, we might be talking about some legitimate odds to make the playoffs. For the sake of all Kyrie Irving fans, let's hope their odds are much better next season.
Detroit Pistons (24-48, 11 games back of playoff spot): Technically, the Detroit Pistons are mathematically alive to make a miracle run for the No. 8 seed. But their odds are about 0.4 percent, so let's just round down to the goose egg.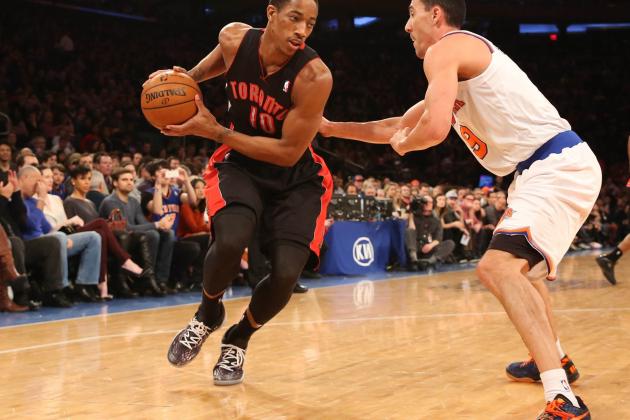 Anthony Gruppuso-USA TODAY Sport

Record: 26-45 (.366)
Games Back of Playoff Spot: 8.5
Playoff Odds: Three percent
Any realistic expectations of the Toronto Raptors making the playoffs should be checked at the door.
The 2012-13 campaign featured exciting contributions from swingman DeMar DeRozan, slam-dunk champ Terrence Ross and new addition Rudy Gay, but the Raptors lacked muscle in the paint and were clearly inferior to the rest of the Atlantic Division.
A five-game winning streak in mid-February was the last true sign of life from Toronto, as the club has gone 4-13 since. Although the small sliver of hope remains, it is clear that this is not a playoff club.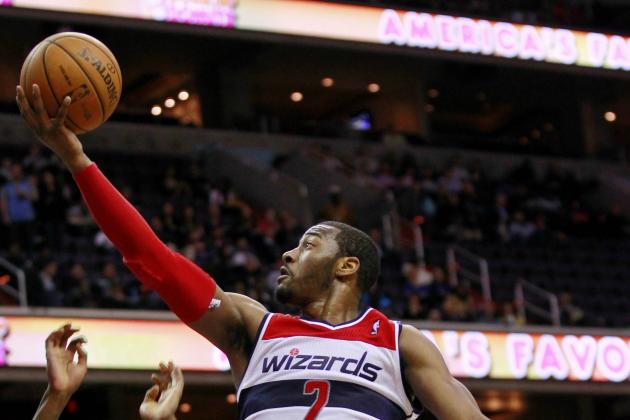 Geoff Burke-USA TODAY Sports

Record: 26-45 (.366)
Games Back of Playoff Spot: 8.5
Playoff Odds: Three percent
John Wall and the Washington Wizards have looked much better than the Toronto Raptors lately, but their playoff odds are the same because the Wizards have an impossible schedule to close out the season.
It's safe to say that Washington would have been in striking distance of the No. 8 seed if John Wall and Bradley Beal played most of the season together.
With a dynamic backcourt and an athletic, competent defense, the Wizards could scare some people in the future.
As for 2013, though, injuries and offensive inefficiency dashed any hopes of postseason play.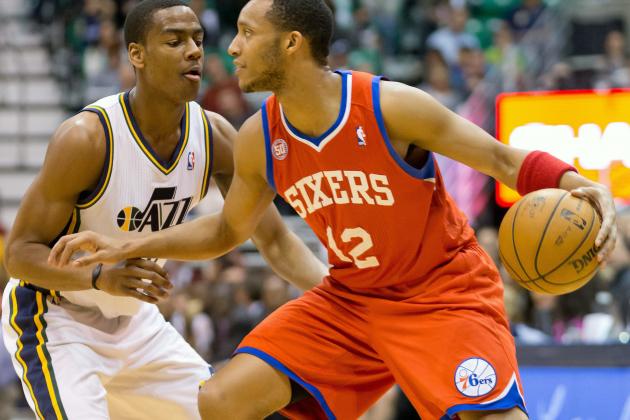 Russ Isabella-USA TODAY Sports

Record: 28-43 (.394)
Games Back of Playoff Spot: 6.5
Playoff Odds: Four percent
A relatively weak schedule makes a Philadelphia 76ers comeback conceivable, but a couple of impending speed bumps against the Atlanta Hawks and Miami Heat make it highly unlikely.
Doug Collins' bunch has been the closest contender for the No. 8 seed for most of the season, but it's never felt like a true threat to join the playoff party. Jrue Holiday has been a one-man team, while Andrew Bynum has been a one-man soap opera.
Philly is a step away from a playoff slot, but it's a mighty big step. Considering their lack of firepower, making the playoffs is out of the question.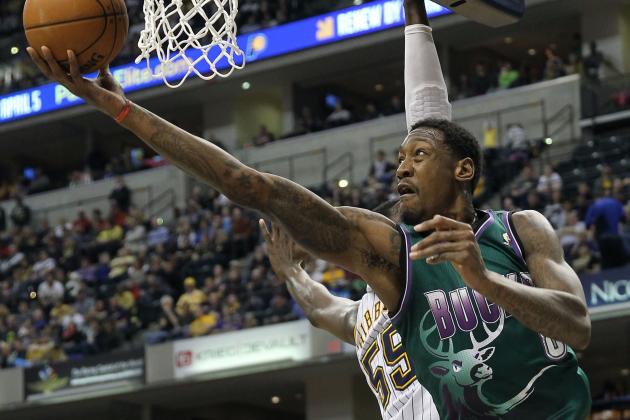 Pat Lovell-USA TODAY Sports

Record: 34-36 (.486)
Games Back of Playoff Spot: 0
Playoff Odds: 96 percent
Even though the Milwaukee Bucks have a tricky schedule the rest of the way, they have a firm grip on the last spot in the East.
The club was buoyed by a breakout year from Larry Sanders and the efforts of the backcourt duo of Monta Ellis and Brandon Jennings, but it is still a mediocre team overall.
Milwaukee has the rest of the Eastern Conference to thank for the security of its postseason status. There is no "middle of the pack." There is only a group of bottom feeders paving the way for the Bucks.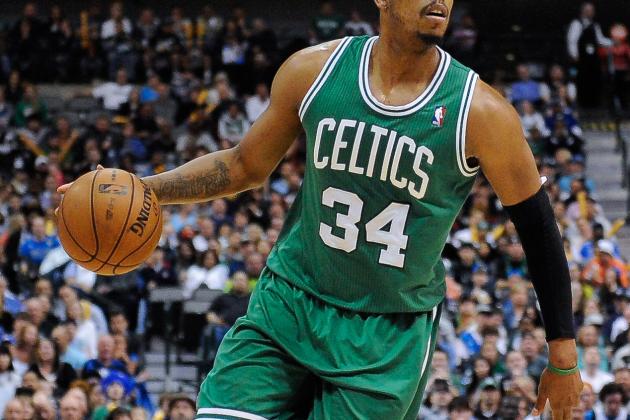 USA TODAY Sports

Record: 37-34 (.521)
Games Back of Playoff Spot: 0
Playoff Odds: 99 percent
With playoff participation a near lock, the only concerns for the Boston Celtics to sort out are which seed they will be and when Kevin Garnett will return from his ankle injury.
A few days ago, it looked like they had the No. 7 seed all sewn up, but a five-game losing streak put that in jeopardy.
If the Celts do fall one spot, they would provide great theater in their quest to shock the Miami Heat in the first round. However, a No. 2 vs. No. 7 matchup against the New York Knicks would be equally compelling.
The most important thing is that Doc Rivers' feisty squad will have a hand in the 2013 postseason drama.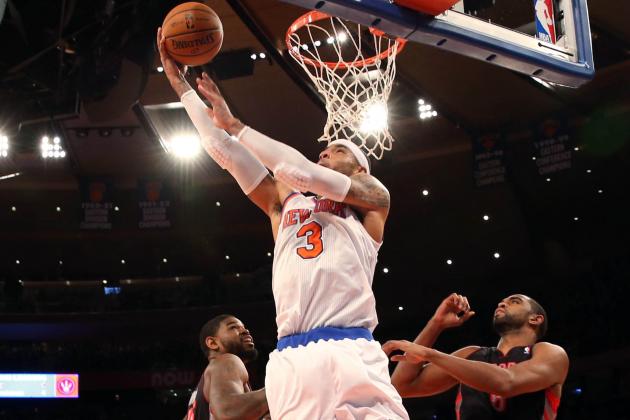 Anthony Gruppuso-USA TODAY Sport

Atlanta Hawks (40-32, projected No. 6 seed): With a healthy hold on the sixth slot and a manageable schedule ahead of them, the Hawks' odds of making the postseason are 99.9 percent, so we'll round up.
Chicago Bulls (39-31, projected No. 5 seed): Mathematically, they haven't locked things up yet, but there's no way that Tom Thibodeau's group will let things get out of hand. Chi-town will secure its spot within the next couple of games, as it awaits Derrick Rose's imminent return.
The remaining teams have already clinched postseason berths:
Brooklyn Nets (42-29, projected No. 4); Indiana Pacers (45-27, projected No. 3); New York Knicks (44-26, projected No. 2); Miami Heat (56-15, projected No. 1)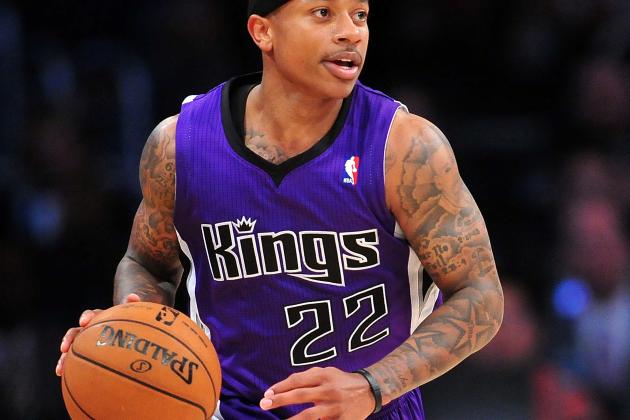 Gary A. Vasquez-USA TODAY Sports

Phoenix Suns (23-49, 14 games back of playoff spot): In the Valley of the Sun, no one has been able to produce outside of Goran Dragic. It was clear early in the season that this club wouldn't be competitive, as Phoenix has been destined for the cellar since mid-November.
Sacramento Kings (26-46, 11 games back of playoff spot): The future of the franchise's location has yet to be decided, but Sac-town's 2013 postseason destiny is crystal clear. Will the Kings be relevant anytime soon?
New Orleans Hornets (25-47, 12 games back of playoff spot): Three straight recent wins over playoff opponents is cause for optimism regarding the club's 2013-14 potential. As for this spring, though, it's too little, too late, and the show will be over in mid-April.
Minnesota Timberwolves (25-45, 11 games back of playoff spot): A disappointing, injury-riddled winter crushed 'Wolves fans who thought the team would make giant strides this season. It's almost impossible to overcome the loss of someone as valuable as Kevin Love.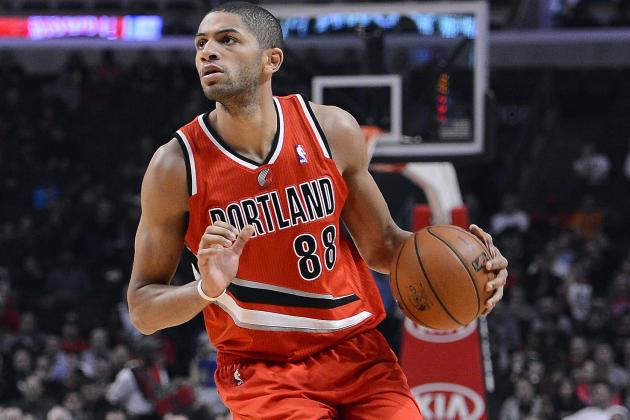 Mike DiNovo-USA TODAY Sports

Record: 33-38 (.465)
Games Back of Playoff Spot: 3.5
Playoff Odds: 12 percent
Although they're less than four games shy of a playoff spot, the Portland Trail Blazers face steep odds to crack the top eight.
Why? Because the schedule is demanding. Eight of the Blazers' final 11 games are against playoff teams, and all 11 games are against teams ranked higher than them in the standings. There's not a single sure bet left over the next three weeks.
Damian Lillard continues to grow as a top-tier point guard, and LaMarcus Aldridge and Nicolas Batum had superb seasons, but they won't get over the hump.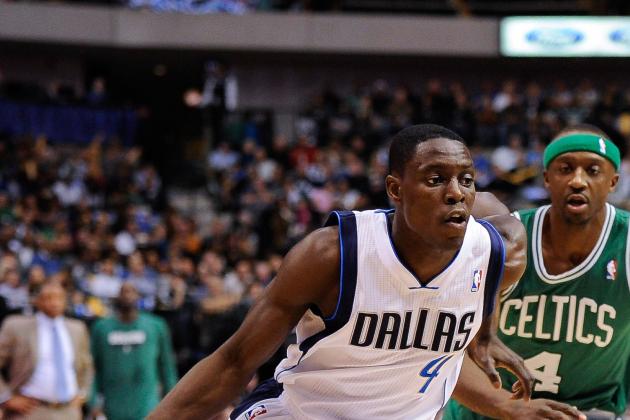 USA TODAY Sports

Record: 35-36 (.493)
Games Back of Playoff Spot: 1.5
Playoff Odds: 33 percent
Left for dead just a couple of weeks ago, the Dallas Mavericks have won nine of their last 12 and drawn within a game and a half of the Los Angeles Lakers.
They're getting contributions from everybody during this positive run, including the likes of Brandan Wright and Mike James. Defensively, they're stronger and more cohesive. And lastly, Dirk Nowitzki and company can't wait to hit .500 and fulfill their beard-shaving goal.
Will all of this momentum continue and catapult the Mavs past the Utah Jazz and Los Angeles Lakers?
It's distinctly possible, but neither foe will go quietly.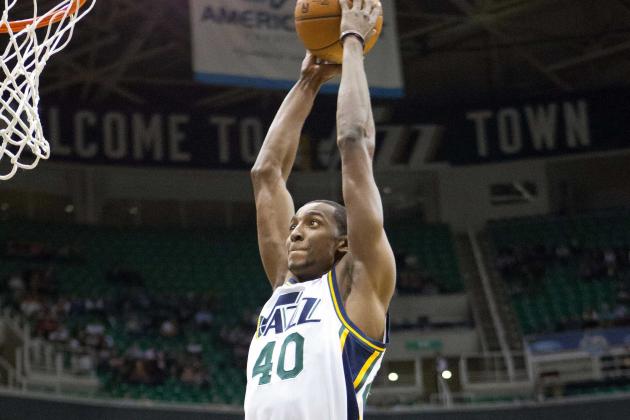 Russ Isabella-USA TODAY Sports

Record: 36-36 (.500)
Games Back of Playoff Spot: 1
Playoff Odds: 45 percent
From a scheduling standpoint, the Utah Jazz have a better chance than the Dallas Mavericks to steal back the final playoff spot from the Los Angeles Lakers.
Five out of Utah's 10 remaining contests are against non-playoff teams. If it can win three or four of those, plus three of the five against playoff teams, surpassing L.A. is realistic.
Playmaking from Mo Williams and overall defensive consistency is crucial, and priority No. 1 will be taking care of business in upcoming games against the Portland Trail Blazers and New Orleans Hornets.
If the Jazz can't win against lesser opponents, then the Lakers will take a huge step toward locking down the coveted eighth spot.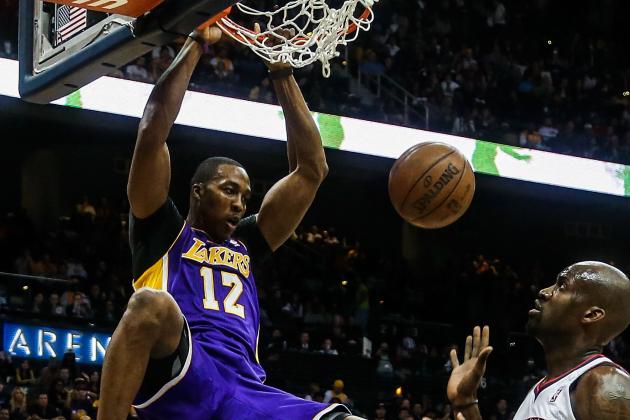 Daniel Shirey-USA TODAY Sports

Record: 37-35 (.514)
Games Back of Playoff Spot: 0
Playoff Odds: 58 percent
Currently, the Los Angeles Lakers are in the driver's seat.
However, the last three games of the season will go a long way in determining whether they can maintain possession of the last playoff spot in the West.
Kobe Bryant and company round out the schedule against the Golden State Warriors, San Antonio Spurs and Houston Rockets. In those three contests, the Lakers will need to summon the best defense they've played all season.
It's been an exhausting, dramatic campaign for L.A. in 2012-13, and don't expect that to change between now and the end of the season.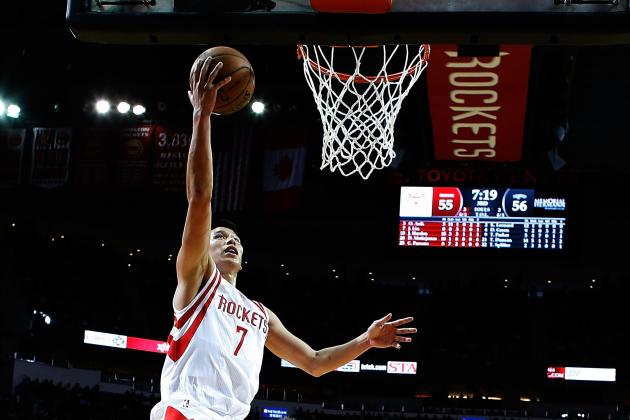 Scott Halleran/Getty Images

Record: 39-32 (.549)
Games Back of Playoff Spot: 0
Playoff Odds: 85 percent
By winning five of their last seven games, the Houston Rockets effectively built a cushion for themselves.
It would take a drastic shift in momentum from them and their Western Conference counterparts for Kevin McHale's outfit to fall out of the postseason picture.
Houston is still lethal offensively, but now it's demonstrating an ability to win with defense. During the Rockets' recent three-game winning streak, they held opponents to 88.7 points per game.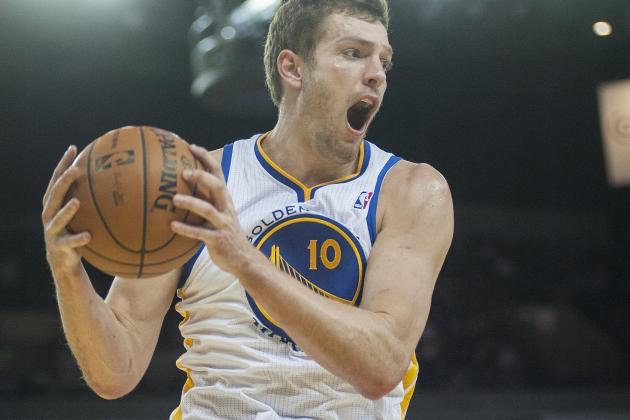 Ed Szczepanski-USA TODAY Sports

Record: 41-32 (.562)
Games Back of Playoff Spot: 0
Playoff Odds: 97 percent
The only reason the Golden State Warriors aren't a 100-percent lock is because there's always that three-percent chance that something happens to Stephen Curry.
As long as his ankles hold up, the Dubs will easily reach the playoffs for the first time since 2007, and he'll seek to carry his electrifying 2012-13 playmaking over into late April and May. The whole country can't wait to see what he can do on the big stage.
The combination of Curry and David Lee will ensure a postseason berth, and the help of Klay Thompson and Andrew Bogut will guarantee a hard-fought first-round matchup against whomever they play.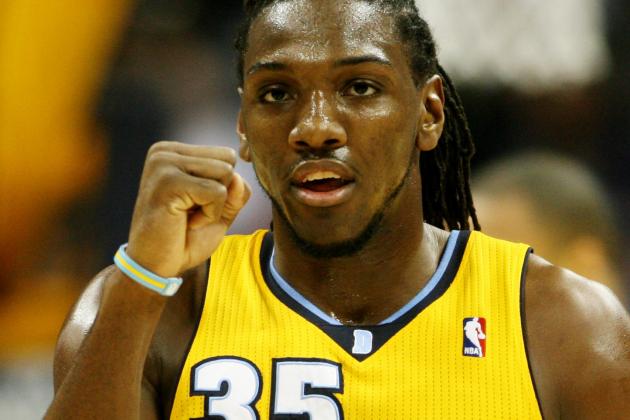 Chris Humphreys-USA TODAY Sports

The following teams have already clinched postseason berths:
Memphis Grizzlies (47-24, projected No. 5)

Denver Nuggets (48-24, projected No. 4)

Los Angeles Clippers (49-23, projected No. 3)

Oklahoma City Thunder (53-19, projected No. 2)

San Antonio Spurs (54-17, projected No. 1)
For more NBA playoff talk, follow Daniel on Twitter: