Since they won Super Bowl XLVII in heart-stopping fashion to capture the franchise's second Lombardi Trophy, the Baltimore Ravens' front office has faced a significant amount of criticism in their handling of the offseason.
Ravens general manager Ozzie Newsome and director of player personnel Eric DeCosta have faced the brunt of the backlash, as fans and media types alike have eviscerated the team's decisions to part with key cogs of their Super Bowl championship machine.
Well, I say that if you're bashing the Ravens front office for what's transpired since they won it all last month, you just don't know what the heck you're talking about.
Newsome and DeCosta spearhead the best front office in all of sports, and Ravens fans should be thankful for having them.
Handout/Getty Images
Let's start with the decision to lavish their star quarterback and Super Bowl MVP, Joe Flacco, with a six-year, $120 million contract. I simply cannot believe it when I hear or read people complaining about this deal.
Flacco is coming off one of the greatest performances by a signal-caller in the history of the postseason. The guy threw 11 touchdown passes against zero interceptions, and led Baltimore to a championship.
Since being drafted by the Ravens in the first round of the 2008 draft (a prescient move, I might add), Flacco has led Baltimore to the postseason in each of his first five seasons, and won at least one playoff game in each year.
When you add all of that up, it's clear that Newsome and DeCosta needed to pay Flacco. Period. Anyone griping about the amount of the deal is clueless.
Flacco gambled on himself by not signing a contract extension before the 2012 season, and he came out a big winner, as did the franchise.
Is Flacco one of the five best quarterbacks in the NFL? No, he probably isn't. But, he is certainly elite, and when you have an 11-touchdown, zero-interception postseason capped off by a championship, you earn yourself a big-money deal.
Forget about every other position on the roster, or whomever else the Ravens have lost this offseason: Paying Flacco was the most important item on the agenda. The quarterback is the most important player on the team, and the Ravens have locked their franchise signal-caller up. This is a major positive for the franchise as they move forward in search of a third Lombardi Trophy.
As a result of bestowing Flacco with all that money, Newsome and DeCosta have had to make some tough decisions. That's part of the business.
Since free agency began on March 12, Baltimore has certainly lost some quality players. That's the price of doing business when you win a championship.
Linebacker Dannell Ellerbe, the supposed heir apparent to the retired Ray Lewis, signed with the Dolphins.
Pass-rushing demon Paul Kruger, who had a dominant postseason run for the Super Bowl champions, signed a big-money deal with division rival Cleveland.
Three-quarters of the team's starting secondary in the Super Bowl is gone. Cornerback Cary Williams signed with the Philadelphia Eagles. Hard-hitting safety and defensive tone-setter, Bernard Pollard, joined the Tennessee Titans.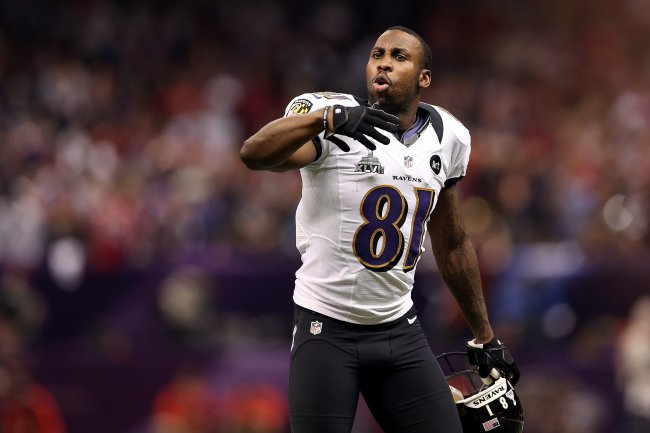 Christian Petersen/Getty Images
But, worst of all for Ravens fans was the departure of two especially beloved players: safety Ed Reed, who signed with Houston, and wide receiver Anquan Boldin, traded to the 49ers.
The Boldin move in particular seemed to sting, and had many questioning Newsome and DeCosta, as the Ravens received only a sixth-round pick from San Francisco as compensation.
Was Boldin a terrific player for the Ravens? Yes, he was. But you can't just go by past performance when building a team. Newsome and DeCosta saw Boldin for what he is: A descending receiver with diminished speed and a large salary cap number. When Boldin didn't want to take a pay-cut, the writing was on the wall. The move had to be made.
For anyone expressing outrage over the sixth-round pick as compensation: Do you really think that the Ravens brilliant front office just haphazardly moved Boldin to the first available bidder? Bottom line, the Ravens weren't receiving a large haul for a soon-to-be 33-year-old wide receiver that everyone knew likely wasn't coming back.
Now, this doesn't mean that Boldin can't be successful in San Francisco; he can. But moving him was the absolute right move by Newsome and DeCosta.
Ravens fans were unhappy with losing Kruger to the Browns, but they'll come to realize that letting him walk was the right move. Kruger was used by Baltimore as a situational pass-rusher in the postseason, coming off the field on rushing downs. He wasn't truly effective last season unless Terrell Suggs was healthy and on the field. I don't believe he's worth the five-year, $40 million contract the Browns gave him.
Plus, the Ravens front office came up aces yet again with the signing of pass-rusher Elvis Dumervil. Ever since "FaxGate" made Dumervil a free agent, Baltimore targeted him, and got their man, as Elvis chose to sign with the Ravens instead of returning to the Denver Broncos.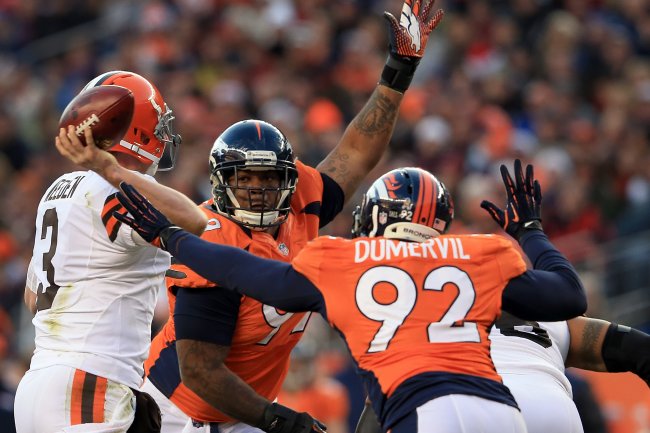 Doug Pensinger/Getty Images
Let's not minimize what this signing represents. Newsome and DeCosta were smart enough to let Kruger hit the market, knowing that they'd be able to choose from a cavalcade of veteran pass-rushers to replace him. Did they necessarily expect a player of Dumervil's quality to become available? Probably not. But, the fact of the matter is, Dumervil is a far superior player at this point to Dwight Freeney, Osi Umenyiora or John Abraham, and the Ravens were able to lock him up at a lesser price than the Browns paid Kruger, a player with much less career production.
Losing Reed hurts, both on the field and in the locker room, but these are the kinds of things that happen when you win a Super Bowl. The Texans offered Reed more than the Ravens were willing to pony up, and Reed walked. Fans should be okay with it, because the front office knows what it's doing.
To illustrate that point, look at what second-year wide receiver Torrey Smith, yet another fantastic draft pick by Newsome and DeCosta, said recently: That he'd trust Ozzie, even if he cut him.
That line speaks volumes about the amount of respect that the players have for the Ravens front office. They know just how good their employers are at their jobs. They know that they're the only franchise over the past five seasons to make the postseason every year. They know that the team has brilliantly transitioned from a defensive powerhouse to an offensive juggernaut.
But, more than anything, the fact that the team just won another title should put fans at ease. Now, Newsome can be more patient than ever, knowing that his legacy is even more solidified than it was before. They won't overpay to keep the core of their championship team alive. 2013 is a new year, with new challenges. Newsome is looking towards the future so soon after winning a title and he should be commended for it, not criticized.
Would you really bet against Newsome and DeCosta having yet another masterful draft, or making even more savvy signings? With their track record, how could you feasibly go against them?
Do the Ravens have the best front-office in the NFL?
In 2013, the Ravens will make the postseason yet again. They will win the AFC North. They will be a threat to win another Lombardi Trophy. This, despite all the players they've lost.
They'll do it with great coaching. They'll do it with exemplary quarterback play. They'll do it with defense.
And, most of all, they'll do it with their spectacular front office.
If you don't recognize that, you aren't paying attention.
Nick Kostos is the executive producer of the "SiriusXM Blitz," hosted by Rich Gannon and Adam Schein, on SiriusXM NFL Radio. You can follow Nick on Twitter.