Down and Dirty 2013 MLB Predictions: NL Central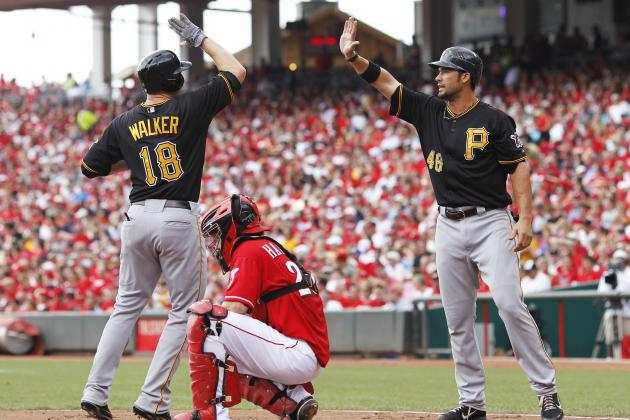 Joe Robbins/Getty Images

What makes a fresh baseball season so beautiful?
Maybe it's that moment when you first open the newspaper and see the standings, to find every team tied at zero. It's the only time during the season where every team has an equal chance to succeed. Even the Astros, however briefly, can take comfort in not yet being mathematically eliminated.
Or it could be the weather, that warm Spring air that we've all come to associate with the start of a new season. It's that scent of the trees blooming mixed with the familiar smell of ballpark nachos that wafts into the bleachers—but there's something else in the air, too. Something it's hard to put a finger on. What do they call it?
Oh! That's what it is—hope.
That's the best thing about April, the possibilities.
For perennial basement-dwelling teams, it's the prospect of a fresh slate and the thought that maybe, just maybe, we'll turn things around this year. It's the rookies who made the cut out of training camp for the first time, out on the field to prove themselves every night, as they strive to define themselves as big leaguers. Or it's the grizzled veterans at the tail-ends of careers, determined to have one more strong year before they hang it up.
Going into last season, the NL Central had lost two of its star sluggers in Albert Pujols and Prince Fielder, and the new landscape was expected to usher in an era in which pitching and defense would dominate. It did exactly that.
The Reds and Cardinals responded with two strong, well-balanced teams that ended up making the playoffs by manufacturing runs and playing excellent defense. Neither team sported a lone superstar who overshadowed the rest. The teams that did—the Pirates with Andrew McCutchen or the Brewers with Ryan Braun—were left out in the cold.
Should we expect the coming season to be any different?
This winter yielded no major free agent acquisitions for any NL Central team, but several have quick-developing youth movements in place. Milwaukee's Yovani Gallardo is set to prove that he's a bona fide ace, Pittsburgh's Starling Marte and Jose Tabata are poised for breakout years, and the Cubs' young infielders Starlin Castro, Darwin Barney and Anthony Rizzo are one of the smoothest-fielding groups in the league.
Whatever the outcome, it will be a season of pure, gritty, National League-style baseball in the Central. And man, will it be fun to watch.
The following predictions are as much speculation as anything, just one casual fan's thoughts based on a few things he's observed. They're not meant to be set in stone.
We all know what the swings of the season are like. An unexpected contender will emerge from obscurity and make the playoffs. Expected 100-win teams will plummet and start eyeing next year's early draft picks.
And that's really why we're all fans of the game. Because now and always, whether you're a Yankees fan with ingrained championship expectations, or a Pirates fan just holding out hope for a winning season, we all have a chance.
Begin Slideshow

»
Ralph Freso/Getty Images

Projected Lineup: CF David DeJesus, SS Starlin Castro, 1B Anthony Rizzo, LF Alfonso Soriano, RF Nate Schierholtz, C Welington Castillo, 3B Luis Valbuena, 2B Darwin Barney
Theo Epstein's latest rebuilding project rejoiced in not finishing last in the division in 2012, despite losing 101 games. No longer having the Astros as a cushion, however, presents a challenge for 2013, because their schedule gets that much tougher as a result.
In the same way that an ace pitcher can be a "stopper," and put an end to losing streaks, the Cubs could always look forward to the next time the Astros were in town as a remedy for extended periods of futility. Not any more.
So the Cubs have a little to prove this year, as they attempt to make clear that they will not be assuming the role of divisional doormats. And they've got more pieces in place than you'd think: They've got a young core of hitters, and a slew of veterans on board to help lend a hand where they can. In fact, the Cubs have a lot of the attributes you'd expect to see on a real, contending team.
Which is why you'll probably see a lot of these guys moved at the trade deadline: Contending teams are going to want them. The Cubs are essentially a team full of great fourth outfielders, spot starters and defensive subs.
Matt Garza will almost certainly be moved this summer, set to be a free agent after the season. If the Cubs are lucky, they'll find a taker for Carlos Marmol. And David DeJesus might get shipped off to open a spot for young center fielder Brett Jackson.
So who does that leave the Cubs with?
Starlin Castro has the makings of a superstar, if he can stay focused out on the field. As great of a pure hitter as he is, he actually cost the team an estimated two runs last year with his poor base running (Baseball-Reference). He was caught stealing 13 times in 38 attempts, and I don't even know how many times he was picked off because he simply wasn't paying attention, as that's not an official stat.
Anthony Rizzo should be a centerpiece of the team for many years to come. He was called up from Triple-A Iowa last June and immediately started tearing up National League pitching. A full season in 2013 could see him end with 30 homers.
Finally, there's Jeff Samardzija, who has all the tools to be a bona fide ace.
His 2012 was better than his 9-13 record. Six of his losses were quality starts, and he seemed to only get stronger as the season wore on before being shut down in September due to nearly doubling his inning total from the previous year.
Samardzija's five-pitch arsenal is an excellent mix of speeds, from a fastball that dials up to about 95, to a splitter in the high 80s to the hammer he can drop on you at 75. With so much variety and deception, it's no wonder he finished second in the National League in strikeouts per 9 innings, behind only Gio Gonzalez.
It's clear that a plan is in place for the Cubs' future. As more veterans get traded away and young stars get locked down with contracts, we see Theo's rebuilding plan begin to reveal itself. The only question is, will it be 2015 or 2016 when it all comes together?
Projected Finish: 71-91, Fifth place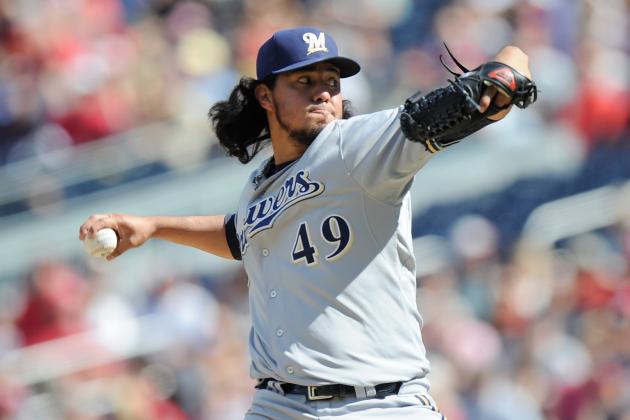 Greg Fiume/Getty Images

Projected Lineup: RF Norichika Aoki, 2B Rickie Weeks, LF Ryan Braun, 3B Aramis Ramirez, 1B Corey Hart, CF Carlos Gomez, C Jonathan Lucroy, SS Jean Segura
The Brewers have come so far since their years of rebuilding, it'd be a shame if this core group didn't produce them at least one trip to the World Series. They were close enough to taste it in 2011, and wouldn't this year be a great year to win the whole thing?
Overcoming all the adversity of Ryan Braun's mounting PED allegations. Restoring faith in a frustrated fan base after not having the payroll to retain guys like Prince Fielder and CC Sabathia. And really sending a message to the rest of the small-market teams out there that, yes, we're just as capable of competing.
Ah well, we can dream, right?
It looks like this year's group will have too many uncertainties going into the season to be a viable candidate for a championship.
First base will be a bit of a void for the first couple months, with Corey Hart rehabbing his knee and regular backup Mat Gamel out for the year with a torn ACL. The position looks to belong temporarily to veteran Alex Gonzalez, but the loss will be felt throughout the lineup until Hart's return, and will significantly affect the way opposing teams pitch to these guys.
Say that Ryan Braun connects for a two-out double—which ordinarily could be a rally igniter. With no protection behind Aramis Ramirez in the lineup, opponents will pitch around him, leaving a sub-par fifth-place hitter to probably ground out and end the inning. Ron Roenicke might have to do some creative restructuring of this lineup if he wants to see any run production.
And, come to think of it, an unlikely source of power might be Carlos Gomez. I'll bet you didn't know that he hit 19 home runs last year. And he has simply ripped the cover off the ball this Spring, so look for him to stay hot.
But it's pitching that ultimately will make or break a team, and in the Brewers' case, it has historically been the latter.
Yovani Gallardo is the staff ace, and last year he successfully implemented his new stud hairstyle, averaging 4.7 Antonio Banderas references per nine innings.
Kyle Lohse joins the Brewers rotation this year, who will be required to wear a large placard on his jersey throughout the season that reads, "I cost my team a draft pick." He's a work horse when healthy, and definitely a better pitcher than the albatross he's been made out to be by the media these last few months.
Lohse will be followed by Mike Fiers and Marco Estrada, each of whom have great strikeout stuff, averaging over one K per inning last season. Rookie Wily Peralta rounds out the group, a flame-throwing righty who may have the biggest upside but also the least experience, so there may be a learning curve as he faces big league hitters for his first full season.
And we have to talk about the bullpen, because it was downright awful last season. Every game, it seemed like, a different guy would blow the lead. I mean, you know your 'pen is bad when you have to try and bolster it with Livan Hernandez.
But looking ahead, a dramatic shuffling of the bullpen staff has provided an intriguing outlook for the coming year.
If not better, it'll at least be different. Mike Gonzalez was added in case Roenicke decides he wants to blow the game from the left side. They also brought on Tom Gorzelanny, a nice veteran presence who is coming off two pretty decent years splitting time between the bullpen and the rotation in Washington.
We're going to find out pretty early in the season whether the Brewers really have what it takes to muscle out another playoff appearance.
I see either one of two outcomes: Either they fall flat on their face right out the gates, or a couple unexpected young guys step up, start producing and cause me to rethink most of what I've just written. All it takes is one or two hot streaks to turn not just the fans, but the guys on the team themselves into believers.
Projected Finish: 74-88, Fourth place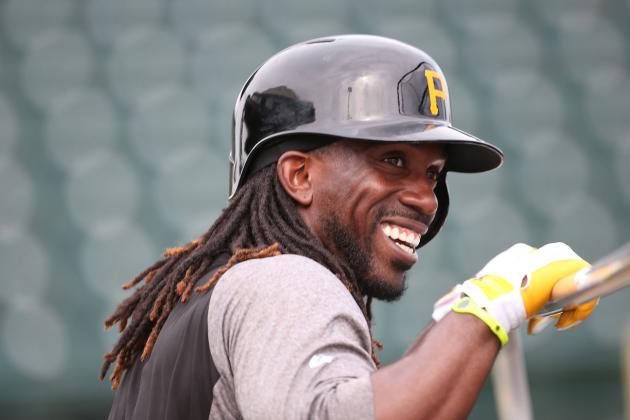 Leon Halip/Getty Images

Projected Lineup: LF Starling Marte, RF Travis Snider, CF Andrew McCutchen, 1B Garrett Jones, 2B Neil Walker, 3B Pedro Alvarez, C Michael McKenry, SS Clint Barmes
The last time the Pirates were a .500 ball club, Miley Cyrus wasn't alive, Michael Jackson was a healthy shade of mid-to-dark tan and kids were playing a new Nintendo game called Street Fighter II.
And if you think kids these days are obsessive about MLB: The Show, you've never spent hours on end trying to beat Blanka in Street Fighter. Just when you're about to land the knockout blow, he does that move where he turns into a ball of electricity and kills you. Seriously, what was that about?
But, I digress.
The Pirates quietly did a few things well last season, despite their never-ending media coverage in their quest to win that elusive 82nd game. Their pitching was very good. And now that the younger guys have another year of experience under their belts, they could be even better.
Losing seasons build character!
A.J. Burnett heads up the rotation after a career year in which he won 16 games. He is 36 years old now, but he's a guy who can be counted on to make every start, and more or less get the job done on a regular basis.
Following Burnett are Wandy Rodriguez and James McDonald, two reliable starters who can always keep you in ballgames. And people forget about Jeff Karstens, because he isn't flashy and doesn't throw 95, but he can shut you down just the same and allows fewer walks than just about anybody in baseball.
The bullpen lost All-star closer Joel Hanrahan, but has a number of guys who are capable of stepping in to fill the role. Jason Grilli is the man who has earned the job outright with his performance, posting a 2.91 ERA as the primary setup man last year. And right behind him is Mark Melancon, who is coming off of a year that wasn't nearly as bad as his 6.20 ERA suggests.
Sure, Melancon struggled a little in Boston, but that's just a case of a reliever having trouble acclimating to the stage that is Fenway Park, a condition that I like to call the "Eric Gagne jitters." In reality, he just got hit hard. And as a pitcher, sometimes that happens. His 12 walks allowed in 45 innings suggests that he wasn't having any trouble finding the strike zone, and in fact, he was probably just finding too much of it.
The outlook for the offense, however, is bleak.
Andrew McCutchen is coming off of career highs in home runs (31), RBIs (96), batting average (.327) and MLB: The Show cover appearances (1). The problem is, around the midway point of last season, the league figured out that the rest of the Pirates' lineup offered Cutch little protection. As a result, he didn't see much to hit after the All-Star break, and the Pirates' playoff chances took a dive as a result.
Without any supporting guys to perpetuate rallies and score runs, the talents of a lone superstar are pretty much wasted.
With no notable offensive upgrades over the Winter, the one candidate for a hitter to (casually) watch might be Starling Marte. A homegrown prospect who was called up to the majors last July, Marte is a speedy, leadoff-type hitter who strikes out more than he should. He'll hit for an average around .280 or .290, with quite a few doubles and triples thrown in that will make his strikeouts tolerable.
Another impact bat this year could be Jerry Sands, one of the prospects that the Red Sox sent over in exchange for Joel Hanrahan. He's still learning how to deal with big league pitching—apparently they throw these pesky things called sliders here—but he could end up with a corner outfield or first base job if he gets his swing working. This is something to keep an eye on, because his swing is one that has potential to hit 30 home runs a year.
I'm going to give the Pirates the benefit of the doubt, and say that their pitching will win them more games than their deplorable offense will lose them.
What sort of predictions would these be if I didn't forecast what we're all secretly rooting for anyway—A media field day, completely overshadowing the teams who actually made the playoffs, as the Bucs win number 82 on the final day of the season.
Raise that, Jolly Roger!
Projected Finish: 82-80, Third place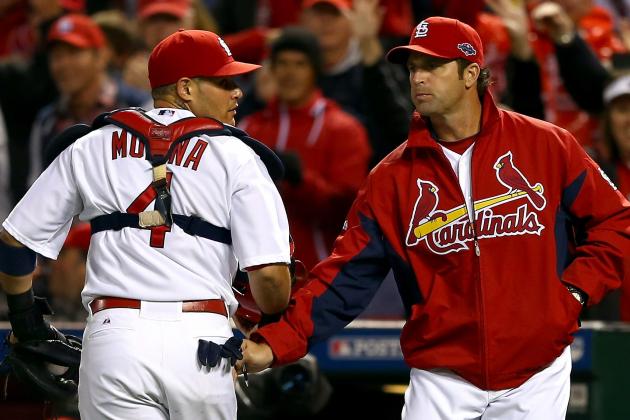 Elsa/Getty Images

Projected Lineup: CF Jon Jay, RF Carlos Beltran, 3B David Freese, LF Matt Holliday, C Yadier Molina, 1B Allen Craig, 2B Daniel Descalso, SS Pete Kozma
I've got to believe that the spirits of Tony La Russa and Dave Duncan still live in the clubhouse at Busch Stadium, because the Cardinals still seem to have a knack for turning average hitters into clutch machines, so-so pitchers into aces and a lineup of nobodies into a team that damn near won the pennant.
Really, who are these guys? Had anyone even heard of Allen Craig before last year? Lance Lynn? Pete Kozma?
So it stands to reason that much of the holdover class from 2012, as well as whatever kids come out of the woodwork this year, will keep the Cardinals well in the running.
There are a couple of contingencies, though.
The rotation will be missing Kyle Lohse, who threw 211 innings last year. That void is to be made up this year by the 22-year-old Shelby Miller, who up to now has started just one game at the big league level and who can't be expected to come even close to Lohse's innings total.
This means that other guys will need to pick up the workload, and it will probably fall on the middle- to late-inning relievers. It will be a true test of the Cardinals' bullpen, which has been a strength but is not accustomed to being pushed to this level.
The savior that ends up emerging in the late innings could be Trevor Rosenthal, whose performance last October you may have missed only because he was so dominant that if you blinked he was already out of the inning. In case you need a refresher: Throughout the playoffs, this kid pitched 8.2 innings in relief, gave up two hits, no runs and struck out fifteen.
It remains to be seen what the franchise's grand plan is for Rosenthal, and it's quite possible that he moves to the rotation sometime this year if there is a need.
It seems, as it does every year for this club, that the cards are stacked against them. Without a starter who can be called an ace, without even a real shortstop to speak of, it seems foolish to pick these guys to win over the strong caliber of opposition in the National League.
But why not?
We've seen the Cards overcome this type of skepticism many times over, and for every way that this team doesn't fit the bill of what a championship team is supposed to look like, it's those unorthodox attributes that bring this club together. And in the end, they become an even more cohesive unit for it.
Projected Finish: 91-71, Second place, National League Wild Card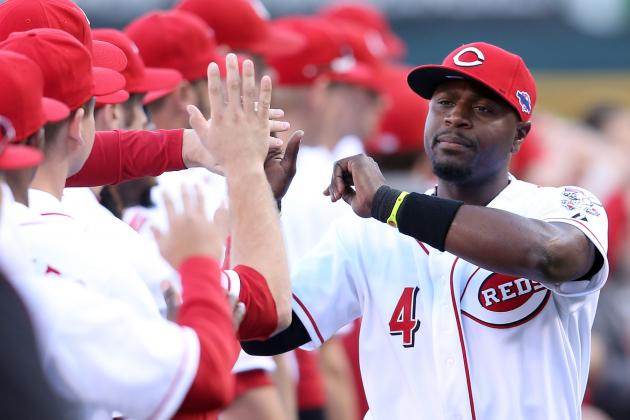 Andy Lyons/Getty Images

Projected Lineup: CF Shin-Soo Choo, 2B Brandon Phillips, 1B Joey Votto, RF Jay Bruce, LF Ryan Ludwick, SS Zack Cozart, 3B Todd Frazier, C Ryan Hanigan
If you recall, one of the most competitive playoff series of 2012 came in the Division Series, when the Giants narrowly edged out the Reds. Cincinnati never quite seemed to stay down. Down 6-0 at one point in Game 5, timely hitting and quality at-bats enabled the Reds to climb back in the game and force a nail-biter ending as the Giants pulled out the win in the ninth.
Of all the teams in the postseason, the Reds seemed like they were among the most cohesive, exhibiting great starting pitching, a shutdown bullpen and a lineup that was clicking on all cylinders.
And you have to remember, they did that all without a healthy Joey Votto.
Votto's nagging knee injury reduced him to an unspectacular singles-hitter for most of September and the postseason. Well guess what? Votto's back. And he's sporting an OPS of 1.109 this Spring.
And not only should the Reds see some major dividends from his returned power, Votto will be faced with new opportunities this year, in that he actually will get to hit with men on base. In 2012, the Reds' first and second place hitters combined for a .282 on-base percentage. This meant that more often than not, Joey Votto was partying all by himself out there on the diamond.
This year, Shin-Soo Choo is the leadoff hitter, a guy who has made a career of getting on base. Cleveland moved him to the leadoff spot last year, where he promptly posted a .389 on-base percentage. He also gives the Reds another power-speed hybrid guy, and now between Choo and Brandon Phillips, opposing pitchers are going to be terrified of this top-of-the-order's production.
The pitching staff returns pretty much intact from a season ago, but the Reds have thrown around the idea of shifting closer Aroldis Chapman to the starting rotation. The latest word is that he'll be the closer after all, but this is probably because the Reds realized that they already had five solid starters and didn't have room for him. Chapman provides very good insurance if one of them goes down with injury, though.
Another reason for keeping Roldy in the 'pen might be the lack of talent there to replace him.
The Reds signed Jonathan Broxton to a three-year contract over the offseason, but putting games in his hands is risky, as you never know what you're going to get. In Kansas City last year, he was sometimes effective, but he walked a lot of guys. When he came to the Reds, he walked virtually no one and struck out nearly a batter an inning. Call it a hot streak, or a welcomed change of scenery, but I still don't trust a guy whose effectiveness fluctuates so much.
However the roles change as the season pans out, it's evident that Chapman will need to be a big part of the plan if the Reds want to make it far into the postseason. And if he ends up pitching 120 innings this year instead of his usual 70, then god help National League hitters.
Projected Finish: 99-63, First place