Comparing Geno Smith and Matt Barkley as 2013 NFL Draft Approaches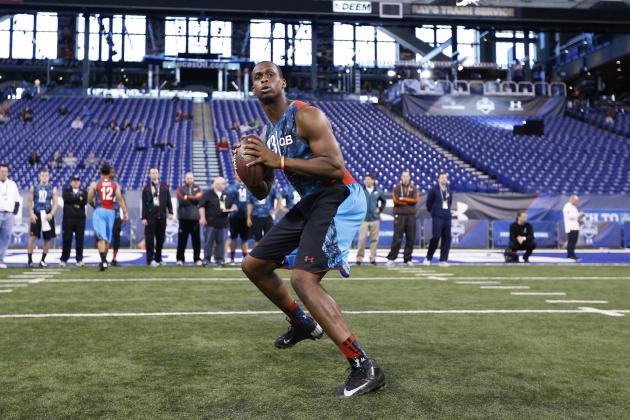 Joe Robbins/Getty Images

Last year the NFL draft was a goldmine for quarterback prospects.
The three leading candidates for the NFL Offensive Rookie of the Year award were undoubtedly Russell Wilson of the Seahawks, Andrew Luck of the Colts and Robert Griffin III of the Redskins.
Griffin III went on to win the award, an impressive feat considering the quality of candidates.
This year, there are only two quarterback prospects that have consistently stuck out that are considered potential first round picks, according to mock drafts on NFL.com.
Those two prospects are Geno Smith from West Virginia and Matt Barkley from USC.
The consensus amongst most draft experts is that Smith is the better of the two prospects.
But how do the two compare when stacked up against one another on different variables that make or break a signal-caller?
Begin Slideshow

»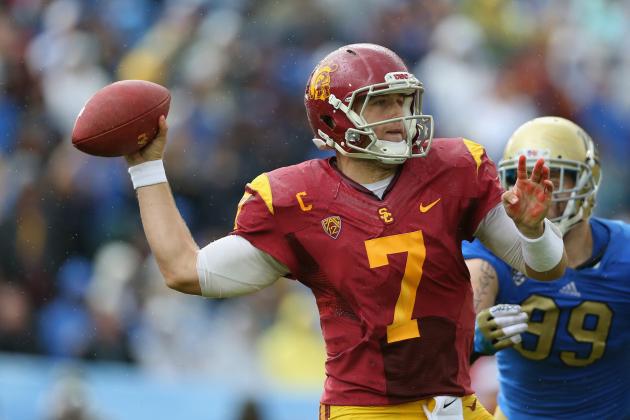 Jeff Gross/Getty Images

One of the defining factors of any prospect in the draft that scouts look at is the level of competition they faced in college.
Notre Dame linebacker Manti Te'o's draft stock has tumbled after his terrible showing against Alabama, followed by his poor outing at the NFL combine.
For Barkley, he faced tough defenses almost on a weekly basis. According to the USA Today's total defense rankings, USC faced four defenses in the top 30 in the country, and eight in the top 50 in its 13 games.
It's average opponent's total defense ranking was just shy of 55.
However for Smith, his Mountaineers routinely faced lesser defenses in the Big 12—which is known to be a quarterback-friendly league.
In the 12 FBS games that West Virginia played, Smith did face six defenses inside the top 50 total defense rankings, but he also faced five outside of the top 80 and three outside of the top 100.
The average total defense ranking that Smith faced was nearly 67.
The edge here goes to Barkley.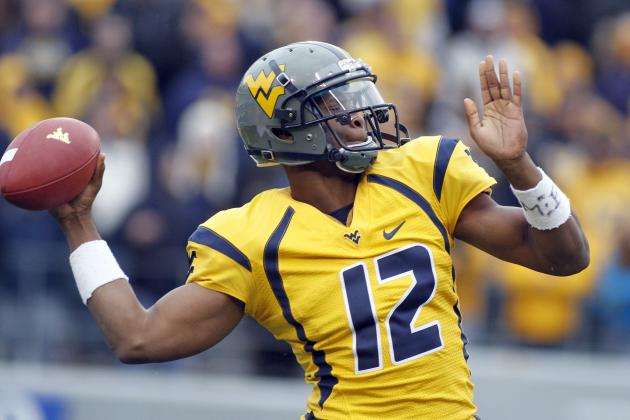 Justin K. Aller/Getty Images

The body of a QB prospect is analyzed over and over again by NFL scouts.
Height, arm strength and durability are all brought into question as to whether a QB can succeed at the NFL level.
While Russell Wilson may have broken tradition by being successful as a quarterback in his rookie year despite his 5'11" stature, height is still a desirable trait in a quarterback.
Barkley stands at 6'2" while Smith edges him out by an inch, standing at 6'3".
Arm strength is also a crucial part of a quarterback's draft stock. One barometer of arm strength is yards per attempt. Both Barkley and Smith ranked in the top 25 in the country last season in that category.
Barkley ranked 15th in the country by averaging 8.5 yards per attempt while Smith ranked 21st with 8.1.
Finally, durability can make or break a career, so scouts tend to lean to prospects who are not injury prone. Barkley is coming off a shoulder injury that cut his season short and also limited him at the combine.
However, Smith never missed a start during the three years he topped the depth chart at West Virginia.
Because the questions as to whether Barkley can fully recover from his injury will linger, Smith at the moment has the better physical attributes.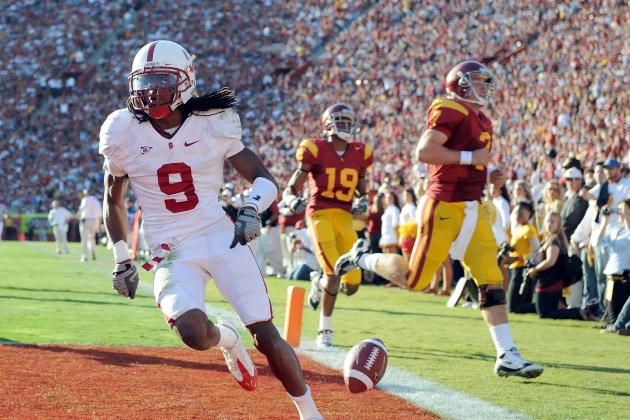 Harry How/Getty Images

While being durable and having a quality deep ball are certainly great characteristics in a QB prospect, accuracy is a must.
Too many interceptions can cost a QB his job quickly in the NFL.
Barkley threw 15 interceptions during his senior year, which was the most out of all four years he started at USC and was eight more than his junior campaign. His touchdown-to-interception ratio in his senior year was 2.4.
As for Smith, he didn't even throw a pick last season until his seventh game against Kansas State and even that ball was tipped and landed in the arms of linebacker Arthur Brown. He only threw six interceptions total last season and had a touchdown-to-interception ratio of seven.
Completion percentage is also a great way to measure a quarterback's accuracy. Barkley completed 63.6 percent of his passes while Smith completed 71.2 percent of his.
Smith clearly established himself as the more accurate QB last season.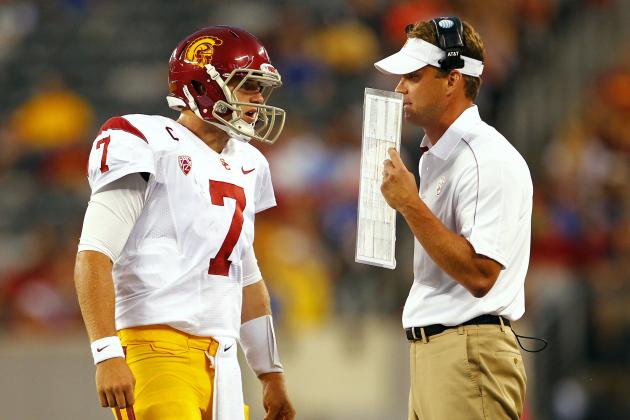 Rich Schultz/Getty Images

Having a coach with a good acumen for what it takes to be an NFL QB certainly doesn't hurt a prospect's chances.
When it comes to NFL talent though, Lane Kiffin at USC has a slight edge over Dana Holgorsen at West Virginia.
As an offensive coordinator at USC, Kiffin oversaw Matt Leinart's Heisman career. Then when he got to Oakland, it was rumored that he opposed drafting JaMarcus Russell with the first overall pick in 2007, who turned out to be one the NFL's biggest draft busts of all time.
Now as head coach at USC, he has built a system that allowed Barkley to be successful during his four years of starting.
Before Barkley announced last year that he would return to USC for his senior season, Kiffin was asked about whether he wanted Barkley back or not, and Kiffin responded with nothing but praise for his quarterback,
"He'll be a franchise quarterback forever for whoever drafts him--and they should be dying to draft him because with what they'll see on film and then once they meet him, this is the spokesperson for your franchise," Kiffin said. "If you draft a quarterback in the top half of the first round, he better have it all or you ain't winning. And Matt has it all."
As for Holgorsen, his "Air Raid" style offense has certainly produced big numbers over the years, but he has failed to produce a successful quarterback in the NFL so far—also having no coaching experience in the NFL.
As an offensive coordinator at Texas Tech under Mike Leach, Graham Harrell lit up the gridiron, but went undrafted and is currently buried in the depth chart at Green Bay.
Similar things have happened to other quarterbacks under his tutelage including Case Keenum from Houston.
Brandon Weeden, who was mentored by Holgorsen at Oklahoma State, was drafted in the first round in last year's draft but he was ineffective as the team's starter and only won five games.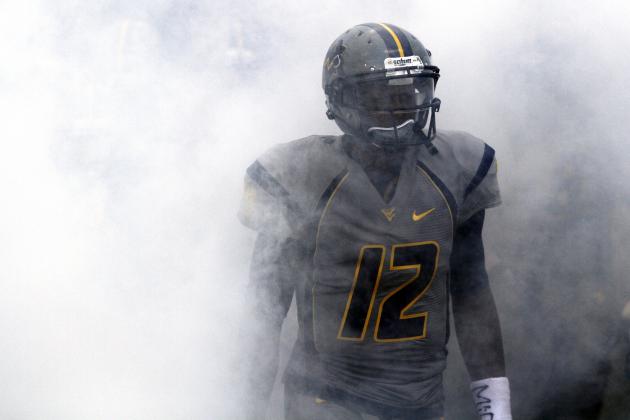 Justin K. Aller/Getty Images

As the old saying goes, numbers don't lie.
Statistically, both these quarterbacks tore it up their senior year despite failing to put up wins on a more consistent basis. According to ESPN.com though, Smith beat out Barkley in almost every statistical category.
Smith ranked fifth in the country in quarterback rating (163.9) while Barkley ranked 11th (157.6). Smith was tied for third in the nation with 4,205 yards passing, while Barkley ranked 27th on the list with 3,273 yards.
Granted, Barkley did miss the final two games of his career, which has an obvious negative effect on that statistic.
In terms of who threw the longest pass on the year, Smith also has the edge. He hoisted up an 87-yard bomb against Baylor in a game where both teams combined for 133 points. Barkley found Marquis Lee for an 83-yard strike against Utah during the season.
However, Barkley was sacked fewer times than Smith. Barkley hit the turf 14 times, while Smith was sacked 19 times.