How LeBron James Builds a Late-Game Takeover for the Miami Heat in 6 Easy Steps
LeBron James mugs for the camera during a game against the Bobcats on Sunday.
Marc Serota/Getty Images
It's no secret that LeBron James' ridiculously high level of play is the reason for the Miami Heat's 26-game win streak. That is not a huge revelation, but it should not be overlooked either.
Sure, the entire team is playing like a unit possessed. But—as it has been ever since he went from being the Akron Hammer to the Miami Mallet—the Heat live and die by the play of their king.
Miami is finally playing like everyone thought they would when James and Chris Bosh first arrived in South Beach. The Heat have not lost since Feb. 1, and are beginning to close in on the NBA record 33-game win streak held by the 1971-72 Lakers.
It is not like the road has been completely smooth for the Heat. They have had a few scares along the way, most notably to the Kevin Garnett-less Celtics and the Kyrie Irving-less Cavaliers last week.
In both games, the Heat faced large deficits and strong performances from their opponents. Also in both games, the Heat won once James decided to assert his will on whoever was unlucky enough to get in his way.
At this point, other teams should see it coming. There is a formula James seems to be employing to make sure the Heat keep winning while still making sure their games are entertaining.
The Celtics and Cavaliers games are perfect case studies for breaking down just how LeBron has made the rest of the league kneel before his majesty.
Step 1: Spot Your Opponent 10-30 Points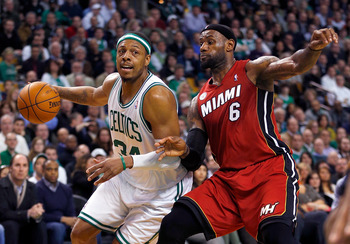 James guards Paul Pierce during a March 18 game in Boston
Jim Rogash/Getty Images
The Celtics led by as much as 17 in the first half of their game against the Heat. Jeff Green was on fire, scoring a career high 43-points. Paul Pierce chipped in 17 points just to make the Heat's life a little more difficult.
Remember, the Celtics were without both Garnett and Rajon Rondo, whose season ended after tearing his ACL in January.
Cleveland was missing Irving and Dion Waiters (its other top scorer). The rest of the Cavs picked up the slack for their fallen stars, and they were leading the Heat 73-53 with 3:28 left in the third quarter.
Wayne Ellington led Cleveland with 20 points, Tristan Thompson contributed 18 and Tyler Zeller had a double-double with 12 points and 11 rebounds.
Keep in mind that this is not how you should play basketball.
For everything the Heat have done right on this streak, their tendency to dig themselves deep holes is not conducive to winning against teams like the San Antonio Spurs or Oklahoma City Thunder.
Or maybe they are just doing it for the entertainment value. As long as it keeps working no one will question it.
Step 2: Start the Comeback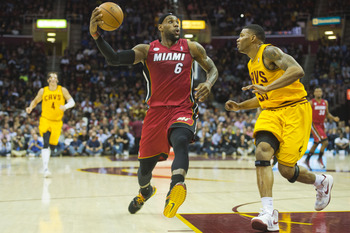 James drives to the basket during a March 20 game in Cleveland.
Jason Miller/Getty Images
At a certain point during games where the Heat are trailing big, James tends to decide he has had enough. He knows there is no one in the league equipped to stop him.
Sometimes he will start hitting jumpers, especially threes. Maybe he will become a slasher and get to the line a few times. Either way, you know when James has determined it is comeback time.
Just ask the Celtics and Cavs.
Miami weathered the first half storm from the Celtics and had cut the 17-point deficit to six by halftime after a 15-6 run. The Heat proceeded to score the first eight points of the third quarter to take the lead.
Boston kept it close until the end, but everyone in the arena probably knew it was over once the Heat cut it close.
Remember that 20-point deficit against Cleveland? By the end of the third quarter, the Heat had cut that lead to six points after hitting six of eight shots on a 15-1 run.
They then started the fourth quarter with a 17-2 run that included four combined threes from James and Ray Allen. And when James is hitting threes, the Heat are borderline unstoppable.
Step 3: Get Your Teammates Involved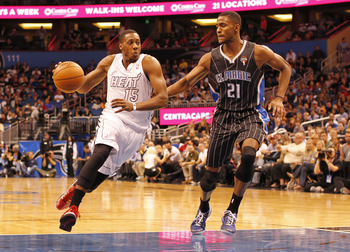 Mario Chalmers drives against Orlando's Maurice Harkless yesterday.
Gary Bogdon/Getty Images
The Heat will always be James' team, but even the king can't do it alone. The Heat have amassed an amazing supporting cast for the Big Three this season.
The roster contains elite shooters (Ray Allen, Shane Battier and Mike Miller), unspectacular but solid point guards (Mario Chalmers and Norris Cole), and decent big men (Joel Anthony and Udonis Haslem). If you look really close, you might even get a Birdman sighting.
Through 24 games on this streak, LeBron James and Dwyane Wade are averaging a combined 49.8 points. Bosh is usually good for 15-20 points and 8-12 rebounds a game.
When the rest of the Heat are firing on all cylinders, there is just no hope of beating them. It seems to be that simple.
Actually, it gets simpler: if Chalmers is scoring, chances are the Heat are going to win.
Chalmers dropped 21 points on the Celtics and 17 on the Cavaliers. That is not to diminish the contributions of the rest of his teammates, but he seems to be a dependable gauge on how well the Heat's second-fiddles are doing.
This is exactly why the Heat are so dangerous: Even if teams manage to shut the Big Three down, everyone else on the roster has the potential to step up and hit big shots.
Battier and Allen in particular are battle-tested and have a history of showing how cold-blooded they can be in pressure situations. Those are qualities that are geared toward late-game success.
Step 4: Demoralize Your Opponent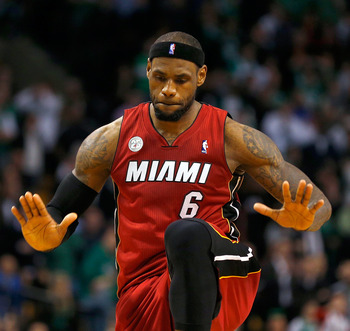 A candid James moment during the game against Boston.
Jim Rogash/Getty Images
There was an easily identifiable moment in both of these games where anyone watching knew the Heat were going to win. There were instances where a smart fan would think to him or herself, "it was nice while it lasted."
And of course, they both involved James.
For the Celtics, that moment was a dunk. The Heat were on a fast break, and Mario Chalmers lobbed the ball up for James. The only line of defense was Jason Terry, who has probably never blocked a shot in his career.
James slammed it down, violently threw Terry to the ground and stared him down after the play. He must have said something too because the refs gave him a technical. It was probably the most rewarding technical of James' life.
The moment in the Cleveland game was not even James' fault. A fan ran on the court and asked James to come back to Cleveland.
Take that in for a second. A fan of the team that James left in the most despicable way possible probably got himself arrested just to beg James to return home. If that does not demoralize the home team, nothing will.
Step 5: Avoid Late Game Collapses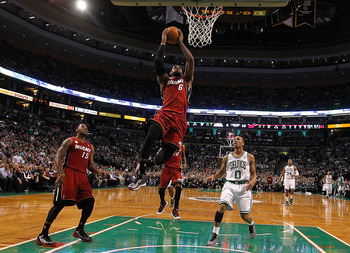 James goes up for a dunk against the Celtics.
Jim Rogash/Getty Images
To their credit, the Celtics and Cavs both kept their respective games close until the end.
The Celtics stuck with the Heat and had the score tied at 103 with 33 seconds to play. It was the Heat's ball, and the Celtics let James touch the ball. That was their first mistake.
James dribbled out the shot clock and sunk a jumper from the right wing for what turned out to be the game-winning shot. Talk about having ice in your veins.
The Cavs came even closer to ending the Heat's win streak. The Heat were up 96-95 with 5.2 seconds left when Wayne Ellington missed a crucial jumper. Guess who hit two free throws for Miami to secure the game?
Yep, James.
Remember when James used to be afraid to take big shots in the fourth quarter? Thanks to performances like these, neither does anyone else.
Step 6: Finish with Stats Fit for a King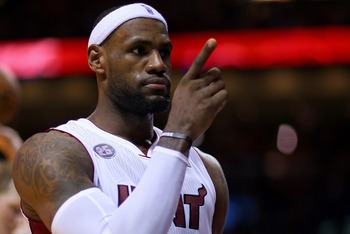 James looks serious in a March 22 game against the Pistons.
Mike Ehrmann/Getty Images
James has set the standards pretty high for his stat lines. Performances like those he had in Boston and Cleveland epitomize these expectations.
He dropped 37 points on the poor Celtics. Combine that with his 12 assists, and he accounted for 64 of the Heat's points. The only time he has exceeded that mark all season was Feb. 26 against the Kings, when he was responsible for a whopping 77 points.
As usual, he gave Cleveland his A-game. James ended that game with a triple-double, tallying 25 points, 12 rebounds and 10 assists. No wonder that fan wanted him back so badly.
At this point, anything less than 20 points, 7 assists and 8 rebounds would be a disappointing game for James. Those would be unreal expectations for anyone except him.
Anyone afraid that he will revert to the 2011 James who would shrink when the pressure mounted need not fear. The man is at a good place mentally right now.
If he keeps playing at this level, there is absolutely no reason the Heat cannot break the Lakers' win streak. Put the ball in James' hands down the stretch and anything is possible.
Keep Reading

Miami Heat: Like this team?