Breaking Down the Coaching Matchup in Every Sweet 16 Game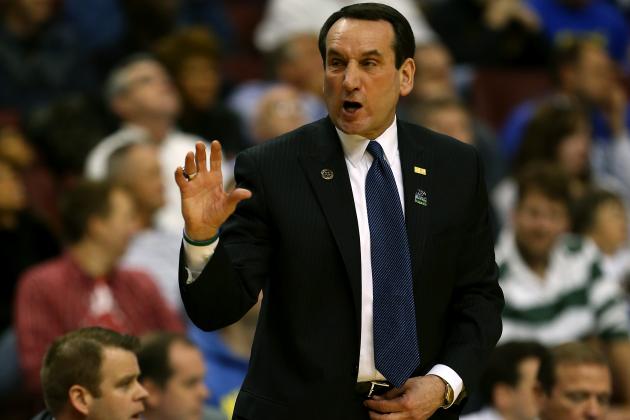 Elsa/Getty Images

This Sweet 16 in the NCAA tournament features some excellent coaching matchups.
Combined, the 16 coaches have taken their teams to 35 Final Fours and won 10 national titles.
There are the household names like Mike Krzyzewski and Tom Izzo. Then there are the coaches who the public is just now finding out about like Andy Enfield and Dr. John Giannini.
Here is a breakdown of the coaching matchups in every Sweet 16 game.
Begin Slideshow

»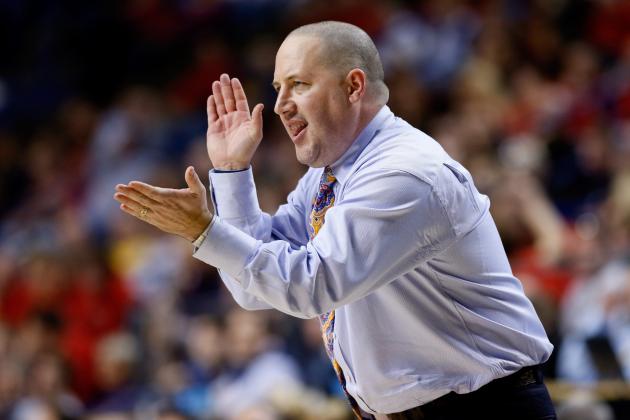 Kevin C. Cox/Getty Images

Jim Larranaga vs. Buzz Williams
Larranaga has certainly been around the block. He has been a head coach at the Division I level since 1986. Of course, he is best known for taking George Mason to the Final Four in 2006, but Larranaga has been to the Big Dance on five other occasions, including this one with Miami.
The biggest attribute Larranaga brings to Miami is leadership. His team is experienced, but it didn't have any NCAA tournament experience before this year. Larranaga has been there, and he can better guide his team because of it.
This is the third straight year that Marquette has reached the Sweet 16 under Buzz Williams. Williams is one of the rising stars in the coaching profession, and his name seemingly comes up in almost every major head coaching vacancy.
There isn't anything flashy about the Golden Eagles. They win with toughness and a blue-collar mentality.
Edge: Larranaga
Tom Crean vs. Jim Boeheim
Tom Crean has done an excellent job rebuilding the Indiana program after the Hoosiers had some down years thanks to NCAA violations that occurred during Kelvin Sampson's tenure.
Crean has done a nice job keeping talent in-state, and Cody Zeller was a big part of that. The Hoosiers play an up-tempo style and like to get out in transition.
Jim Boeheim is one of the most accomplished coaches in the history of college basketball. He has won 918 games in his 37 seasons at Syracuse and 50 NCAA tournament games, including the 2003 national title game.
The Orange will play their patented 2-3 zone, creating issues with their length and blocking shots. Offensively, Syracuse will pound the offensive glass.
Edge: Boeheim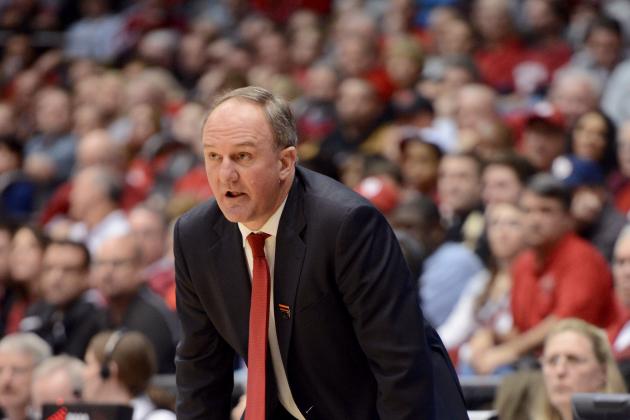 Jason Miller/Getty Images

Thad Matta vs. Sean Miller
Thad Matta and Sean Miller go way back. They coached together on the same staff under Herb Sendek at Miami (Ohio) back in the mid-90s, and Matta was Miller's boss at Xavier from 2001-04 before Miller took over when Matta left for Ohio State.
Matta has been to the NCAA tournament 11 of the 13 years he has been a head coach and has won a game once he has gotten there on 10 occasions. He has been to two Final Fours, including a runner-up result in 2007.
Miller, meanwhile, has been to the NCAA tournament six of his nine years as a head coach. He has made it to at least the Sweet 16 four times with a couple Elite Eight appearances sprinkled in as well.
Edge: Matta
Gregg Marshall vs. Dr. John Giannini
Gregg Marshall has built a very good program at Wichita State with the last three years resulting in an NIT championship and two NCAA tournament appearances. Now, the Shockers are in their fifth Sweet 16 in program history.
Before he got to Wichita State, Marshall had Winthrop hitting on all cylinders with seven conference tournament titles in nine years. He even led Winthrop to an NCAA tournament victory in 2007, the first ever for the Big South conference.
Dr. John Giannini is in his first-ever NCAA tournament. For La Salle, it is its first tournament appearance since 1992 and first Sweet 16 since 1955.
Giannini began his head coaching career at Division III Rowan, where he won the 1996 national championship. From there, Giannini took over at Maine, registering four winning seasons in eight years.
Edge: Marshall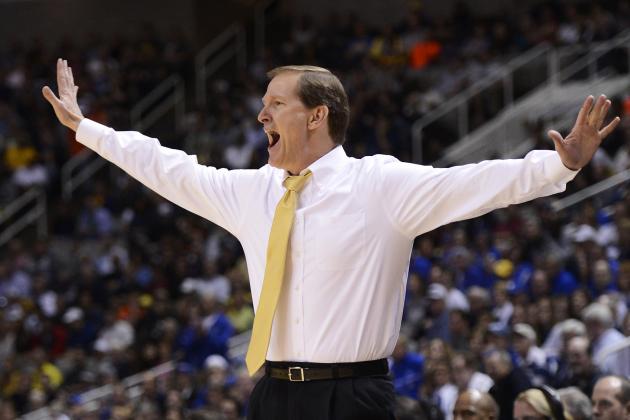 Thearon W. Henderson/Getty Images

Rick Pitino vs. Dana Altman
Rick Pitino could win at any college in the country. He has taken three different schools to Final Fours and won a national title with Kentucky back in 1996.
Since arriving at Louisville in 2001, Pitino's teams have played excellent defense. The Cardinals have ranked in the top five of defensive efficiency five of the last six years, according to KenPom.com.
Dana Altman has been a head coach at the Division I level since 1989. He made a name for himself at Creighton, where he led the Bluejays to seven NCAA tournament appearances in his 16 years on the sideline in Omaha, Neb.
Edge: Pitino
Mike Krzyzewski vs. Tom Izzo
Mike Krzyzewski and Tom Izzo are two of the best coaches in all of college basketball. They have combined for 17 Final Fours and five national titles. Krzyzewski and Izzo have led two of the most consistent programs in the country.
Krzyzewski does an excellent job adapting to his personnel. Duke has won by getting up and down the court when it has had supreme talent, but it has also won by slowing the pace and playing a half-court game.
Izzo has been to six Final Fours since 1999. In one of the more impressive stats, every player who has attended Michigan State and stayed four years under Izzo has played in at least one Final Four.
The Spartans look like they do seemingly every March. They are succeeding with toughness and on the defensive end of the floor.
Izzo got the better of Coach K back in 2005 when Michigan State beat Duke in the Sweet 16. The Spartans would go on to play in the Final Four that year.
Edge: Krzyzewski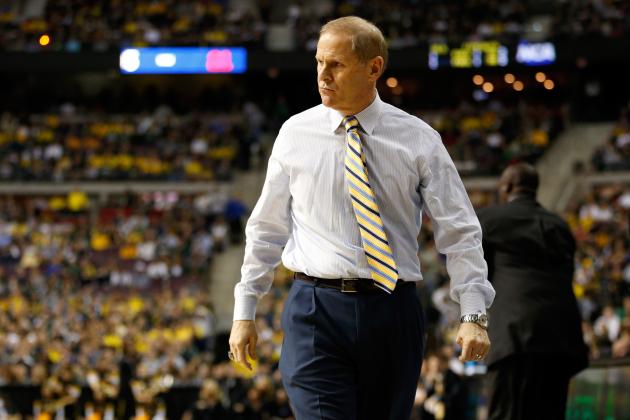 Gregory Shamus/Getty Images

Bill Self vs. John Beilein
Bill Self has emerged in his tenure at Kansas as one of the best college basketball coaches in the country. In his 10 years in Lawrence, the Jayhawks have made the NCAA tournament every year, and they have been a top-four seed in each of those 10 tournaments.
During that time, Kansas has made it to the Final Four twice and won the national title in 2008.
Before Self got to Kansas, however, he had success at Oral Roberts, Tulsa and Illinois. Self took both Tulsa and Illinois to the Elite Eight.
John Beilein has literally won at every level of college basketball. He began his head coaching career with Erie Community College, registering four winning seasons before taking the job at Division III Nazareth College. There, he won 20 games in his only season.
After that brief stop, Beilein went to Division II Le Moyne, where he had a winning record in seven of his eight seasons.
Edge: Self
Billy Donovan vs. Andy Enfield
Billy Donovan has taken Florida to three Final Fours, and he has won two national titles in 2006 and 2007, the first back-to-back championships since Duke in 1991-92.
The last two years, Donovan has taken Florida to the doorstep of his fourth Final Four appearance with two trips to the Elite Eight.
Andy Enfield is in just his second year as a head coach, but he has already made a tremendous splash, leading Florida Gulf Coast to the Sweet 16. The Eagles are the first No. 15 seed to advance to the second weekend of the tournament, and they have captivated the nation with their high-flying act.
Before Enfield took over at Florida Gulf Coast, he was an assistant under Leonard Hamilton at Florida State from 2006-11.
Edge: Donovan