Kansas City Chiefs: Best and Worst Moves This Offseason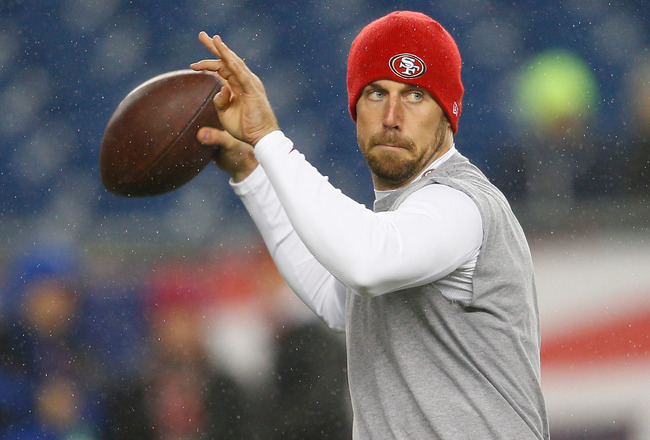 By giving up their second-round pick in 2013 and a conditional pick in 2014, the Chiefs have a lot invested in new quarterback Alex Smith
Jim Rogash/Getty Images
Coming off a 2-14 record that was the worst in franchise history, it was expected by most that new general manager John Dorsey and head coach Andy Reid would make changes.
The number of changes that the team has made, along with their aggressiveness in free agency, is what has surprised most Chiefs fans.
Good, bad or indifferent, there is no denying that Dorsey and Reid are going to turn this team into a winner doing it their way, or they're going to exhaust all their options trying.
The team has re-signed several of their existing players, let go of others and aggressively pursued trades. This offseason easily goes down as the team's most active in recent memory. What remains to be seen is how all these moves will work out in the long run.
Here are the best and worst moves made by the Chiefs this offseason.
Best: Signing Free-Agent Lineman Geoff Schwartz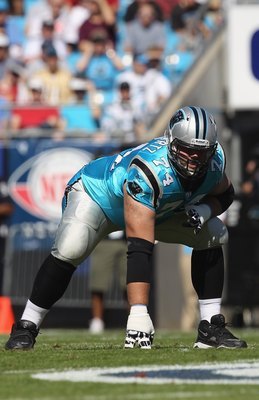 Schwartz is a veteran who provides the Chiefs with an experienced backup at both guard and tackle
Streeter Lecka/Getty Images
At 6'6" and 340 pounds, Geoff Schwartz is an enormous man.
A former seventh-round pick of the Carolina Panthers, Schwartz has paved the way for some record-breaking running backs in his days in the NFL. In 2009, he was part of the Panthers line that allowed DeAngelo Williams and Jonathan Stewart to become the first pair of teammates to each rush for 1,000 yards in the same season.
Schwartz, who missed all of 2011 on injured reserve, spent 2012 as a contributor on Minnesota's offensive line that opened up holes for Adrian Peterson's near single-season record 2,097 yards.
Needless to say, running back Jamaal Charles is probably very happy to see the former Oregon Duck come to town. And even if Schwartz doesn't start for the Chiefs, his ability to come off the bench and perform at a high level will make him the top reserve at guard and tackle.
Worst: Release of Eric Winston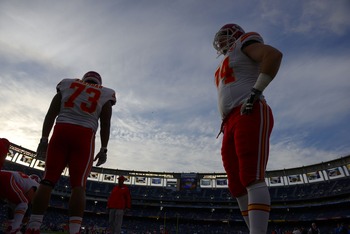 The sun set quickly on Winston's days in Kansas City when the team released him earlier this month
Donald Miralle/Getty Images
With the exception of saving the Chiefs roughly $4 million of cap space, the move by the Chiefs to release former starting right tackle Eric Winston was somewhat puzzling.
Granted, last season may not have been Winston's best at protecting the quarterback. And his locker room tirade toward Chiefs fans after seeing former quarterback Matt Cassel knocked out did not endear him to many.
But at the end of the day, Winston's release likely speaks more to the team's draft strategy and possibly their confidence in second-year tackle Donald Stephenson and newly signed Schwartz.
Best: Signing Free-Agent Defensive End Mike DeVito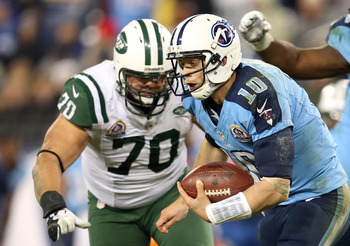 Former Jet Mike DeVito finally provides the Chiefs with the prototypical 3-4 defensive end they've needed.
Andy Lyons/Getty Images
Mike DeVito isn't going to remind Chiefs fans of former greats Neil Smith, Art Still or Buck Buchanan.
What DeVito will do is show effort on every down and play the 3-4 defensive end spot like no one has played it for the Chiefs since they adopted the scheme a few years ago.
He is replacing former defensive end Glenn Dorsey, who was like a square peg in a round hole playing end after spending his college days as a 4-3 tackle. The former New York Jet will be reunited with Chiefs defensive coordinator Bob Sutton, who coached DeVito the past six seasons in New York.
So while fans won't likely see any home run swings after a game-changing sack from DeVito, they will see a huge presence in defending the run and a guy who will free up the Chiefs' stellar linebackers to make big plays.
Worst: Renegotiating the Contract of Tyson Jackson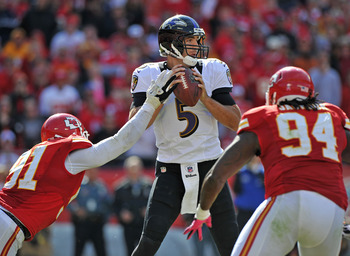 Tyson Jackson has never come close to the high expectations of being a top draft pick
Peter Aiken/Getty Images
For a team whose fans want to do everything they can to forget the failures of former general manager Scott Pioli, Pioli's biggest mistake will still be on the field for the team in 2013.
If Tyson Jackson was a late first-round pick back in 2009 as many expected him to be, his adequate stats as a 3-4 defensive end would probably be acceptable to many Chiefs fans. However, the former third overall selection has not come close to deserving the $14.72 million Pioli had the Chiefs on the hook to pay him in 2013.
So with the option of cutting their losses with Jackson, the new regime chose to retain the 26-year-old Jackson in hopes that Sutton can help him further develop at a much lower salary of $4.2 million. For many Chiefs fans, even that's too much to pay the underachieving end from LSU.
Best: Re-Signing Wide Receiver Dwayne Bowe
Coach Andy Reid hopes that new quarterback Alex Smith can make better use of Dwayne Bowe than Matt Cassel did.
Gregory Shamus/Getty Images
Averaging 65.1 yards per game throughout his career, wide receiver Dwayne Bowe is the franchise's all-time leader and a huge part of the Chiefs passing game that they could not afford to lose.
His 4.7 receptions per game trails only future Hall of Fame tight end Tony Gonzalez (4.8), and with the exception of running back Jamaal Charles, no other player's performance has a greater impact on how well the Chiefs offense performs.
Despite the presence of Charles and Reid's pledge to emphasize the run this season, the team didn't trade for new quarterback Alex Smith to just hand the ball off. Bowe will be Smith's main target and could once again rise to an elite level as one of the NFL's best in 2013.
Worst: Signing Free-Agent Wide Receiver Donnie Avery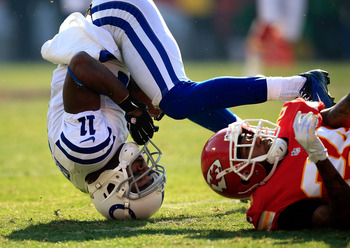 With Dexter McCluster already on the roster, it remains unclear what Avery's role will be in 2013.
Jamie Squire/Getty Images
If there was one thing the Chiefs receiving corps lacked in 2012, it was speed.
So in an effort to address that need for speed, Dorsey and Reid went out and signed the NFL's leading receiver in drops in 2012 in former Colt Donnie Avery.
Avery dropped one of every six passes thrown his way in 2012. And for a speedster, Avery averaged just 13.0 yards per catch for three touchdowns. Neither of those stats really puts him in the "game-breaker" category.
With other more productive receivers like Wes Welker and Danny Amendola on the market at discounted rates when the Chiefs signed Avery, this acquisition may be the one with the biggest potential to flop.
Best (if Traded): Signing Left Tackle Brandon Albert to Franchise Tag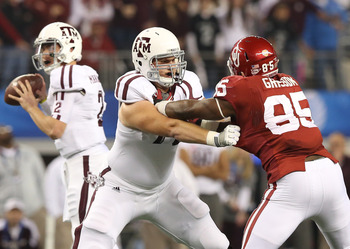 Trading Albert will remove any possibility of him causing any locker room distractions when the Chiefs select one of the draft's top left tackles.
USA TODAY Sports
For general managers in the NFL, if you make a mistake with the first overall selection in the draft, you may as well draft up your own walking papers.
Because of the high price of not making the right selection with the top overall pick, most general managers opt for the "best player available" strategy. After all, if every expert across the league says a guy is going to be great, who's left to blame you if everyone was wrong?
That is the predicament Chiefs' GM John Dorsey finds himself in.
The consensus best player in this year's draft is left tackle Luke Joeckel. For some, he's the second-best player behind another left tackle in Central Michigan's Eric Fisher.
So if Dorsey is to do what's in his and the team's best interest, he will trade Albert, as has been suggested by ESPN's Adam Schefter.
If the rumors are accurate, and the Chiefs are able to deal Albert for a second-round pick this year and another pick in next year's draft, it will be the equivalent of the Chiefs hitting the NFL's version of the Powerball jackpot.
The Chiefs' greatest remaining need is that of an inside linebacker. While there are several overpriced and aging options available in free agency, there should be several good options available in the second round of the draft.
Unfortunately, the Chiefs sent their second-round pick to the 49ers for Alex Smith and without finding a way to get back into that round, they may miss the boat entirely on drafting a starter at linebacker. If the team wants a long-term solution at not only left tackle, but also potentially at inside linebacker, they need to trade Albert.
Worst (if Not Traded): Signing Left Tackle Brandon Albert to Franchise Tag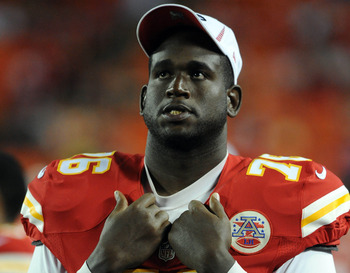 The best scenario for the Chiefs is if Albert is in another team's uniform in 2013
John Rieger-USA TODAY Sports
2013 could be full of drama if the Chiefs can't find a trade partner for Albert, and still select either Joeckel or Fisher with the first overall pick,
Prior to deleting his Twitter account, Albert adamantly told inquiring fans that he is a left tackle, and would not consider switching positions to make room for Joeckel or Fisher. Unless signing his $9.828 million franchise tender changed his mind, Albert could end up being Reid's most expensive headache if he's ultimately asked to make way for some new young stud.
Needless to say, that's a risk the Chiefs simply can't afford to take.
Keep Reading

Kansas City Chiefs: Like this team?