MLB Preview: An in-Depth Breakdown of the AL Central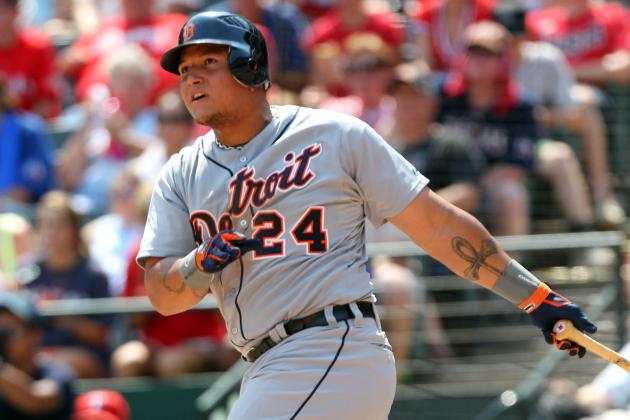 Layne Murdoch/Getty Images

Now that March is winding to a close, the 2013 baseball season is nearly upon us. The 2012 season saw the AL champion emerge from the Central division, as the Detroit Tigers wound up coming out on top.
However, they fell short of their goal of winning a World Series. The 2013 version looks even better yet, though, in what should be a much improved Central division.
The competition will be much tougher, as both the Royals and Indians have improved themselves tremendously.
Here's a look at what to expect from all five teams, and a projected finish for each of them.
Begin Slideshow

»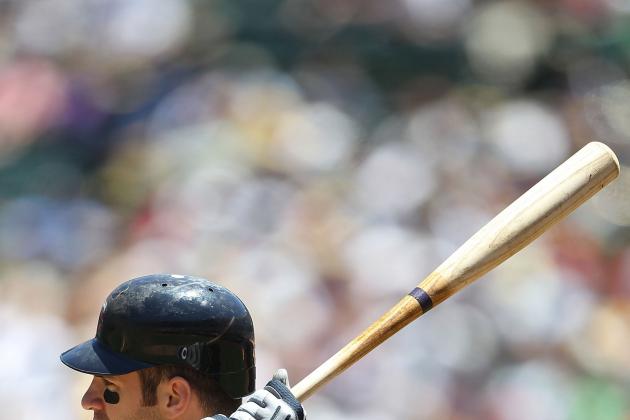 Jed Jacobsohn/Getty Images

The Minnesota Twins were once a proud organization, but have fallen on very hard times recently. The last two seasons have been brutal for them, as the club has nearly lost 100 games each year.
From 2001 to 2010, the Twins amazingly finished over .500 every year but one (2007). That's a far cry from what we've seen out of them recently.
Unfortunately for them, 2013 doesn't look like it will be any better; in fact, it may even be worse. It is extremely hard to criticize this organization, but they did almost nothing to improve themselves this past offseason.
Plus, they said goodbye to key players such as Denard Span, Ben Revere, Carl Pavano and Matt Capps.
A few of the free agent moves the organization did make were head scratching and don't make much sense. Kevin Correia and Mike Pelfrey were brought in, but both are back of the rotation starters.
Rich Harden was also signed, but he has been constantly plagued by injuries and didn't even pitch in the majors last year.
One of the few solid moves the club did make was acquiring Vance Worley in a trade with the Phillies. Worley is still only 25 but will be a very solid starter for the Twins sooner rather than later.
Outside of Worley, though, the rotation looks bleak. It will be interesting to see if Scott Diamond can sustain the success he saw last season as a rookie, as that would help the rotation immensely if he could.
The aforementioned Pelfrey and Correia are mediocre additions at best, and the rest of the potential starting options don't bring much to the table. Liam Hendriks and Cole DeVries are still young and have potential, but haven't shown much yet in their careers.
Brian Duensing and Nick Blackburn have been mainstays in this organization, but their chances have come and gone. As a whole, the outlook on this rotation looks dim.
Unfortunately, the starting lineup doesn't look much better. Justin Morneau just hasn't been the same since his infamous concussion, causing others to be relied upon heavily to pick up the slack.
Josh Willingham and Ryan Doumit have somewhat, but Doumit doesn't provide the power you'd like to see from a middle of the order hitter. Another key to this lineup's production is whether or not Trevor Plouffe can build off of his breakout season in 2012. Seemingly out of nowhere, he hit 24 home runs while playing in only 116 games.
The big names are still present in this lineup in Mauer, Willingham and Morneau, but there just isn't enough around them for this to be a feared lineup.
If there is a strength on this team it looks to be the bullpen. Glen Perkins should be just fine once again as closer, and Jared Burton and Alex Burnett both return after breakout seasons. Plus, newcomers Rafael Perez and Josh Roenicke should also be part of the mix.
Having a decent bullpen won't be enough to save this team from another disastrous season, though. In fact, this looks like the second worst team in the American League, only beating out the lowly Houston Astros.
Again, it's hard to criticize this organization, but some of their offseason moves were mind-boggling, as little was done to improve the team.
Ron Gardenhire is one of the most respected and classiest managers around and deserves more to work with. For his sake, you'd think more improvements would have been made.
It seemed unthinkable as recently as a few years ago, but it looks like the Twins are on the verge of a third straight 90 loss season and another last place finish.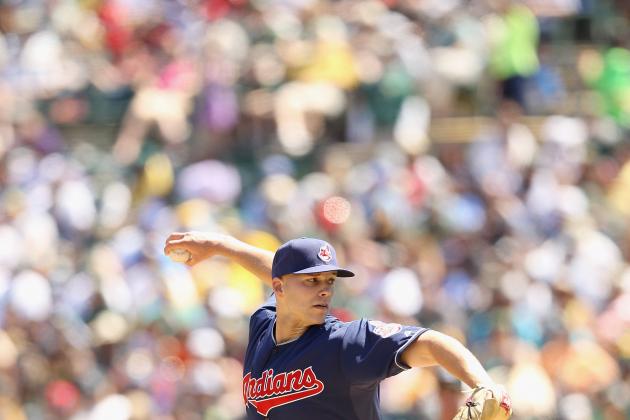 Ezra Shaw/Getty Images

The Cleveland Indians will be a very intriguing team in 2013 for one huge reason: Terry Francona. Francona hasn't managed since his final season with Boston in 2011, as he chose to be a TV analyst with ESPN all of last year.
So how will he do in his first year back? I don't think there's any question he'll be successful in the long run, but the real question is how much success he'll have here in 2013.
The Indians were very bad last year, finishing 68-94 and barely avoiding a last place finish in the division. However, the team made some major changes in the offseason and now have a completely different look.
Most of the changes occurred to the offense. Gone are long-time Indians Travis Hafner, Grady Sizemore and Shin-Soo Choo, but realistically Choo's departure is the only one that will hurt.
Plus, the number of new offensive weapons added heavily outweighs the departures. Brought in were Nick Swisher, Michael Bourn, Mark Reynolds and Drew Stubbs, all of which are projected to start.
All four of those guys bring something different to the table, as Cleveland's lineup actually looks quite solid for the first time in years.
Michael Bourn is an absolute catalyst at the top of the lineup, as he'll hit right around .300 and steal 40 to 50 bases. We all know what Asdrubal Cabrera can do in that lineup, and then potentially facing Carlos Santana and Nick Swisher back to back could be very frustrating for opposing pitchers.
Both Santana and Swisher work the counts as well as anyone around, and both will hit 20 to 30 homers if they stay healthy. Combine that with Reynolds' 40 homer potential and the power numbers look to be a strength for this lineup.
Two huge keys for this offense going forward are the progression of youngsters Jason Kipnis and Lonnie Chisenhall. Neither can be considered prospects anymore, and it's time they both start producing. Kipnis seems to be progressing fine, but Chisenhall is the one that needs to step it up a bit.
While the offense looks to be just fine for Cleveland, the same can't be said for the rotation. If there's one thing that's going to hold this team back mightily, this is it.
Realistically, there is no true ace on this staff. Justin Masterson was on his way to becoming one, but last year's disaster raised some red flags. The days of Ubaldo Jimenez's dominance in a Colorado uniform seem to be a distant memory, as hopes of him ever returning to that form are fading.
Brett Myers was brought in in the offseason, but he's likely a back of the rotation starter. The Indians also took a chance and signed Scott Kazmir, hoping to get the Kazmir that was so good during his days in Tampa Bay. However, he has barely even pitched in the majors over the last two years, so it's unlikely he'll be effective.
One guy to keep an eye on in this rotation is young Zach McAllister. Only 26, he showed flashes of brilliance last season, and could realistically turn into Cleveland's best starter. If Trevor Bauer progresses quickly, he and McAllister could give this team two deadly young arms at the top of their rotation.
While the rotation is somewhat of a disaster, the bullpen is the complete opposite. Chris Perez is solid at closer, and relievers Vinnie Pestano and Joe Smith are both coming off dominant seasons.
Plus, veterans Matt Albers and Matt Capps were both brought in, capping off what looks like a great 'pen.
The Indians just aren't ready to compete for the division because of the mess that is their rotation. Their offense looks solid, but with that being said it's probably not strong enough to carry this team. If the rotation can get things straightened around, this could definitely be a .500 team or better.
However, that's asking quite a bit and that's why I have them finishing 76-86. This will be a very intriguing team that fans all around the majors should keep an eye on, mainly to see the kind of impact Francona will have.
It may be rough going for him in Cleveland at first, but there isn't much doubt he'll find success there in the near future.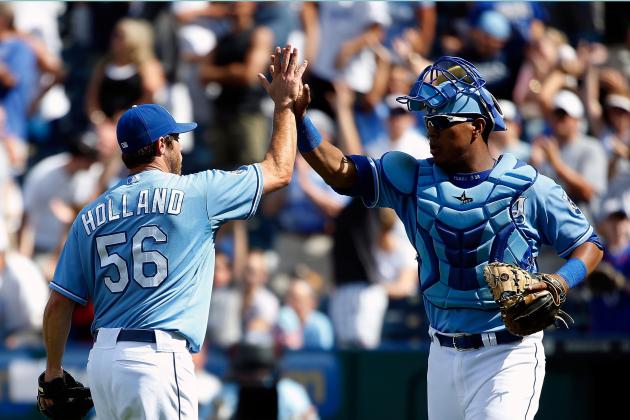 Jamie Squire/Getty Images

Are the Kansas City Royals finally ready to realistically compete for a division title? I'm cautiously going to say yes. Recent history is not on their side, though.
Dating back to the 1994 season, the Royals have only finished over .500 twice in that span: '94 and 2003.
The main reason I think this team is ready to compete here in 2013 is because it addressed what was by far its biggest problem last season: the starting rotation.
The organization went out this past offseason and brought in James Shields, Ervin Santana and Wade Davis, and in the process upgraded this rotation immensely. Place Jeremy Guthrie into the equation for a full season and the Royals look to have four decent starters.
Last year's top of the rotation starters Luke Hochevar and Bruce Chen have now been moved to the bullpen. Speaking of the KC bullpen, it looks to be just as good as last year, if not better.
Greg Holland will be the full time closer, and there's no reason to think he won't be up to the task. Behind him are a number of good young arms that should make this 'pen dominant.
Kelvin Herrera was simply lights out last year, as was Francisley Bueno in the small sample that we saw. Mainstays Tim Collins, Aaron Crow and Louis Coleman are all back again after solid years. Maybe the aforementioned Luke Hochevar will finally be able to cash in on his potential in a relief role.
Combine a very good bullpen with a decent rotation and this offense, and it's easy to see where the optimism is coming from. Hitting hasn't been a problem for the Royals the last few years, and it certainly won't be either this year.
The heart of this order is deadly, as Billy Butler is the guy that everything revolves around. Say what you want about Eric Hosmer, but this guy is simply too good not to bounce back from his sophomore slump. Both his batting average and power numbers will shoot way up this year.
Batting behind those two is what I think one of the most intriguing hitters in the game in Salvador Perez. Amazingly only 22, this young catcher has the ability to quickly turn into one of the game's best backstops. He hit over .300 last year in an injury shortened year, and has the potential to hit for both a great average and tons of power.
Mike Moustakas is another young player that needs to rebound from a tough second half of 2012, as he has the ability to hit 25 to 30 homers. Perhaps one of the biggest keys to this lineup's success last year was Alcides Escobar finally cashing in on his potential.
The former prized prospect had been a huge disappointment so far in his career, but he had a breakout year in which he hit .293 and stole 35 bases. As a whole, this looks to be a very good lineup once again, with plenty of guys who can hit for both power and average scattered throughout.
I cautiously am projecting this team to win 85 games and no more, mainly because of the organization's recent history. The new additions to the rotation are what can put this team over that .500 marker, as the trio of Shields, Santana and Davis are all proven commodities.
In fact, Davis is about as versatile as it gets, having the ability to excel in both a starting and relief role. Santana, on the other hand, is a huge key to this rotation's success. He has shown the ability to be great in both 2008 and 2011, but has been too inconsistent other years. This team needs him to pitch the way he's capable of, but that's not necessarily a given.
I don't think this team will make the playoffs, but it does look like they should finish over .500 for the first time since 2003. This organization has been patient with Ned Yost, and it looks like that is finally paying off as this team has a very bright future ahead.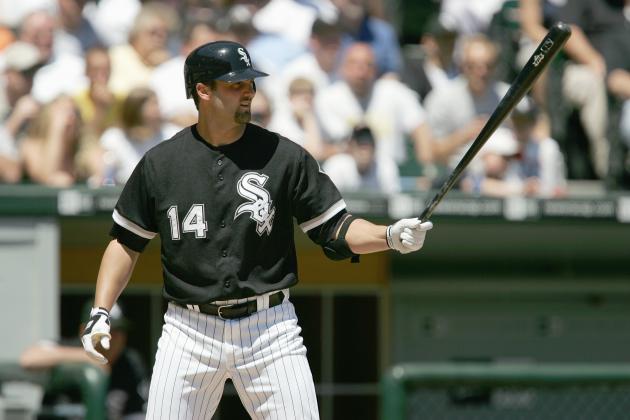 Jonathan Daniel/Getty Images

I have the White Sox finishing 86-76 and one game ahead of the Royals. Robin Ventura was surprisingly very successful in his first season as manager, and it'll be interesting to see if the team can sustain some of that success this year.
Or will last September's collapse carry over and haunt them here in 2013?
The pieces are in place for this to be a very good team, but the mental state of the club is the real issue. Not too many changes were made in the offseason, so they will have pretty much the same look as the team we saw last year.
A quick glance at the starting rotation reveals the potential for this to be one of the best starting units in the AL. Chris Sale was dominant for most of last year, and should seemingly only get better as he ages.
Jake Peavy finally made it through a season without a significant injury, and as a result was unsurprisingly brilliant. The young rookie Jose Quintana was also brilliant when given a chance last year, and will certainly see a large role once again, whether it be in the rotation or bullpen.
The team knows what it will get from Gavin Floyd, as even though he is not a No. 1 or No. 2, he is still solid and reliable. John Danks' return from injury is crucial to this rotation, as he has been very good for them in the past.
With the arms the White Sox have at their expense, it would be surprising if this wasn't one of the best rotations in the AL.
Not only are the starters good, but the bullpen looks very solid as well. Addison Reed appears to be the closer, but it is almost impossible to predict how a young closer like himself will do.
Behind him are veterans Matt Thornton, Jesse Crain and newcomer Matt Lindstrom. Crain has proven himself as one of the best relievers around, and Thornton and Lindstrom aren't far from that status.
Both Nate Jones and Hector Santiago were brilliant last year as rookies, and will look to sustain that success once again. The White Sox have the perfect blend of veterans and young talent in their bullpen, resulting in a 'pen that should be one of the better ones around.
Is the lineup the weakest part of the team? That just might be the case, even though it's not a bad lineup at all. Not many changes were made to it, although longtime mainstay A.J. Pierzynski is gone after his career year of 2012.
Jeff Keppinger was signed as a free agent, though, and will be inserted near the top of this lineup; he hit .325 last year in a Tampa Bay uniform, so signing him to play third base was obviously a great move.
The heart of this order remains pretty much the same, with Rios, Konerko, Dunn and Viciedo making up the core of it. Replacing A.J. Pierzynski with Tyler Flowers is a big downgrade, but hopes were at one time very high for Flowers.
Alejandro De Aza is a catalyst at the top of the lineup, as he should have no problem handling the every day center field job.
As a whole, this certainly isn't a great lineup, but it's definitely not a bad one either. Even if these hitters do struggle at times, this pitching staff looks like it could carry the team if needed.
It'll be interesting to see if Robin Ventura's success last season was a fluke. Again, the mental mindset of this team will be key, as they need to put last season's collapse behind them.
It looks like the White Sox will battle Kansas City for second place in the division. I think this team could possibly reach 90 wins, but placing them at 86-76 seems to be a much safer bet.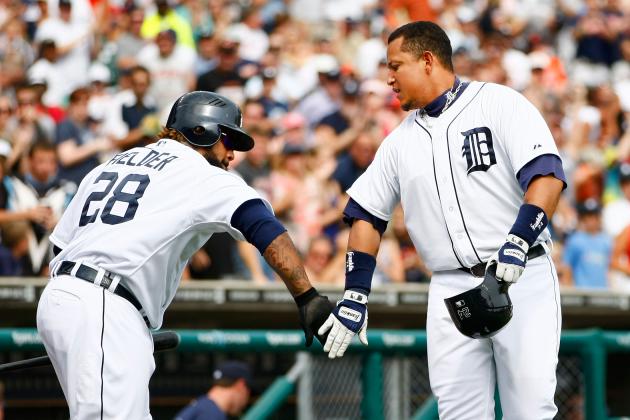 Gregory Shamus/Getty Images

It's no surprise that the reigning AL champs are the favorites to win the Central division for a third straight year. Not only are the Tigers the division favorites, but they just may be the AL favorites as well. As of right now, the LA Angels are the only other team I could realistically consider putting ahead of the Tigers.
This Detroit team that made it to the World Series last year looks to be even better, as it signed key free agent Torii Hunter and is also be bringing back Victor Martinez from injury.
With those two now in this batting order, there aren't too many lineups in the game that appear to be better. The heart of the order is as good as it gets, with Miguel Cabrera, Prince Fielder and Martinez batting 3, 4 and 5 respectively.
Adding Torii Hunter to that No. 2 spot in the lineup will be a huge upgrade as well. Even at 37 years old, Hunter showed that he has plenty left in the tank last year, hitting .313 with 92 RBI. Plus, you're probably not going to find a better clubhouse guy around.
Andy Dirks is no slouch batting behind Martinez, as he hit an extremely impressive .322 last year. The bottom of the lineup does tale off a bit with Jhonny Peralta and Alex Avila, but having a potential .290 hitter in the No. 9 spot with Omar Infante is pretty intriguing.
This lineup should be very tough to stop, as it is scattered with guys who can hit for both power and average throughout. Miguel Cabrera probably won't duplicate the Triple Crown numbers he put up last year, but he will still have some of the best numbers of any hitter in the game.
Expect Prince Fielder's power numbers to go up as well; he hit 30 home runs last year, but we should definitely see more as he gets more and more comfortable here in his second year in Detroit.
Even though the lineup looks like one of the best around, most people consider the rotation to be even better. It contains the game's best pitcher in Justin Verlander, and is followed by three more very solid starters.
Having Anibal Sanchez around for an entire year will help immensely, as will the presence of Doug Fister, who was hurt on and off last year. Max Scherzer is a guy who has the all the potential in the world, but hasn't really been able to put it together over an entire season.
He was dominant over the second half of last season, though, and needs to carry that performance over to the start of this year. The final starter appears to be Rick Porcello, but it is almost impossible to know what to expect out of him. He needs to start delivering, though, as patience is wearing thin.
We saw how good this rotation can be with what they did in last year's postseason, as this unit was literally unhittable at times. Nobody expects a repeat performance, but they just simply need to be consistent, especially Scherzer.
There's no question that the bullpen appears to be the weakness on this team. The closer role is wide open, as young flamethrower Bruce Rondon will start the season in the minors. At this point, a closer by committee approach might not be a bad idea.
Joaquin Benoit saw his fair share of ups and downs last year, and at 35 years old can hopefully bounce back. Having Al Alburquerque back from injury will be a huge boost, as he is one of the keys to this 'pen.
Even though Alburquerque can be lights out at times, there really isn't anyone else in this bullpen that can say that; Phil Coke, Octavio Dotel and Duane Below may be decent in their roles, but none of them are likely to be great.
Brayan Villarreal is a guy that has an electric arm and the potential to be great, but at 25 years old needs to first show he's ready to step up.
Because the lineup and rotation are such strengths for this team, it's not like the bullpen will drag this club down or anything. It could cost them some games, but it's certainly not something that should prevent them from winning the division.
I wanted to project a higher win total than 94, but I also think an improved Central division will have a say in things. The Royals and Indians look to be much better, making navigation through the division not as easy as in recent years.
So is this Detroit team built to make another deep playoff run like last year? Everybody remembers the thrilling ALDS series victory over the Oakland A's, and then the ALCS sweep over New York that all of America seemed to enjoy. But the season then ended in embarrassing fashion, as the Tigers were swept in the World Series.
Hopefully, that memory will make this team hungrier than ever, and allow them to capture their first World Series title since that magical season of 1984.