7 QB Recruits with the Best Gunslinger Mentalities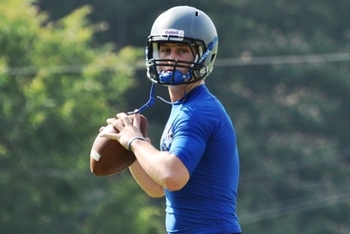 247Sports
Fans love gunslingers. Coaches feel differently because they can cause a heart attack on one play and throw a deep TD the next. Gunslingers are kind of a dying breed of QB these days, as the game managers and more precise types have populated the position.
The best example of a clear-cut, through and through gunslinger was none other than Brett Favre. Favre had a cannon for an arm, though he threw into all kinds of coverages and his mechanics weren't always textbook. Still, he kept going after defenses all game long until his team won.
Finding a gunslinger on the recruiting trail can be a bit tricky, but so far, I think I've found seven guys who fit the mold at least to some degree. Some say having the mentality of a gunslinger is good while others despise it. Regardless, they do come in handy sometimes at the QB position.
Here are seven 2014 recruits who have some sort of gunslinger mentality behind center.
Keller Chryst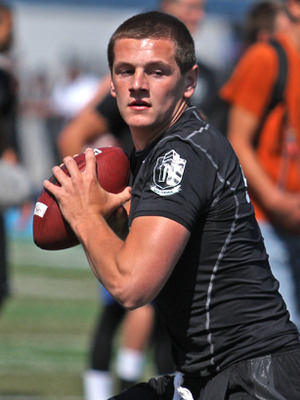 247Sports
Chryst is a good decision-maker at times and does see the field well, so he's not of the typical gunslinger mold. Yet, the 6'3" 215-pounder knows he has a strong arm, and that's why he'll throw off his back foot and take a chance here and there.
Chryst isn't going play like Brett Favre or Matthew Stafford all the time, but he will fight until the end.
Jacob Park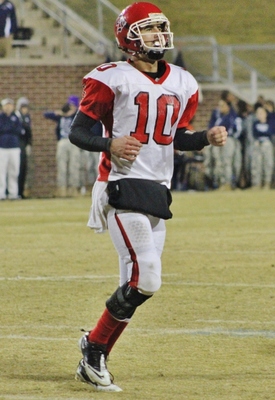 247Sports
Park is a QB who I'm starting to really like more and more each time I watch him. He's got some grittiness to his on-field demeanor and he will toss balls to any receiver that's open from any step in the pocket.
From South Carolina, he's a 6'3", 200-pounder who runs a spread offense and has some mobility. Park will make throws on the run, off his back foot and into tight coverages thanks to his solid arm strength and moxie.
Brandon Dawkins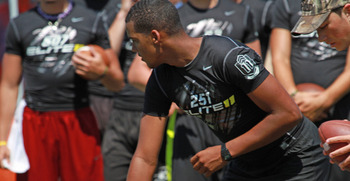 247Sports
Dawkins is already 6'4" and close to 220 pounds while possessing a pretty big blaster for an arm. The thing with Dawkins is that he knows he has a cannon.
Sometimes he'll try to fire the ball into tight windows and he isn't afraid of going deep either. Any team that signs Dawkins will be getting a QB who clearly knows he has good physical tools to make plays a lot of others can't...and that may get him in trouble at times too.
David Cornwell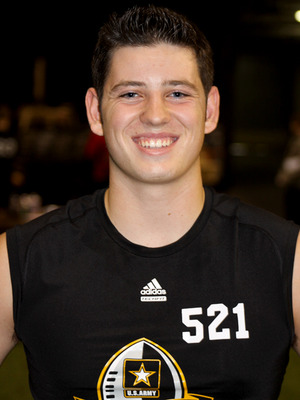 247Sports
The ball explodes out of Cornwell's hand when he throws, and he gets a lot of velocity on his passes. He's awesome on the hoof at 6'5" and 230 pounds, and is not a sitting duck in the pocket.
Cornwell knows he has a powerful arm and small windows, deep outs, deep digs, deep comebacks, posts and go routes do not scare him at all.
Whenever he gets his shot in college, he'll be known as a strong-armed gunslinger.
K.J. Carta-Samuels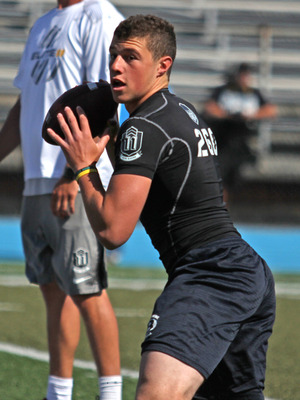 247Sports
Carta-Samuels kind of looks like a linebacker and plays the QB position like one too. He's 6'4" and weighs close 207 pounds while possessing and constantly displaying outstanding arm strength.
Carta-Samuels may throw an interception or two, but you better believe he's going to come back and try to throw twice as many TD passes.
This guy can put the football anywhere on the field with force, and he has a mentality that as long as his arm is attached to his body, his team can win.
Tyler Harris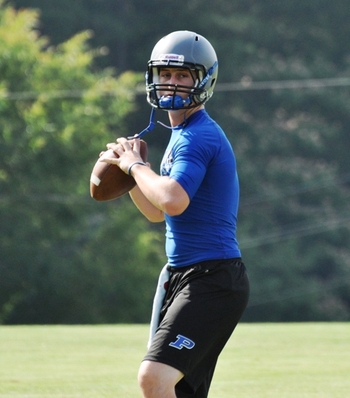 247Sports
Harris is a prototypical gunslinger, totally spurning traditional pocket mechanics at times and relying heavily on his arm.
The 6'3" 200-pound native can operate from the pocket and launch balls all over the place. He's got a big-time arm and receivers see the ball jump on them hot and hard. Harris will test defenders' reaction times by spinning throws into coverage and will keep throwing until he's told not to.
Will Grier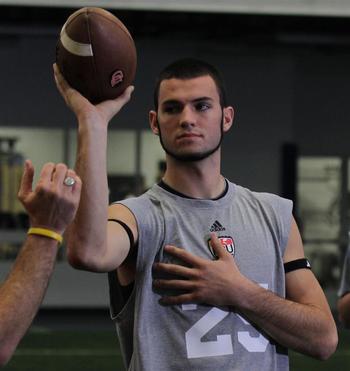 247Sports
You have to be a gunslinger to put up the numbers Grier did last year, highlighted by the 10-touchdown game he had last fall.
Committed to Florida, he's a 6'3", 180-pounder from North Carolina and is a prime candidate for Gatorade Player of the Year and USA Today Offensive Player of the Year.
Grier has a slick set of skills which include solid arm strength, good accuracy, the ability to see windows open up before they do and to find open receivers. He isn't afraid to throw the ball 40, 50 or even 60 times to make sure his offense scores enough points to win games.
Grier isn't going to throw a lot of picks, but when he does, he'll come back out and make up for it and then some.
Edwin Weathersby is the College Football Recruiting Analyst for Bleacher Report. He has worked in scouting/player personnel departments for three professional football teams, including the New York Giants, Cleveland Browns and the Las Vegas Gladiators of the Arena League. He spent a year evaluating prep prospects and writing specific recruiting and scouting content articles for Student Sports Football (formerly ESPN Rise-HS). A syndicated scout and writer, he's also contributed to WeAreSC.com, GatorBait.net and Diamonds in the Rough Inc., a College Football and NFL Draft magazine.
Keep Reading