Breaking Down the Top 10 Most-Used Formations in World Football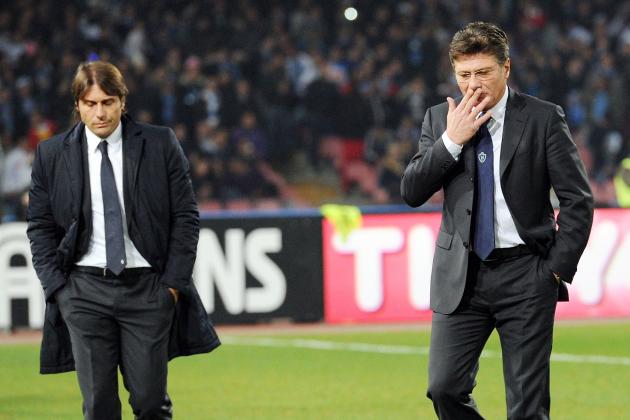 Giuseppe Bellini/Getty Images

We bring you the most-used formations in world football and break them down accordingly, giving current examples and outlining player roles.
Our friends over at WhoScored? compiled totals of each formation's usage across Europe's top five leagues so far this season, giving us an accurate read (as of games played prior to March 30, 2013) on how many times they've been used.
Ranked by statistically confirmed usage, you'll see which system is truly the most popular.
Begin Slideshow

»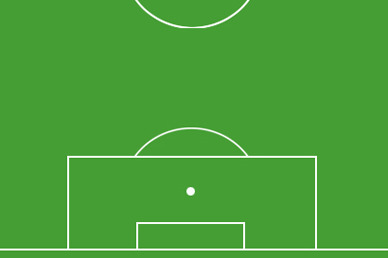 OK, so there are only nine formations used consistently across the top five European leagues.
But to complete the list, we'll give you a bonus formation that can be considered either incredibly archaic or very, very contemporary.
When Wrexham defeated Druids in the 1878 Welsh Cup final, they lined up in a 2-3-5 formation to combat Druids' even more outlandish 2-2-6.
More than 50 years later, the 1930 FA Cup final saw Huddersfield take on the very same shape, but lost to Arsenal, who used Herbert Chapman's increasingly popular W-M.
After that, it pretty much faltered into disrepute—football took a decade-by-decade stride toward reversing that system, and now we see 3-5-2s and 4-5-1s instead.
But Pep Guardiola tried something a little bit special in his final season at Barcelona. Such was the dominance and possession els Blaugrana enjoyed, they could afford to place five men on the forward line and play an unbelievably advanced formation.
It's recapped excellently by Barcelona Football Blog here, and for more details on football tactics in the 1930s, read Jonathan Wilson's Inverting the Pyramid.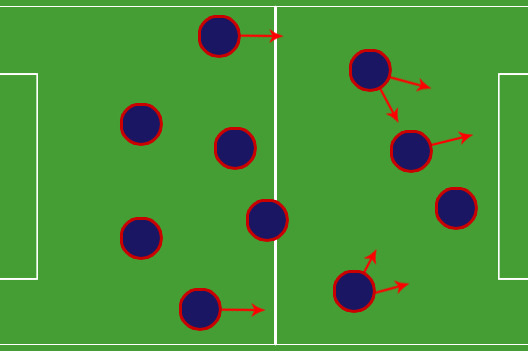 Times used: 12
Most popular in: Ligue 1 (11)
First up is an outrageously fluid formation.
Calling it a 4-2-2-2 is just about passable, but the amount of movement that goes on is absolutely mind-blowing (when used properly).
The back four is pretty standard: the full-backs are required to be capable both offensive and defensively. The central midfield duo usually consists of a destroyer and a playmaker, but the latter isn't a necessity on account of what goes on further up the field.
The two "wingers" act more like fluid inside forwards, dropping in, coming central, testing the width in whatever manner they deem necessary. As such, they must be technically excellent, mobile players who can isolate weaknesses and exploit them.
Among the front two, one will usually drop in a little deeper to pick the ball up from the midfield duo, while one is a consistent presence for the opposing defence to deal with.
In defence it looks like a 4-4-1-1/4-4-2, in attack it ranges from 4-2-4 to 4-2-3-1.
Where have I seen this? Brazil throughout the last 100 years, Carlo Ancelotti's Paris-Saint Germain (2013), Manuel Pellegrini's Villarreal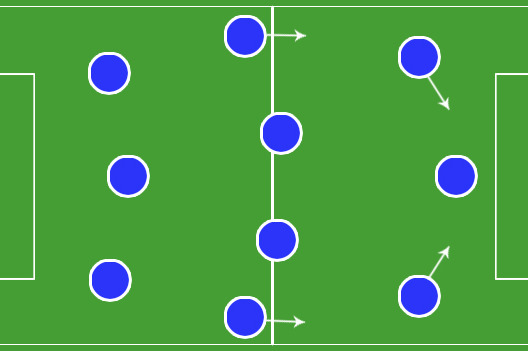 Times used: 37
Most popular in: English Premier League (25)
We're not seeing the 3-4-3 get a consistent amount of love; more, managers elect to use it in one-off circumstances when it will benefit them for a 90-minute period.
That was the case with Barcelona vs. AC Milan, and Jordi Roura managed to overturn a two-goal deficit, defying history to progress at the expense of the Italian side.
The bonus of the 3-4-3 is that the formation doesn't either succeed or fail on performance of the wing-backs. Yes, they're integral, but if they start to struggle the system still utilises two inside forwards on each touchline who can assist.
If a wing-back loses his battle, teams employing a three-man defence can struggle to move up the pitch due to a lack of width. Having four players wide (two each side) makes it a borderline certainty you won't be penned into your own half.
The passing angles created are plentiful, and it's arguable this formation is the best possible way to encourage the short-passing, possession-hungry game many wish to see.
Outside centre-backs can come forward and join in, the midfield two can spray it wide and the link-up play in the wide areas can be a beautiful sight.
Where have I seen this? Wigan Athletic, Marcelo Bielsa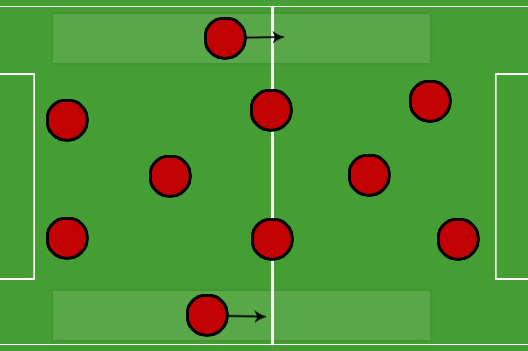 Times used: 108
Most popular in: Serie A (57)
The midfield diamond, 4-4-2 diamond or 4-1-2-1-2 remains a sparsely used formations despite intermittent success stories through the last 30 years.
It incorporates a back four, but requires the full-backs to be very attacking. That suits modern tendencies, and many of the left- and right-back incumbents for top clubs love nothing more than to bomb forward whenever possible.
They need to have have an advanced wide presence as a narrow midfield, without help, with funnel itself in and lose the territorial battle.
The deepest midfielder is usually a regista, the two central mids are workhorses and the attacking midfielder a classic No. 10.
The strike partnership, like in so many formations, is varied and this system can accommodate all varieties.
Where have I seen this? Has anyone truly mastered it? Carlo Ancelotti's AC Milan were effective, but beyond that the odd use from Sir Alex Ferguson, Mircea Lucescu and Walter Mazzarri et al have fizzled out.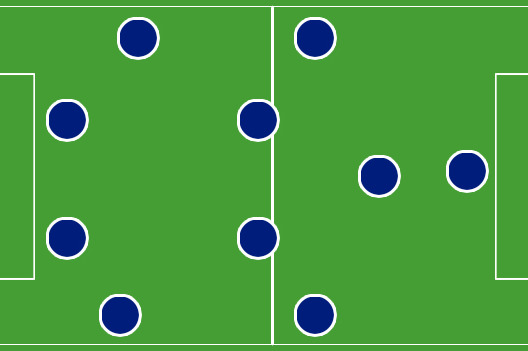 Times used: 181
Most popular in: English Premier League (120)
The 4-4-1-1 is, for want of a better phrase, a very safe option.
The defensive four and midfield four are very standard—the wingers work in tandem with their full-backs to dominate the line and the central midfielders are neither trequartistas nor destroyers.
With just the lone striker up front, it places one man between the lines in the attacking midfield position, but he's far from the classic No. 10.
This player has an incredibly flexible role and will respond to managerial instruction depending on how the game is going—he could join the striker, drop in to make a midfield five or begin to act as a playmaker.
It's that wildcard usage that makes this formation quite conservative, as in effect you are saying "let's see what they do, then respond."
Where have I seen this? Everton, Croatia (2006), Manchester United sporadically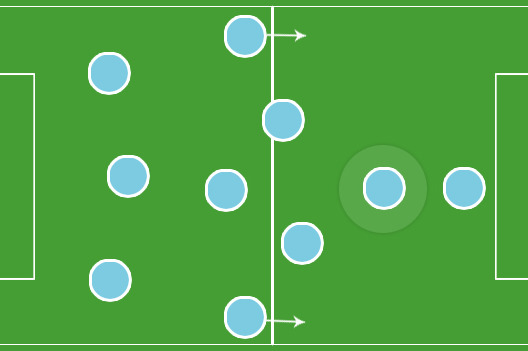 Times used: 182
Most popular in: Serie A (168)
The 3-5-2 formation dominates Italy and is slowly spreading its way across to the rest of Europe.
Many managers have tampered with it on an experimental basis, and we've seen Brendan Rodgers, Roberto Mancini, Paul Lambert and Sam Allardyce try it on occasion.
The central defensive three are, typically, aerial titans. The wider two are mobile and able to move forward into passing lanes and distribute, while the midfield can take many forms.
The deepest midfielder's role ranges from the regista (Andrea Pirlo) to the destroyer (Esteban Cambiasso), and that in turn changes what his two partners' roles are.
The wing-backs consistently roam from byline to byline and provide natural width so there's room for the team to play, but the striking position is fluid.
The 2012-13 Serie A season has shown us the many possible combinations, including the prima/seconda punta (Stevan Jovetic-Luca Toni), deep-lying creator and poacher (Mirko Vucinic-Sebastian Giovinco) and duel free roles (Jovetic-Adem Ljajic).
Where have I seen this? Napoli, Juventus, Italy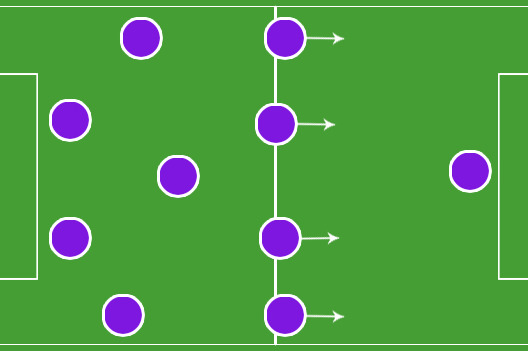 Times used: 184
Most popular in: Bundesliga (69)
The 4-1-4-1 is a little more niche than you would think due to the specific type of players needed to pull it off. Here's an image of it in use.
The holding midfielder stays between the defensive and midfield lines, playing an entirely disciplined role: tackling, harrying and distributing quickly to the nearest playmaker while screening the defence from deep while his side is in possession.
The midfield four need to be explosive. Both central midfielders will play something close a box-to-box role while the wingers will speed up and down the touchlines.
The formation has negative connotations, but often enough it will attack with five. Balls are played into the striker to play off or lobbed forward for the midfield sprinters to latch onto.
This formation is actually the lion's share of the false-nine system Luciano Spalletti installed at Roma in 2007. The forward would drop deep and suck central defenders in with him while the advancing midfielders roared into the open holes.
Iconic exponents: Alain Casanova's Toulouse, Lokomotiv Moscow (2008)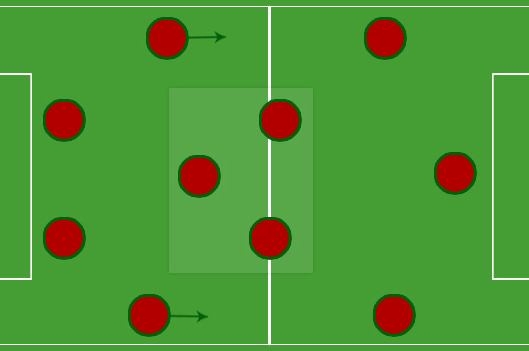 Times used: 303
Most popular in: Serie A (113)
The 4-3-3 is a high-energy, fast-paced formation that thrives off three tactically aware, mobile central midfielders.
It's vitally important that the full-backs get forward and provide width, as the wingers are more wide forwards in this system—they do their best work cutting inside and hover on the corners of the penalty area.
In the midfield three, one must be a proper anchor: defensively able, steady in his distribution and quick to shut down counterattacks. The other two enjoy an expansive role that covers almost every inch of the turf, so a good motor is a necessity.
Where have I seen this? Portugal (Euro 2012, not currently), Barcelona, Andre Villas-Boas' FC Porto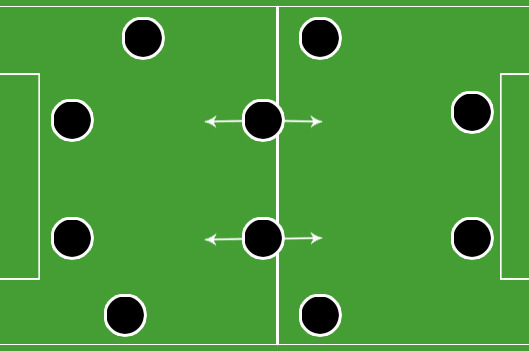 Times used: 307
Most popular in: Bundesliga (94)
The very classic, the very English 4-4-2 comes in at second place.
The formation itself is dropping off the map, and even some of the most stubborn teams (ie. England's national team) are finally relinquishing their grip on it.
It favours a good old-fashioned strike partnership—a big man-small man, an Andy Carroll-Jermain Defoe—over a third midfielder. That makes attacks quicker and more direct, as the aim becomes to move the ball through the lines as fast as possible.
The target man will always act as a foil, holding the ball up and bringing his teammates into play further up the field, while a midfield playmaker can always be confident the faster striker will be running in behind whenever possible.
One of the reasons for the decline of the 4-4-2 is the death of the traditional winger. Gone are the days were iconic No. 7s and No. 11s roam the touchlines, and without those the 4-4-2 suffers immensely.
Where have I seen this? England (Euro 2012), Arrigo Sacchi's AC Milan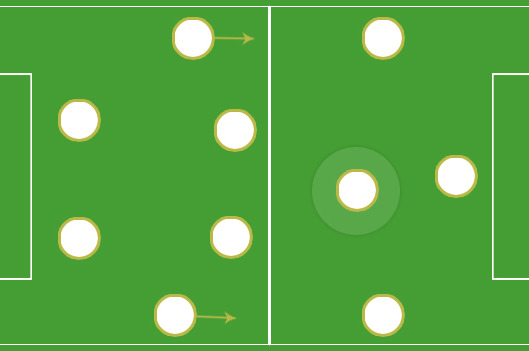 Times used: 1253
Most popular in: La Liga (432)
And of course, we end with the 4-2-3-1 formation.
The more astute coaches in world football were using this from around 2010, then after Euro 2012, literally everyone except the Italians and Barcelona starting using it in some capacity.
As a system it remains king, and that's because of its many, many advantages. Possession football has become desirable, and using dual No. 6s in front of the defence to screen helps retain the ball and protect the defence's underbelly.
The full-backs are expected to move forward, attacking the flanks and creating passing angles; they have an attacking license due to the cover the holding midfield pivot provides. The No. 10, or trequartista, needs to be mobile and able to drift to the flanks and help his winger create overloads (or numeric mismatches).
All sorts of strikers can thrive in this formation, from the prima punta to the complete forward.
Where have I seen this? Shakhtar Donetsk, Real Madrid, Borussia Dortmund