5 Reasons Why Mexico Are Under More Pressure Than the United States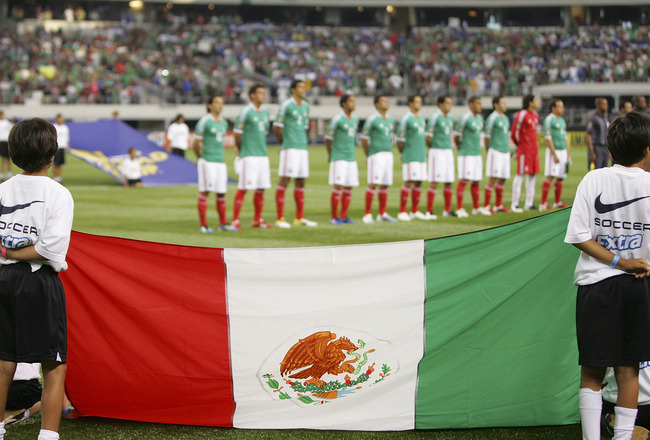 Rick Yeatts/Getty Images
If CONCACAF's Fourth Round of World Cup qualifying had ended on Monday, Mexico would have gone into a two-legged playoff against New Zealand in order to secure their place in the competition proper.
After two matches in the six-team mini-tournament known as "The Hex," Mexico are in the fourth spot—just one point off the bottom—and have yet to put a stroke in the win column.
That said, no one's pushing the panic button just yet. There are plenty of matches remaining before the campaign comes to an end on October 15, and while Mexico have perhaps started more slowly than expected, they have time to turn things around.
Not that they're taking anything for granted ahead of Tuesday's showdown with the United States in Mexico City.
There is little separating Mexico from their remaining CONCACAF rivals. The Hex is famous for being a grind, but this installment seems even more testing than usual. El Tri can ill afford to lose further ground, and a loss against the Americans would leave them four points adrift of their arch rivals.
For once it seems Mexico are under more pressure than the United States ahead of a big match, and the following slides reveal five reasons why. A draw at the Azteca would be a fine result for Team USA, but El Tri have rarely required a win so badly.
Mexico Have Yet to Win in the Hex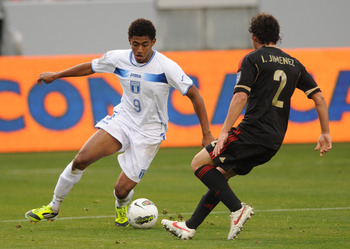 Honduras fought back to earn a 2-2 draw with Mexico on Saturday.
Kelvin Kuo-USA TODAY Sports
It's simple mathematics: when you don't win matches, you don't get the points you need to achieve your objective.
Mexico were kept off the scoresheet against Jamaica in their first match of CONCACAF Fourth Round qualifying—something that hadn't happened to them so far this World Cup cycle. And while they took a 2-0 lead against Honduras in their second outing, they found a different way to drop points in San Pedro Sula, allowing their hosts two score a pair of quick goals late in the second half.
Now it's time to find ways to win. On paper there's not a team in the confederation that can hold a candle to Mexico, but with every dropped point, El Tri's intimidation factor deteriorates. They need a victory.
They're at Home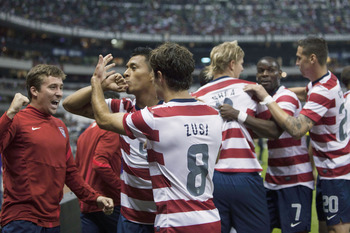 The Americans have won only once at the Azteca.
Miguel Tovar/Getty Images
It took 20 attempts for the United States to get a win at the Azteca, but that 1-0 victory came the last time these sides hooked up in the famous stadium back in August.
Still, the Azteca is Mexico's fortress, and they'll be fully expecting to beat the Americans for a 19th time on this ground on Tuesday. (The United States earned a scoreless draw here in 1997.) Even the fans will understand the magnitude of the occasion, so Team USA may well find themselves in more hostile surroundings than usual.
But the Mexican players will also be thinking, "What if?" What if they lose a second in a row to the United States at the Azteca?
How they handle the weight of that question will have a lot to do with Tuesday's result.
One-Third of the Schedule Will Be Finished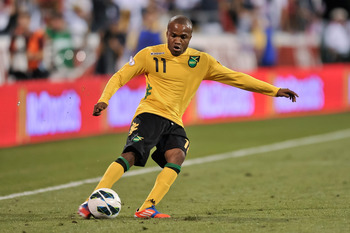 Jamaica earned a 0-0 draw at the Azteca in the first match of the Hex.
Jamie Sabau/Getty Images
Again, it's not time to push the panic button. Not quite. But it might be if Mexico lose on Tuesday, after which one-third of the schedule will have been played.
Of Mexico's seven remaining qualifiers, four will be played away from home—in Jamaica, Panama, Costa Rica and the United States. It's not the sort of fixture list you want if you've yet to win, particularly with your next two matches in Kingston and Panama City.
Neither of those trips will be easy, and after they've been played, exactly half the campaign will be in the books. Mexico need a win against the United States so as to avoid even more pressure ahead of their match against Jamaica.
Someone Other Than Chicharito Needs to Step Up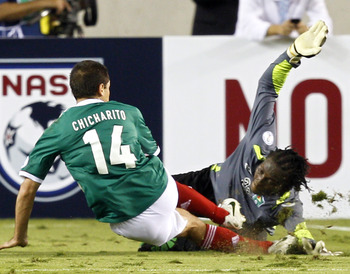 Someone other than Chicharito needs to chip in offensively for Mexico.
Bob Levey/Getty Images
Javier Hernandez, also known as "Chicharito," has bagged Mexico's last three goals, four of their last six and has scored in each of their last five matches in World Cup qualifying.
On two occasions—against Costa Rica in the Third Round and at Honduras on Saturday—he was El Tri's only goalscorer.
Someone other than the Manchester United striker needs to take on some offensive responsibility lest Mexico develop a reputation as a one-man team, in which case the opposition would realize they could go a long way towards shutting down the Mexican attack by marking Chicharito out of the game.
Santos Laguna striker Oribe Peralta, who is currently injured, will be a welcome addition against Jamaica in June, when Monterrey's Aldo de Nigris will likely return to the squad as well.
Against the United States, however, it will fall to Javier Aquino and Andres Guardado—who will attack from out wide—to step up and relieve some of Chicharito's burden.
Expectations Have Never Been Higher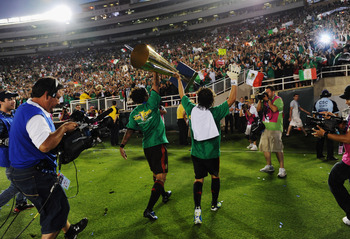 Mexico are reigning Gold Cup champions.
Kevork Djansezian/Getty Images
Never mind Tuesday's match against the United States, pressure on the Mexican national team has rarely been as pronounced, and there's a very simple reason why.
At no time in the history of Mexican football have El Tri been as equipped for success at senior international level as they are right now. Manager Jose Manuel de la Torre has quality in every position, and a winning mentality from the U-17s (who are world champions) to the underage side that won the prestigious Toulon tournament to the Olympic champions to the Gold Cup winners flows through the national psyche.
If things come together for them, Mexico can make it all the way to the semifinal round of the 2014 World Cup in Brazil, and perhaps even further. They know this. So there was immense pressure on them already, long before they welcomed the United States to the Azteca for a 21st time.
Keep Reading