Pros and Cons of Philadelphia 76ers Re-Signing Andrew Bynum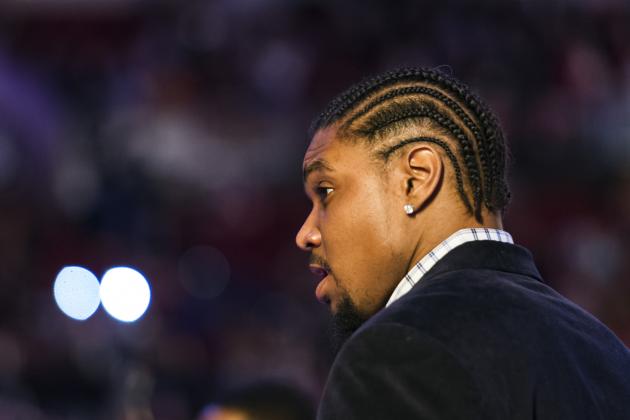 USA TODAY Sports
The 76ers ownership has a big decision to make regarding center Andrew Bynum.
And so the debate begins—what are the pros and cons of re-signing center Andrew Bynum for the Philadelphia 76ers?

He's undoubtedly one of the top 15 talents in the NBA when healthy. That was evident in his 2011-12 All-Star season for the Los Angeles Lakers when he averaged 18.7 points, 11.8 rebounds and 1.9 blocks. Yet, the question still remains if his knees will ever get healthy enough where he will be able to perform as that player he once was.

He's still only 25, and he's still arguably the only man in the NBA in Dwight Howard's way to being the top center in the league. How patient are the 76ers and their fans to give him a second chance?

This is undoubtedly the cornerstone decision which potentially could either make the 76ers into title contenders or fire right back in their face much like it did this season. What do you think the team should do?
Begin Slideshow

»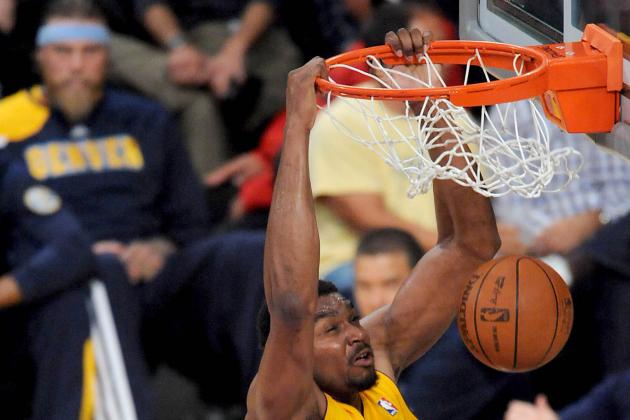 Jayne Kamin-Oncea-USA TODAY Sports
Andrew Bynum was an All-Star for the Lakers in the 2011-12 season.
Talents like Andrew Bynum come around once every 10 years. The last center to dominate a basketball game as well as Bynum was drafted in 1992: Shaquille O'Neal.

O'Neal only had minor injury plagues, however, compared to Bynum during his 19-year career.

Bynum won two NBA titles with the Los Angeles Lakers and knows what it's like to play in big moments. The 76ers have nobody on their roster currently that can say the same. The closest Jason Richardson reached was the Western Conference finals, and he's a shell of the player he once was.
From an offensive and leadership standpoint, he gives the 76ers the player they direly need. You won't be constantly disappointed by soft players like Spencer Hawes and Lavoy Allen filling the paint, and in their place you'll have one of the fiercest competitors in the NBA.

There's no question he still has a lot of growing to do as a person and a teammate, but nobody should ever question his impact on a basketball game and his competitiveness. There's a reason why Boston Celtics coach Doc Rivers was immediately afraid when the 76ers acquired him from the Lakers.

Surrounding Bynum with a point guard like Jrue Holiday and a hustle player like Thaddeus Young makes the 76ers one of the toughest teams to guard in the league, no matter what happens to Evan Turner or whom the 76ers take in this years NBA draft.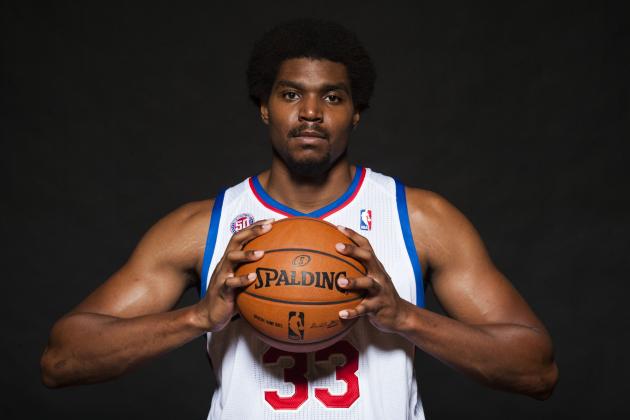 Howard Smith-USA TODAY Sports
No. 33 may never suit up for the 76ers due to his constant knee problems.
Investing money into somebody who might take a while to recover from injury or who might not return as the player he once was is always a scary subject.

The 76ers were already burnt when they signed Elton Brand to a five-year, $80 million deal and he never returned to the player he was before his ruptured Achilles injury. The team had to amnesty the remaining $18.1 million left on Brand's contract before the season.

It's unclear how much the 76ers will have to dish out in order to keep Andrew Bynum in Philadelphia, but it will likely be a five-year and $50 million-plus contract with cash incentives. Bynum will no longer be able to receive the deal he had imagined when he was traded to Philly, but this deal isn't out of the question.

If this happens, the team will be cash-strapped in their ability to sign another top free agent if Bynum's knees never indeed heal.

It's a very high-risk, high-reward situation, and everyone surrounding the 76ers knows this. Only time will tell.
USA TODAY Sports
The 76ers could potentially spend $30 million less than they had originally planned on Bynum.
What's better than getting a cornerstone-type player on your team? A cornerstone-type player for cheap.

The 76ers were originally planning on giving Bynum a five-year, $80 million contract when he first came to Philly. After surgeries on both knees, that number should drop considerably and give the 76ers some extra space to sign other future free agents.

Bynum should receive a contract along the lines of five years, $50 million with cash incentives, which is considerably less money then the team initially thought.

If Bynum does return to the type of player he was during the 2011-12 season, the 76ers will in a sense be getting a steal. Andre Iguodala, for example, is getting paid $16 million a year, where Bynum will only be guaranteed $10 million, most likely, in his new deal.

Other teams aren't exactly going to be lined up at Bynum's door in the offseason. He's a huge risk, but if the 76ers have already spent so many assets to get him and time to wait for him, it wouldn't be smart for them to simply let him walk without a good offer.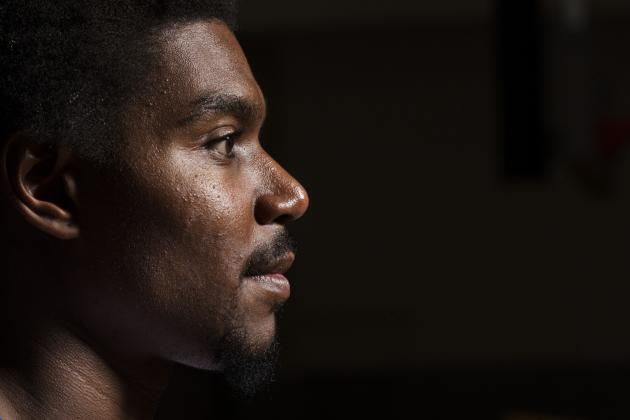 Howard Smith-USA TODAY Sports
Andrew Bynum could be wasting ownership $10 million a year which could be spent elsewhere.
One of the best things the new 76ers ownership has done is that they have put themselves in a good position from a salary standpoint for the future.

The NBA salary cap is roughly $70.3 million. According to hoopshype.com's numbers, the 76ers owe just $46 million in salaries in 2013-14 and roughly $27 million in 2014-15.

The problem is if they do sign Bynum to the potential five-year, $50 million contract, which is a realistic number, they'll only have an extra $14 million to spend this upcoming offseason, even though they'll have $33 million in 2014.

This means the 76ers won't have the chance to lock up the top free agents of the 2013 class like Josh Smith, Al Jefferson, Paul Millsap or J.J. Hickson, who're not only great talents, but there's a nearly 100 percent chance they'll be healthy to start the season next year, as opposed to Bynum.

They'll have to settle on mid-level free agents until 2014 and potentially be wasting $10 million in Bynum that could've been better spent elsewhere.

The ownership is going to have to think long and hard about this.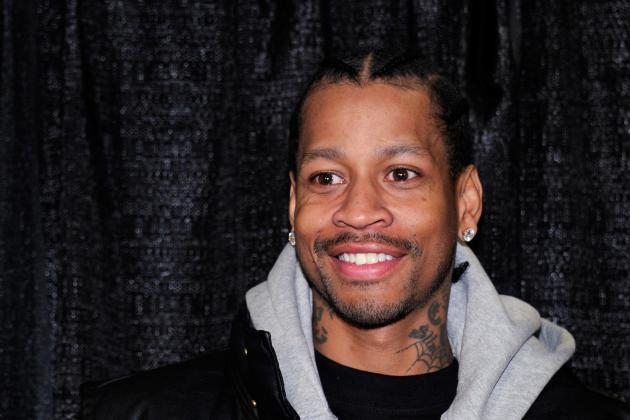 Ethan Miller/Getty Images
For those of you who miss the excitement of the days of Allen Iverson, Andrew Bynum can potentially bring that back to Philadelphia.
It's a pretty evident fact that 76ers fans have been nonexistent at games since the departure of Allen Iverson.

According to ESPN.com's attendance numbers, the 76ers sit 17th in the league with just 16,650 per game. That seems to be just the amount of tickets which were bought for each game, because the numbers of fans you actually see in the seats at games has looked to have been under 5,000 a game this season.

There was even a story earlier in the season where one fan bought 18 tickets off of StubHub for a grand total of 72 cents.

In an interview with Philly.com, the fan explained:


"It seemed like a funny idea, and the extra space to stretch out was a plus."
Talk about embarrassing for the 76ers ownership. A healthy Andrew Bynum would fix this problem. In my five-plus years of covering the 76ers, I've never seen fans as excited as they were than at Andrew Bynum's press conference to start the season. He'll make the 76ers the hot ticket in town again.

For those of you that need a refresher or missed the press conference, here's a refresher (I'm sitting behind Doug Collins).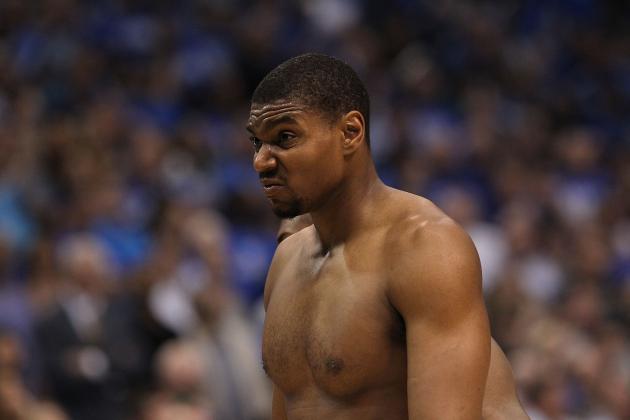 Ronald Martinez/Getty Images
Andrew Bynum's foul on J.J. Barea in the 2011 NBA playoffs, which led to him removing his jersey here, is regarded as one of the most dirty/immature plays in NBA playoff history.
It's old news, but the list on Andrew Bynum's bad attitude/immaturity issues stretches a mile long.

When even the "Zen Master" Phil Jackson—who's helped coach 11 NBA championship teams—can't get you to listen you know there's a problem.

This will be a huge issue for whoever coaches the 76ers next season. I believe Doug Collins is capable of getting through to the big man due to his no-games mentality, but if the 76ers decide to go to a younger and more inexperienced coach next season, this could be a huge issue is Bynum is indeed re-signed.

There's even questions about whether or not the players on the 76ers are currently a fan of the big man. According to 76ers beat writer for the Delaware County Times, Chris Vito, Damien Wilkins had the quote to sum up Andrew Bynum's relationship with 76ers players this season:


Wilkins: "This is my first year getting to know Andrew and in getting to know him, I don't think any of us really have gotten to know him."

— Christopher A. Vito (@ChrisVito) March 19, 2013


Will 76ers players ever get the chance to really know Bynum? You'll know the answer to that in a few months.