Oakland A's: 5 Things We Learned About Team During Spring Training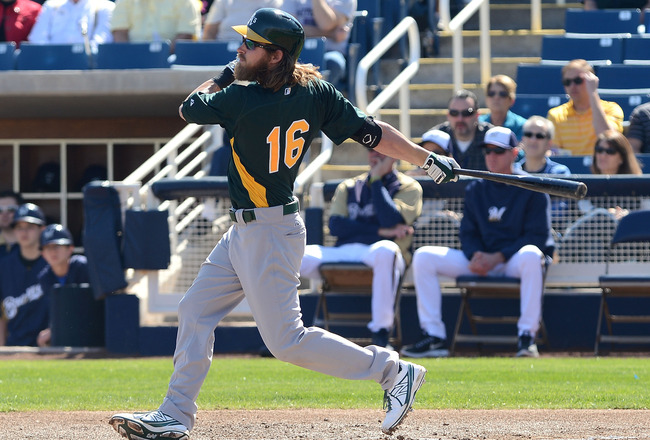 Reddick appears primed to have very good 2013
Jennifer Stewart/Getty Images
Spring training is not over for another week, but the Oakland A's have already taken away many lessons so far.
There were some surprises and some struggles, but the team appears to be rounding into shape with the opener just a week away.
Currently, the roster sits at 36 players. Much of the remaining debate is about bullpen arms as opposed to the position players who may or may not make the club. Barring any injuries or other unintended roster changes, the 13 or 14 position players appear set.
Therefore, it is a good idea to take stock of what the spring has shown as the countdown to the April Fool's night showdown with the Seattle Mariners approaches.
Here are the five things we have learned about the Oakland A's during spring training.
No. 5: Hiroyuki Nakajima Is Not Quite Ready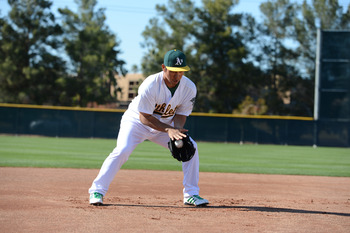 Nakajima's struggles have been pronounced
Robert Binder/Getty Images
There was plenty of buzz about the signing of Hiroyuki Nakajima after his lively press conference introducing him to the American media.
However, history has shown that many Japanese imports that play the infield have largely been lemons instead of peaches. For every Norichika Aoki of the Milwaukee Brewers, there have been two or three Tsuyoshi Nishioka's who have been abysmal.
After a zero for 20 slump, Nakajima was sent to minor league camp. Although he has shown flashes there, his struggles both at the plate and defensively have led the team to have the career shortstop spend time learning second base.
Admittedly, it is too early to write a transitioning player off, especially one with Nakajima's pedigree. But the early results have shown that he has a steep learning curve ahead.
No. 4: Shane Peterson Should Be the First Call Up from Triple-A Sacramento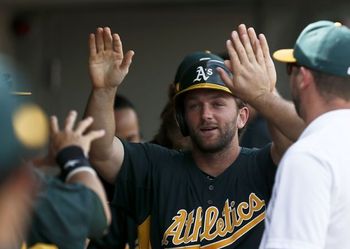 Peterson's play certainly warranted a roster spot (courtesy: sfgate.com)
If you are Shane Peterson, you might be wondering what more you could do to stick in Oakland.
All he did this spring was hit .408 with seven doubles, a triple and a home run with seven RBI's and five walks. Additionally, Peterson played all three outfield spots and was keen on adding first base to his repertoire.
In other words, he was the typical versatile cog in the Oakland machine this spring.
The only problem is the amassed depth of talent in the A's outfield.
Yoenis Cespedes, Josh Reddick, Coco Crisp and Chris Young are lead pipe locks for the 25-man roster. That means, short of an injury, Peterson could have doubled his numbers and likely would have started in Triple-A Sacramento.
That said, his performance was not lost on the A's coaching staff. A's manager Bob Melvin stated that Peterson's camp was "unbelievable" and that the coaches "raved about him".
Ultimately, that impression could come in handy.
Crisp, Young and Cespedes have all struggled with injuries. Though the A's would likely be better off with the trio being healthy for 162 games, Peterson is good insurance in the event that they are not.
No. 3: Dan Straily's Comet Might Have Already Fizzled out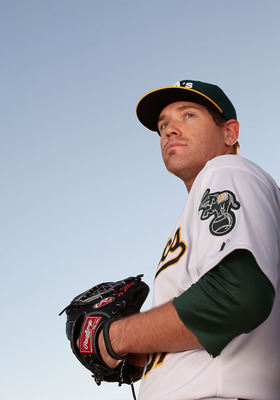 Straily will almost certainly begin in Triple-A after a poor spring
Christian Petersen/Getty Images
One of the better summer stories in all of professional baseball was the rise of unheralded pitcher Dan Straily.
A 26th round pick from the University of Marshall, Straily amassed Dwight Gooden circa 1985 numbers on his way to the Major Leagues in 2012.
But despite a promising, though uneven, end to 2012 with the A's (2-1, 3.89 ERA, 32 K's in 39.1 innings), Straily did not appear to carry over the success he had in Double-A Midland and Triple-A Sacramento.
This spring, Straily has struggled with command. He posted a 6.53 ERA with 17 hits and six walks in just 13.2 innings. Fighting for the fifth spot with fellow 2012 rookie A.J. Griffin, Straily seems destined to start the year in Triple-A.
Without improved control and pitch location, the possibility that his 2012 rise was just a flash in the pan could be very real.
No. 2: Derek Norris Should Be the Everyday Catcher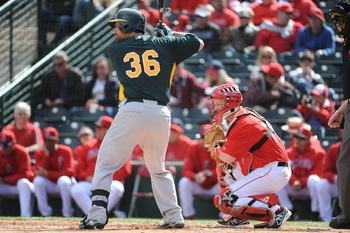 A shortened swing has led to more long balls for Norris.
Rich Pilling/Getty Images
After the acquisition of John Jaso from the Seattle Mariners, it was assumed that Jaso and incumbent starting catcher Derek Norris would for a potentially potent catching platoon in Oakland.
Well, something seems to have inspired Norris, because he has been on a full-fledged tear this spring.
Taking excess movement out of his prodigious swing, Norris has slugged five home runs and hit .389 this spring to push himself back to the head of the catcher's position.
No knock on Jaso, who has a reputation for a very patient bat and a penchant for clutch hits, but Norris deserves the lion's share of the time behind the dish until his play dictates otherwise.
Not only has he developed a rapport with the pitching staff, defensively he has shown improvement according to A's manager Bob Melvin and pitcher A.J. Griffin.
Ultimately, both catchers will have value for this team, but Norris has put himself in prime position to maintain his job in 2013.
No. 1: Health Will Not Be as Much of an Issue in 2013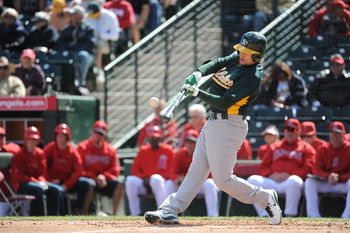 Oakland's very own Swiss Army knife, Jed Lowrie
Rich Pilling/Getty Images
Let me qualify that headline a bit: Health will not be as much of an issue in 2013 if everyone is not hurt at the same time.
That's better.
My general feeling is that no team in the American League West is as deep as the A's.
Does that guarantee success?
No, not at all.
Games are won and lost on the field.
But what depth does do is enable players of equal or nearly equal ability a chance to step in and maintain some semblance of a status quo.
Last year, the A's struggled out of the gate because the team could not hit and there were positions that were black holes for the first couple of months.
Luke Hughes at third base anyone?
Coming out of spring, there won't likely be chasms at closer, third base and shortstop because of Oakland's depth.
Players like Jed Lowrie and Chris Young have All-Star ability and would start on more than their fair share of clubs. In Oakland, they fit needs and, along with John Jaso, give the A's a trio of above-average backups.
In the bullpen, Grant Balfour's progress from knee surgery has been great to the point of him likely being ready for the April 1st opener. But unlike this point last year, the option to turn to Ryan Cook or Sean Doolittle is a massive upgrade from a washed-up Brian Fuentes.
On the whole, the A's have shown their template for how their success will be achieved in 2013: The team with the best 25 players will win.
Not the elite superstars like Los Angeles has with Mike Trout, Josh Hamilton and Albert Pujols.
Not the Texas Rangers with their playoff experience and power arms.
And not the Seattle Mariners, who lurk as a potentially unheralded sleeper much like the A's were in 2012.
No, the most balanced team from top to bottom in the American League West are the Oakland A's.
And that is the not-so-hidden secret of their success.
Conclusion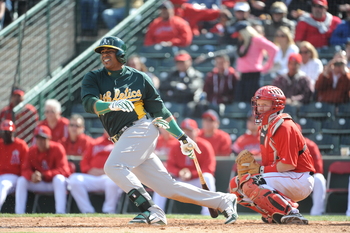 Oh yeah, the A's have some real talent too, such as MVP candidate Yoenis Cespedes
Rich Pilling/Getty Images
No longer the plucky, miscast underdogs of 2012, these A's approach the 2013 season as legitimate contenders.
They carry a target of defending AL West champions squarely across their chests.
While they won't surprise anyone, that should not have much of a burden on them winning assuming their talent bears itself out.
Yoenis Cespedes in my mind is a sleeper for AL MVP.
The starting quartet of Brett Anderson, Jarrod Parker, Tom Milone and A.J. Griffin might be better than any four pitchers in the league. Billy Beane has done a masterful job of addressing needs and getting players who can be available at a moment's notice to step in.
The job of molding all this potential into a winner falls into the capable lap of Bob Melvin, who took what was on paper a lesser group and turned it into a champion.
The next step is to take a team of expectations and grab the ultimate prize: Oakland's first world title in 24 years.
Their journey starts next Monday night, but the spring has shown that this team is capable of those lofty aspirations.
Keep Reading

Oakland Athletics: Like this team?