NHL Trade Deadline: 8 Huge Contracts That Will Be in Play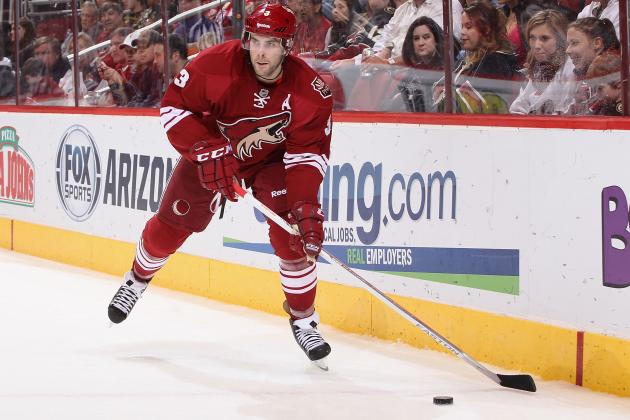 Christian Petersen/Getty Images

One could identify an NHL general manager from many traits.
But frugal and cautious are certainly not among them.
Indeed, the upcoming 2013 trade deadline will unquestionably result in plenty of risky trades around the league.
A plethora of overloaded contracts and bloated salaries will, without fail, be included in the frenzy of activity, for GMs are always most eager to rid themselves of their biggest blunders.
Which colossal cap hits could be in play as the wheeling and dealing grows more and more intense? We examine 10 players who might be on the move this spring, whopping paychecks and all.
Note: All cap hits courtesy of Capgeek.com. Only players with cap hits of $4.5 million and above were considered eligible.
Begin Slideshow

»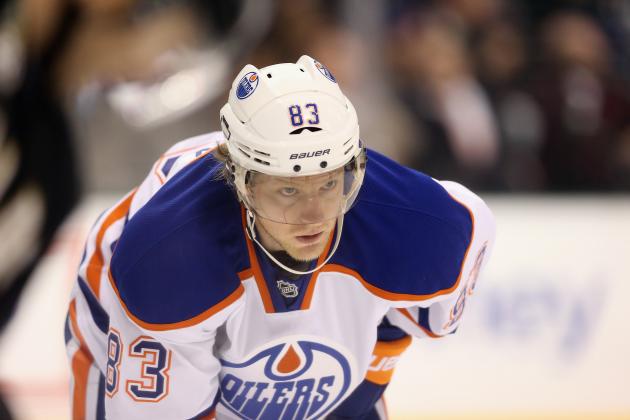 Ronald Martinez/Getty Images

Cap Hit: $5.0 million
Signed Through: 2013-14
Ales Hemsky may well known for his world-class skating speed and agility, but his name is tossed around in various trade rumors far more than it should be.
The 29-year-old winger has missed 108 games due to injury over the past three seasons alone (talk about injury-prone!) and hasn't shown any sort of consistency since his 66-point campaign back in 08-09.
With 17 points and a minus-six rating in 29 appearances this season, Hemsky can still add a dynamic skill set to any second line. His $5.0 million cap hit is many times greater than his worth, though; any team looking to acquire the former 13th overall pick should proceed only with extreme caution.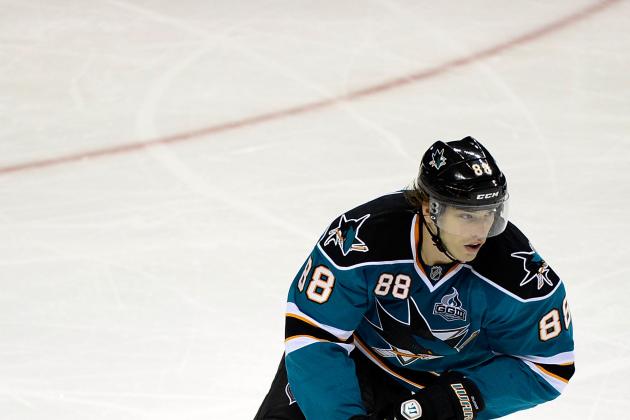 Thearon W. Henderson/Getty Images

Cap Hit: $5.76 million
Signed Through: 2016-17
Brent Burns—the NHL's own Geico Caveman doppleganger—is a curious case.
Hairy looks aside, Burns, an NHL All-Star as recently as 2011, has functioned as both a defenseman and a forward for the San Jose Sharks this season; he's scored all six of his points in one four-game stretch, going pointless in both his first six games and his most recent two.
Burns is, simply put, a strange player.
But he's also a useful one, and, in the right setting, a respectable big-minutes blueliner. Burns brings a scoring touch, having tallied 17 goals and a whopping 46 points from the point position just two years ago, but also a sturdy, physical presence—at 6'5", 225 lbs., the latter comes especially easy to him.
Is Burns worth almost $6 million for the each of the next four years? Probably not.
As the Sharks continue to search for a roster shake-up, though, the out-of-place 28-year-old could fetch some intriguing interest on the trade block.
Ronald Martinez/Getty Images

Cap Hit: $6.67 million
Signed Through: 2013-14
Veteran reaguard Dan Boyle's goal-scoring numbers have trailed off over the years, but his value as an experienced offensive defenseman and powerplay quarterback.
Boyle, 36, has 14 points (including four goals on the man advantage) in 29 games this season, following up on his 39- and 41-assist performances each of the previous two campaigns. Despite his age, he's missed fewer than seven games for four consecutive years, as well.
Per Bruce Garrioch of the Ottawa Sun, the New York Rangers could soon come calling:
"With a cap hit of $6.6 million through next season, he could help any team that wants to give its power play a boost. The Canadiens and Flyers were interested in Boyle last summer and the Rangers have been sniffing around. GM Glen Sather has been itching to make a move to bring in an impact player.

Boyle isn't just a strong presence on the ice, he brings leadership in the dressing room. He's a big commitment financially, but could be worth the money, especially with a Rangers power play that has been putrid."
As far as defensemen available at the deadline go, Boyle may well be the cream of the crop.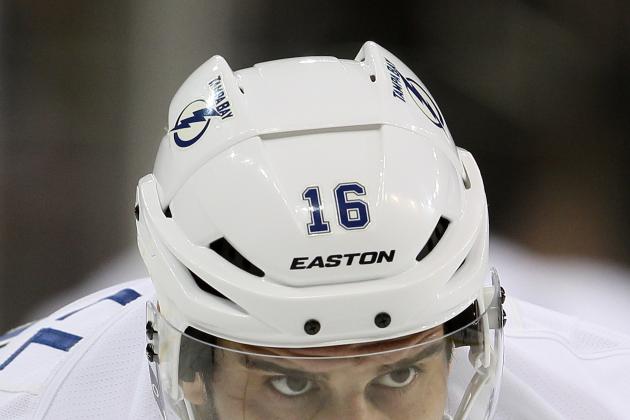 Elsa/Getty Images

Cap Hit: $4.5 million
Signed Through: 2015-16
The crashing Tampa Bay Lightning, with just 13 wins in their first 32 games of the season, are finally taking steps to revitalize the future of their franchise.
Head coach Guy Boucher was canned Sunday in controversial decision. Now, big-salary underperformers like Teddy Purcell could soon follow him.
Purcell, 27, was signed to a three-year extension after exploding for career highs of 24 goals and 65 points in 2012-13. He's continued that pace in 2013, recording seven goals and an impressive 18 assists through 32 games, but given his solid "picks 'n prospects" trade value Purcell may have worked his way right out of Tampa.
Any team looking to acquire Purcell will have to be willing to fork over a first-line salary for a prime-aged playmaker with very little track record, though.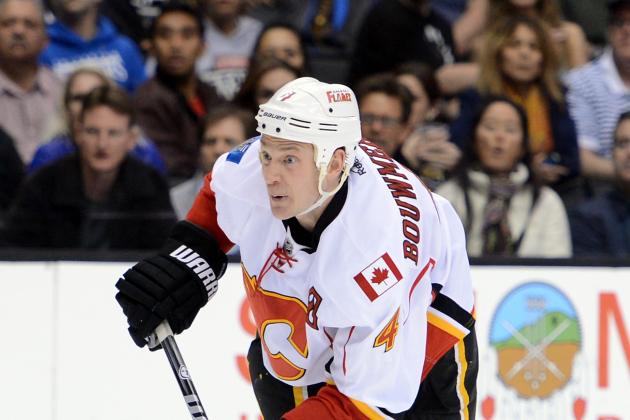 Harry How/Getty Images

Cap Hit: $6.68 million
Signed Through: 2013-14
Jay Bouwmeester's contract specifics are nearly identical to Dan Boyle.
His resume, conversely, is completely different. Although it seems like he's been around quite a while, Bouwmeester is only 29 and has quietly established himself as a fantastic two-way defenseman on a less-than-fantastic team. Through 30 games, he's accumulated 15 points and 48 blocked shots.
Given that Bouwmeester plays the kind of minutes he does—29:48, for example, in his last game against St. Louis—the fact that he hasn't missed a game due to injury in nine calendar years makes him a sought-after target for any defensively-needy club.
Per Jim Matheson of the Edmonton Journal, both the Blues and the Bruins may be interested.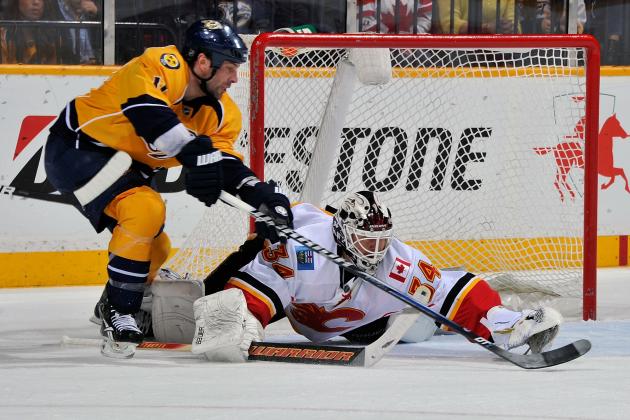 Frederick Breedon/Getty Images

Cap Hit: $5.83 million
Signed Through: 2013-14
With the aging and struggling Calgary Flames in dire straits and the need for goaltenders so high around the league, Miikka Kiprusoff could soon become a 2013-defining trade saga.
Kiprusoff, 36, is getting on in age (along with most of the rest of his team), but should still have a few years left as starter material. He's had a rough winter, though, missing a good chunk of the season with an MCL sprain and posting a 6-7-2 record and dismal .873 save percentage to date.
For a goaltender with 317 career wins and a .914 lifetime save percentage, those stats still won't deter many teams from making a call or two. The Toronto Maple Leafs, right in the playoff mix despite their lingering need for a night-in, night-out starting netminder, seem like an obvious fit.
However, according to Josh Spector via Twitter, that rumor may be off the mark:
For those wondering re: Kiprusoff to Toronto, am told Leafs will hold on to picks and prospects. Those days may be gone in Toronto.

— Mark Spector Sports (@SportsnetSpec) March 25, 2013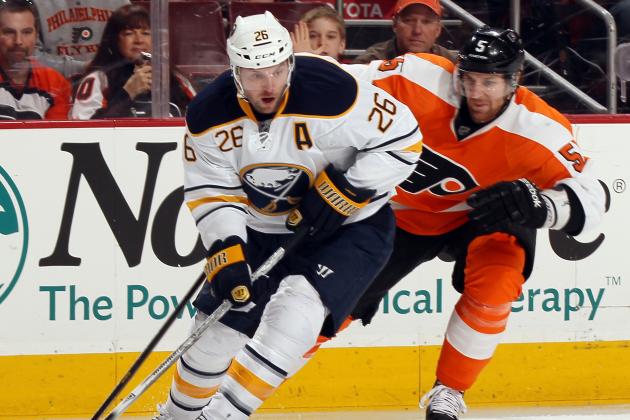 Elsa/Getty Images

Cap Hit: $7.14 million
Signed Through: 2013-14
Thomas Vanek captured the spotlight of the NHL as he piled up 19 points in the season's mere first eight games, but the 29-year-old Sabres star has cooled off considerably.
In his 20 appearances since, he's still yet to replicate that number (managing only 14 points during the time span), and the Sabres have, hence, struggled to climb out of the Eastern Conference basement.
Vanek, appoaching the final year of his contract, carries a hefty cap hit but also a undeniable All-Star scoring touch. If Buffalo is willing to give up their franchise cornerstone for a fair price, there's no team in the NHL that wouldn't want Vanek on their first line.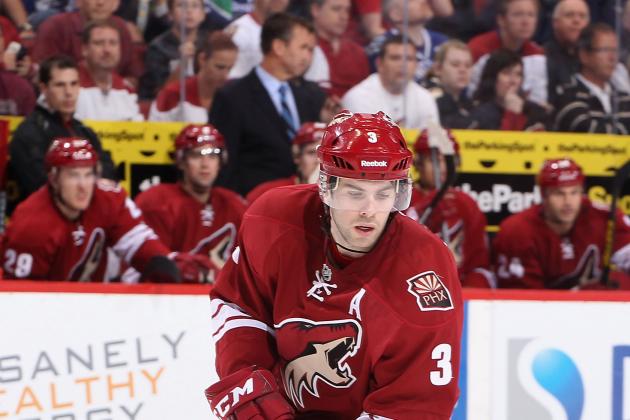 Christian Petersen/Getty Images

Cap Hit: $5.25 million
Signed Through: 2015-16
The Phoenix Coyotes, losers of six straight and eight of their last 10, are quickly falling out of the highly-competitive Western Conference postseason race.
As their 2013 season continues to head down the drain and the financial woes pile up, a major fire sale could be brewing.
Keith Yandle, only 26 and already one of the league's most unheralded offensive defensemen, would fetch the highest price of all. With 17 points in 32 games this year, he's only two off the Coyotes' team lead; Yandle also leads the 'Yotes in takeaways and ranks second in average TOI.
He's locked in through 2016 on a reasonable cap hit and is a sure bet for 30 to 40 assists year after year.
The only question for interested suitors would be asking price, as the Coyotes would certainly expect a bundle of value in exchange for arguably their best player.