Brazil vs. Russia: 6 Things We Learned from International Friendly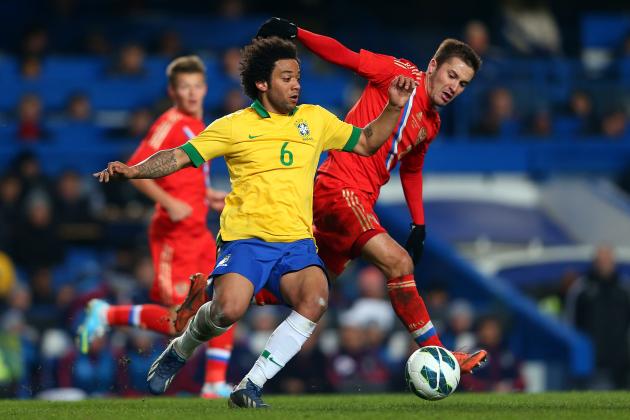 Julian Finney/Getty Images

Brazil and Russia played out an intriguing 1-1 draw at Stamford Bridge on Monday night, with the South Americans grateful to striker Fred for a last-minute equaliser to spare the pain of defeat.
Russia started the better of the two sides and, although Brazil came back strongly into the tie, it is Fabio Capello's side that will feel that they should have won on the night.
Viktor Fayzulin eventually turned home a penalty-box scramble to give Russia the lead with 15 minutes to play, and it looked like it would be enough heading into the final moments.
Fluminense striker Fred, though, disagreed and popped up in the dying moments to turn home a low cross after good work from Marcelo and Hulk on the left.
What, then, can we learn from the friendly fixture in West London?
Begin Slideshow

»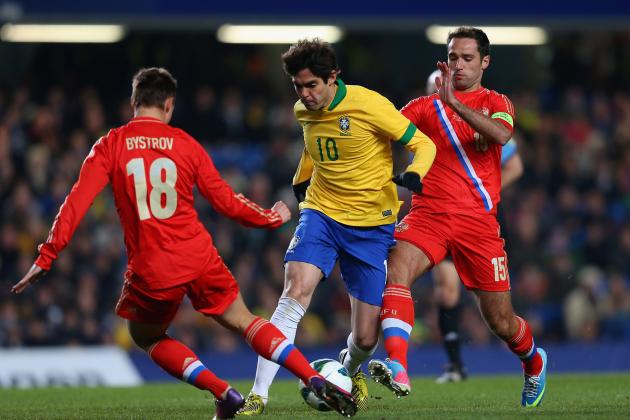 Julian Finney/Getty Images

It was a disappointing night in general for Brazil, but nothing left fans quite as downhearted as the showing of Real Madrid midfielder Kaka.
Not helped by being shunted out to the flanks, Kaka showed little of the invention and quick thinking that he has demonstrated so often down the years. His general lethargy will worry manager Felipão.
Indeed, it was a first half that posed many questions about his current suitability as an international player.
When moved into central areas after the break, there is no doubting that his performance improved. However, he was still outshone by all those in similar positions—even if they were far from outstanding in their own right.
Kaka may still have a role to play for Brazil, and his experience is doubtless invaluable, but he simply has to be first choice at club level if he is to justify his inclusion in the squad.
Two abject outings this week have done little for his cause.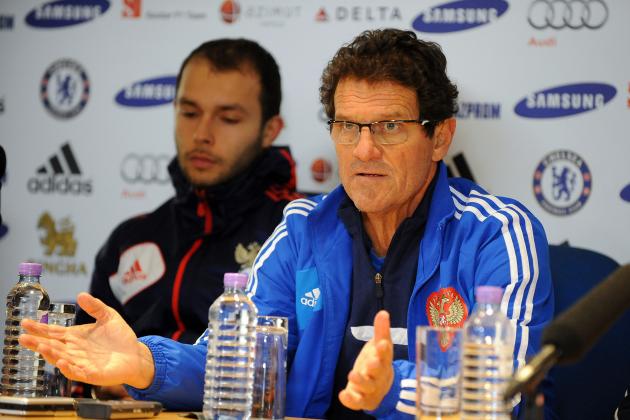 Tony Marshall/Getty Images

Russia have had a side capable of challenging the footballing elite over 90 minutes for some years now. Based on performances so far under new manager Fabio Capello, they may be ready to take the next step.
While they have produced fine individual performances in recent years, they have failed to convert those into consistent team performances and latter-round appearances at major tournaments.
Under Capello, though, initial signs are that they are a more stubborn unit than in the past.
Flying high in a difficult qualification group, Russia presented an immovable barrier to Brazilian attacks right until the final minute. Only then were they unlocked by a fine Brazil move on the left flank.
An experienced back four led the way, playing very narrow and thus pushing their opponents into wide areas. The plan worked perfectly and, for much of the evening, they enjoyed an entirely comfortable ride in the face of Brazil's much-vaunted attacking unit.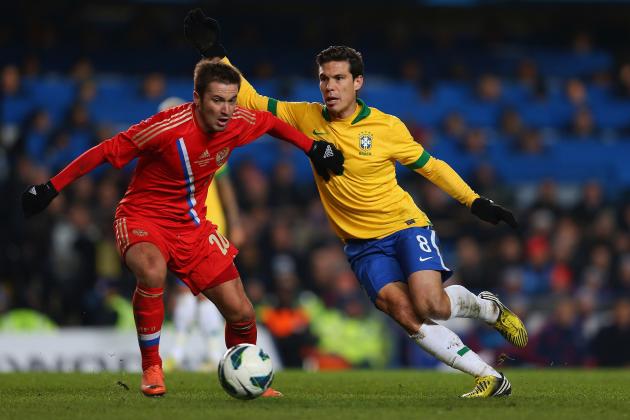 Julian Finney/Getty Images

In his opening fixture against England last month, Scolari continued with former manager Mano Menezes' attempts to utilise midfielders Ramires and Paulinho in a central midfield partnership
Injury, though, would deprive him of both players for this week's encounters.
The remedy to their absences, while unexpected, has been somewhat of a success. Lazio's Hernanes has made a long-awaited return to the side and has been paired with 21-year-old Grêmio defensive midfielder Fernando. Both can feel they have done their nation proud.
While Hernanes is somewhat of a known quantity, Fernando was off the radar of many European football fans. He has played a very assured role at the base of the Brazilian midfield and won himself admirers.
It is a role that Brazil have lacked in the absence of Tottenham midfielder Sandro. It had initially been expected that Bayern's Luiz Gustavo would be given the nod ahead of the fixture with Italy.
Fernando, though, did well enough in that game to retain his place against Russia and, on Monday night, once more made his case for long-term involvement in the national team setup.
Shaun Botterill/Getty Images

Despite being the better side on the night, Russia eventually conceded a final-minute equaliser that allowed Brazil to leave the encounter with some pride intact. But they should never have had the chance.
Defensively, the five-time World Cup winners were a mess. Full-backs Marcelo and Dani Alves were frequently found out of position against counter-attacks and, with more composure, Russia could have had more opportunities to score.
Before he eventually scored, Fayzulin had tested Julio Cesar at his near post, while in their dominance of the early stages Russia should have further pressed home their advantage.
Both Fayzulin and right-sided colleague Vladimir Bystrov found space behind the full-backs throughout, while Kerzhakov's movement was a consistent problem for centre-backs David Luiz and Thiago Silva.
While Russia will think over their poor conversion of opportunities, Brazil must consider how to tighten up a poorly organised defensive unit.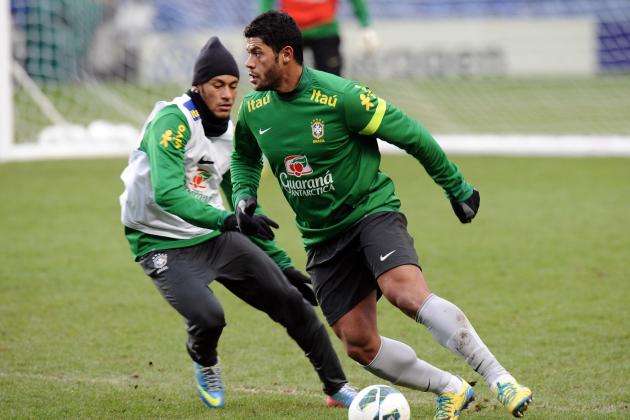 Tony Marshall/Getty Images

Brazil have an array of attacking talent, that is clear, but it seems that they are at somewhat of a loss as to how best to use it.
Kaka and Oscar spent much of the first half in wide roles, with the latter making a good fist of the challenge while the former struggled. A move to central areas after the break helped the Madrid man somewhat, but the presence of both also negated the potential influence of Neymar dropping deep from the forward line.
With the introduction of Hulk, who impressed in an unfamiliar left-wing role, Kaka was then moved to the right flank and his malaise quickly picked up from where it had left off just minutes earlier.
Scolari clearly has options in terms of attacking players, but there is little point using them if they will be played out of position. If he wants a left-winger, then he must select a natural left-winger.
Brazil's long-term vision is confused at the moment, but Scolari has not been afraid to make bold decisions in the past and must do so again if he is to succeed in 2014.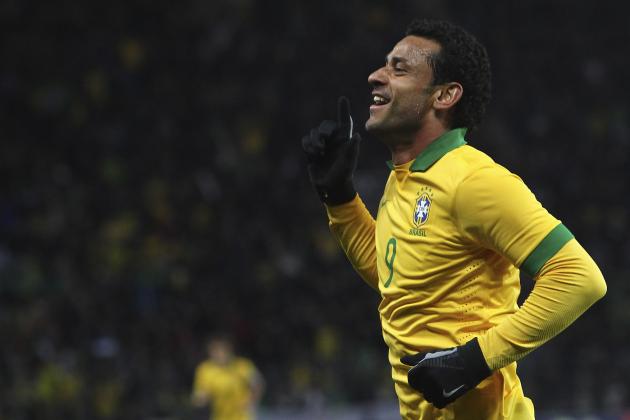 Marco Luzzani/Getty Images

Fred has always been a divisive figure among Brazilian football fans and, despite not being at his best in the fixture at Stamford Bridge, did enough to ensure his continued selection in coming games.
There is a feeling that Fred is too limited for the very top level. On this occasion, there were signs that it is a fair criticism. His movement and close control were not always as good as would be hoped.
However, he is consistently scoring. His late equaliser ensured Brazil will leave London with some positives to cling to and, for him personally, continues a run of three goals in three games in the Scolari era.
Fred is a good striker at international level and an exceptional striker in domestic Brazilian football. The question is whether that is enough for Brazil's ambitions.
For the moment, though, there can be no arguing that he is Brazil's best available No. 9. If he keeps scoring, there will be no calls for his removal. He is answering his critics in the best way possible.