Ranking 2012-13 Miami Heat Among Pat Riley's Super Teams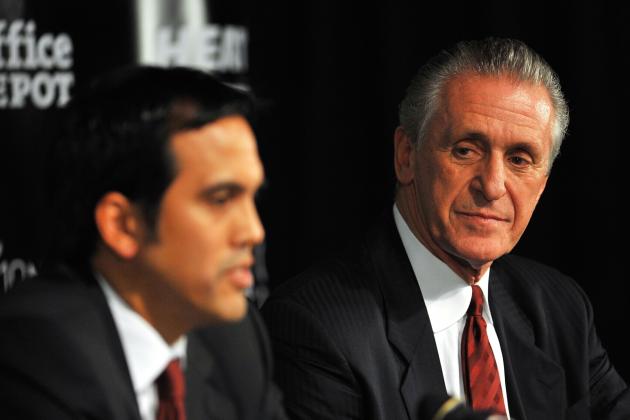 Doug Benc/Getty Images

If there's one person not impressed by the streaking Miami Heat, it's team president Pat Riley.
Then again there's not much of anything that the basketball life hasn't seen in his career. He's won championship rings as a player, an assistant coach, a head coach and an executive.
So even the 26-and-counting straight wins seen by his team is nothing new. Riley played for the team that the Heat are chasing in the history books, the 1971-72 Los Angeles Lakers whose 33-game winning streak had gone largely unchallenged for 40 years.
Whatever Riley lacks in amazement, he's not missing in appreciation. He's one of the few people who know firsthand just how difficult this stretch has been for the players.
He also knows the unique struggles of building a championship club. He's never had trouble surrounding himself with elite-level talent on his NBA stops, but that hasn't always guaranteed him success.
Begin Slideshow

»
Vincent Laforet/Getty Images

Looking to bring some legitimacy to the franchise, Micky Arison's first order of business as Heat owner in 1995 was to pry Riley away from the New York Knicks. The move cost the Heat a first-round pick (eventually Walter McCarty) and $1 million, both sent to New York where Riley had one season left on his contract.
But Arison had clearly bought into Riley's ability and gave him free rein as the team's coach, general manager and its president. And Riley clearly needed some superstar help to transform a franchise that had two one-and-done playoff appearances to show for its first seven seasons of existence.
In November of 1995, he plucked Alonzo Mourning from the Charlotte Hornets in a six-player swap. Three months later he brought in Tim Hardaway from the Golden State Warriors.
After the Heat had another brief playoff stay, Riley landed Dan Majerle and P.J. Brown on the free-agent market that summer. He gambled on a hobbled Jamal Mashburn in a three-for-one deadline swap with the Dallas Mavericks that season.
The influx of talent and Riley's masterful motivation saw the Heat win their first two playoff series in 1997, a postseason run stopped by Michael Jordan's Chicago Bulls in the Eastern Conference Finals. Miami would go play postseason hoops each year until 2002.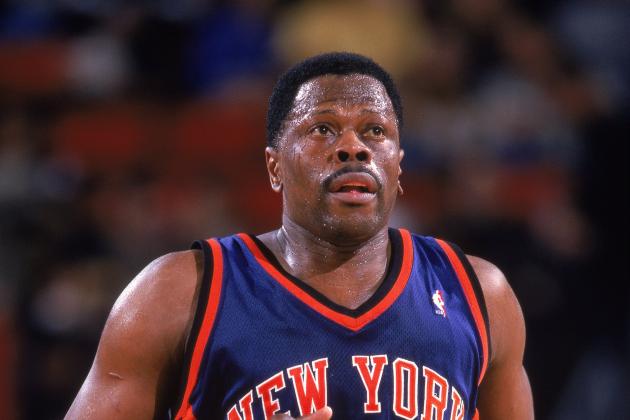 Otto Greule Jr/Getty Images

Following an illustrious run as the Lakers' head coach, Riley stepped away from the coaching ranks and into the broadcast booth for a one-year stint with NBC for the 1990-91 season.
But once the Big Apple started beckoning a year later, Riley returned to the sideline as head coach of the New York Knicks. And the roster he inherited was hardly a throwaway group. Before Riley took over the Knicks had made four straight playoff appearances, compiling two series wins along the way.
The Knicks roster included an in-his-prime 29-year-old Patrick Ewing, third all-time NBA assists leader Mark Jackson, an up-and-coming 26-year-old John Starks and a pair of frontcourt bruisers in Anthony Mason and Charles Oakley. They won 51 games that season and added another playoff series to their resume.
The next season New York matched a previous franchise best with 60 wins. The Knicks steamrolled through their first two playoff matchups, disposing of the Indiana Pacers in four games (in a best-of-five series) and the Charlotte Hornets in five games. But Jordan's Bulls proved too great in the next round as Chicago came out on the right side of a physical six-game series.
Riley's bunch went 55-27 in 1994-95, but some Spike Lee-fueled Reggie Miller magic ended New York's season in the Eastern Conference semifinals. It would be Riley's final season as the Knicks head coach.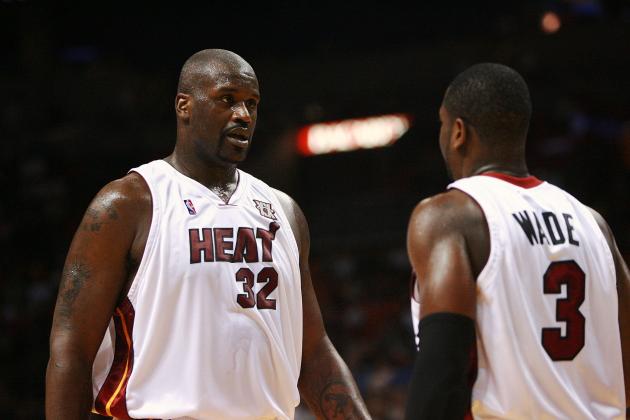 Doug Benc/Getty Images

Near the end of his first tenure as Miami's head coach, Riley attempted to retool his team.
Mashburn and Brown were the first notable players to go as Riley swapped the pair for Eddie Jones and Anthony Mason in a blockbuster nine-player trade with the Hornets in the summer of 2000. Hardaway was next up as he was shipped off to the Dallas Mavericks the following summer, and Mason's Miami tenure lasted just one season.
After missing the playoffs for two straight years, 2002 and 2003, things had gotten so bad that Riley replaced himself as coach with Stan Van Gundy. Luckily things had also gotten bad enough that the Heat were awarded with the fifth pick of the 2003 draft, and Riley made the most of the selection by drafting Marquette standout Dwyane Wade.
Jones, free agent Lamar Odom and Wade led Miami back to the postseason in 2003-04, but the Heat were eliminated by Miller's Pacers in the second round. Never one to stand pat, Riley turned Odom, Brian Grant, Caron Butler and a pair of draft picks into Shaquille O'Neal over the summer of 2004.
With Wade and O'Neal leading the charge, Miami won 59 games that season. But their playoff effort fell just short in a physical seven-game series with the eventual champion Detroit Pistons.
When Miami opened the 2005-06 season with an 11-10 record, Van Gundy resigned. Riley took over a team that now featured veterans Gary Payton (free-agent signing), Jason Williams and Antoine Walker (part of a massive five-team trade) and a budding superstar in Wade.
With Wade's superstar ascension running at full speed, the Heat toppled the Bulls, New Jersey Nets and Pistons en route to a Finals matchup with the Dallas Mavericks. Miami dropped the first two games of that series before rallying to win four straight for the 2006 NBA championship.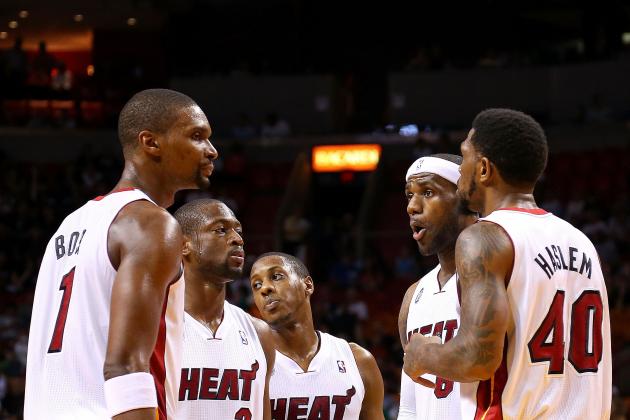 Mike Ehrmann/Getty Images

The current chapter of Riley's career has yet to be fully written. But it's already been impressive enough for this lofty ranking among his greatest accomplishments.
Riley may not have been the driving force in bringing Wade, LeBron James and Chris Bosh together over the 2010 offseason (via Brian Windhorst of The Plain Dealer). But he was no doubt instrumental in not only making the contract figures fit, but also leaving himself enough wiggle room to surround his new trio with championship-level talent.
That foresight gave Riley the buying power to keep Udonis Haslem in town and add sharpshooter Mike Miller to the mix that offseason. Shane Battier came on a free-agent contract the next summer, with Ray Allen and Rashard Lewis following suit last summer.
If Miami hadn't shown enough promise over the past two seasons—back-to-back Finals appearances, one NBA title—then the team's current 25-game winning streak has pushed this club into the conversation as one of the greatest teams the league has ever seen.
The Heat have positioned themselves as the favorites for at least the next two seasons, but the trio's future financial decisions could shape the franchise's lasting power in 2014 (via Ian Thomsen of SI.com).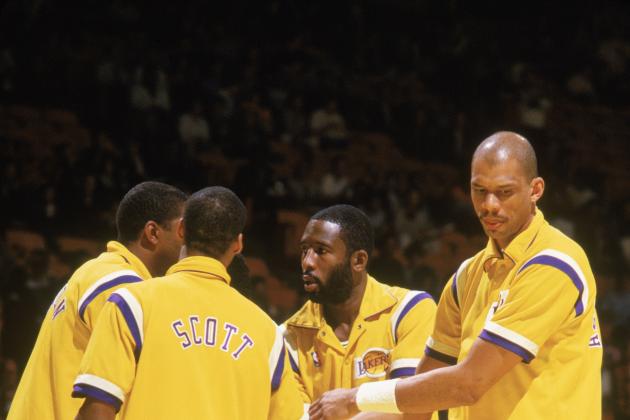 Jonathan Daniel/Getty Images

How could Riley have possibly outperformed his unprecedented 2010 free-agent coup? With one of the most dominant eight-plus years of coaching the league had ever seen.
In less than a three-year span, Riley catapulted from Lakers broadcaster to their head coach. His coaching career started when he joined Paul Westhead's staff as an assistant following a near-fatal bike crash during the 1979-80 season. With the Lakers owner, the late Dr. Jerry Buss, and their star player, Magic Johnson, less than enamored with Westhead, Riley was thrust into an interim coaching role.
Riley couldn't have asked for a better situation to start his new career. The Lakers had won the NBA championship in 1979-80 and followed that with a 58-win campaign the following season.
Riley returned the Lakers to a free-flowing offensive attack. With the magnetic Magic Johnson spearheading this blistering group and Buss transforming Lakers games into must-see events, the "Showtime" Lakers were the league's most entertaining bunch. And a wildly successful group at that.
Johnson and Norm Nixon orchestrated the offense, and Kareem Abdul-Jabbar (the NBA's all-time leading scorer) manned the middle. Jamal Wilkes carried that energy to the wing. Bob McAdoo and James Worthy joined the party shortly thereafter.
Riley manned the Lakers sideline for eight-plus seasons. His guidance yielded four NBA titles and three more NBA Finals appearances.