Biggest MMA Winners from the Month of March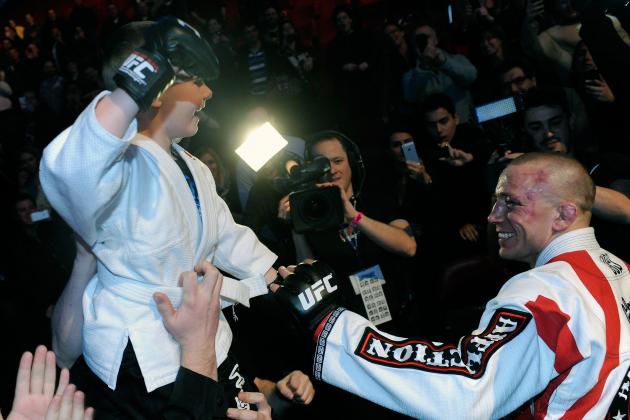 Eric Bolte-USA TODAY Sports

A long and seemingly unending rivalry ended in March.
With a victory over Nick Diaz, Georges St-Pierre has overcome the "dark place" in his career, so is he the biggest winner of March?
Well, he would have easily been if Wanderlei Silva hadn't defeated Brian Stann. With the win over Stann, Silva's career still has a beating pulse.
So this brings up a compelling question: Which man is worthy of being called March's biggest winner in MMA?
Begin Slideshow

»
Anthony Johnson may not deserve to be on this list.
Defeating Andrei Arlovski at heavyweight when Anthony Johnson used to fight at welterweight in the UFC is impressive, no matter how much Arlovski's chin may have decayed in recent years.
However, Johnson should have won this fight by knockout at WSOF 2. Again, this is Arlovski's chin we're talking about here. Throughout the fight, Johnson rocked Arlovski on numerous occasions. Instead of following it up and putting Arlovski away, Johnson clinched with him against the cage.
It was extremely frustrating to watch, but hey, a win's a win. The fact that Johnson fought at heavyweight and beat a big name like Arlovski earned him a spot on March's biggest winners.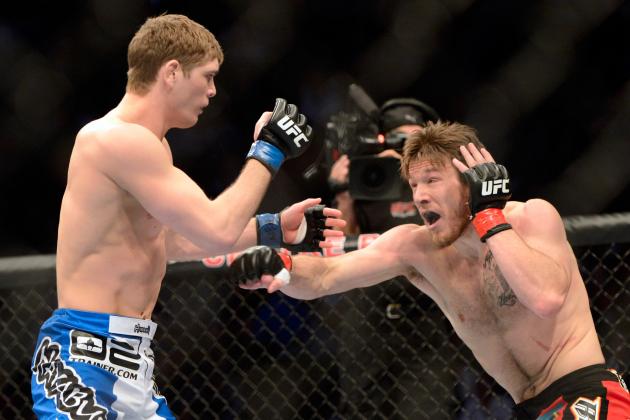 Eric Bolte-USA TODAY Sports

Add Jordan Mein to the list of most impressive UFC debuts.
Mein fought a durable fighter in Dan Miller at UFC 158. Judging by Miller's UFC bouts, it was thought that Mein would be in a grind-'em-out war of attrition with a UFC veteran in his debut fight. Wrong.
In fact, the opposite occurred. Mein got right in Miller's face and connected with some devastating strikes, dropping Miller to the canvas.
With only a few seconds left in the first round, Mein turned up the heat and became the first man to finish Miller in a professional MMA bout. That's how you make a name for yourself.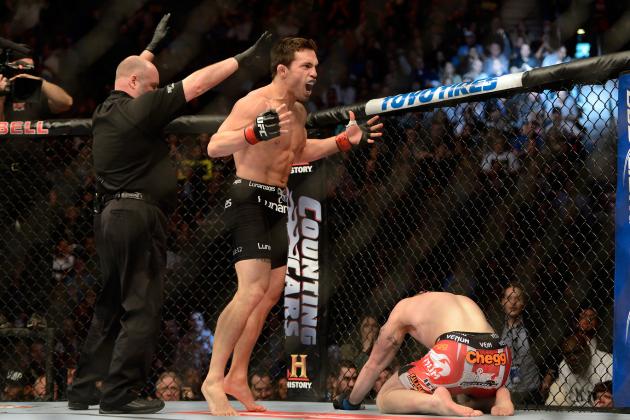 Eric Bolte-USA TODAY Sports

Jake Ellenberger looked like a juggernaut at UFC 158.
Ellenberger faced former No. 1 middleweight contender and Strikeforce welterweight champion Nate Marquardt, but it was Ellenberger who looked fit for gold in this contest.
Once his heavy hands connected with Marquardt, Marquardt was put in the turtle position against the cage. Ellenberger then followed up with shots and knocked him out.
Johny Hendricks may be the next man in line for Georges St-Pierre's title, but Ellenberger got back in the mix in a big way with that first-round knockout.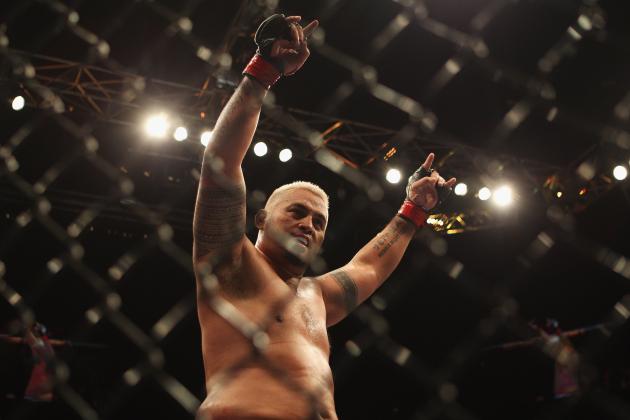 Mark Kolbe/Getty Images

It all came in the form of a jaw-shattering left hook.
In front of a Japanese crowd, Mark Hunt pushed forward against Stefan Struve at UFC on Fuel TV 8 and connected with his patented finisher.
Hunt walked off. Fans rejoiced. A title shot seems inevitable. That is, however, if Hunt defeats Junior dos Santos at UFC 160.
This is exactly what the hardcore fans have been calling for, and it's actually happening. Hunt will face JDS in a stylistically pleasing dream match, and if he wins, he fights for UFC gold.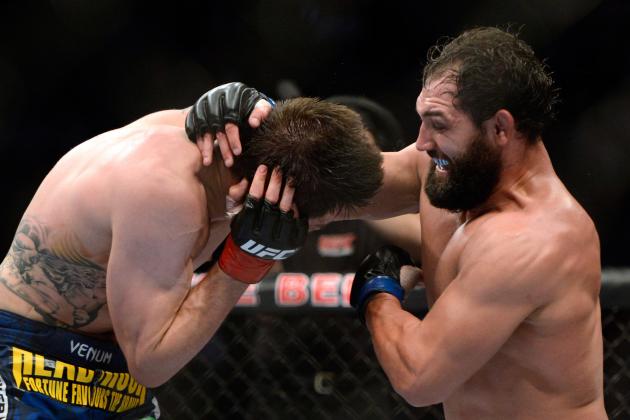 Eric Bolte-USA TODAY Sports

Alright, Carlos Condit fans, don't take anything away from Hendricks.
A lot of fans feel that Hendricks robbed the decision victory away from Condit at UFC 158, but if you really look at it, Hendricks landed several takedowns and he landed shots on the feet. Do you actually expect the judges to give it to Condit in this world of MMA?
Talking about the fight itself, it was a tremendous back-and-forth fight that really saved UFC 158 from being disappointing. If only it would have lasted five rounds like the main event.
In terms of the significance of Hendricks' victory, he now gets the title shot he's been deserving for quite some time now.
Don't close the book on Wanderlei Silva's career just yet.
There are a few more magical moments to be made. Hopefully those moments can rival brawling with Stann in front of a Japanese crowd.
If Silva was going out, he was going to go out in style. Fighting with no sense of caution or hesitation, Silva bested Stann in a memorable bout.
Silva's career remains alive and well, as he avoids another losing streak.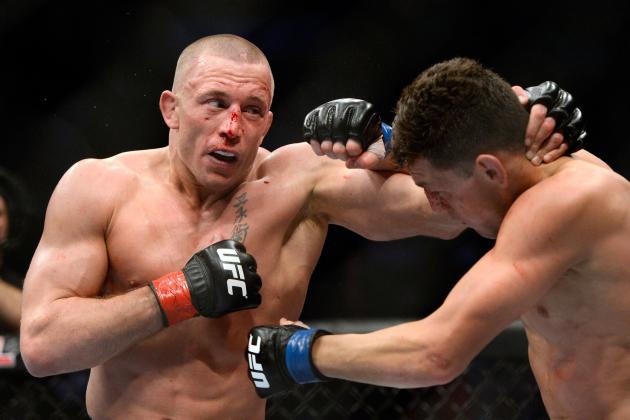 Eric Bolte-USA TODAY Sports

How's it feel to get that monkey off your back, GSP?
Silva may have continued his career with a big win against Stann at UFC on Fuel TV 8, but GSP defeated his greatest rival at UFC 158.
Nobody called out GSP more in the past two years than Diaz, and after GSP finally got to face his adversary in the Octagon, he dominated him with a unanimous decision.
No more trash-talking. No more Diaz. No more being accused of being a coward. Life's back to normal for the champ.