Assembling the Boston Red Sox's Best Starting Lineup After Spring Training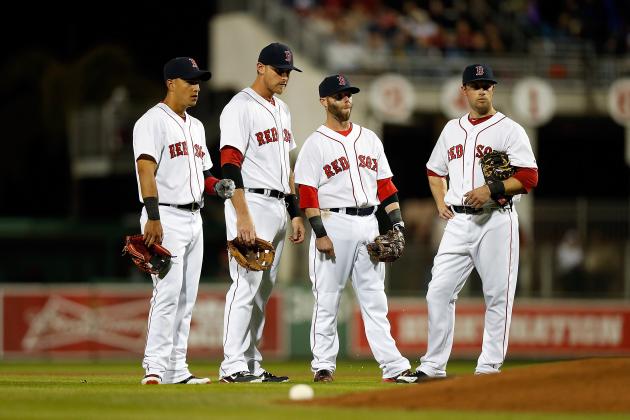 J. Meric/Getty Images
The Boston Red Sox will look to remain productive offensively despite the absence of David Ortiz for the beginning of the 2013 season.
As the Boston Red Sox begin to turn their collective eye away from spring training and towards Opening Day 2013, questions still abound about the composition of their everyday lineup. The issue has been, like seemingly every year, about health.
We know David Ortiz will be down and out for the start of the season, his heel "strain" somehow lingering now into its eighth month. The heel bug has also bitten Jacoby Ellsbury, who was forced to leave Sunday's game against the Phillies with an injury deemed minor by both Ellsbury himself and manager John Farrell to the Boston Globe's Nick Cafardo.
There are positive signs this spring, too. The emergence of Jackie Bradley Jr. has been a pleasant surprise, as the Sox's top outfield prospect has shown that he may be ready for MLB a bit sooner than once thought. Mike Napoli, Will Middlebrooks and Jarrod Saltalamacchia have all had strong springs at the plate.
Assuming Ellsbury is indeed healthy, the Sox have an interesting mix of players to take into Opening Day. Here is the best lineup they can put on the field on April 1 against the Yankees:
Begin Slideshow

»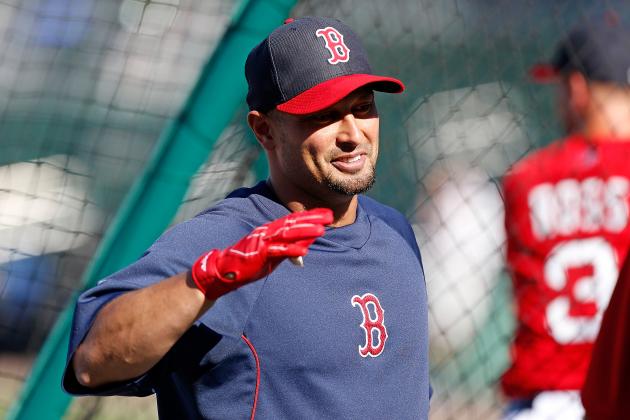 J. Meric/Getty Images

While the Flyin' Hawaiian is not an ideal choice to hit leadoff given his decline in recent years, the speed and experience Victorino brings makes him a natural fit in this spot for the time being.
Because he split time between the World Baseball Classic and his new team, Victorino has had somewhat of a fractured spring. It has shown at the plate, as he has gone just 5-for-32 with the Sox and 1-for-11 in the WBC.
The Sox can expect an uptick in his production once the season begins in earnest, but should be guarded in their expectations—especially if he is hitting out of the leadoff spot. Adjusting a new league and team could take some time.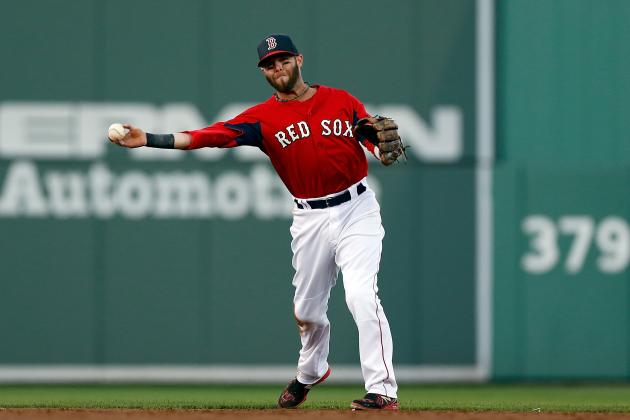 J. Meric/Getty Images

If Pedroia can remain healthy, he is one of the best hitters in baseball and the Sox's most potent offensive threat. His ability to make contact and drive the ball into the gaps makes him as dangerous a table-setter as there is in the game.
However, given his small size and incredible effort, it's worth wondering if the injuries that have limited him in two of the past three seasons may begin to accumulate.
As hard as it is to believe, the Sox's second baseman will turn 30 before the season ends, and will be more vulnerable than ever to the kind of wear and tear that could limit his productivity. The Sox need a healthy Pedroia if they want to have any hope of contending for a Wild Card spot.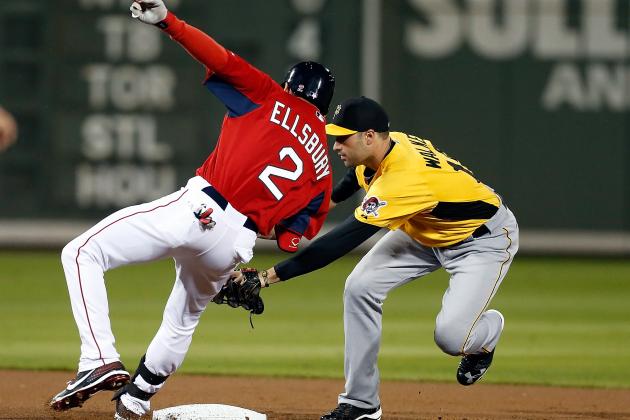 J. Meric/Getty Images

Yet another member of the Sox who can't escape the injury bug, Ellsbury needs to have a productive year if he wants the big payday he is hoping to land in free agency. His transcendent 2010 proved that the center fielder possesses the kind of power bat perfect for the third spot in the lineup, and it's a role he will need to fill in the absence of David Ortiz.
One of the reasons why Ellsbury is a good choice for this slot is due to the fact that he's a left-handed hitter. With Ortiz on the shelf, the Sox suddenly are a very right-handed team (Pedroia, Napoli and Middlebrooks all hit from the right side), and need a bit more balance in the middle of the order.
Ellsbury not only gives them that, but he gives them the kind of versatility out of the three-hole that they haven't had in years. If the power numbers follow, he could stick in this spot even when Big Papi returns.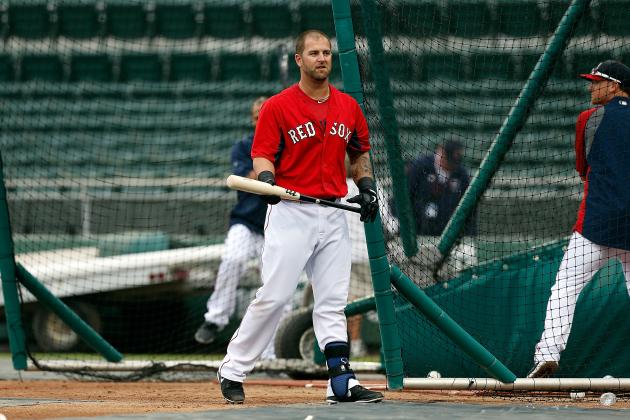 J. Meric/Getty Images

Thanks to Napoli, Sox fans are now familiar with the term "avascular hip necrosis," and have seen their expectations of his production plummet. However, that doesn't change the fact that he's had a solid spring and his hip has not appeared to give him much trouble.
Playing on just a one-year, $5 million deal gives Napoli something to prove, and he'll have every opportunity to produce hitting in the middle of the Sox's lineup. His lifetime 1.107 OPS at Fenway Park, while limited to 73 at bats and occurring against the Sox's occasionally atrocious pitching staff, is nevertheless a sign of hope.
While it's never good to hinge your hopes on a player who saw his overall value plummet 87 percent in the span of one physical exam, Napoli should be a solid player this season.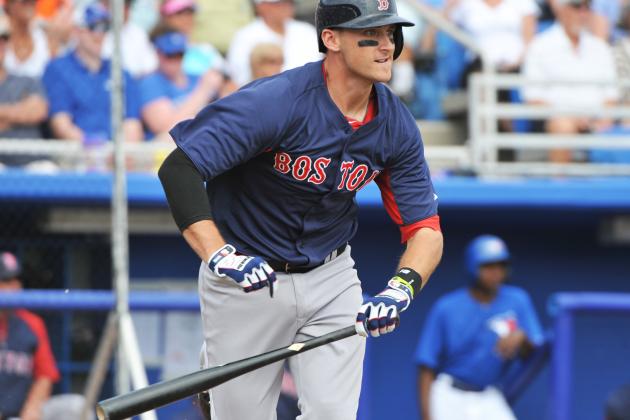 Al Messerschmidt/Getty Images

The return of Middlebrooks is a welcome one, but comes now with the burden of expectations. No longer is the third baseman a surprising upstart, but is instead being relied upon to produce in the middle of the Sox's lineup.
This spring has definitely been encouraging, as Middlebrooks has flashed excellent power at the plate in posting a .974 OPS in 43 at-bats. While the sample size is obviously small, it's nevertheless a good sign for a player recovering from a broken wrist.
The Sox are hoping Middlebrooks will be a fixture in the lineup for years to come, and the onus is on him to live up to those lofty goals.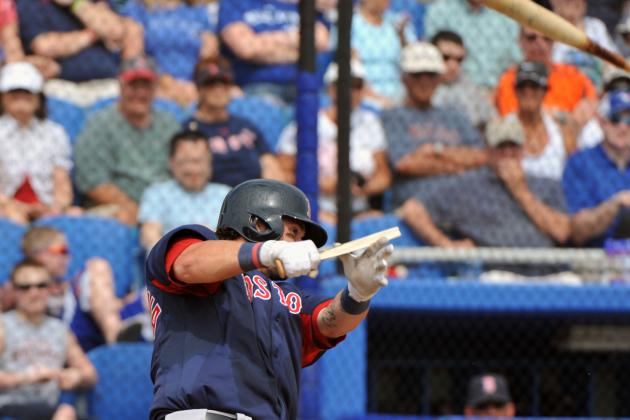 Al Messerschmidt/Getty Images

It looks like Salty will be sticking around after all, despite the rampant trade rumors that dogged him all offseason. While he needs to improve upon his plate discipline, the Sox's catcher did provide excellent power last season as he led the team in home runs with 25.
The Sox would love to get the same kind of production out of him this year, but would certainly sacrifice a few of those dingers if he could also improve upon his strikeout numbers (139 in 405 at-bats).
Having a solid backup in David Ross will likely help, as the Sox will be more comfortable resting Saltalamacchia or using him at DH in David Ortiz's absence. The defensive demands of the position always affect catchers at the plate, so spending less time behind the dish will help Salty improve his numbers.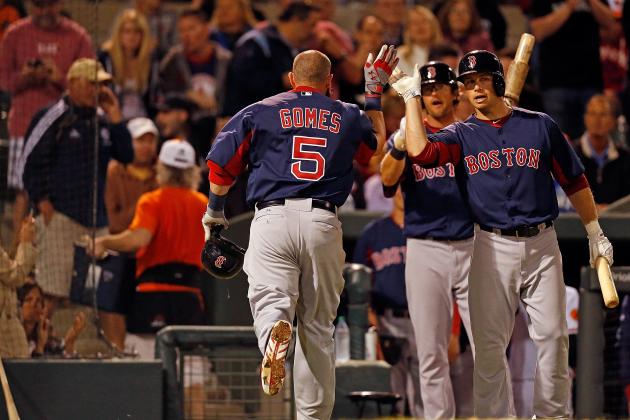 J. Meric/Getty Images

While the Sox envisioned Gomes as more of a part-time player when they signed him to a two-year, $10 million deal, he'll likely be called upon in the early going to fulfill an everyday role. Gomes is not a good defensive outfielder, but with the DH slot open (for now) he should be able to collect plenty of at-bats without being a defensive liability.
Gomes is great against left-handed pitching, as he slugged .561 against southpaws in 164 at-bats last season. His numbers against righties (.391 slugging in 2012) are certainly less inspiring, and could lead to him being sat in favor of others even with Ortiz being out.
However, Gomes did manage to hit 18 home runs in just 279 at-bats last season, with a solid lefty/righty split (11/7). If he can replicate those kind of numbers this year, he'll be a great asset at the bottom of the lineup.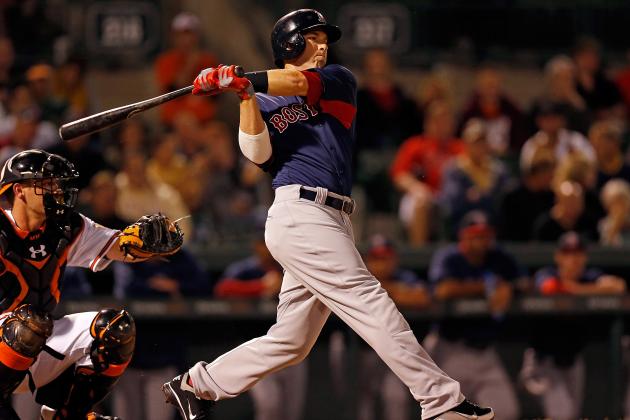 J. Meric/Getty Images

Despite Boston fans' reservations about another dance with the Drew family, Stephen should infuriate the Sox faithful much less than his brother. Other than a broken ankle that ended his 2011 season and kept him off the field until June of 2012, he has been pretty durable over the course of his career.
Now clear of the concussion symptoms that lingered over the last week, Drew should be ready to take the reins on Opening Day. Even though Jose Iglesias has had a nice spring (second on the team in hits), he needs to prove he can be productive for a prolonged period of time before getting an MLB job.
With a one-year deal, Drew is a low risk player. He should provide the Sox with solid output at the bottom of the lineup, which is really all the team can ask for.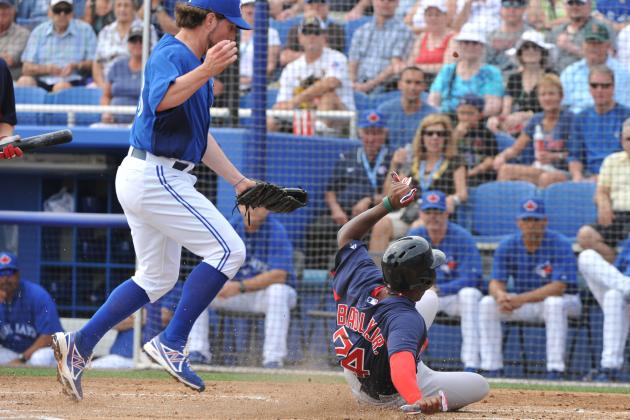 Al Messerschmidt/Getty Images

Calling Bradley up now is not without its dangers; a bad start could risk stunting the young upstart's development, and shifting him to a new position on the fly is always risky.
However, the Sox simply can't ignore what he's done this spring, and with Ortiz out they need to fill a roster spot with a deserving guy. Bradley must be that player.
He leads the Sox in pretty much every offensive category, topping the team in hits (22), RBI (9) and OPS (1.152), among others. Bradley has earned a shot at an MLB job, even if it wasn't in the team's master plan heading into spring training.