Is Alistair Overeem the Most Disliked Fighter in MMA Right Now?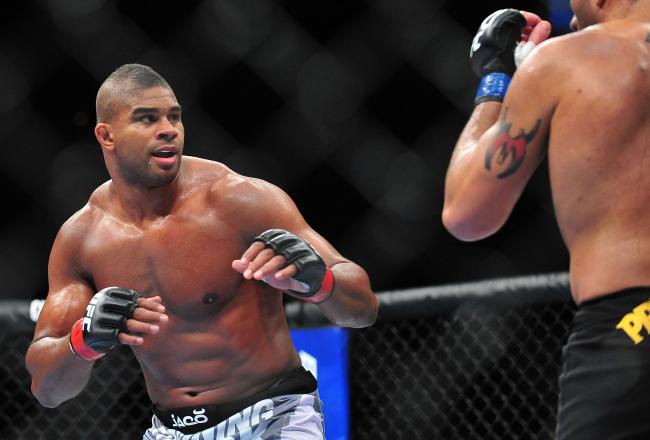 Gary A. Vasquez-USA TODAY Sports
Alistair Overeem rode into the UFC on a crest of a wave. Undefeated for 11 fights, he was the Strikeforce heavyweight champion, the DREAM heavyweight champion and the 2010 K-1 Grand Prix winner, and he was poised to make a serious run at the Strikeforce Heavyweight Grand Prix after defeating Fabricio Werdum during the quarterfinal in 2011.
In 2011, he was a hot commodity, one that the UFC was clamouring for, and the promotion wasted no time in bringing him over to its own organisation to challenge for the heavyweight crown.
In his first match, he tore apart the terrifying Brock Lesnar, making shorter work of the iconic UFC heavyweight than the champion Cain Velasquez had made when he took the belt from Lesnar in 2010.
At this point in his career, Overeem was poised to be the biggest thing in MMA since the erstwhile Lesnar himself.
Amid the glory, fans had virtually forgotten everything that had made him so unpopular just before his rise five years ago.
They had forgotten the tall, lanky light heavyweight whose arrogant demeanour early in his career already made him an unpopular fighter in Japan when he fought in Pride during a period when he was to suffer six losses in 10 matches.
They had also forgotten how, in an untested environment, he had ballooned from a thin 205-pounder into a muscle-bound heavyweight, which he claimed was due to his consumption of horsemeat and not steroids.
But the wheels have long since come off that bandwagon.
First, there were the drug test "inconsistencies" and subsequent "failures" which confirmed in the minds of many that the fighter was nothing but a drug cheat whose rise to prominence over the last few years was almost entirely due to the needles he may or may not have stuck in his butt.
Then there was his acrimonious departure from his former team Golden Glory, which had nurtured him for much of his career. The Dutch fighter split from Golden Glory quicker than the time it took for the ink to dry dried on his new UFC contract, leading to a flurry of criticism from former teammates, accusing him of spreading "hurtful lies."
Behaviour such as this has done nothing to bolster his reputation. Nor has the brazen way he's refused to own up to using steroids illegally. His excuse was that he had been unknowingly given testosterone injections by an unscrupulous doctor he managed to haul before the Nevada State Athletic Commission after failing the test. The fact that this doctor was shadier than a 50-year-old maple tree only compounded his problem.
Alistair Overeem - what do you think?
And in true Overeem fashion, the fighter has continued to stick his finger up at detractors,
wearing provocative T-shirts
, including his famous "
Haters Gonna Hate
" shirt he wore during his weigh-in before his last fight against Antonio Silva at UFC 156.
A cheat, a liar, a man with seemingly no loyalty, Overeem had already fallen a great height when he entered the cage against Silva during that night in February. He was to fall further after he was demolished at the hands of "Bigfoot" in the third round of that fight.
That fight had plenty of tension between the two protagonists, with Overeem accused of having a complete lack of respect for Silva.
And it showed. For most of their fight, a seemingly out-of-shape Overeem languidly threw ineffective shots at his opponent, his hands virtually by his sides, seemingly unafraid of the danger his opponent posed.
If fans are willing to whitewash over a fighter's history after a series of electrifying wins, a performance like that is one thing that will earn their complete and utter contempt.
And that's where Overeem sits now. Having ruined his chances of fighting for the UFC title in 2012 due to failing a drug test, and now made to look a fool against a seemingly innocuous challenger, his popularity is now at its nadir.
In a "chickens have come home to roost" moment, one of Overeem's former trainers at Golden Glory tweeted after his loss: "Alistair Overeem I thought we've teached [sic] him to take a beat like a man....not like a BITCH!"
It was a moment of schadenfreude shared by fans across MMA at the expense of one of the most unpopular fighters in the sport today.
This article is
What is the duplicate article?
Why is this article offensive?
Where is this article plagiarized from?
Why is this article poorly edited?