World Cup Rankings: Europe's 20 Teams with the Best Chance of Reaching Brazil
Harold Cunningham/Getty Images
Now at the halfway stage of the qualification campaign, the European nations are beginning to get to grips with their chances of featuring at the 2014 World Cup as the UEFA groups start to take shape.
While some outfits are living up to expectations, there are an equal amount of sides that have fallen shy of their usual standards as well as others who have gone on to shine more than might have been predicted.
Although things will almost definitely change in the coming months, we now have an idea of just who can book their train to Rio 2014 next summer.
The following rankings are based on current form, points accrued thus far as well as upcoming encounters that some countries will be hoping to take advantage of.
20. Iceland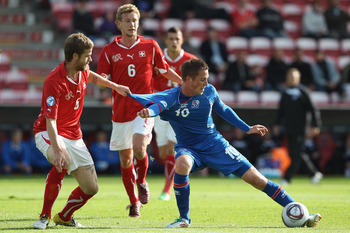 Michael Steele/Getty Images
Having never advanced to the finals of a major international competition, Iceland are in with perhaps their greatest chance in recent history to break their streak in time for 2014.
The Nordic nation are currently tied for second place with Albania in Group E and can look forward to seeing out the majority of their qualification campaign on home soil.
With an in-form Gylfi Sigurdsson leading the charge, Iceland have already earned victories over Norway, Albania and Slovenia in what is possibly the tightest pool with the most left to offer all of its inhabitants.
Lars Lagerback's men still have to travel to Switzerland and Norway, but can also look at their September clash with Albania as a potential make-or-break encounter.
19. Israel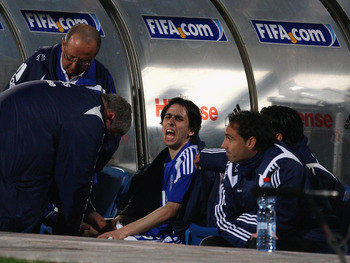 Laurence Griffiths/Getty Images
Hoping to end a 44-year drought of World Cup football, Israel can be proud of the all-out offensive manner in which they have gone about their qualification run thus far, scoring a Group F-high 13 goals.
The Blue and Whites managed to put nine goals past minnows Luxembourg across their two-legged encounter and were unfortunate not to outlast Portugal earlier in March, succumbing to a 3-3 draw in the end thanks to a late Fabio Coentrao finish.
With Eden Ben Basat and Tomer Hemed in superb scoring form for Eli Guttman's side, Israel currently pose the greatest threat to the Portuguese bid for World Cup qualification, tied in second place with their Iberian Peninsula rivals.
Captain Yossi Benayoun now lies just four games away from becoming his country's most capped player ever, and would undoubtedly like to celebrate doing so by qualifying for Israel's first World Cup since 1970 in the process.
18. Denmark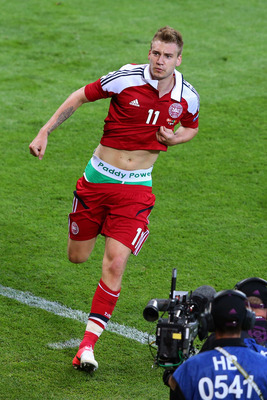 Alex Livesey/Getty Images
A surprisingly impressive participant at Euro 2012, Denmark will once again look to make their presence known on the international stage with a bid to make it to South America next summer.
Led by their veteran manager of 12 years now, Morten Olsen, his team might find themselves in a slightly rosier position were it not for a lack of firepower up front, having scored just six goals in five qualifying matches thus far.
Of course, that area hasn't been helped by the six-month suspension of Nicklas Bendtner, whom the Danish Football Association deemed irresponsible due to a drink-driving arrest during the Arsenal striker's loan at Juventus (via Sky Sports).
Although Denmark are currently four points away from Bulgaria, the Red and Whites have a game in hand over Group B's second-place side and can look forward to just two away fixtures in their remaining six qualifiers.
17. Romania
Mutu
Marco Luzzani/Getty Images
20 years after reaching the World Cup quarterfinals thanks to the brilliance of Gheorghe Hagi, Romania will look to repeat history with Adrian Mutu this time leading the assault.
Although the Ajaccio frontman is admittedly now an automatic starter thanks largely to the injury of Ciprian Marica, just one more goal would see Mutu officially become his nation's top goalscorer, bringing a nostalgic sense of strange coincidence to the side's qualification hopes.
As things stand, Romania are tied for Group D's second qualifying place with Hungary, but recently earned a crucial away draw in Budapest, putting them just above their neighbours to the west in their bid for a World Cup spot.
With the Netherlands in full command of first place, it seems Group D is now a matter of who can finish closest to the Oranje, a fight that Victor Piturca's men will seek to make all the simpler when they welcome the Hungarians to Bucharest later this year.
16. Bulgaria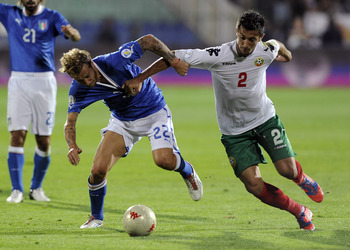 Claudio Villa/Getty Images
Several years after Marcello Lippi's side helped in ousting Bulgaria from their 2010 World Cup hunt, an Italian outfit now led by Cesare Prandelli have been drawn against the Tricolors once more, presumably hoping to reach the same outcome.
However, a slightly sterner looking Bulgaria are now just a point behind the Group B-leading Azzurri and can actually boast a more impressive goal difference, albeit having played a game more.
Although Lyuboslav Penev's side haven't qualified for a World Cup since 1998, the south-east Europeans managed to bag fourth place in the 1994 edition of the tournament and will look to evoke some feeling of reminiscence on the 20th anniversary of such an achievement.
With three clean sheets in their first five qualification outings, Bulgaria have a defence to be proud of and can hope to give Italy a run for their money when facing the pool leaders on their own soil in September.
15. Portugal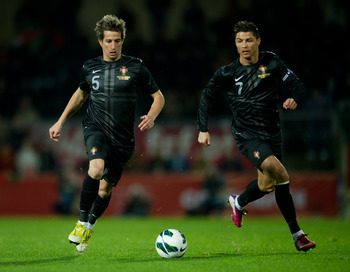 Jasper Juinen/Getty Images
Currently level on points with Israel, Group F's third-place residents Portugal will need to dust off some early qualification cobwebs if they're to avoid an almighty fall from grace in the next six months.
The Navigators haven't failed to qualify for a World Cup finals since 1998 but, ironic as it may sound, may have trouble finding their way to Brazil unless they can live up to the high standards a squad like theirs might assume.
With a matchup against both Azerbaijan and Luxembourg left to go in their qualification calendar, a Ronaldo-led Portugal can hope to score some goals on the board in their route to Rio, but will need to clinch something against the likes of Israel and Russia if they're to pull their rivals back.
Paulo Bento might have a highly talented roster at his disposal but continues to see inconsistency stop the squad from joining rest of the world's elite, with defence a particularly disappointing area in need of improvement.
14. Greece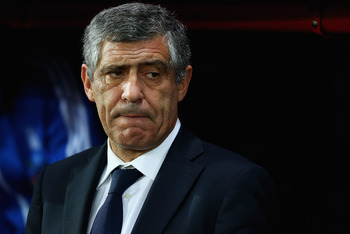 Matthew Lewis/Getty Images
The only side to have restricted Bosnia & Herzegovina from scoring in their World Cup campaign so far, Greece continue to enjoy their relatively good form of the last decade and are on course to challenge for Group G's first-place finish.
Fernando Santos' men were a shock quarterfinalist at Euro 2012 and are just three points behind their pool's leaders while boasting a two-point lead over Slovakia.
While economic troubles may muddy the country's name, Greece continue to see good fortune in terms of international football and have the good fortune of playing their final three qualification fixtures on home soil.
The Blue-White need to play Group G bottom side Liechtenstein twice, giving Santos' side a good opportunity to increase a goal difference in dire need of some improvement.
13. Sweden
Michael Regan/Getty Images
After pulling off one of the most remarkable second-half comebacks in recent memory, Sweden look like a side capable returning to the World Cup stage after failing to qualify for the 2010 edition of the competition.
Erik Hamren's outfit managed to score four goals in the last 31 minutes of their clash against Germany in Berlin, going from a 4-0 smattering to a well-deserved draw in nothing less than epic fashion.
By doing so, the Scandinavians announced themselves as serious competition once again and extended their unbeaten Group C run in the process.
Group leaders Germany might have a five-point lead over the Swedes but with only four matches played compared to Die Mannschaft's five, Zlatan Ibrahimovic's sensational charisma still has a chance of playing its part in another major tournament.
12. England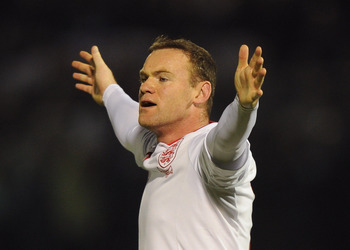 Mike Hewitt/Getty Images
While some might see the top-scoring UEFA qualification hopefuls as an altogether more dangerous weapon, England have the happy circumstance of being drawn against San Marino, a frequent help to any opponent's goal difference.
The Three Lions most recently saw off the world's worst-ranked country with an 8-0 drubbing on their own soil, but have been slightly less convincing in other fixtures, drawing 1-1 against both Ukraine and Poland, the latter of which was in away territory.
Montenegro have taken full advantage of such slip-ups and currently reside in Group H's top spot with a two-goal advantage over their English opposition.
With two clashes with the Montenegrins left to go, along with a long journey to the clod climates of Ukraine in September, Roy Hodgson's men certainly have a long way to go in their World Cup qualification and would most certainly benefit for automatic progression rather than settling for a playoff place.
11. Croatia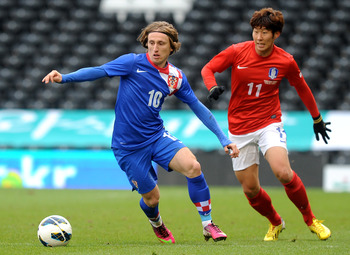 Charlie Crowhurst/Getty Images
Jostling with Belgium in what would appear to be a two-horse race at the summit of Group A, Croatia currently sit in second based only on goal difference and, like Belgium, are yet to suffer defeat in their qualification bid.
Having managed to earn a 1-1 draw in Brussels, The Blazers sit in a comfortable position as they await the reverse fixture with Belgium, a clash that promises to decide just who automatically obtains a spot in the Brazilian finals.
The Croats played no part in South Africa three years ago but impressed at Euro 2012 and look to have retained some of their form from the competition hosted by Poland and Ukraine.
With stars such as Luka Modric, Mario Mandzukic and Darijo Srna all injecting their influence throughout the team, Igor Stimac has perhaps the deepest squad his nation have boasted for some time at his disposal.
With that in mind and the likes of Wales, Serbia and Macedonia all getting in each other's way, it would take an almighty change of form for Croatia to not at least seal second spot in Group A.
10. Montenegro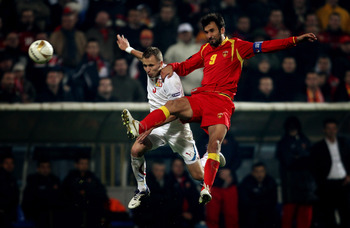 Scott Heavey/Getty Images
A surprise contender for early Group H progression, one might have pegged either Ukraine or Poland to stage an upset against England before looking towards Montenegro.
However, upset Montenegro have, and with a goal difference of plus-11 Branko Brnovic's men have capitalised on their relative underdog status.
Like others in their group, it does benefit the Brave Falcons to be situated in the same pool as San Marino, but 1-0 victories over Ukraine and Moldova—both in away fixtures—speak more highly of the side's pedigree.
Although England will pose perhaps their strongest test of all when they meet this month, Montenegro will seek to uphold what has been an impressively stalwart defence against Roy Hodgson's side, conceding just two goals so far in the tournament.
Having only officially come into existence in 2006, the 2014 World Cup promises to be Montenegro's first as an independent nation, a feat made all the more likely if they can manage to extend their two-point lead over second-placed England.
9. Switzerland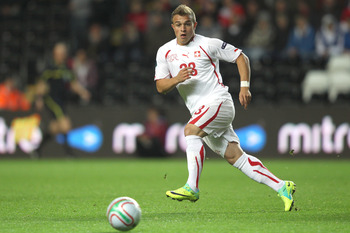 Michael Steele/Getty Images
At the head of one of UEFA's tightest qualifying pools, Switzerland lead Group E by two points, Albania and Iceland closely following the landlocked nation in second.
Having won the 2009 Under-17 World Cup, Ottmar Hitzfeld happens to have a number of youngsters now coming of age within his squad; Granit Xhaka, Xherdan Shaqiri and Ricardo Rodriguez all particularly bright lights falling under that category.
With three home matchups to look forward to, Gokan Inler is leading his side to their third consecutive World Cup, 79 years after the Swiss first tried their hand in the competition.
8. Belgium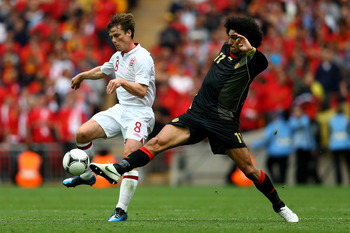 Clive Mason/Getty Images
Widely looked upon as an up-and-coming force on the international stage, Belgium definitely have their hands full in living up to expectations in the coming years but appear to be coping well with the pressure so far.
With a great deal of their players now shining in some of Europe's elite leagues, the Red Devils have surrendered just two points in their five qualification fixtures, conceding just a sole goal along the way.
Captained by Manchester City's Vincent Kompany, a side featuring the likes of Eden Hazard, Marouane Fellaini, Axel Witsel, Christian Benteke and plenty of other stars looks set for its first World Cup since 2002.
From defence to midfield to attack, things appear to be going smoothly for Marc Wilmots' men and two more away matches are all that Belgium need fret about heading into the second half of their qualification campaign.
With Macedonia, Serbia and Wales still to make their way to Brussels, the emerging world talent can still gain automatic entry to Rio 2014, but only if their current vein of form is extended for another six months.
7. Spain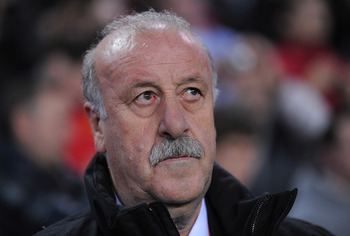 Denis Doyle/Getty Images
While they might be reigning World and European champions, Spain's early outings prior to Rio 2014 would appear to be proving the old adage true, and that all good things must certainly come to and end.
Vicente del Bosque has fielded close to full-strength sides in all four of his side's qualifiers so far in the tournament, but has just failed to see things click as he might have liked.
Being held to 1-1 draws by France and Finland as well as a very slim 1-0 triumph over Georgia, the Spaniards now sit in Group I's second place, two points behind Les Bleus.
Still looked upon as one of the greatest teams in national football history, the Spain setup can't have changed enough in the last nine months to not eventually qualify for the 2014 World Cup.
That being said, Del Bosque's have away games in Paris and Helsinki to worry about; fixtures that could put a very interesting spin on matters as Spain look to defend their World Cup title.
6. Bosnia & Herzegovina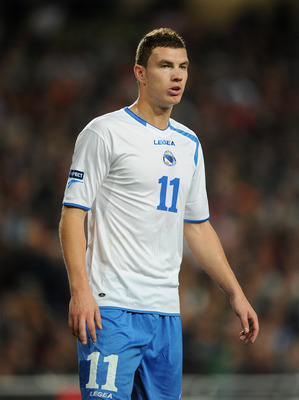 Jasper Juinen/Getty Images
A constant story of "so close, yet so far," Bosnia & Herzegovina once again look capable of qualifying for their first major tournament, if not doing so with slightly more gusto this time around.
Three points superior to second-place Greece and with a gap of plus-13 in the goal difference column, the former Yugoslavian nation are currently sitting pretty on their run to Rio.
After scoring 12 goals in their first two Group G outings, things have inevitably simmered down for Safet Susic and co. who quite recently saw off closest rivals Greece in a comfortable 3-1 triumph.
As if their goal difference hadn't benefited enough already, Bosnia & Herzegovina are set to go up against Liechtenstein, Latvia and Lithuania once more each in the coming months, the nations currently proving that good defences don't come from countries beginning with the letter "L."
5. France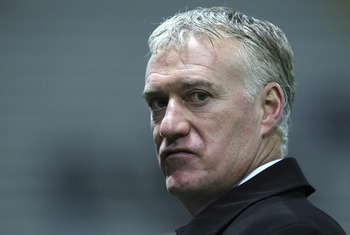 Marco Luzzani/Getty Images
Like Bosnia & Herzegovina, France have also been a "so close, yet so far" story in the past decade or two, the main difference being that they actually make it into the finals of said tournaments before disappointing greatly once there.
Since finishing the 2006 World Cup in second, Les Bleus have had some convincing build-ups to the major international tournaments, be it world or european, only to fall dismally short of expectations on the bigger stage.
This time around, Didier Deschamps has moulded a team capable of drawing in Madrid against Spain, notching a series of more impressive wins, all the while bringing his side to the summit of Group I, two points in front of the aforementioned Spaniards.
Given Spain's dominion over the world's silverware for the last six years, it's understandable why a nation might be intimidated by the power of The Red Fury, but Deschamps' men appear to be paying no mind to their rivals' pedigree and currently look the most likely outfit to cling to their pool's automatic qualification spot.
4. Italy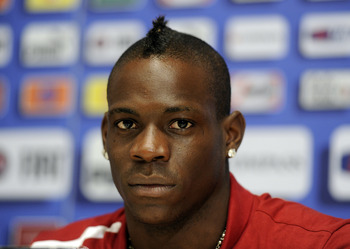 Claudio Villa/Getty Images
Top of Group B with a game in hand over second-place Bulgaria, there's room for Cesare Prandelli to be pleased with his World Cup qualification run so far, nine months after finishing as runners-up at Euro 2012.
After drawing their opening qualifier away to Bulgaria, the Azzurri are now enjoying a three-match winning streak, seeing off Malta, Armenia and Denmark, all by a margin of two goals.
Like any team, Italy will be compared with the World Cup-winning team of 2006, but are bearing the burden well with a great mixture of talent both old and young in their squad.
While Gianluigi Buffon, Andrea Pirlo, Daniele De Rossi and others might have the wisdom only some will possess, it's the likes of Stephan El Shaarawy, Mario Balotelli and Marco Verratti that are ready to rejuvenate what may have been considered a tired-looking side.
3. Russia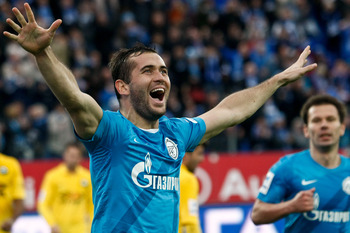 Epsilon/Getty Images
One of only two sides to have won all of their 2014 World Cup qualifiers so far, Russia have been a force to be reckoned with over the last six months, taking none of Group F's other occupants as prisoners.
Following on from the valuable paving made by Dick Advocaat, Fabio Capello seems ready to bump this national team into that next bracket of international pedigree they've shown themselves capable of competing against in recent years.
Although the Eastern Europeans haven't competed in a World Cup since 2002, their form at the last two European Championships has been incredible at times.
After playing their role in two World Cups before now (1994 & 2002), Capello's men may hope it's a case of third time's the charm for them as far as Rio 2014 goes.
Despite playing a game less than Israel, Russia are already four points ahead of their nearest Group F opponents at the top of the pool but can't afford to rest with four away games still to play.
Aleksandr Kerzhakov, Roman Shirokov, Aleksandr Anyukov and others are all happening upon peak times in their careers at the moment, and could well take full advantage of such fortunate timing, almost certain to wrap up their group early depending on how others fare.
2. Germany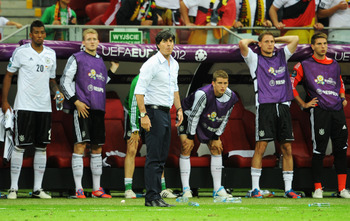 Christopher Lee/Getty Images
This time last year, Germany were being looked at as one of the most likely sides capable of dethroning Spain at Euro 2012, a task they ultimately failed in but are on track to attempt once more, this time on the world's biggest stage.
Again, Die Mannschaft have been thoroughly convincing in their qualification run, save for an October slip-up against Sweden that saw Joachim Low's side go from a 4-0 lead with just over 30 minutes left in the game before going on to draw 4-4.
If recent years have seen an encouraging amount of youth make their way into the German international set-up, then 2014 only bodes well for the nation as those same youngsters continue to excel through their national ranks.
The youngest squad at Euro 2012 on aggregate, Low's midfield and attacki in particular is packed with youthful talent as the likes of Mesut Ozil, Toni Kroos, Andre Schurrle, Mario Gotze and Marco Reus as well as others thrive despite their ages.
Sweden, currently five points behind Germany in second, have a game in hand over the Group C leaders but may just be that bit too far behind one of Rio 2014's favourites to pull back top spot.
1. Netherlands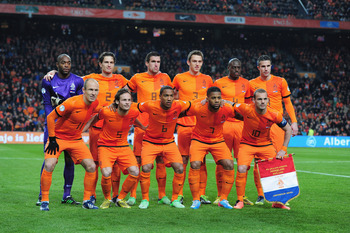 Jamie McDonald/Getty Images
Eternal chokers on the World Cup stage, the Netherlands have once again proceeded to warm up in preparation for next year's tournament with a perfect record in their group standings.
Along with Russia in Group F, Louis van Gaal's Holland are the only nation to have won all of their qualifying matches thus far and boast a maximum of 15 points after playing five matches.
With a goal difference of plus-14, the Dutch domination of Group D has been so convincing in fact that, should Hungary or Romania drop any more points, Holland can qualify two games before the group phase is even at its end.
While perhaps not the most challenging of pools for a side so experienced, fulfilling expectations can often be a gruelling task in itself and is one Van Gaal's men have dealt with terrifically.
Having won every fixture by a margin of at least two goals so far, Netherlands are currently heading to Rio 2014 as one of UEFA's favourite candidates and are almost assured their automatic qualification spot, despite it being almost 18 months prior to the tournament concerned.
Honourable Mentions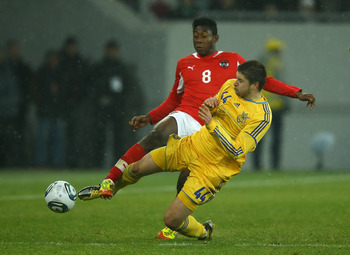 Richard Heathcote/Getty Images
Austria
Having featured in the finals of just two major tournaments over the last 20 years, Austria face a tough task in making their way to their first World Cup since 1998, currently one point behind Group C's second-placed side, Sweden, and level on points with the Republic of Ireland.
With potential qualifiers coming from both angles, it's an impressive goal difference that keeps Das Team in the running to reach Rio after Marcel Koller's side took full advantage of their matchups against minnows Kazakhstan and Faroe Islands.
Albania
Like Iceland, Albania have three wins and two losses to their name after five games in Group E but will now travel away from home for the majority of their remaining World Cup qualifiers.
The Eagles are currently level on points and goal difference with the Icelandic team, and will have booked their spot at the nation's first major tournament finals should they qualify for next year's competition.
Hungary
While Hungary are currently second in Group D, it's just a single score that separates Sandor Egervari's men from Romania, level on points with the two-time World Cup runners-up.
Having drawn with the Romanians in Budapest, Hungary must now salvage something from their trip to Bucharest if they're to realistically hope of gaining qualification, with Holland presumably already accounting for first place.
Slovakia
As an independent nation, the 2010 World Cup in South Africa was Slovakia's first major tournament finals and the management duo of Stanislav Griga and Michael Hipp can hope to make it two on the bounce by making their way to Brazil next summer.
After losing at home to the Blue-White, Martin Skrtel's side are two points behind Greece in Group G and currently reside in third place, faced with the unenviable challenge of getting something out of their three remaining away qualifiers.
Keep Reading