Chicago Blackhawks: Why Stan Bowman Should Consider Trading for Jarome Iginla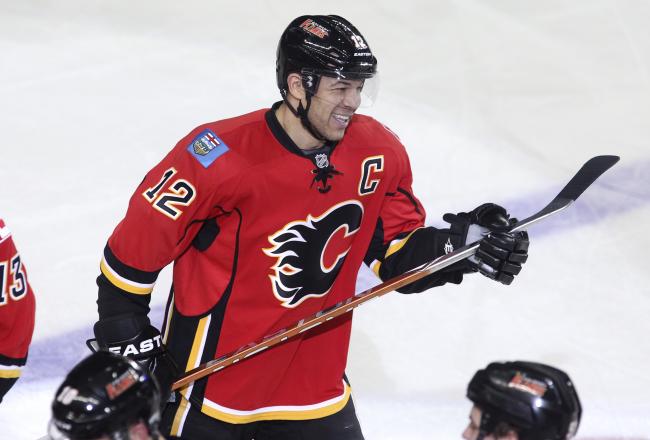 Mike Ridewood/Getty Images
The Chicago Blackhawks should look into acquiring star winger Jarome Iginla before the NHL trade deadline on April 3.
According to Renaud Lavoie of RDS, Iginla has given the Calgary Flames a list of trading partners consisting of four Stanley Cup-contending teams—as required by the no-trade clause in his current contract. That list shows the Boston Bruins, Pittsburgh Penguins, Los Angeles Kings and Chicago Blackhawks.
If the Flames are serious about rebuilding their roster and being contenders in the years to come, then it's very likely that Iginla is heading out of Calgary.
The only real question: will GM Stan Bowman try to acquire the services of Iginla?
With a 24-3-3 record heading into the final month of the regular season, it seems unlikely that Bowman would want to make any significant changes to the roster. After all, this is already a great group of players likely destined to make a deep run in the playoffs.
But even with this great team, Bowman said that he would be open to any offers or interesting trade options (via Chris Kuc Chicago Tribune):
I'd like to add to the mix as opposed to trade players away. We would consider anything that would give us an improved chance to win but we've played really well. If we don't end up making a trade I'd be comfortable with the group we have here.
However Bowman chooses to spin it, he needs to look at what Iginla can bring to the Blackhawks.
Considered one of the best power forwards of his time, Iginla packs both a scoring and physical punch that would surely beef up the front lines of the Blackhawks. He is a natural leader and can fill any line theteam needs him to play on; including the fourth line with Michael Frolik and Brandon Bollig.
If there is one thing the 'Hawks have been lacking this season, it's their physical ability. Don't get me wrong, this team is as skilled as any in the history of the franchise, but they lack in hitting and toughness.
Iginla can make up for this weakness while also increasing the likelihood that the Blackhawks will hoist the Stanley Cup.
He is an unrestricted free agent after this season and will be the hottest commodity on the trade market in the upcoming week. In short, Iginla is the perfect rental player for any team that wants a complete hockey player.
With the Flames looking to rebuild quickly, it's more than likely that any trade will require at least a few prospects and one NHL-ready player.
Whether Bowman wants to part ways with one of his players at the moment is unknown, but he should be lining up some AHL prospects. After all, having depth in the NHL affords an organization the chance to trade away some of their prospects for proven, skilled and veteran players.
It's even possible that Bowman will sacrifice a player like Andrew Shaw or Bryan Bickell to interest the Flames in a trade before the deadline—unlikely, but not out of the question just yet.
It may seem ludicrous for Bowman to trade away some of the 'Hawks' long-term assets for a rental player, but when a cup is part of the equation, never say never.
How likely is it that the Blackhawks will trade for Jarome Iginla?
Adding the All-Star winger will put the Blackhawks over the top and make them the uncontested favorites to win the Western Conference—Anaheim Ducks still being a very close No. 2 seed.
Even more, the 'Hawks may become favorites to win the Stanley Cup over the Penguins and Bruins.
How can Bowman reject this golden opportunity to push his team this season? Even if Iginla is only a rental player, the ultimate goal is to win the cup; this is what the organization and fans all strive to see.
This move would also help the Blackhawks to become an even deeper team. While they already have four lines that can contribute to the score sheet on a regular basis, adding Iginla will give them potentially three NHL first lines.
For example, Jonathan Toews and Marian Hossa on the first line, Patrick Kane and Patrick Sharp on the second line and Viktor Stalberg and Jarome Iginla on the third line.
Think about that for a second; those three lines can all be first lines on different NHL teams. It may even be equivalent to an All-Star team at that point.
This may all be a dream at the moment, but come April 3 the Blackhawks could have a new addition to the roster.
Follow James Maahs on Twitter for all the latest on the Chicago Blackhawks:
This article is
What is the duplicate article?
Why is this article offensive?
Where is this article plagiarized from?
Why is this article poorly edited?

Chicago Blackhawks: Like this team?