Duke vs. Michigan State: 5 Keys for Blue Devils to Win Sweet 16 Showdown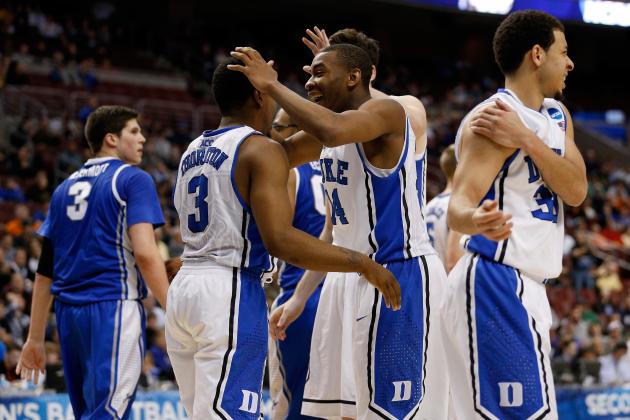 Rob Carr/Getty Images

Of the eight forthcoming Sweet 16 matchups, the Midwest Region possesses the most intriguing of them all as the No. 2 seed Duke Blue Devils will meet the No. 3 seed Michigan State Spartans. Coincidentally, both schools will be returning to the location of their last championship—Duke's fourth, Michigan State's first—Indianapolis, Ind.
Concluding the revealing of the tournament bracket, fans and experts alike envisioned a potential clash between two of the best programs in the country. As Duke and Michigan State easily turned back challenges from their second- and third-round opponents respectably, those pre-tournament predictions will become a realization.
For Duke, the game against Michigan State will be its most challenging of the season. The Spartans are an extremely well-coached basketball team, with a tenacious style of play coupled with superb talent at each position.
In order for the Blue Devils to end the Spartans championship aspirations and keep their own alive, here are the five most important keys to the game that they must follow.
Begin Slideshow

»
Essentially, this Sweet 16 matchup will be decided between the Duke offense and the Michigan State defense.
Duke boasts one of the more explosive offenses in the nation, while Michigan State's success relies on a suffocating and tenacious defensive approach.
When dissecting the Blue Devils, they're ranked inside the top 15 nationally in points per game (77.8; eighth), field-goal percentage (47.7; 15th) and three-point percentage (40.3; fifth). They're also ranked fifth in adjusted offensive efficiency, according to the Ken Pomeroy Ratings.
As impressive as Duke's offensive numbers are, however, Michigan State is even more stellar on the defensive end.
The Spartans are ranked inside the top 25 nationally in points per game allowed (58.8; 21st), field-goal percentage defense (39.0; 22nd) and three-point percentage defense (29.7; 17th). Not to mention, they're the sixth best team in adjusted defense efficiency.
Although for Duke, the main number to pay close attention to in this game is 40.
Why?
Duke is 28-3 on the season when shooting better than 40 percent from the floor. On the flip side of that, Michigan State is a woeful 10-8 when allowing teams to do so.
If the Blue Devils are able to connect early and often on their field-goal attempts with an array of capable outside shooters, it will leave one of the best defenses in the country helpless in surmounting any sort of stoppage to the impending onslaught.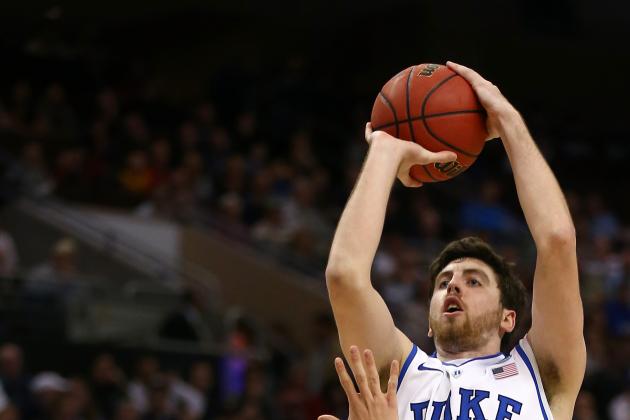 Elsa/Getty Images

It was 25 days ago that senior forward Ryan Kelly made his highly anticipated return to the Duke lineup after injuring his right foot earlier in the season. Against Miami—the eventual ACC regular-season and tournament champion—Kelly scored a career-high 36 points in leading the Blue Devils to victory.
One of the greatest individual performances in Duke history? Indeed it was.
Even after his career night, Kelly scored 18 points, compiled nine rebounds and handed out five assists against Virginia Tech in a win on senior night.
Simply put, Ryan Kelly was back. And seemingly better than before.
In this case, though, the number 25 is significant.
As mentioned above, Kelly returned just 25 days ago. However, in the Blue Devils' last four games it has been the combined amount of points that Kelly has been able to record.
A total of 25 points in only four games (6.3 points per game) for one of Duke's most efficient scorers. Not to mention, he is shooting just 29 percent from the floor and an atrocious 12 percent from three.
As Duke gets set to meet Michigan State in the Sweet 16, its stretch-4 forward will be faced with the task to break out of his dreadful shooting slump against one of the best defenses in the country.
In all likelihood, Kelly will be matched up against 6'10" forward Adreian Payne. Not an easy task, especially considering Payne is a long and extremely athletic player who owns a 7'1" wingspan.
Nevertheless, Payne can undergo his share of lapses on the defensive end. In order for Kelly to be a factor, he will need utilize the shot fake and get into the lane and knock down mid-range jumpers. And when the three-point shot presents itself, it is necessary for Kelly connect on his share of attempts.
As it has been pointed out throughout the season, Ryan Kelly is the difference-maker for this team. And on Friday night in Lucas Oil Stadium, his on-court contributions will be as invaluable as ever before.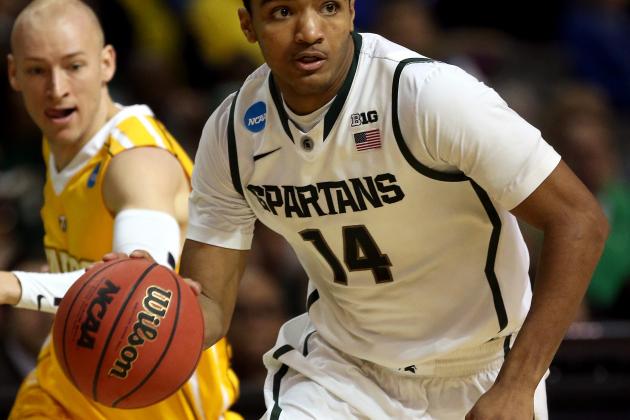 Jonathan Daniel/Getty Images

Michigan State freshman Gary Harris lives for the moment where he can elevate his play in a marquee matchup. And he will have the opportunity to showcase his skills in one of the biggest and most pivotal games of his college career in the Sweet 16 against Duke in his hometown of Indianapolis, Ind.
Harris will enter Friday's contest fresh off a career-high 23 points in Michigan State's third-round victory over No. 6 seed Memphis. He was extremely effective scoring the basketball, as he finished shooting 66.7 percent from the floor, 57.1 percent from three and 87.5 percent from the charity stripe.
To date, it has been his best all-around performance of the season.
The 6'4" shooting guard is easily the best player for Tom Izzo's Spartans. He was the first Michigan State player to receive the award for Big Ten Freshman of the Year, despite playing the majority of the season with nagging shoulder and back issues.
His toughness cannot be questioned.
Although, his game can be contained.
Harris will likely see a rotation of Seth Curry, Rasheed Sulaimon and Tyler Thornton at various points throughout the game. Three players, three different defensive styles.
Curry is a high basketball I.Q. defender with quick hands. Sulaimon is the most athletic defender on the team with great length and even better foot speed. Thornton is your typical in-your-face, apply constant pressure defender that can frustrate good scoring guards.
Disrupting Harris' presence in this game, takes away a significant piece of Michigan State's offense. He is also prone to giving the basketball away, as he averages 1.5 turnovers per game giving him a poor 0.88 assist-to-turnover ratio on the season.
Can Harris live up to the expectations of leading Michigan State past Duke? Or will the freshman freeze under the pressure of playing on a big stage in his hometown?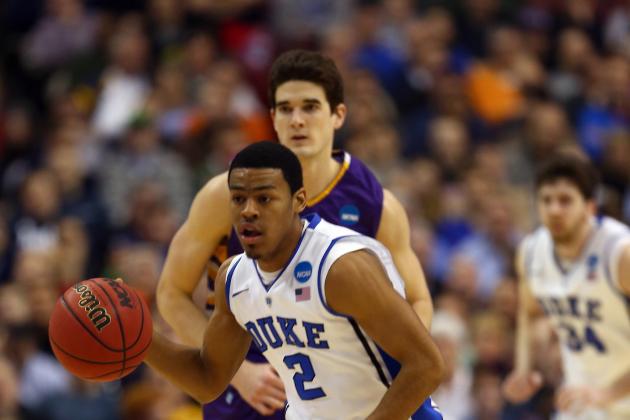 Elsa/Getty Images

The matchup receiving the majority of the attention is between Duke's Ryan Kelly and Michigan State's Adreian Payne. However, the difference in who advances in the NCAA tournament and whose season comes to an end could be decided at the point guard position.
Quinn Cook will lead the Blue Devils into the Sweet 16 as one of the most underrated point guards in the country. His improvement in his sophomore season has been outstanding to this point, as he is averaging 12.0 points per game, 5.4 assists per game and a 2.44 assist-to-turnover-ratio.
As effective as Cook has been this season, he is suffering through a minor shooting slump in his last three games. He enters having shot 30.7 percent from the field and a dreadful 10 percent from three. Ranked third on the team in three-point shooting, Cook will need to break out of his slump from outside to further elevate the Blue Devils' level of play against the Spartans.
On the other end, Keith Appling is highly regarded as one of the top point guards in all of college basketball. A nominee for the 2013 Bob Cousy Award, Appling is the leader of this Michigan State team averaging a team-leading 13.3 points per game.
However, Appling's health is a serious cause for concern.
Appling banged up his shoulder in Michigan State's third-round victory over Memphis, forcing him to miss the final eight minutes of play. He has also been playing with a sore knee.
If the leader of Michigan State is in any way affected by his two injuries, Quinn Cook will likely take advantage of Appling's misfortunes and provide Duke with enough spark to get the victory and move on to a 19th Elite Eight appearance.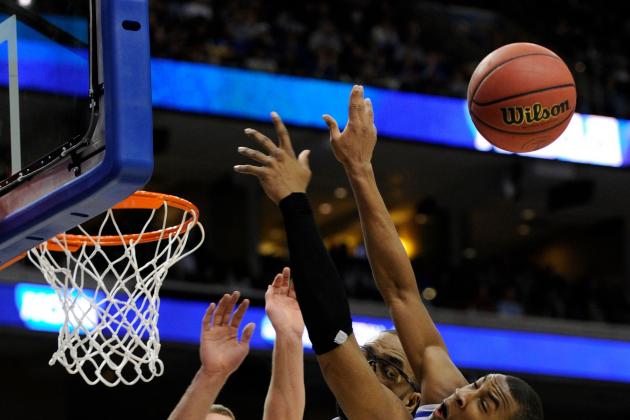 Eileen Blass-USA TODAY Sports

The most difficult challenge Duke faces in this game is the battle on the boards against one of the more superior rebounding teams in the nation.
Michigan State has earned the reputation as the toughest team, physically and mentally, in the nation. It uses that same physical and mental toughness and channels it into rebounding the basketball with great passion and desire.
The Spartans will enter as the best rebounding team in this tournament, as they have compiled a tournament-best 98 rebounds through their first two games.
It should be no surprise, seeing as how the Spartans are ranked 33rd in the country with 37.9 rebounds per game, including 11.8 on the offensive glass.
What is one of Michigan State's main strengths to its success, however, is Duke's biggest deficiency.
The Blue Devils are 208th in the country in rebounding, averaging 33.8 rebounds per game. Excluding Mason Plumlee's team-leading 10 rebounds per game, the next closest is Ryan Kelly with just over five.
Third on the team? Quinn Cook, point guard (3.9).
No question, Michigan State wins the rebounding edge on Friday night.
Although, if Duke can keep the margin to a minimum and limit the Spartans' second-chance points (18.0 per game in NCAA tournament), the Blue Devils can then rely on their main strength by executing on the offensive end.
Follow @CLykinsBlog