WWE Raw Live Results, Reaction and Analysis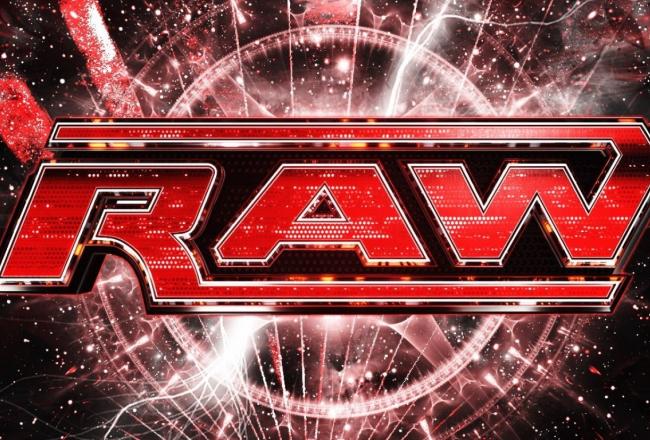 wwe-wallpapers.com

Welcome to the Bleacher Report live Raw coverage for March 25, 2013. We are less than two weeks away and things in WWE are set to heat up tonight.
We have The Rock making an appearance that has been advertised as a "special appearance," even though he is the WWE champion.
We also have the rest of the undercard to fill out, so we could see any one of the three remaining champions come away from Raw with a WrestleMania match.
With everything that is going on in WWE right now, anything could happen tonight.
Will The Undertaker make an appearance and surprise CM Punk?
How will Triple H respond to Paul Heyman and Brock Lesnar making their match No-Holds Barred?
Will another Hall of Fame inductee be revealed?
What exactly is The Rock's agenda tonight?
And lastly, can Chris Jericho keep step with Fandango?
Make sure to bookmark this page, and come back Monday night at the start of the show for coverage of all the action as it happens.
Follow me on Twitter @BR_Doctor
Tonight's show had a lot of high points, which is what we should be expecting on the road to WrestleMania.
This is not surprising. Champions who are about to lose their title are often booked to look strong prior to the match.
Thanks for reading and feel free to share your thoughts on the show in the comments section below.
Cena tries to hammer home the point that he is better than The Rock, which Rock responds with "If you had me beat, you would have beat me."
The Rock quotes Ric Flair, which obviously gets the crowd on his side. Dusty tries to chime in and The Rock cuts him off.
YOU DON'T CUT OFF THE AMERICAN DREAM!
Dusty says WrestleMania is about winning and losing and these two need to take the gloves off at Mania.
Dusty lobs them the easiest question and asks what they want on April 7th. Cena says he wants to win the big one. No surprise there.
Rock says he will wake up the day after WrestleMania he will wake up as WWE champion while Cena will still be eating his Fruity Pebbles.
Rock challenges Cena to go at it right now and Lawler tells them to calm down. Cena takes his shirt off and folds it on the podium.
They square off in the center of the ring and Cena does his You Can't See Me Sign. The Rock shoves him and Cena tries for an AA.
Rocky counters and hits the Rock Bottom before leaving the ring with his title. Cena slowly gets up as the legends look on not helping at all.
The show ends 16 minutes over the mark with Rocky standing tall with his title on the stage and Cena down in the ring.
Rocky says Cena took his loss like a man and Cena says in 13 days we will see how Rock takes his.
Booker asks the next question. He asks why Cena can beat Rocky this time around and Cena says it is because he has to.
Rock jumps on that cop out answer right away.
Foley smiles as Rocky tells Cena to wipe a monkey's a$$ with his "have to."
Cena says it wasn't Rocky who beat, it was Cena who beat himself. Cena says he has been getting mixed reactions his whole career.
He forgot about that few years when his pops would make even the most experienced roadies go deaf.
Imagine, for a moment, Donovan McNabb enjoying #raw from the comfort of his own home and being reduced to tears @johncena

— Derrick Bateman (@DerrickWWE) March 26, 2013
Cena compares the hate he gets to the hate Mcnabb gets. That might be pretty accurate.
The Rock says he knows more about failure than Cena thinks he does. He talks about using a matress he found in a dumpster.
Rock then talks about his rise to greatness after having a somewhat rocky start. No pun intended.
The Rock gets his signature "Mention a local mainstay" line out of the way by talking about Pat's cheese steak.
I am wondering if these other legends will even have a chance to talk.
Bret asks what changed between them, whatever that means.
Cena comes out in a shirt so yellow it hurts the eyes. Mick Foley speaks first and he brings up how he and The Rock had a tag team match at WrestleMania 20 and Foley lost it for them.
Cena gives a standard response to Foley asking him if he can live with losing to The Rock again.
Haha! All Cena has to do to get huge heat in Philly is say the name Donovan Mcnabb.
The Rock is out first after the break. I am surprised he remembered to bring the WWE title with him after forgetting it so many times this past week when he went on talk shows.
Jerry Lawler brings out the following legends to take place in this segment: Booker T, Mick Foley, Dusty Rhodes and Bret Hart.
Now that's a serious panel of Legends... @bookert5x, @brethart & @wwedustyrhodes on #RAW now!

— Brooklyn Brawler (@brawlerreal) March 26, 2013
Is it a coincidence that everyone in the ring, except Lawler, was in WCW at one point?
Jerry Lawler is in the ring for the special Q&A with The Rock and John Cena with some legends.
This could be really funny, or very painful to watch. Predictions?
AJ vs. Kaitlyn
Did Kaitlyn have a new theme composed by the composer from Mario Brothers?
Kaitlyn takes AJ down right after the bell. AJ gets whipped into the corner and then knocked down by a hard back elbow.
AJ gets whipped from corner to corner until the ref makes Katie back off. AJ hits two hard slaps and Kaitlyn grabs her and takes her out with a big shoulder block.
Damn! Kaitlyn goes head first into the barricade when she misses a spear outside the ring. She has taken two hard shots to the head tonight.
The ref counts Katie out as she is unable to recover from running herself into the barricade.
Winner: AJ
I expected more, but hopefully WWE gives them some more time soon so they can show what a match they can have.
Wow! Arnold Schwarzenegger is inducting Bruno Sammartino into the HOF. That is going to be 20 straight minutes of thick accents.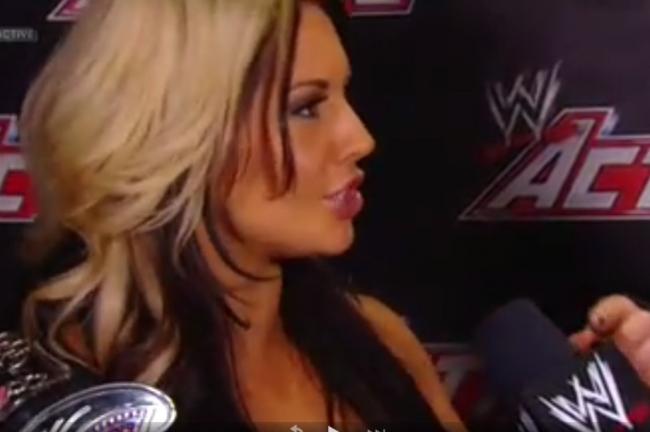 Kaitlyn recalls some of her memories of AJ on the WWE app.
Seriously? We are getting AJ vs. Kaitlyn tonight? This might end up being the best Raw of the year at the rate things are going. Everything tonight has been solid save for a match of two that were just filler.
Cole announces that Ryback and Henry will compete in a weight lifting contest on SmackDown.
We get a replay of Swagger snapping Ricardo's ankle and then attacking him again tonight.
Ryback vs. 3MB
I am pretty sure Ryback has beaten every single one of these guys about a dozen times. This should be quick.
Slater opts to start things off. Slater gets the drop on him for a second, but Ryback immediately hits the Thesz press.
D-Mac comes in off the tag and gets put in the corner for some hard back chops from Ryback. Ryback takes out Mahal and Slater before D-Mac hits one of the best kicks I have seen in months.
3MB keep Ryback cornered and Slater hits him with a sloppy kick for a two count. Mac is back in with a clothesline for another two count.
Ryback comes back and he sends Mac and Mahal out of the ring before he hits Slater with a few power moves. This just turned into an excuse to show Ryback doing some signature moves.
Ryback gets up Slater and Mahal for the Shell Shocked and the win.
Winner: Ryback
I wanted to see him hit it on all three guys at once, but it might not be possible.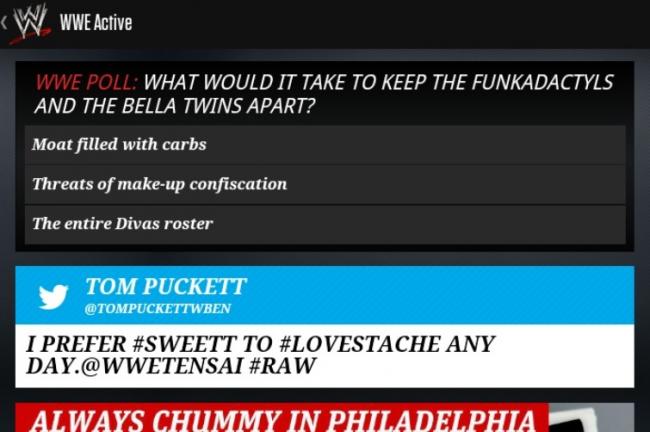 Am I the only one who thinks this poll on the WWE app is a bit sexist?
Cole- "What are you looking at?"
King- "The Bellas. I hate to see them go, but I love to watch them leave."
Rhodes Scholars vs. Brodus Clay and Tensai
Clay and Sandow kick things off, with Clay using his power to control the match. Tensai tags in and they double team Sandow.
Rhodes gets the tag and he manages to get Tensai down. Sandow and Cody trade some quick tags and keep Tensai grounded.
Clay gets the tag and he takes it to Rhodes with a throw and a corner splash. The Bellas and The Funkadactyls get into it and this allows Rhodes to hit Clay with the Disaster Kick for the pin ad the win.
Winners: Rhodes Scholars
I am happy to see Rhodes Scholars get the win this time.
The video package they play for Undertaker and CM Punk is pretty awesome.
Chris Jericho is interviewed backstage about Fandango and he says Vickie has made a match between them at WrestleMania.
Excellent! Rhodes Sholars make their way out next.
Sandow has a mic, which always equals great things. He insults Philly Cheese Steaks and Philly in general.
They bring out The Bellas, who are a little easier to tell apart these days.
Khali, Zack Ryder and Justin Gabriel vs The Shield
The sacrificial lambs are in the ring when we return and The Shield make their way through the crowd.
They discuss strategy outside the ring before deciding Rollins will kick it off against Khali. Rollins goes a little nuts before Khali just grabs him and stops him.
Ryder tags in and he hits Rollins with a pair of knees, but Rollins avoids the missile dropkick and then starts laying in with mounted strikes.
Ambrose and Reigns do some quick tags and keep pounding on Ryder. Ryder manages to make the tag to Gabriel, who gets in about one solid shot before being taken out by Ambrose from behind.
Ambrose tags Rollins and then rolls Gabriel onto his back so Rollins can come off the top rope with e knee for the pin and the win.
Winners: The Shield
The Shield attack Khali after the match and get him down before taking him up for the Triple Powerbomb.
The Shield are booked to look awesome, and they do.
Sheamus' music hits and he comes out on the ramp, followed by Orton. The two make their way to the ring as The Shield stand there waiting.
Big Show comes out of the crowd and now they are surrounded. All hell breaks loose and everyone starts brawling.
The Shield end up retreating and the team of Sheamus, Orton and Big Show stand united in the ring.
Bryan and Kane are shown arguing backstage...again. Bryan is trying to explain why they need to watch out for AJ during their match with ZIggler and Big E.
They argue over who is more hung up on AJ and Kaitlyn comes in and tells them to move on. AJ comes in and listens in the background.
Kaitlyn calls AJ crazy in so many ways and AJ attacks her and throws her head into a metal water fountain.
AJ really goes nuts on her and Kane and Bryan have to pull her off and drag her away.
Miz vs. Barrett Part 2
Barrett is firmly in control after the break. We see a clip of him throwing Miz into the barricade during the break.
Is the crowd chanting boring?
Barrett keeps Miz grounded with a submission. Miz fight back with some hard rights and lefts followed by a running knee and kick combo that looked pretty cool.
Miz hits his corner clothesline and a flying double axe handle for a near fall. Barrett hits the Winds of Change out of nowhere for a close two count.
Miz counters and goes for a Figure Four, but he gets rolled up for a two count. He tries again and Barrett kicks him off into the ring post.
Barrett pulls up his elbow pad and goes for the Bull Hammer, but Miz moves. Barrett gets hung up on the top rope when he misses a kick and Miz locks in the Figure Four for the submission win.
Winner: Miz
That was a decent match, but the crowd was dead for some reason.
Wade Barrett vs. Miz Part 1
Barrett is still recovering after the break as we see Miz make his way to the ring. The bell rings and Miz mocks Barrett's injury a little.
Miz hits an atomic drop to start things off and he sends Barrett to the outside. Miz keeps on Barrett and Barrett goes to the outside to recover again.
Barrett hits Miz with a boot in the middle of climbing the turnbuckle and then he follows up with a high knee to the mid-section for a near fall.
Barrett impresses me more and more every week. He adds things to his moveset and keeps getting better at the acting part of wrestling.
Oh man! Jerry Lawler makes a bad joke about Lincoln in a theater and it takes Cole a minute to understand it. Classic Lawler.
Miz fights out of a hold and hits some of his signature offense before he sends Barrett over the top rope. He rolls Barrett in the ring for a near fall as we head to break.
This article is
What is the duplicate article?
Why is this article offensive?
Where is this article plagiarized from?
Why is this article poorly edited?