Tiger Woods at Arnold Palmer Invitational: Live Score, Results from Final Round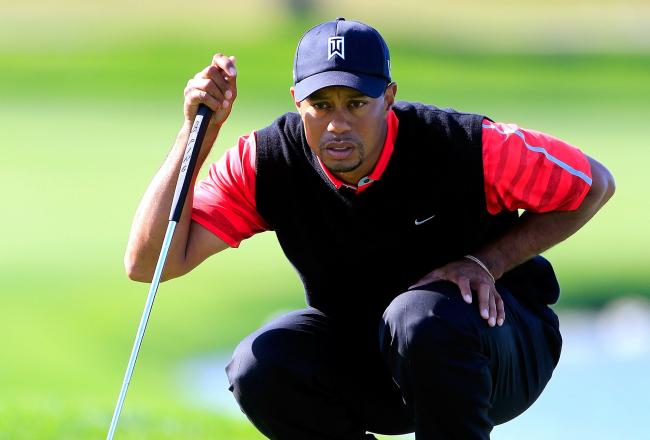 Tiger Woods tapped in for victory at the 18th hole at Bay Hill, raised his putter to thank the crowd and walked off the course to shake Arnold Palmer's hand for the eighth time. It was a relatively anticlimactic end to a day where a Tiger Woods victory seemed very much a foregone conclusion.
With the two-shot victory today, Woods firmly establishes himself as the favorite for the Masters and moves into the top spot of the Official World Golf Rankings, usurping Rory McIlroy. He has now tied Sam Snead for the most wins at a single tournament.
"I play well here," Tiger told Steve Sands just after the round.
Indeed, he does. And with a now-public relationship with Lindsey Vonn and four victories so far this year, Woods has truly returned to form.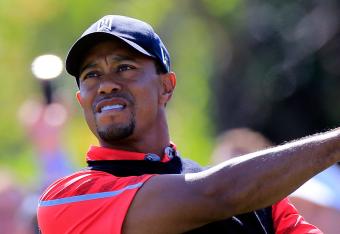 Tiger shoots a two-under par 70 on a Monday finish at Bay Hill to capture his 77th career victory.
Although Rickie Fowler made a late charge, two shots in the water doomed the young Oklahoma State alum. Justin Rose, who led early in the tournament, finished two strokes behind Tiger at 11-under.
Against a tough field, Tiger was in command most of the day as no one could mount a sustained challenge, save for Fowler, briefly.
Although occasionally wayward off the tee, Woods was dominant with the putter and has clearly stated his case, heading into the Masters in a few weeks.
The King offered his congratulations in person. The Black Knight does so via Twitter:
Congratulations @tigerwoods the new World No 1 after victory in API. Hard work, patience & perseverance. Now for @the_masters?

— Gary Player (@garyplayer) March 25, 2013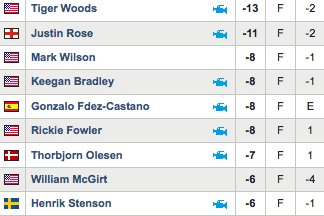 Here's a look at the final scores.
Certainly, there's an element of deja vu here: Woods winning handily at Bay Hill, in a stable relationship and the clear favorite heading into Augusta.
Tiger nearly holes a bomb from the middle of nowhere, and he'll tap in for the victory.
As they just mentioned on Golf Channel, this victory will be Tiger's sixth in his last 20 starts. The 30% clip is vintage Tiger and certainly points to him being "back."
As Tiger approaches the 18th, he has three putts to win.
Tiger's drive sails well right, into the gallery, at 18. Rose (3 back) has 37 feet remaining for birdie at the finishing hole.

— PGA TOUR (@PGATOUR) March 25, 2013
Tiger pushes his tee shot on 18 into the gallery on the right. Difficult to imagine he'll make worse than a double from that position, though, which means he'll be getting his eight congratulatory handshake from Arnold Palmer in just a few minutes.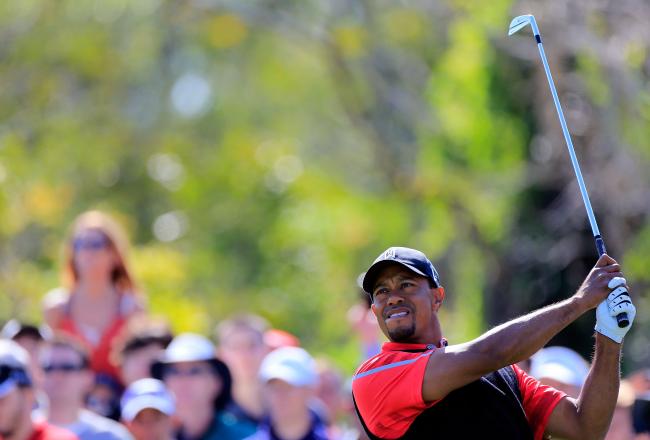 Incredible sequence of events. Fowler puts two into the water on 16, makes 8. Woods hits a great shot out of the right fairway bunker, birdies.
Now, with a par on 17, the tournament is Tiger's.
It's not easy to make a snowman in Orlando but Rickie Fowler just did it.

— Rick Reilly (@ReillyRick) March 25, 2013
With a birdie at the 16th, it's certainly looking like a Woods victory is in the cards.
Tiger hits his tee shot at the 221 yard par-3 17th to 16 ft.
DOUBLE WOW!
Fowler chunks another one into the water.
Finally gets aboard in six.
Tiger's now three clear of Justin Rose.
Woods: -13
Dagger for Fowler: He doesn't carry the hazard at 16 and his ball rolls back in the water. Tiger finds the back of the green in 2. #pgatour

— PGA TOUR (@PGATOUR) March 25, 2013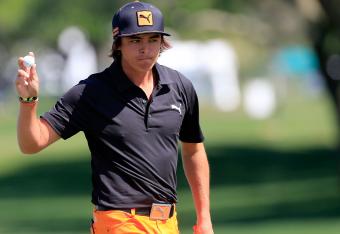 WOW! Fowler rinses it at 16. Tiger hits a GREAT shot out of the fairway bunker and finds the green. Looking a lot like game over now.
Zak from GolfWRX presents the eternal mystery.
Pretty incredible how poorly Tiger can drive the ball and still be at or near the top every week.

— Zak Kozuchowski (@ZakKoz) March 25, 2013
Unforced error on 15 for Rickie. Had a chance to apply pressure, get the lead to 1, but he makes bogey. Tiger up 2 w/ par-5 16th up next.

— Jay Coffin (@JayCoffinGC) March 25, 2013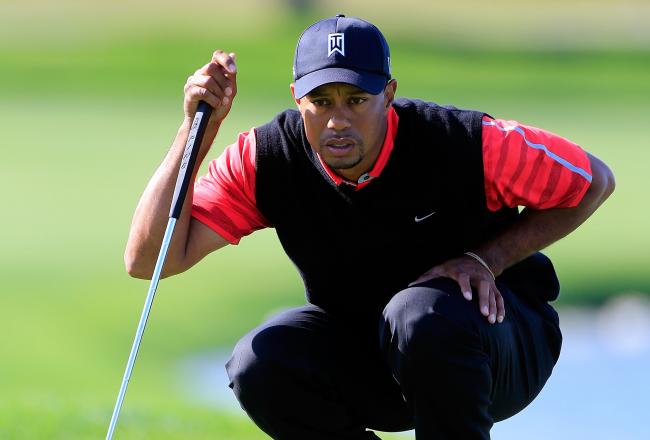 Two misses. Woods and Fowler head to the 16th.
Woods: -13
Fowler: -11
Tiger catches a break at 15 when his towering approach shot doesn't bury. A lackluster sand shot leaves him a longer putt than he'd like for par. Likewise for Rickie Fowler with his pitch from the rough. Big sequence of putts, here.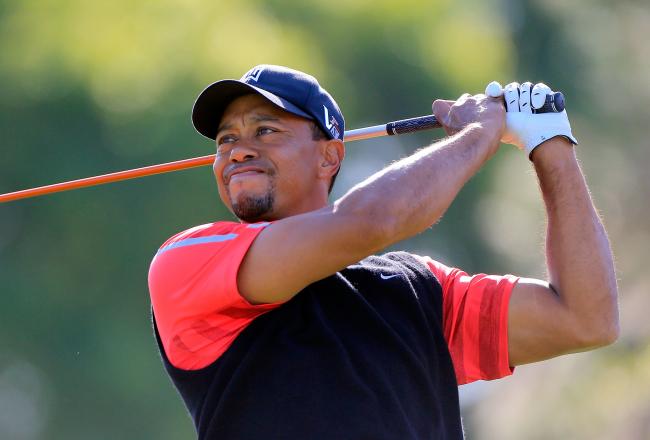 Fowler birdies 14 to cut Tiger's lead to two. Woods finds the fairway off the 15th with a three wood, Fowler pounds it a bit further down with driver, settles in the primary cut.
This one's not over yet.
Fowler: -12
Woods: -14
Funny stuff from Stina Sternberg:
Tiger seems head-over-heels in love with that Nike Method putter these days. Just had to get over his commitment phobia. #typicalmale

— Stina Sternberg (@StinaSternberg) March 25, 2013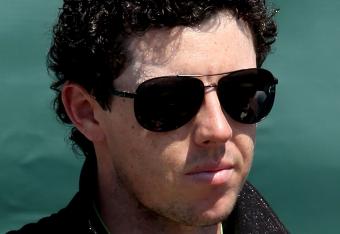 With a par at 13, Tiger's three up with five holes to play and seems to be well on his way to his eighth victory at Bay Hill.
Tiger consistently downplays the significance of the number one ranking. I think it's something he cares about but doesn't get too hung up on, knowing that if he wins, he'll inevitably make it back to the top.
Whatever the case, he's clearly landed a body blow to Rory McIlory and it will be interesting to see how the golfer responds next week.
Tiger's been a little loose off the tee. Pretty good with his irons...putting off the charts, though.
Tiger Woods: currently +3.66 strokes gained putting per round this week. On pace to shatter career-best (+2.34).

— Justin Ray (@JRayESPNGolf) March 25, 2013
Pretty incredible answer from Tiger after Fowler drops that bomb. Can't call it "Old School Tiger" anymore since this is how he is again

— Shane Bacon (@shanebacon) March 25, 2013
HUGE birdie putt from Tiger at the 12th after Fowler holed one to cut into Tiger's lead. He moves to -14.
Vintage.
Here's your one "tangentially related to golf" tweet from Jason Dufner. Quality.
What happened to formula 50 vitamin water. That purple drank was the best. Bring it back please, @cocacola

— Jason Dufner (@JasonDufner) March 25, 2013
At Bay Hill on Sundays when Tiger's playing? It has to be.
If this tournament gets close, a reminder that Tiger has won Bay Hill three times with walk-off birdies at the 18th. Is clutchness a word?

— Steve Elling (@EllingYelling) March 25, 2013
This article is
What is the duplicate article?
Why is this article offensive?
Where is this article plagiarized from?
Why is this article poorly edited?