Re-Grading the San Francisco 49ers' 2010 NFL Draft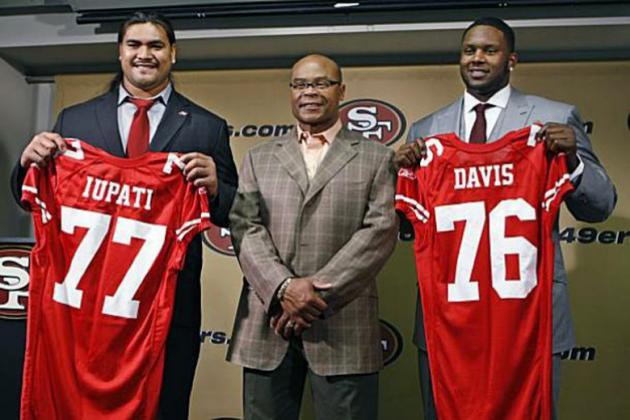 AP Photo/Paul Sakuma
I'm not a fan of grading draft classes after one year in the league, so I decided to piggyback on the idea of my colleague Erik Frenz. He waits three seasons then goes back to the draft class and assesses its value.
With some draft selections, patience is the key. Not every player is going to play at a Pro Bowl level during their first season, nor are they going to be starters right away. Different circumstances dictate different results. That is exactly why some of the NFL's best players don't rise to the top until later in their careers.
Let's take a look at who earned a passing grade from San Francisco's 2010 draft class.
Begin Slideshow

»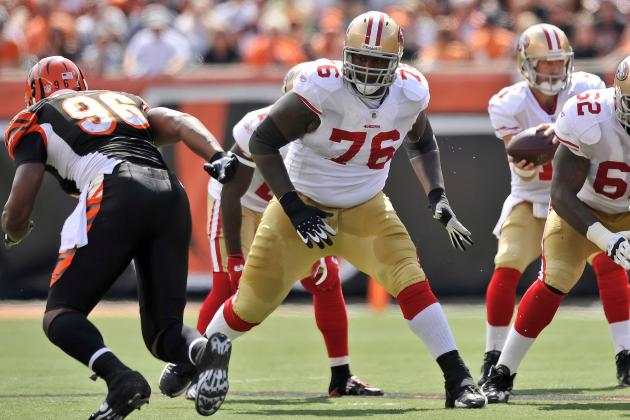 Jamie Sabau/Getty Images

The San Francisco 49ers offensive line was an absolute mess in 2009. According to Pro Football Focus, they allowed 36 quarterback sacks, 33 quarterback hits and 99 quarterback hurries. So with two first-round picks in 2010, it was no secret which position head coach Mike Singletary would be looking to upgrade first.
The No. 11 pick netted the 49ers offensive tackle Anthony Davis.
Despite starting his collegiate career at right guard in 2007, Davis quickly impressed coaches and eventually switched to left tackle before the start of the 2008 season. As Rutgers' starting left tackle, he earned prestigious honors as both a sophomore and junior.
He was named first-team All-Big East in 2008 and 2009. Not to mention he was named a second-team All-American in 2009 as well. All of these accomplishments, coupled with his size, had scouts buzzing about how good of an NFL player Davis could be.
However, his past achievements didn't turn him into an immediate star. He had his fair share of ups and downs in years one and two. Over that two-year span he surrendered 109 total quarterback pressures and was an average-to-below-average run-blocker.
Yet 2012 was his year to shine.
PFF had him as its third-highest graded offensive tackle by season's end. He was the second-best run blocker behind his fellow teammate Joe Staley, and the 27th-best pass-blocker. Even though San Francisco's return on investment wasn't immediate, it appears as if Davis' game has finally arrived.
Grade: B+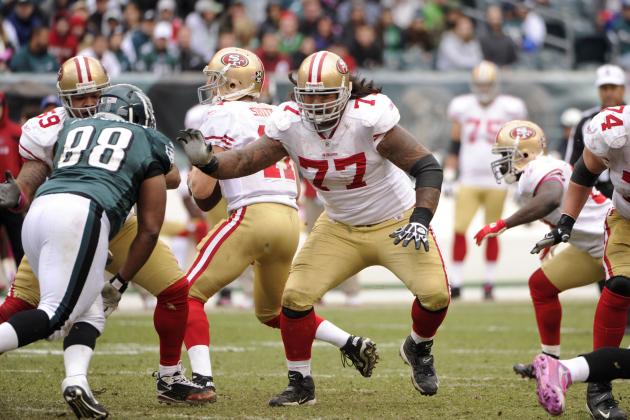 Howard Smith-USA TODAY Sports

The second offensive lineman San Francisco selected in 2010 was a little bit more of an unknown by fans and media members alike. Yet, plenty of scouts and talent evaluators knew exactly who the University of Idaho product was.
Mike Iupati was regarded by some as the strongest and most powerful offensive linemen in the 2010 draft. Which is precisely why Coach Singletary believed he was the answer to the 49ers' interior offensive line woes.
During his rookie season, Iupati played so well that he was named to Pro Football Weekly's all-rookie team. The praise was much deserved, as he finished amongst the league's elite as a run-blocker. Only four offensive guards moved opposing defensive linemen better than the 330-pound road grader.
His production levels in both 2011 and 2012 have built upon his impressive rookie season. In 2012, he was named to his first Pro Bowl and first All-Pro team. Two of the highest honors any player can receive, especially in only his third year of service.
Look for Iupati to become an even better player as the rest of the offensive line continues to jell around him.
Grade: A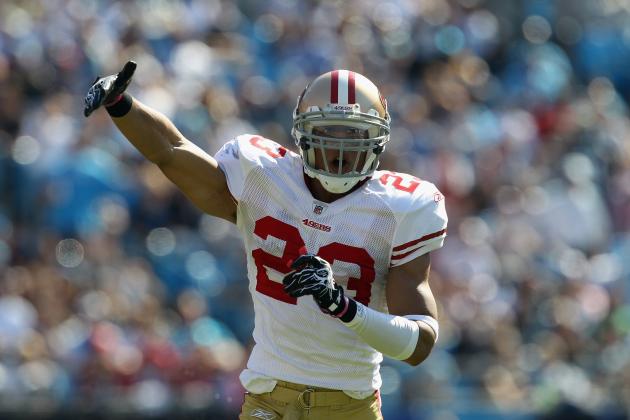 Streeter Lecka/Getty Images

After back-to-back dynamite picks, the 49ers' second-round pick was a swing and a miss. Safety Taylor Mays spent exactly one season in San Francisco before being shipped off to Cincinnati for a seventh-round pick.
It was obvious he fell out of favor with the team after Jim Harbaugh took over as head coach in 2011. Mays has failed to make an impact during his time with the Bengals. In two years, he has logged a measly 316 snaps while making three starts at strong safety.
Grade: F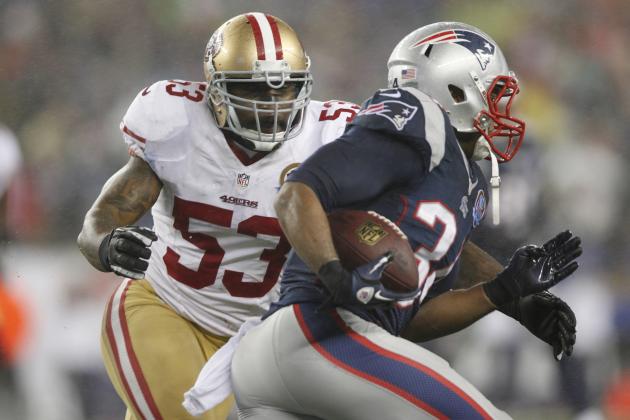 Greg M. Cooper-USA TODAY Sports

Every team's draft class has one pick that screams value. And for the 49ers' 2010 draft class, there was no better pick than NaVorro Bowman in the third round. In college, Bowman had a hard time finding the field due to injury and the level of competition in front him early on.
But, when he was given an opportunity to shine in 2008, he did. He was named first-team Big Ten as a sophomore and earned two Big Ten defensive player of the week honors as a junior in 2009. During his two years as a starter at Penn State, he amassed 199 tackles, 33.5 tackles for loss and seven quarterback sacks.
After strong back-to-back seasons, Bowman decided to enter the draft.
As a rookie in 2010, he appeared in all 16 games and made one start for inside linebacker Patrick Willis. One start was all he needed to show his value—the following season Takeo Spikes was allowed to walk in free agency, and his starting inside linebacker spot was handed to Bowman.
Since taking over for Spikes, No. 53 has transformed into the league's best inside linebacker. In both 2011 and 2012, he was a first-team All-Pro selection and in 2012 was named to his first Pro Bowl.
Just a few months back, Bowman was rewarded for his high level of play. He signed a five-year extension that runs through the 2018 season. He will earn $45.25 million with $25.5 million guaranteed over the life of the deal.
Grade: A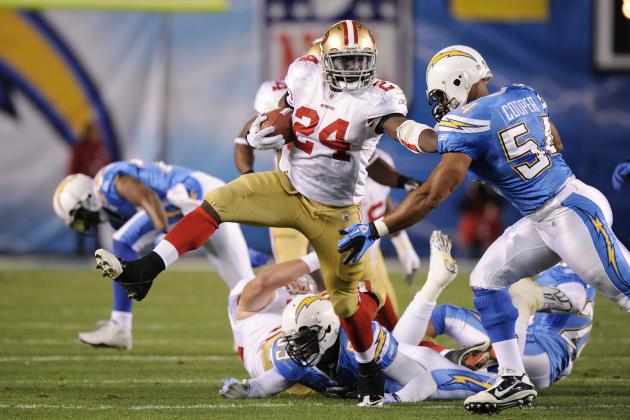 Harry How/Getty Images

Coming out of college, running back Anthony Dixon was considered one of the draft's best "power backs." Dixon was quickly allowed to show his ability as a "power back" when Glen Coffee announced his retirement Aug. 13, 2010.
The former Mississippi State Bulldog entered the season as the No. 2 running back behind Frank Gore. As a rookie, he carried the ball 70 times for 244 yards and scored two touchdowns. Not earth-shattering numbers by any means, which ultimately led the new coaching staff to draft a new backup for Gore in 2011.
Since drafting Kendall Hunter, Dixon has seen his playing time dip tenfold. He has played a total of 91 offensive snaps since Harbaugh took over in 2011. Despite the dip in playing time, Dixon has remained on the roster because he was willing to play both halfback and fullback in 2012.
Unfortunately for Dixon, his future is uncertain because of the talent the 49ers backfield now possesses. He may end up being let go prior to the 2013 season based on positional numbers in other areas.
Grade: C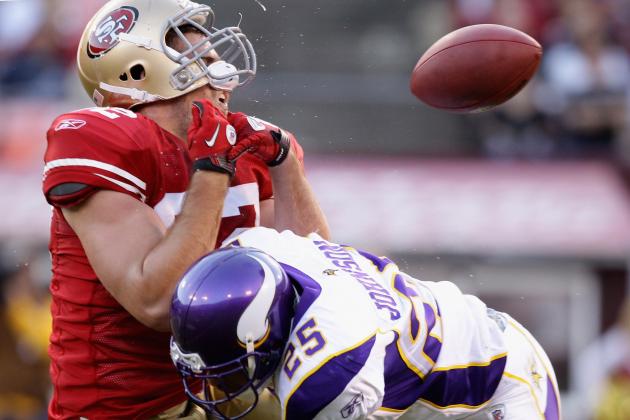 Ezra Shaw/Getty Images

Nate Byham was drafted in the sixth round of the 2010 draft because he was regarded as one of the best blocking tight ends in college. Yet that regard didn't last long, as Byham didn't show enough skill during his rookie season to garner playing time with the organization ever again.
He was waived on Aug. 16, 2012, with an injury designation after tearing his ACL in 2011.
Grade: F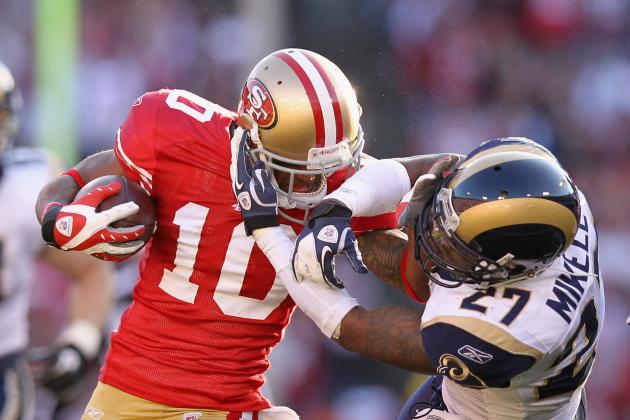 Ezra Shaw/Getty Images

The most productive pick San Francisco's 2010 draft class saw after Bowman, was wide receiver Kyle Williams. Williams is the son of White Sox general manager Kenny Williams. His father drafted him in the 47th round of the 2006 Major League Baseball draft, but Kyle decided he wanted to pursue a career in football instead.
One can't argue with his decision after he earned first-team All-Pac-10 honors as a sophomore. He didn't become a full-time starter as a wideout until 2009, but when he did, he blew up. He caught 57 balls for 815 yards and scored eight touchdowns.
His return and receiving ability caught Coach Singletary's eye. As a rookie he only played five snaps, yet coach Harbaugh liked him enough in 2011 to get him involved on offense and special teams. He caught 22 passes and three touchdowns from Alex Smith in year two—leading people to believe his numbers would increase in 2012.
Yet that prediction didn't quite ring true, as the organization signed both Mario Manningham and Randy Moss in free agency. Not to mention Williams only appeared in nine games after suffering a torn ACL against the New Orleans Saints.
His roster spot in 2013 is all but guaranteed.
Grade: C+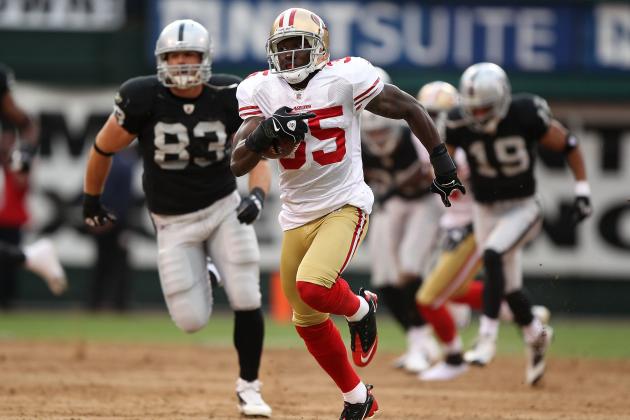 Jed Jacobsohn/Getty Images

As a seventh-round pick, cornerback Phillip Adams made his impact felt as a kick returner and spot player on defense. He recorded 15 tackles and broke up one pass in 77 snaps as a rookie. Yet his career with the 49ers came to a screeching halt after he broke his ankle against the Rams on Dec. 26, 2010.
Subsequently, he was later released on Sept. 3, 2011. Since then, he has caught on with the Patriots, Seahawks and Raiders.
Grade: F