Brenden Morrow Trade: 5 Ways He Improves Penguins' Stanley Cup Chances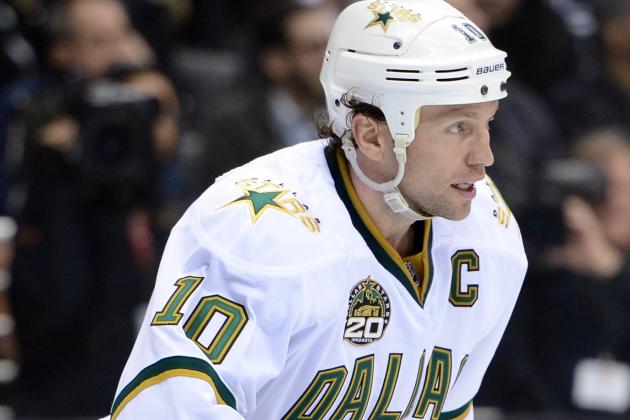 Harry How/Getty Images

The Pittsburgh Penguins are not satisfied with winning 12 games in a row and taking charge in the Eastern Conference.
General manager Ray Shero wants to make sure his team is Stanley Cup-viable when the regular season comes to an end. He took a solid step to make that happen when he traded for veteran winger Brenden Morrow (per CBCnews.ca).
The Penguins sent the Dallas Stars defense prospect Joe Morrow (no relation) and a fifth-round draft pick in 2013. The Penguins also received a third-round draft pick from the Stars.
Morrow has been with the Stars throughout his 13-year career. He waived a no-trade clause and will play a vital role for the Penguins.
Begin Slideshow

»
Morrow is the kind of player contending teams regularly try to bring on board during the homestretch of the regular season and for the playoffs.
Morrow, 34, has been a vital contributor with the Stars and can do it on both ends of the ice. While he has been held in check this year with 11 points in 29 games and had a pedestrian 11 goals and 15 assists last year, he was a 33-goal scorer in 2010-11.
Morrow has scored 30 or more goals twice in his career and has scored 20 or more goals seven times.
Morrow will battle for the puck in the corners, and he is also responsible defensively.
While he is not a superstar, Morrow does not cut corners and should be an asset every time he takes the ice.
Morrow was the captain of the Dallas Stars.
He is a responsible player on the ice and can help in the locker room as well.
He can provide a big assist to Sidney Crosby, the best player in the league and the captain of the Penguins. He can help Crosby from feeling overburdened by taking charge in the locker room and talking to his new teammates when needed.
Morrow can also take some of the burden off of his teammates by contributing on the defensive end. Morrow will do what he can to help the Penguins win, including block shots.
A look back at the 2012 playoffs reveals that it was a low point for the Pittsburgh Penguins.
The hard numbers say they lost their first-round series to the Philadelphia Flyers and were porous on defense as they gave up an embarrassing 30 goals in six games.
In addition to awful defensive play and poor goaltending, the Penguins seemed to feel sorry for themselves and to hang their heads as they were getting taken apart by the Flyers.
Perhaps that will not be an issue this season since Sidney Crosby is fully healthy again and dominating the league. Last year, he was feeling his way in the playoffs and did not play the way he usually does.
But Morrow will set an example and keep that from happening. The Penguins may not win with him in the lineup, but he will keep them from falling apart and feeling sorry for themselves.
Morrow will give the Penguins an air of toughness.
One of the basics of Morrow's game is a willingness to engage. He will go to the dirty areas of the ice and take a hard elbow in exchange for making a play.
However, a player who is willing to throw an elbow or a forearm at Morrow better realize that it will come at a price. Morrow will stand up for himself and his teammates (video above).
When a team has a veteran newcomer who will fight for his new teammates, it speaks volumes about his commitment and desire.
Pittsburgh Penguins GM Ray Shero has sent a message to his team by acquiring Morrow prior to the trade deadline.
The Penguins are going for it.
It's one thing for the players to talk about it in the locker room and for head coach Dan Bylsma to demand excellence in an attempt to motivate his players, but it's quite another thing when the GM starts bringing in veteran players to help the cause.
The players know they are not in it alone and that the team's management means business.
It is now up to other contenders like the Chicago Blackhawks, Anaheim Ducks, Los Angeles Kings and Boston Bruins to take notice and follow suit.
The Montreal Canadiens had already made a big move by trading for Michael Ryder last month (per TSN.ca).
The Penguins may not be finished making moves.