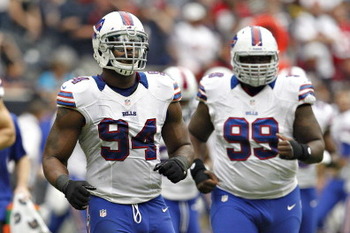 Bob Levey/Getty Images
The two first weeks of free agency have not been too kind to the Buffalo Bills organization.
Buffalo cut ties with starters George Wilson, Ryan Fitzpatrick and Nick Barnett early on in the process before losing a duo of guards, Andy Levitre and Chad Rinehart, to other teams. All five players were major pieces of the team over the last two or three seasons.
On the flip side, the Bills have added a single free agent in two weeks. While the Manny Lawson signing is a nice first step, Buffalo has had the look of being lackadaisical on the open market despite having glaring holes across the roster.
A few late signings and the rookie draft should fix a few of the issues, but the current depth chart does not have the makings of a playoff team in 2013.
Quarterback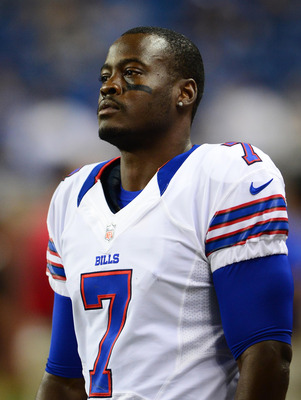 Andrew Weber-USA TODAY Sports
First String—Tarvaris Jackson
Second String—Aaron Corp
What to say about this group?
The release of Ryan Fitzpatrick was a long time coming, but it also leaves a giant mystery at the quarterback slot for the upcoming season. It is now a certainty that the Bills will select a signal-caller at some point near the top of the draft, especially now that private workouts have been leaked.
Tarvaris Jackson's re-signing was a bit of a surprise, but no more surprising than the team not activating him on game days after trading a late pick for him last season. Jackson provides a veteran presence that the team is clearly lacking at the position, but likely will not be the opening day starter when all is said and done.
The former second-round pick has had some okay seasons, but anything Buffalo is going to draft early should be an upgrade.
Either way, quarterback play will be anything but consistent next season.
Running Back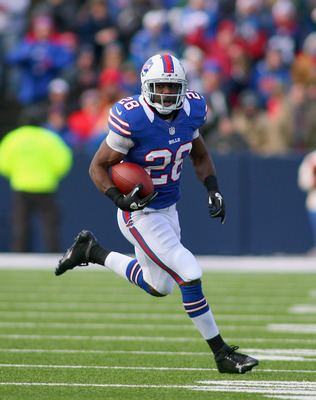 Rick Stewart/Getty Images
First String—C.J. Spiller
Second String—Fred Jackson
Third String—Zach Brown
The running back situation is a lot less murky for the Bills compared to the guy who will be handing them the ball.
C.J. Spiller burst onto the NFL scene in his third season by finishing eighth in rushing yards despite only being 22nd in rush attempts. Spiller also finished tied with league MVP Adrian Peterson for the best yards-per-attempt average with six yards per touch.
Chan Gailey and his band of Spiller-stoppers were loudly ushered out of Buffalo after another dismal season, but Bills fans are hopeful that the new regime will not limit the dynamic back's touches. The previous coaching staff was worried about burdening Spiller with too many carries for his sleek frame, but fans were angered by the head-scratching decisions regarding Spiller.
Spiller showed improved patience and defensive diagnosing in his third year, which led to the 1,244 yard effort. He also added 43 catches for 459 yards, which put him among the leaders in total yardage.
Fred Jackson's injury-plagued season in 2012 will relegate him to Spiller's extremely capable backup. Jackson could probably be a starter on a handful of teams across the league, which puts the Bills in an enviable situation at the position.
Unfortunately, Gailey butchered the committee approach the last two seasons.
Jackson will no longer be the bell-cow back he was for the greater part of three season, but he still serves a great purpose for Buffalo. Obviously he is key in case of an injury to Spiller, but he also give the Bills a different look at running back.
The former Coe College product does not have an elite skill set, but he is the superior between-the-tackles runner of the two backs. He also is an above-average blocker, which is something that Spiller still can improve on.
Jackson may not see as much time as he has in past seasons, but 700 total yards is not out of the question in a run-centered offense.
Zach Brown is little more than a camp body. It would not be surprising to see Buffalo add another running back late in the draft.
Wide Receiver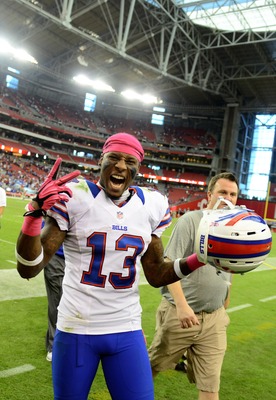 Mark J. Rebilas-USA TODAY Sports
First String—Steve Johnson, T.J. Graham
Second String—Brad Smith, Marcus Easley
Third String—Kevin Elliot, Chris Hogan
Buffalo struggled to find a consistent second receiver to line up opposite Steve Johnson last season and have an even bigger hole thus far in the offseason.
The Bills made surprising moves in deciding not to bring back David Nelson or Donald Jones, who were among the receptions leaders over the last two seasons. Both players were restricted free agents when Buffalo decided not to make qualifying offers.
Johnson finished with his third straight 1,000-yard season in 2012, but the uncertainty of the quarterback situation has not allowed him to take the next step. There is no questioning Johnson's talent, but the lack of another threat on the other side of the field is troublesome for Buffalo.
T.J. Graham provided mixed results in his rookie season, but his strengths did not jive with the focus of the Buffalo offense. Ryan Fitzpatrick struggled to throw an accurate deep ball to Graham, and the rookie receiver was forced to run a bunch of underneath routes to collect receptions.
The new Buffalo quarterback will need to possess a strong arm with good accuracy on the long ball to use Graham to his fullest.
Brad Smith is an expensive third receiver and Marcus Easley is still an enigma after three injury-plagued seasons.
Look for Buffalo to add another veteran receiver and draft one early in April.
Tight End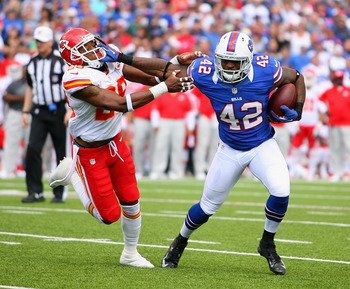 Rick Stewart/Getty Images
First String—Scott Chandler (injured)
Second String—Dorin Dickerson, Lee Smith
Third String—Mike Caussin, Joe Sawyer
There is a trend starting to develop as we look at offensive skill positions, and it is not a positive one. Other than at running back, the new coaching staff will be doing a whole bunch of rebuilding across the board on offense.
Upgrades at quarterback, wide receiver, offensive line and even at tight end are all necessary for this Bills team to compete in the near future.
Scott Chandler has been an effective player since coming to Buffalo three years ago and provided them with a big target in the red zone. He has 83 catches and 12 TD in two years as the Buffalo starter, which has given them some production from someone other than Steve Johnson.
Chandler is also effective as a blocker.
However, he suffered a torn ACL in Week 16 and there has been no real news about the timetable for his return. Also, even if Chandler does return before the season, will he be the player he was before the injury? The question is of legitimate concern for the Bills.
Dorin Dickerson is a shifty pass-catcher, but he is virtually a wide receiver. Some places have Dickerson listed on the depth chart as a fullback, but he is not an effective blocker.
Lee Smith, Mike Caussin and Joe Sawyer have been primarily blockers and special teams guys since coming to the team. There should not be much change in their duties moving forward.
Buffalo has been in talks with Fred Davis, an unrestricted free agent from Washington, but he is also coming off a serious injury which ended his 2012 season early. Davis was an up-and-coming tight end after a breakout 2011 season, but he needed to have a better season in a contract year to get the big money.
Instead he got hurt.
If Davis is willing to take a one-year deal to prove that he is healthy, then Buffalo should jump on that to fill out the position.
Tackle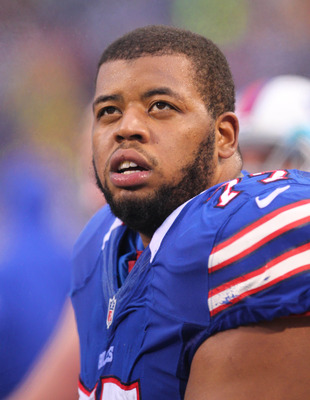 Timothy T. Ludwig-USA TODAY Sports
First String—Cordy Glenn, Erik Pears
Second String—Chris Hairston, Sam Young
Deep Reserves—Thomas Welch, Zebrie Sanders, Chris Scott, Adam Grant, Hutch Eckerson
The Bills can breathe a sigh of relief because their tackle spot has been shored up for the foreseeable future. There has been some speculation among draftniks that Buffalo could take a top tackle at No. 8, but the combination of Cordy Glenn, Erik Pears and Chris Hairston is a good, young group.
Glenn somehow fell to the Bills in the second round of last year's draft and they gladly obliged by taking him to be their left tackle for the future. The rookie was one of the more impressive young linemen around the league before missing a handful of games due to injury.
The former Georgia tackle is a better run-blocker than pass-protector, but he was still effective from the left side.
Erik Pears is the penciled-in starter on the right side, but a good case can be made for Chris Hairston to take over that spot by the end of summer camp. Pears was another player that succumbed to injury last season, and Hairston looked comfortable filling in for him.
Hairston is entering his third season as a Buffalo Bill and it would be nice to see him contribute at a starter's level beginning this next season.
Guard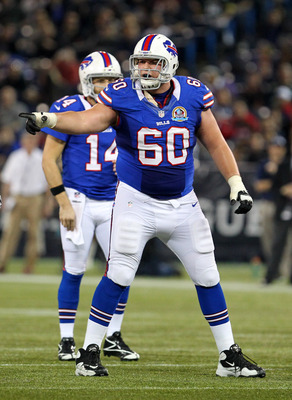 USA TODAY Sports
First String—Kraig Urbik, David Snow
Second String—Keith Williams
Oofta.
That is the sound of the Bills' wind getting knocked out of them after Andy Levitre and Chad Rinehart signed hefty contracts with other teams.
Levitre was on the cusp of becoming an All-Pro candidate in Buffalo because of his outstanding play at the position. He was rewarded for his talent by signing a ludicrous contract with the Tennessee Titans on the first day of free agency.
Rinehart was not as much a major part of the line as Levitre was, but he was a key reserve at guard and center. He signed a one-year deal with the Chargers to shore up their line after Louis Vazquez went elsewhere.
Kraig Urbik was a steady player at right guard, but he has been injured often since coming over from the Pittsburgh Steelers three years ago. When healthy, Urbik can be a punishing run-blocker.
David Snow saw spot duty all across the interior of the line last year due to injuries ravaging the front five. He is one of the key reserves, which makes it troubling that the Bills have him penciled in as a starter at this point.
Guard would not have been an issue had the team been able to keep one of their two free agents. Instead, they have a glaring hole at left guard that needs to be addressed sooner than later.
Center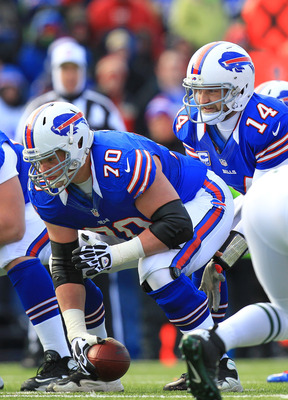 USA TODAY Sports
First String—Eric Wood
Second String—Colin Brown
Injury issues continue to plague Eric Wood's career. He has yet to finish a full 16-game slate after being a first-round pick in the 2009 draft. When he is on the field Wood, is one of the better young centers in the game, but the latest rash of injuries has fans wondering if center needs to be a priority too.
Guard David Snow started the other two games at center last season, but the lack of depth at guard has him moving there.
Colin Brown is another player that has seen some action at multiple spots at the line.
While having depth players that can play all over the line is helpful, it is also troubling that the Bills are lacking true starters on the middle part of the line.
Defensive End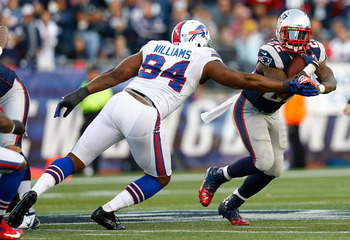 Jared Wickerham/Getty Images
First String—Mario Williams, Mark Anderson
Second String—Jarron Gilbert
Buffalo was deep at defensive end only a few weeks ago, but a series events have ravaged the depth at the position. Chris Kelsay and Shawne Merriman both retired from football and so far the team has decided not to re-sign quality reserve Kyle Moore.
The starters will be the same two that Buffalo started in 2012, especially since Mario Williams and Mark Anderson are two of the biggest money-makers on the team.
Williams was a man on a mission in the second half of last season after a disappointing start to the year. A wrist injury combined with some unrealistic expectations heaped upon him led to a dismal start by his standards. He finished strong with 10.5 sacks, which was the first Bills double-digit sack performance since Aaron Schobel did it during the 2009 season.
Anderson had a very good season with the New England Patriots two years ago, but the jury is still out on him during his time in Buffalo. Anderson only contributed one sack and 12 tackles while playing in just five games.
Not exactly the return on investment that the Bills were looking for.
Jarron Gilbert is a nice player, but the position would look a lot better with another veteran to rotate in.
Defensive Tackle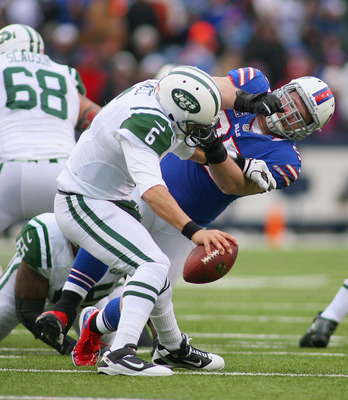 Rick Stewart/Getty Images
First String—Kyle Williams, Marcell Dareus
Second String—Torell Troup, Alex Carrington
Third String—Jay Ross, Corbin Bryant
Defensive tackle is certainly not an issue for the Bills.
Kyle Williams and Marcell Dareus headline the group. Williams and Dareus have combined to be a pretty potent duo in their time playing together. Now the team is hoping that all four of their linemen can stay healthy to become a dominant force up front.
Alex Carrington had a breakout season in his third season by becoming the top reserve at both tackle and end for the Bills. He was also a difference-maker on special teams by blocking four kicks, which was a franchise record for most in a season.
Carrington played only 30 percent of snaps on defense this year because of the outstanding talent ahead of him, but after looking like a bust in his first two seasons, he is becoming their top reserve.
Torell Troup has been a colossal disappointment after being a second-round pick in the 2010 draft. The massive nose tackle generated a lot of buzz after the draft as being a superior athlete despite his large frame. Instead Troup has only appeared in 21 games, starting two, in three full seasons in Buffalo.
He also recently said that he has a similar back injury to Johnny Knox, who just retired from football after only four years in the game. Not the best news to hear about a young player.
Jay Ross and Corbin Bryant are nothing other than roster fillers at this point.
Linebacker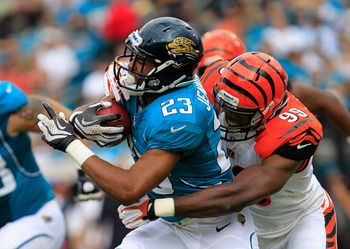 Chris Trotman/Getty Images
First String—Nigel Bradham, Kelvin Sheppard, Manny Lawson
Second String—Arthur Moats, Brian Smith, Bryan Scott
Third String—Chris White, Greg Lloyd Jr.
The linebacking crew added the only free agent of the offseason in Manny Lawson, but the crew still has a ways to go.
Lawson becomes the most experienced linebacker on the team aside from nickel defender Bryan Scott. He will need to become more of an impact player than he was in San Francisco or Cincinnati. New defensive coordinator Mike Pettine might be the right man for the job.
A former first-round pick of the Niners, Lawson came into the NFL as a pass-rushing prospect who was a part of the same line at NC State with Mario Williams. The Bills are hoping a reunion with his college teammate and a hybrid scheme will bring out the best in Lawson.
Kelvin Sheppard has been an okay player since his selection in 2010. Sheppard was expected to immediately take control of the offense from the middle spot, but he has not played up to lofty expectations. A well-documented thumper in the heart of the defense, Sheppard has had a hard time in coverage, mainly because he was not called upon for that very often.
Nigel Bradham had a promising rookie season and is locked in for the third linebacker spot.
Cornerback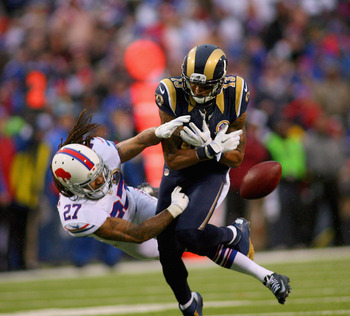 Rick Stewart/Getty Images
First String—Stephon Gilmore, Aaron Williams
Second String—Ron Brooks, Leodis McKelvin
Third String—TJ Heath, Justin Rogers, Crezdon Butler
Stephon Gilmore is the leader of a fairly deep cornerback group. The No. 10 overall pick last year played well in his rookie season and immediately became the Bills' best corner.
He is flanked by Aaron Williams for the time being, who has the looks of another disappointing second-round pick by the Chan Gailey regime. Williams has the size and speed that many teams covet, but he has not been consistent enough to be a go-to starter.
Leodis McKelvin re-upped with Buffalo on a four-year deal the weekend before he became an unrestricted free agent. McKelvin has not been the stud cornerback he was drafted to be, but he has carved out a niche for himself as a third corner and dynamic return man.
Ron Brooks started the year on the inactive list but flashed some potential in limited duty toward the end of the season. He'll be called upon more in his sophomore season after wily veteran Terrance McGee was released.
Safety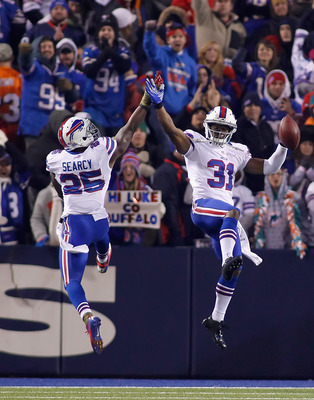 Rick Stewart/Getty Images
1st String—Jairus Byrd, Da'Norris Searcy
2nd String—Mana Silva, Dominique Ellis
Franchising Jairus Byrd was the best move that the Bills have made this so far this offseason, but fans will be more comfortable once their star safety is signed to a long-term deal. Byrd made his second Pro Bowl in 2012 after another stellar season.
Byrd is an elite pass defender and can stop the run if a back gets to the next level of the defense. Matt Miller and resident scouting crew labeled Byrd as their second-best safety, with only Eric Weddle being ahead of him.
Joining Byrd on the top 10 was the recently released George Wilson, who joined the Titans soon after his release. Wilson was a stat-stuffer, but he was blocking the way for a much younger Da'Norris Searcy.
Searcy slides into the strong safety spot after two seasons being mentored by Wilson.
Special Teams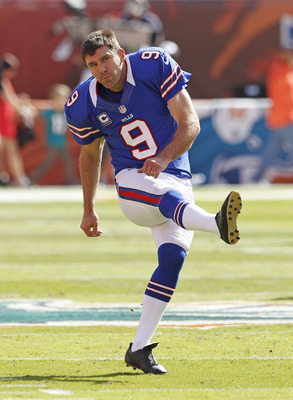 Joel Auerbach/Getty Images
Kicker—Rian Lindell
Punter—Shawn Powell
Long Snapper—Garrison Sanborn
Returner—Leodis McKelvin, Brad Smith
Buffalo's special teams unit remains intact during the offseason.
Rian Lindell was 21-of-24 on field goals last season, but the coaching staff did not trust him with any kicks longer than 50 yards. Lindell may not be the kicker he once was, but he understands the weather and culture in Buffalo.
Shawn Powell was enemy No. 1 for a few weeks after fan favorite Brian Moorman was released at the beginning of the season. Powell struggled to find his footing early on, but ended the season as one of the better punters down the stretch.
McKelvin and Brad Smith make a very good tandem on special teams. McKelvin probably should have been named to the All-Pro team as a returner, but was overlooked.
Keep Reading

Buffalo Bills: Like this team?
Load More Stories